There comes a point in every girl's life when there is an urge to undergo a major beauty change. And if you ask us, there is no better way to look different than to embrace a new hair look. Now, be it a new haircut, a color switch or just a random braided hairstyle for girls, hair transformation is the best way to get a glam makeover.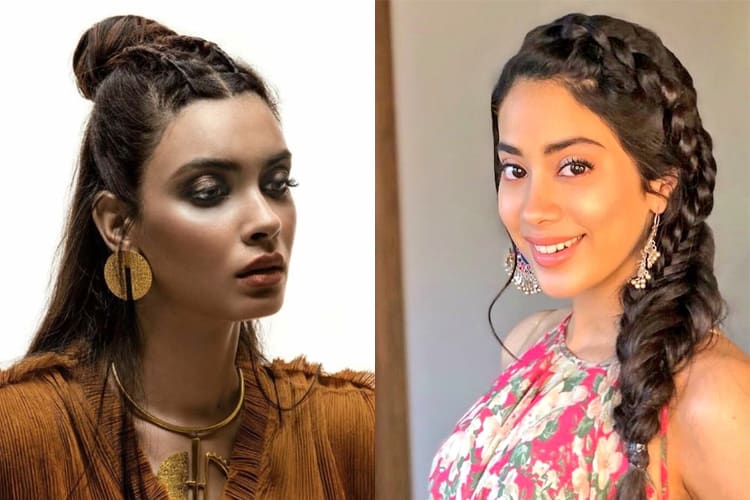 Who better to look up to than our Bollywood celebrities, who love to change their look from time to time. The past year, 2018 saw too many B-town celebrities warm up the salon chair, and we've been right alongside taking notes of all the coolest and most trendy hairstyles of 2018 that our celeb ladies have spotted.
From bringing back the good old vintage hair bun to tweaking the poker straight locks, our Bollywood celebrities have given us some of the hottest hairstyle trends which is going to rule the fashion scene in 2019 as well. What's even more interesting is that hair accessories too played a major role last year,and will continue to do so this year too, thereby spicing up celebrity hairstyles even further.
Most Stylish Celebrity Hairstyle Trends:
So all you lovely readers, take a back seat and jot down the best celebrity hairstyles 2018 trends to up your hair game this new year.
Let's go!
1. Katrina Kaif's Curly Hairdo:
Now, this came as a real surprise to us. Katrina Kaif, who rarely or rather never adapted to change showed us her wild side on the cover of the vogue magazine. Thanks to hairstylist Yianni Tsapatori, Katrina swapped her signature wavy hairstyle for a full blown crazy curly head. Not only did she look like a breath of fresh hair (air) but also carried the not-so-her look with great confidence. According to our prediction calculator, Katrina Kaif cury hairsyle will make a comeback on the fashion runway this new year.
2. Deepika Padukone's Braided Updo:
Deepika Padukone's wedding looks were definitely the highlight of 2018. But what was even better were the different hairstyles she sported throughout the wedding festivities. One of the striking and hottest Deepika Padukone hairstyles was by celebrity hairstylist Gabriel Georgiou during the actor's post-wedding party. Her braided hairdo adorned with a floral tiara became an instant hit among several brides-to-be.
3. Priyanka Chopra Low Ponytail:
There has never been a single instance when Priyanka's hair and makeup was not on point. The lady can carry off any hair style with equal grace and elan. Basically Priyanka Chopra hairstyles are versatile. While the actress loves letting her hair down most of the times, not very long ago Priyanka had worn her hair in a low ponytail, and boy, did she rock that voluminous tail by hairstylist International celebrity hairstylist Laura Polko.
TIP: This new year, say YES to backcombed ponytails to make a lasting impression at any party. Don't forget to leave a few strands loose like PeeCee did to frame her face.
4. Kareena Kapoor Pulled-Back Sleek Hairdo:
She's uber cool, ultra gorgeous and decks up to kill, Kareena Kapoor Khan is the undisputed fashion queen in Bollywood. The year 2018 saw Kareena Kapoor experiment with her look not just with her outfits but also her hair. One of Kareena Kapoor's most stylish hairstyles had to be the sleek pulled back hair by Bollywood's popular celebrity hairstylist Yianni Tsapatori. This sophisticated hairdo works well with gowns and evening wears. It's clean, it's stylish and instantly gives a fresh look.
TIP: Irrespective of the parting, make sure to tuck the hair behind the ears
5. Alia Bhatt's Vintage Waves:
It is no brainer that Bollywood is experiencing a wave of retro makeover. From fashion to makeup and hairstyles, our Bollywood celebrities are taking inspiration from the 60s and 70s. So when Alia Bhatt worked those voluminous retro curls by celebrity hairstylist Gabriel Georgiou at a red carpet event, we felt a tad bit nostalgic in a pleasant way. The deep side parting and soft hair voluminous waves aren't for an every day look but reserved for special events only. Gabriel Georhiou did a brillant job with the hair accessory as well, taking the whole retro look a notch higher.
6. Jhanvi Kapoor's Side Fishtail Braid:
Princessy is exactly how Bollywood's newbie Jhanvi Kapoor looked during her debut movie promotions. And the best part was Jhanvi sported some pretty interesting hairstyles all through the promotions. But the one Jhanvi Kapoor hairstyle that we loved was the side fishtail braid by hairstylists Ayesha DeVitre and Sajan Thapa, that screamed millennial and trendy. Perfect for a day look, this celebrity hairstyle will go perfectly with Indian and fusion outfits. A fishtail braid is messy,gives out lazy girl vibes and evokes a lot of drama to one's look.
7. Anushka Sharma's Top Knot Is Top Notch:
BossLady Anushka Sharma is always dressed to perfection. Her outfits are more than often creaseless, her makeup's always on point and her hair game is oh-so-strong. Talking about Anushka Sharma hairstyles, the lady sported a chic top knot last year which was much talked about and appreciated. One of the best celebrity hairstylists Yianni Tsapatori gave Anushka's elegant top knot a slight twist by sticking out the textured ends from the knot for that extra volume. Perfect for an official event, this celebrity hairstyle oozes total bosswoman vibes.
8. Jacqueline Fernandez's Braided Ponytail:
Ponytails have been the it-girl hairstyle since the beginning of 2018, and as per our Bollywood celebrity hairstylists, the trend is going to continue this new year too. Jacqueline Fernandez emits a very happy-go-lucky and playful vibe and so does her pony stories. Styled by celebrity hair artist Shaan Muttathil, Jacky sported a braided ponytail for a TV show, which was one of the most trendy hairstyles of 2018. This hairdo is perfect for a day and night look and goes well with any outfit.
[sc:mediad]
9. Kiara Advani's High Bun Is Fun:
There's nothing more satisfying in this world than to tie your hair in a high bun and just not care. But how often do we look as good as Kiara Advani in a high bun. Well, the credit definitely goes to celebrity makeup artist and hairstylist Mehak Oberoi who did a fantastic job with one of the most simple hairstyles – the bun, and of course Kiara's glamorous face. This lazy girl hairstyle can be worn in the day as well as night. The key here is to keep it messy and give out the don't-know-don't-care vibe. The high bun is a timeless hairstyle and is sure to rule the fashion world this year too.
10. Diana Penty's Half Bun Takes Home The Medal:
There's no prize for guessing who takes home the gold medal for Best hairstyles of 2018. Of course the braids. The year saw a lot of braided combinations and more braids, and boy, did we love it. And when the pretty Diana Penty adorns the chic hun (half bun) hairstyle and looks this pure, without an iota of doubt the winning crown goes to her. Created by mane master Michel Baltazar, this braided hairstyle feels very boho and feminine, and is perfect for a night event.
Well, so that was our list of best celebrity hairstyles 2018. The new year, 2019 will focus more on sleeker sculpted hair. As per top celebrity hairstylists, vintage and classic hairstyles are not going to die down anytime soon. Also, curls will continue to rule in terms of texture- small, tight curls, pin curls and new types of waves.