Finding the perfect kitchenware solution is no simple feat. Various appliances are not durable enough or add bulk to your daily commute. Then, there's the struggle of operating complicated features. So, what does a meal packer opt for? Select one of the best selling kitchen ware solutions that will last a lifetime and be an amazing starter for your upscale set.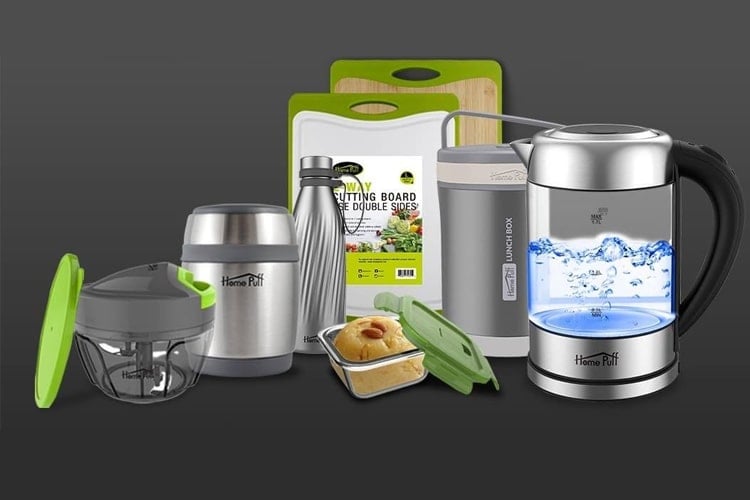 We evaluated five pieces from HomePuff to add in your collection-lunch boxes, chopper, and insulated water bottle. The choices feature stainless steel inside out to retain both hot and cold food options.
Best Kitchen Wares for Those Who Take Their Meals Seriously:
At the end of the day, selecting your kitchen ware is solely dependent on personal preference. But take our advice and pick something that is an extension of you. We rounded some of the best that we think are universally useful for everyone's needs. Here are the ones that make the cut!
1. HomePuff Insulated Lunch Box (1700ML):
To pack snacks or a sandwich, or to use as your kid's lunch box, we suggest the versatile HomePuff Insulated Lunch Box. Unlike bulky lunch boxes, the HomePuff's lunch box shape fits easily in a packed fridge and tote bag. The stainless steel lunch box also features three separate compartments and vacuum insulation technology for maximum temperature retention to ensure your food stays warm all day. Its wide mouth is also useful for easy cleaning and eating. The 100% leak proof options make it a popular choice for many.
2. HomePuff Insulated Food Jar (580 & 480 ML):
For a filling and hearty lunch-say, noodles, rice, or pasta with lots of snacks-the spacious HomePuff Insulated Food Jar offers plenty of room. It is a great choice for people who want to pack hot soup or green veggie salad as day time snack. The insulated flask with double wall vacuum Insulation Technology ensures the jar remain cool after packing warm food, and sweat-proof after packing cold food. And because the opening has an open mouth, this food jar is easy to clean. Its lid also doubles conveniently as a built-in serving bowl.
3. HomePuff Borosilicate Lunch Box (1440 ML):
Don't you agree that a new lunch box makes the midday meals just a little bit tastier? So why not get a lunch box that not only looks good on the table but also keeps your food fresh. For multipart lunches with ethnic Indian food, we prefer the HomePuff Borosilicate Lunch Box. The glass lunch box set comes with a carry bag and spoon set. The lunch box is made from high-quality Borosilicate that is well-built to use between minus 20 to 400 degree Celsius temperatures. The glass lunch box is stain-proof while its designed seal keeps the lunch kit air-tight and spill proof. The containers are dishwasher and microwave safe, and is easy to wipe clean.
4. HomePuff Insulated Water Bottle (500 ML):
The HomePuff Insulated Water Bottle is one of the most versatile, reliable one for carrying tea, coffee, and milk, we found. It is an insulated water bottle with a wide mouth to add ice cubes, but is narrow enough for sipping without spilling, especially if you're on the move. And the water bottle can also adapt to several situations, including car and gym. It also comes with double wall insulation that keeps beverages fresh for longer hours.
5. HomePuff Vegetable Chopper (900 ML):
The non-electrical HomePuff Vegetable Chopper is a proper kitchen workhorse that gets the job finished easily. It features a large 900 ml capacity and five durable sharp blades for chopping veggies, fruits, and salads. The vegetable chopper features a pull tab mechanism for smoothly blending food. The chopper is also usable as a container to keep food fresh whilst barbecuing or camping. The BPA free material is safe for daily use and comes with a 1 year warranty to keep you insured.
[sc:mediad]
All of the appliances are simple to use and clean. For better use, read the instructions for care and cleaning. While most of the sets mentioned above are dishwasher safe, it will last longer when hand washed. All of the appliances are consistent both in terms of aesthetics, quality, and cost-effective. And with better up-market scale sets, the kitchen ware makes for a great selection. Other plus points are the double wall insulation technology, robust covering, and the fact they sparkle easily when cleaned.
Whether you've grown bored of your current dish wares or looking to refurbish your collection, setting a picture-perfect kitchen doesn't have to be stressful. The appliances from HomePuff have researched well enough to add classy elegance to all meals.
Great mid-range appliance for suiting all kitchen needs from a company with a solid customer service.