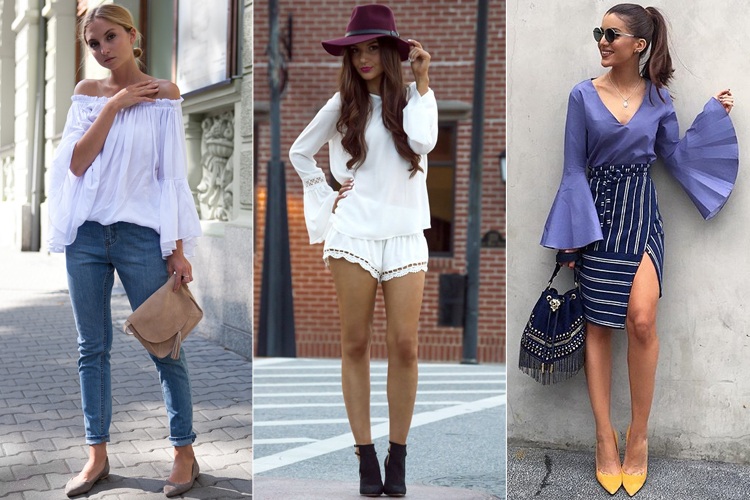 The summer spell isn't a forgiving one, which is why rather than wearing clothes that stick to the body, we would look at loose fabrics and patterns or styles that keep us cool and comfy. Instead of tanks and crops, we would this time focus on our styling up with bell sleeve patterns.
[Also Read: 10 Long-Sleeved Kaftans That You Should Own]
Many ways to style up in bell sleeve patterns
Bringing back the vibe of the flower power seventies or the bohemian boho chick chic look, the bell sleeve pattern is what we want to see more off on the streets, at work and just about anywhere possible. Take a look at the various chic ways to do so.
1. High Slit Midi Skirt With Bell Pattern
Fancy an all-white ensemble show today? Here's a sexy way to do that, and this time wearing the white bell pattern crisp low V neck top with a high slit white midi skirt.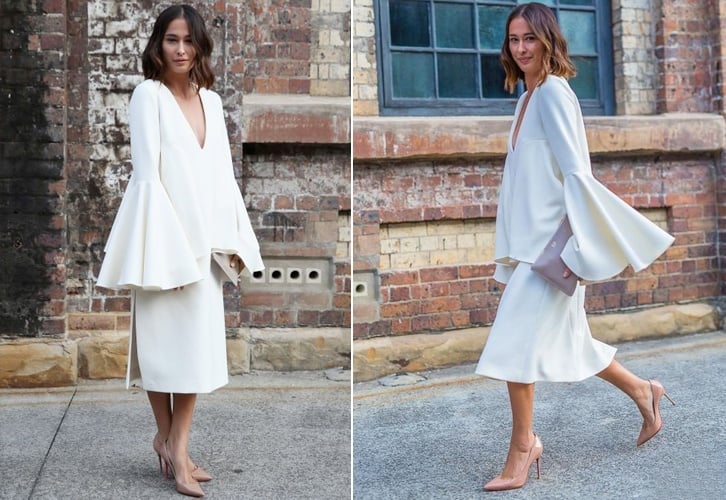 Below are a few more ideas on skit and bell sleeves top outfit ideas: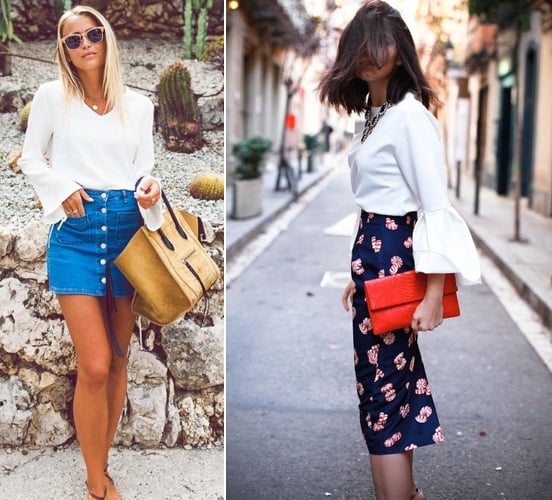 2. Combat Boots And The Bells
Bringing back a little more than just the retro here, a mix of the seventies and the nineties this time in bell sleeved rompers dark and neutral with combat boots for company and a cross body bag for the summer beach fun!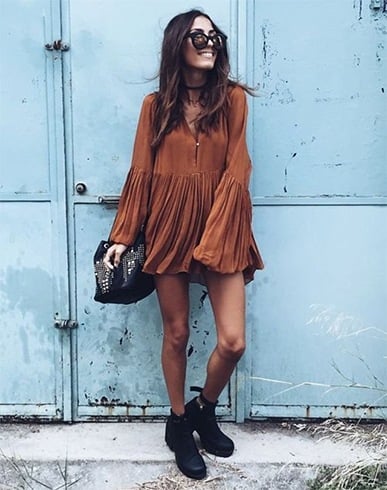 Below are a few more ideas on boots and bell sleeves outfit ideas:
[Also Read: summer fabrics]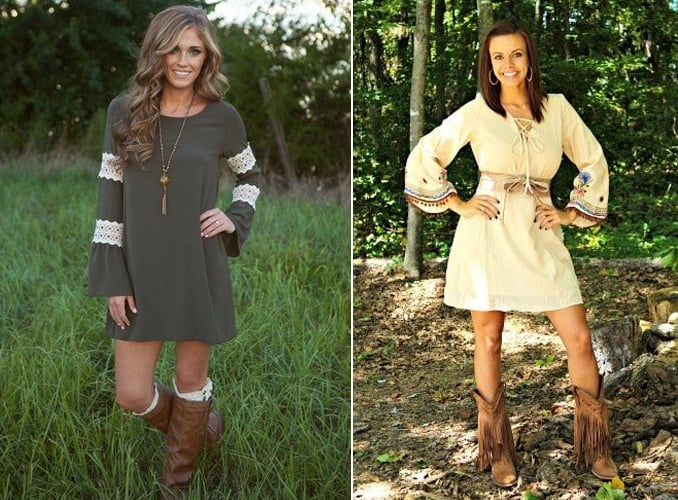 3. The Bailando Chica
Off on the streets and out to meet the girls over a coffee moment or a movie scene, here's what you do. Wear your flimsy white cotton bell sleeved off shoulder top with a pair of washed denims and flats for the feet. Tie your hair into a messy bun and carry a neutral toned bag, and you are ready!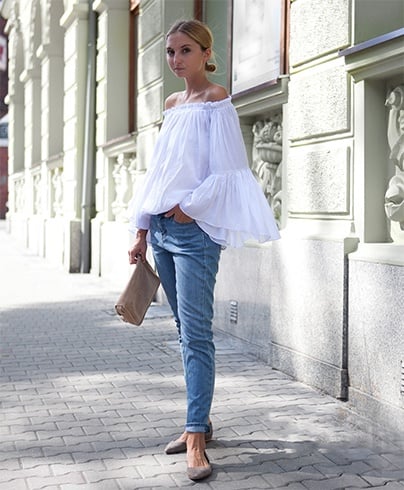 Below are a few more ideas on denims and bell sleeves top ideas:
[sc:mediad]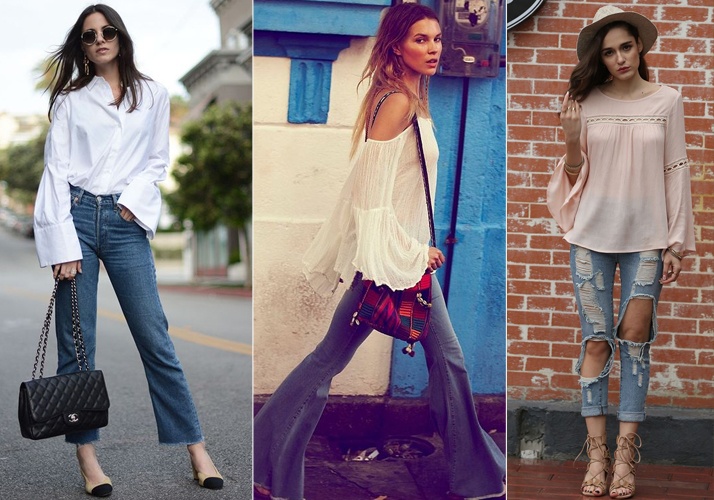 4. Ankara Inspiration
This time go wild printed with ankaras in large bell sleeves, straight from Africa. Perfect to make a statement at the formal dos and parties, you can wear the Ankara large bell sleeved dress with a pair of lacy sandals or heels and hot red lips for the statement to make!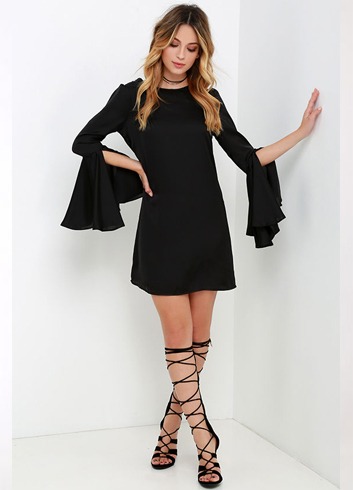 5. Solids And Prints
A printed high waist maxi skirt with a low V neck solid bell sleeved shirt for an off shore client meet, why not? Complete the look with sun shades for the eyes, pencil heels for the feet, a chunky neckpiece and dangling earrings.
[Also Read: Stylish Printed Rompers]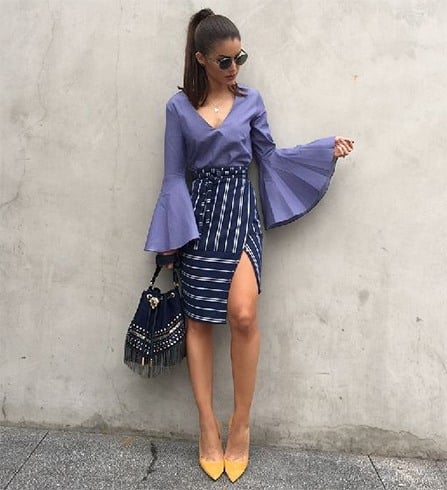 6. Sheer Cropped Bells
For the summer outings, you could wear sheer cropped bell sleeves with a sexy slit lehenga skirt. Balance the look here. If the top is heavily worked on, keep the bottoms matte and dainty. Go reverse if you please, and nude natural makeup only!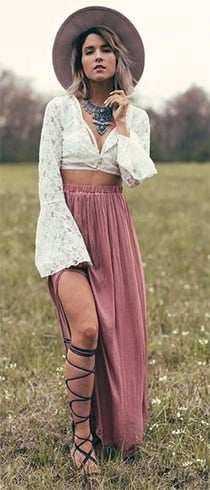 7. Chic Office Statements
Wide bell sleeved crisp shirts with white pants and a pair of heels, tousled beach hair for the Friday look and a chunky neutral cross body bag for company, need we say more about the amazing fashionista look you would be flaunting at work?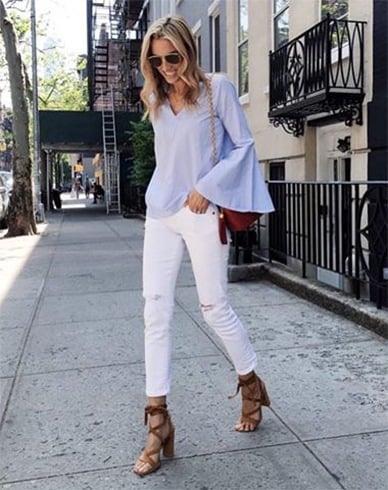 8. Off To The Kitty Meet
Bell sleeves are a trend this summer, which is why wearing it in light blues with a pair of three fourths in black cottons, makes a good fashion statement. Complete the look with open toed heels for the feet and a chic sling bag in cool graphic toned patterns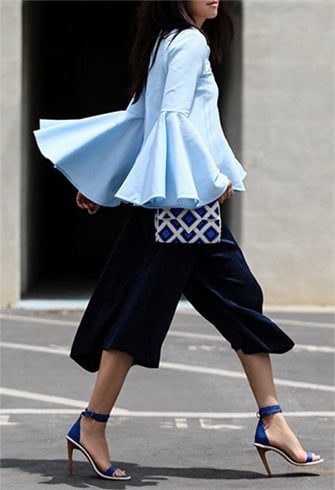 9. For The Pool Parties
Sheer bell sleeve tops with plenty of layers and a tube within, paired with cotton hot pants in floral touches or prints, and an anklet for the feet makes for a pool party fashion statement! Keep the lips nude and the face touched with waterproof foundation closest to your skin tone!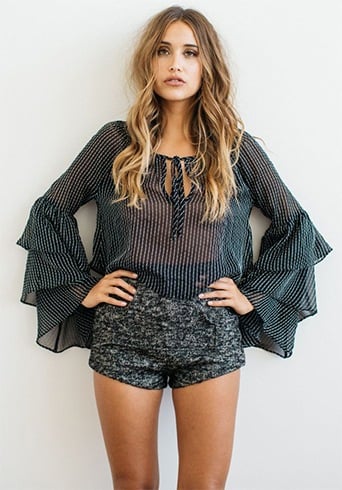 10. Saree Blouse
If you thought bell sleeves were for the western fashion statements only, you were wrong. You can have a heavily embroidered bell sleeved saree blouse making statements with chic Bengali cotton sarees. Bring on the vintage look with a chic chignon, dark rimmed eyes and hot red lips.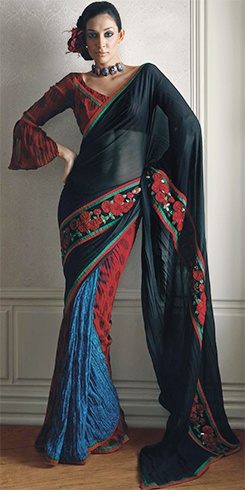 We have thus shown you ten ways to wear the bell sleeves pattern and to flaunt the trends. Go right ahead and make that cool summer statement now by following what we told on what to wear on bell sleeve tops, and also the ideas about Bell Sleeve Tops we have shown that help Style The Bell Sleeve Trends!
Images Source: pinterest.com