You begin your day with it and end with it too. I am not referring to the toothpaste-toothbrush combo but the Cleansers. The face cleansers, which remove every trace of dirt, oil, sweat, and makeup. They let the skin breathe, repair and renew itself. It is the first step in your skin care ritual.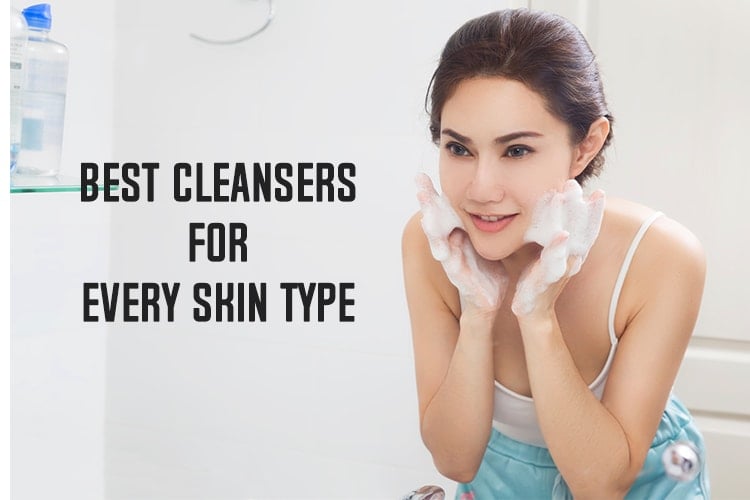 Therefore, it is important to know and nail this part before you take a jump to serums and anti-aging creams.
As of today, there are many options available in cleansers. To start using them, you first need to know the type of skin you have – dry, oily, combination or sensitive skin. This will help you filter your options and make your hunt for the perfect cleanser, many times easier.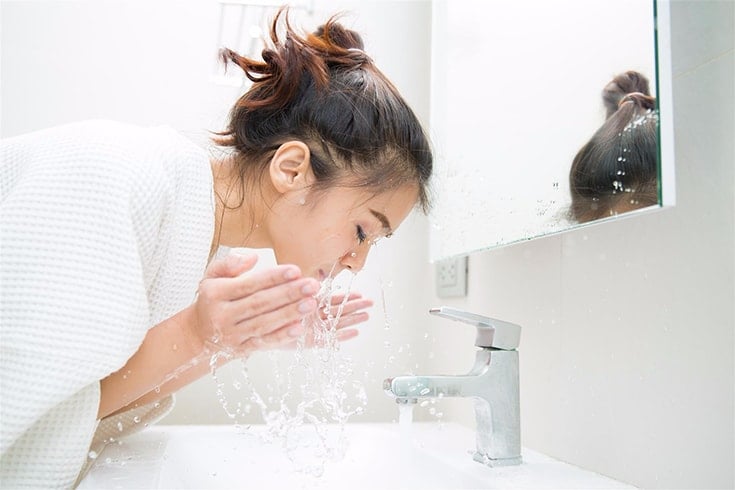 List of cleansers types for all skin tones:
Mitts, Sponges and Cleansing Cloths
Here are the types of cleansers you can pick depending on your skin type and acceptance.
1. Gel Cleansers:
As the name suggests, gel cleansers have a gel-like consistency. They deeply cleanse the face, decongest clogged pores, remove excess oil, and kill acne-causing bacteria. All this is thanks to their antiseptic and exfoliating properties. That is why, gel cleansers are best cleansers for combination skin.
Best for: Oily and Combination Skin
2. Cream Cleansers:
Available in the form of "milk" or "lotion", the cream-based cleansers are usually thick, creamy (have to be!) and contain moisturizing ingredients like botanical oils. They cleanse your skin without stripping it of its natural oils.
Best for: Dry and Sensitive Skin
3. Foam Cleansers:
These are lightweight cleansers that start out as cream or gel and then give you a burst of rich, foamy lather. Foam cleansers knock off excess oil as effectively as gel cleansers.
Best for: Oily and Combination Skin
4. Oil Cleansers:
This is a gentle way of removing debris that clog pores —including waterproof makeup—without drying your skin.
Best for: Most Skin types
5. Clay Cleansers:
Good for their absorbing power, clay cleansers draw out excess of oil and toxins from your pores, and in the process, purify your skin.
Best for: Oily and Combination Skin
6. Micellar Cleansers:
Do you know the place of origin of 'Micellar' Cleansers? The beautiful and oh-so-romantic France! Micellar waters have "micelles," the tiny oil molecules suspended in soft water that attract oil, dirt and makeup.
You know the best part about micellar cleansers—you don't need to rinse them off with water. Just a cotton swab is good enough.
Best for: Dry and Sensitive Skin
7. Powder Cleansers:
These powdery soft cleansers turn into a creamy concoction when they get in touch with water. Subsequently, they thoroughly clean your skin and provide gentle exfoliation. Unlike external exfoliants like beads and scrubs, powder cleansers smoothly glide on your skin giving the needed protection even on sensitive skin. One of the reasons why they are the best cleansers for sensitive skin.
Best for: Oily and Sensitive Skin
8. Bar Cleansers:
Slowly sneaking their way back in the skin care regime is bar cleansers (hey, don't misinterpret it). They have very little soap in them, which means they are skin-friendly. In addition to their luxurious feel and moisturising ingredients (such as glycerin and essential oils), they contain skin-friendly pH levels
Best for: Oily and Combination Skin
9. Mitts, Sponges and Cleansing Cloths:
These cleansers are made with special fibers (sometimes from plants) to thoroughly remove impurities while also sloughing off dead skin cells.
Best for: Oily and Combination Skin
The Right Way To Cleanse Your Skin:
How often should you wash your face? Well some skin types can follow the morning-and-night cleansing routine in order to control excess oil and shine. For some skin complexions, the same routine can make the face dry and tight.
The general thumb rule is: wash your face at night, and never sleep with your makeup on.
Step 1: Remove your makeup
Options include traditional oil-based makeup remover and using cleansing oil, a micellar/cleansing water or cleansing wipes. While the choice is yours, it also depends on the skin type you have.
Step 2: Wash your face
Put a small amount of your preferred cleanser in your hands and mix few drops of lukewarm water. Massage it on your face for at least 30 seconds.
Step 3: Rinse and pat dry
Rinse your face with lukewarm to warm water, not hot. When you are through doing that, gently pat your skin (no rubbing please) with a clean, dry towel.
[sc:mediad]
Now its time to know the cleanser brands.
The Best Cleansers:
While most of you will be eager to know about best cleansers in india, I have rounded up some favorite cleansers for every skin type below.
For Oily skin – Garnier Clean+Shine Control Cleansing Gel
This cleansing gel infused with charcoal powder draws out impurities from pores, removes extra oil and mattifies skin.
For Acne-prone skin – La Roche-Posay Effaclar Medicated Gel Cleanser
Great bet for acne-prone skin, this gel contains 2 percent salicyclic acid, which fights existing skin breakouts and leaves skin less shiny throughout the day.
For Dry skin – Vichy Purete Thermale Cleansing Micellar Cleansing Oil
Armed with unique micellar technology, this unique pH-balanced cleanser is a good option for dry skin. Has nourishing camellia oil to make your skin feeling supple, soft, and moisturized.
For Sensitive skin – The Body Shop Aloe Calming Facial Cleanser
This cream cleanser moisturizes and cleanses sensitive skin gently. It is enriched with organic aloe vera and fair trade Babassu oil, which make the sensitive skin calm, soft, supple, and smooth.
For All skin types:
This is a mild, gentle cleanser created for all skin types. Removes impurities and dissolves excess oils without leaving the skin dry. There is apricot kernel oil and avocado oil to soften skin. And there is squalene—Kiehl's signature ingredient that helps restore the skin's natural moisture balance.
These are many more brands of cleansers available in the market that can be considered. It all depends on your experience and need.
So, which Cleanser do you think is the best for your type of skin. Hope your knowledge on cleansers has improved. Write in and tell us.