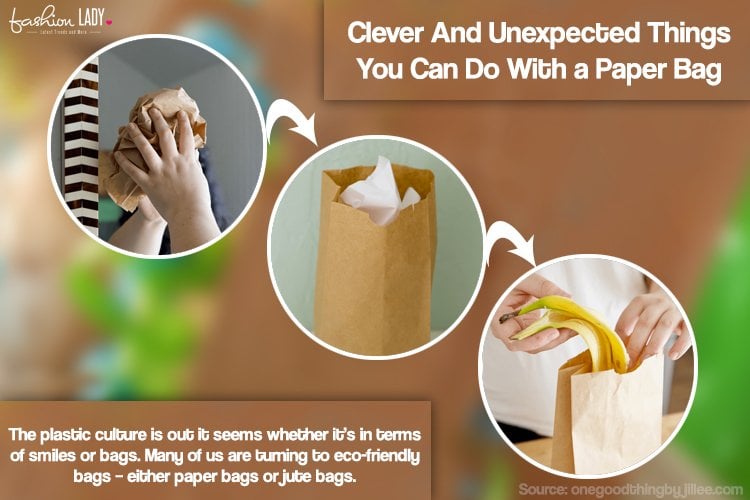 The plastic culture is out it seems whether it's in terms of smiles or bags. Many of us are turning to eco-friendly bags – either paper bags or jute bags.
Now take for instance brown paper bags. They were and are still a lunchtime staple thing to carry in schools, and offices. This concept of 'brown bagging' is found more abroad, but on a less scale in India. So in a way, it's nice to see people switching over to brown paper bags for a healthy planet.
Is the usage of paper bags limited to this?
No, there are unexpected things you can do with a paper bag. I mean the uses for brown paper bags are much more than just carrying tiffin and stuff like that.
Can't believe it? Read this blog on paper bags ideas and you will be surprised at how to reuse paper bags. Happy reading and jotting!
13 Ideas To Use Paper Bags Innovatively
Check out our list for some out of the box ideas for using paper bags.
1. Ripens Fruit Faster:
Yes, you can quickly achieve fruit ripening by storing them in a paper bag. And what kind of fruits? Well, you can keep bananas, peaches to tomatoes, pears, and avocados. Just pack the fruit in a paper bag and seal it, and keep it aside for a day or two.
Any science connection behind fruit ripening in a paper bag?
The ethylene gas that the fruit releases help to ripen it. This hack cannot be used with a plastic bag as it also traps moisture and that will make the fruit rot in no time.
2. Make Homemade Popcorn:
Ah! Who minds munching popcorn while watching a movie in your home theater? Nobody. So, just go ahead and pop some corn in a paper bag using the microwave oven and you can binge on this super healthy snack to your heart's content without feeling guilty.
Want a recipe for DIY popcorn?
Into a paper bag, put in ¼ to ½ cup popcorn kernels. Fold the bag twice. Then place the right-side-up in the microwave. Cook the popcorn kernels until the popping slows down to let's say 1 to 2 pops per second, 1 to 3 minutes. Now add butter, salt, and spices straight in and shake it up.
Doesn't this recipe save money on popcorn packs that are loaded with artificial flavors?
3. Window And Mirror Cleaning:
This benefit takes usage of paper bags to a new high. Cut open a paper bag and crumple it to rub your windows and mirrors and leave them squeaky clean. It is a simple but useful cleaning hack. A brilliant idea and one of the most unexpected things you can do with a paper bag, don't you think?
4. Serve Snacks:
Remember a time when a packet of chips was the favorite all-time snack. Make use of paper bags to serve snacks at your next pajama party. It is a great hack for lazy girls who love to host house parties as it saves you the botheration of washing so many serving bowls when the party gets over.
5. Collect Recycling:
Make use of paper grocery store bags to collect your items for recycling. Once full you can just pick it up and drop it at the recycling center without worrying about transferring the contents to another box.
6. Compost Material:
Do you know another great usage of paper bags? It can help you put things in the compost pit right in.
7. Gift Wrapping:
You can get creative with your ideas for using the paper bags. You can consider using them for gift wrapping too. Just add a pretty ribbon to up its fancy appeal. It is a perfect gift-wrapping idea for homemade gifts.
8. Filler Material:
If you have a paper shredder, then put a few paper bags through it and voila you will have enough filler to pack and carry your fragile items safely. Great life hack, right?
9. Arts And Crafts:
Take a few paper bags and you can use them for some for art projects like drawing and painting. Alternatively, you can use them as a table cover while doing messy crafts like sand art.
10. Book Covers:
If you ask how to reuse paper bags, then one of the great ideas is to cover the textbooks of your kids with brown paper bags. In fact, your child can personalize them so that the book covers will look different from that of others.
11. Store Mushrooms:
Put mushrooms in a paper bag and store them in the refrigerator. This will help the mushrooms stay fresh longer.
12. A Vase:
Wrap your orchid flowers or roses in a paper bag. Let the vase stay. It will be a nice way to share flowers with a friend or bosom pal. In fact, you can use the bags to make vases to be given as gifts or place your indoor house plants in.
13. Mini Scrapbook:
Scrapbook supplies don't come cheap. Cut down on the cost of making scrapbooks-turned-memories by turning paper sacks into mini-scrapbooks. Isn't that a cool usage of paper bags?
Hope you liked this unique take on unexpected things you can do with a paper bag? Which ones did you like and which ones will you use? Write your comments below. And yes, get crafting!