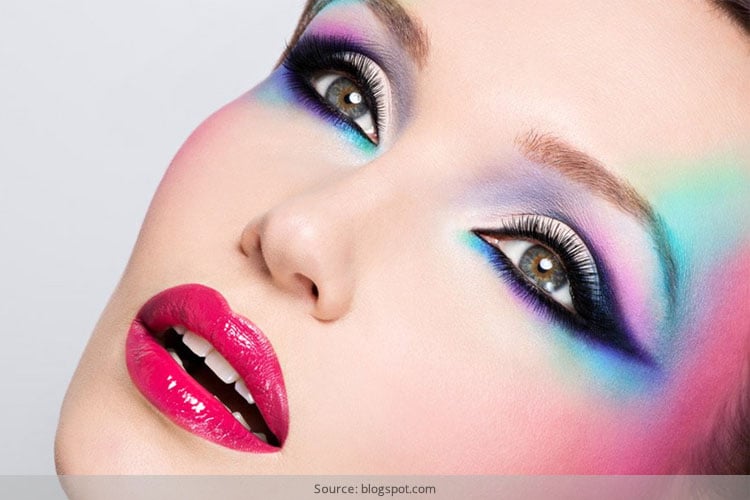 Colour blocking is a bold trend and most of us who have seen this trend will agree that colour blocking will need some real confidence to carry it off. In catwalks, major runways and most fashion houses, there has been a crazy number of color blocking designs. It's a trend that isn't going to waver, and sooner we adopt it, the better!
[Also Read: Color Blocking Tips for Curvy Girls]
If you are not that comfortable wearing clothes which are colour blocked, you can start off with the trend with colour block makeup. So, what is the colour block makeup that you can start with?
Of course eyes and lips! These are the biggest and the easiest sections to start the colour blocking makeup trend. And in this article we will talk about tips for color blocking eye makeup and other ways you can get this look easily. So let's get started!
How To Apply Colour Blocking Makeup?
As we mentioned before, the two biggest colour blocking trends in makeup can be applied on lips and eyes. So let's talk about the lips first:
Colour Blocking Your Lips
Let's forget the reds the browns and the nudes. This season, for colour blocking makeup, let's concentrate on the pink and orange. Some of the beauty artists are taking this look even further and concentrating on two different colours for your upper and lower lips. But if you think this look is a little too bold, then you can follow this beauty tutorial:
Start off by applying a moisturising and thick lip balm. This will ensure that the colour will stay longer and also you have a soft and subtle base. The more lip balm you have, the better the colour will sink in and last even longer. The biggest problem that you might face while colour blocking lips are patchy colour says. Take an orange coloured lipstick and line your lips perfectly with it. Colour most of your lip in orange and then use pinks to create subtle hints over the entire area.
Look at how you can colour block your lips with cobalt and orange. You can choose to keep your lips bold and concentrate more on the eyes too. We will discuss more on colour block combinations for an eye makeup in a little while.
[sc:mediad]
Colour Blocking Lips+Eyes
Now that you have seen that you can colour block your lips, you can also use combination colouyrs to colour block your lips and eyes. This basically means that your eye and lip makeup has to be pleasing-don't go overboard with all the colours because it may end up looking like a complete wreck. Take our tips and go slow with the colours.
Bright Centre Colour Blocks:
Yes, that's a trend too. If you are bold enough, you can try any colour on your eyes- Choose from a palette of blue or green colours and concentrate more on your lips. Take a bright colour-like orange or red and use a darker shade-like plum to outline the outer edges of the lips. The point is, you have to let the red or the orange remain in the centre of your lips like this:
Colour blocking is easy, but here are some cardinal rules you need to keep in mind in order to look right and not like a wreck!
The Rule Of Two
The colour blocking rule that is above all is to concentrate on two colours and not more than that. For a novice, starting off with two colours will make all the difference. You can pair your pink lips with a neon eye shadow but remember not to pair too many colours. Trust us, you don't want to look like a pain palette do you?
The No Shimmer Rule
Now that you have two colours on you, you should try and stay away from shimmery palettes and glitters as far as possible. Flat colours all the way, and shimmer stay away!
There you go, you are now ready to colour block!