Who knew grandpa dressing could basically go main-stream? Yes, we are talking about grandpa jeans that every IT girl has been wearing lately. This jean silhouette is tapered, straight, and loose in shape. It is too baggy but in a cool kind of way. To show you a visual picture about this wide-leg fit, we've rounded up various instances of wearing the denim trend.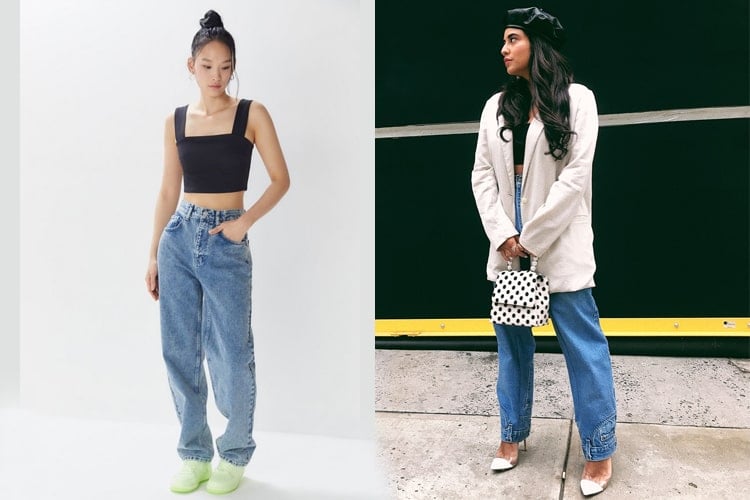 Different Ways To Rock Grandpa Jeans:
Draw inspiration from the different looks below:
1. With Slingbacks:
Pair the grandpa jeans with pointed slingbacks to bring about an unexpected appeal to the sassy look. This is one of the hottest footwear so if you're looking to bring it your own spin with the wide-legged pants, there are several options. Try a bright slingback to give your denim a sweet symmetry or for something neutral try white jeans with a block heel.
2. With Puffy Sleeved Blouse:
Puffy sleeves are playful and fit rightfully with grandpa jeans. This pairing is easily the modern update and also makes for a smart, work wear piece. The silhouette can also be right up your alley if you are looking for a girly and tempered touch. You may wear an architectural top with your baggy jeans for a night-out look as well.
3. With Fanny Pack:
Another cool collaboration with your grandpa jeans can come in the form of fanny packs. These waist belt bags are the ultimate chic combination to jazz up the loose inspired pants.
4. With Oversized Blazers:
This trendy maestro of slouchy blazer is anything but boring. The good thing about wearing the oversized blazer is to match it with baggy jeans. This look totally means business and if you're looking to amp your look, then this blending will do the trick.
5. With High-Top Sneakers:
Figuring out a way to pair your grandpa jeans isn't as simple as you would
think. If you don't style them right, your entire outfit can fall from chic to chunky in seconds. For the ultimate fresh look, top them off with classic kicks and a loose tee to finish.
6. With Strappy Sandals:
When we say this is a fresh idea, we really mean it. We're talking about combining the innovative and unique idea of grandpa jeans with strappy sandals. And there are a lot of ideas that you can add into this mix. Be it a tailored blazer or a silky-silk blouse, you are basically primed.
These are the top five ideas of wearing grandpa jeans. You can easily make these styles your own and add on a new air of cool.