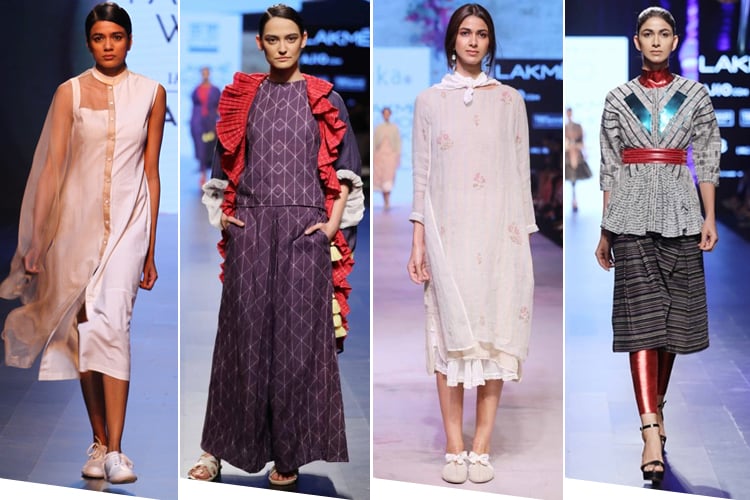 The Day 1 at the Lakme Fashion Week Summer Resort 2017 unfolded as expected. Bursting with a new synergy, the designers lit up the ramp with their interpretations and presented futuristic yet rooted collections for the summers ahead.
Highlights from Day 1 at LFW Summer Resort 2017
INIFD presents Gen-Next Show
Presenting their debut collections, the Gen Next designer collections were like a breath of fresh air.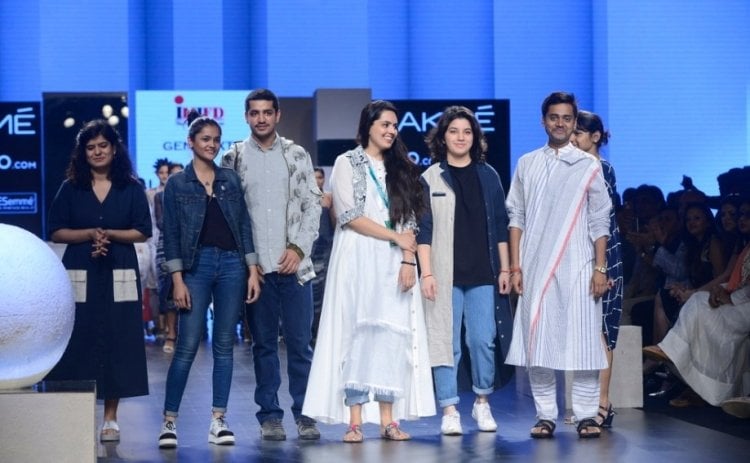 Soumodeep Dutta, a young designer hailing from Bengal, drew his inspiration from the famous Bengali Laal Paar Saada Sari. Using the Bengali Muslin, he created a collection of versatile silhouettes like draped saris, asymmetric tops and dresses and long kurtas in shades of black, red, gray and white.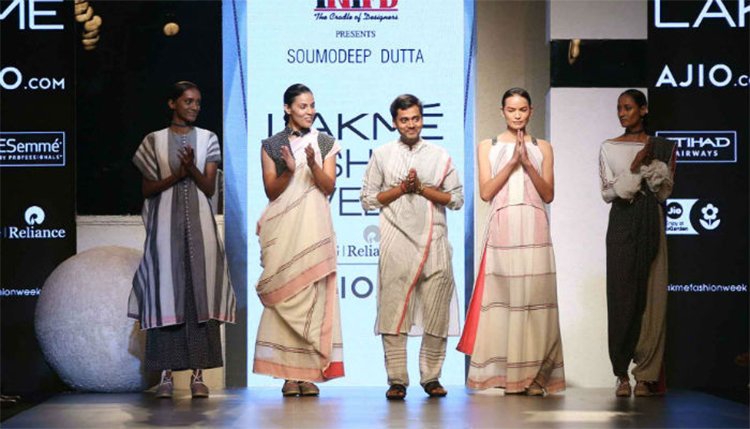 The Pot Plant presented a more anti fit fluid collection that boasted of neutral cuts and floral hand embroidery. Using rich cottons in a bright summer palate, designer duo Resham Karamchandani and Sanya Suri gave a breathable summer staple collection
[Also Read: No-Fit is The New Fit]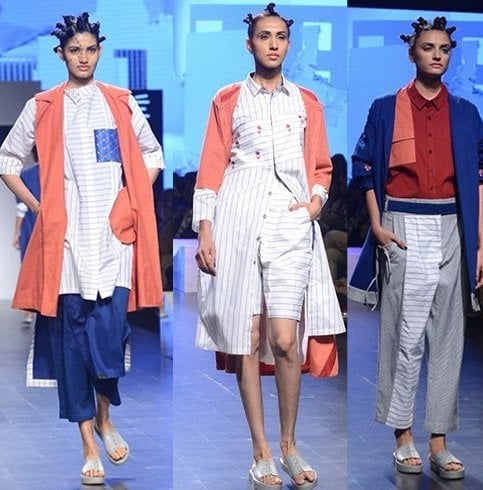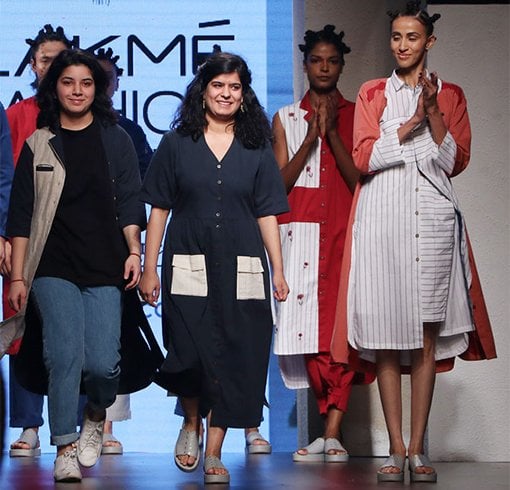 Nakita Singh was third in line to present her collection named "Outline". Inspired by the art of sketching, Nakita's collection was based on the outline of a drawing. The woman took to the runway with a range of silhouettes in khadis and linens in a monochromatic shade card.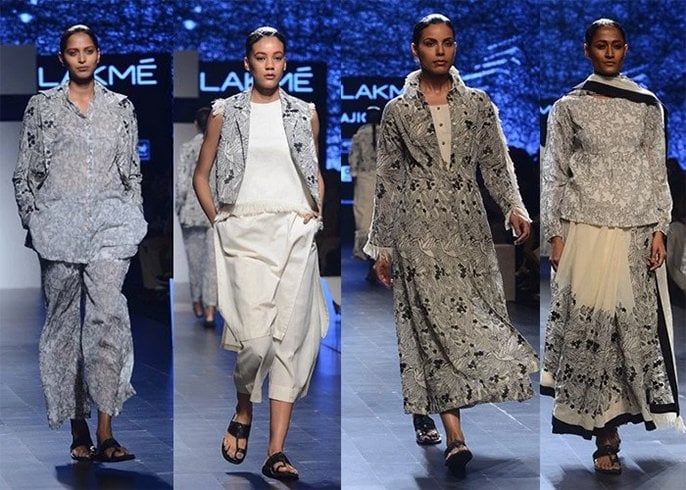 Poochki by Ishant Mukherjee and Anirudh Chawla brought to the runway a breezy light-weight collection titled Kuki. The highlight of their collection was their unusual layering along with the unconventional fauna inspired block prints of animals like Tortoise and Panda. The shoe models wore to round up their look also caught our attention.
[sc:mediad]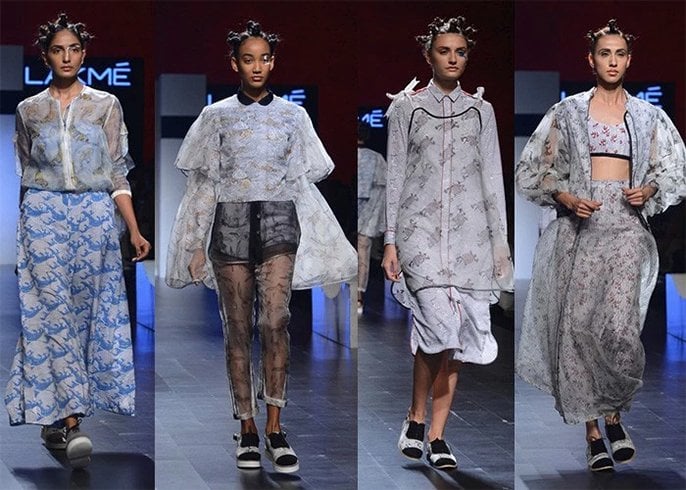 ARCHVS by Pallavi Singh aimed to combine the techniques from Japan and India with her collection titled, "Tokyo Delhi". Using kantha embroidery the lady whipped up a collection of kurtas, knee length skirts with crop tops and dresses. With indigo playing the crux of the collection, Pallavi fused in Chanderis and cottons.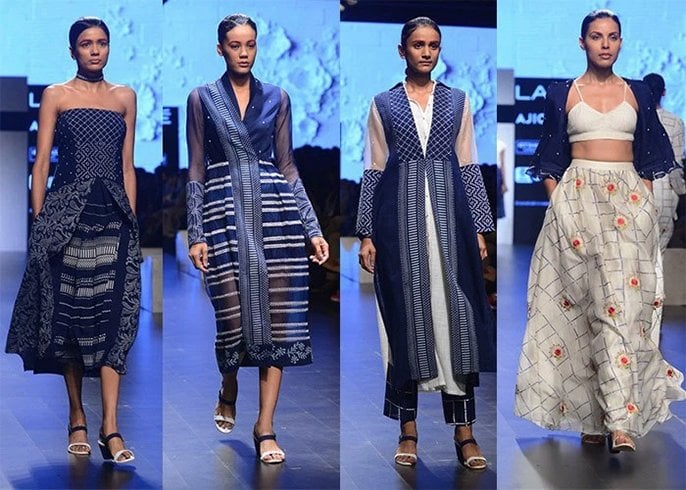 11:11
Working with their staple khadis, Eleven Eleven presented a collection that appeared to be an eco-considered, well tailored take on comfort. A host of khadi separates, tent dresses, relaxed long sleeve blouses, and indigo hues took us to those lazy summer months. This rooted interpretation of active-wear was a new perspective on comfortable chic clothing using Indian textiles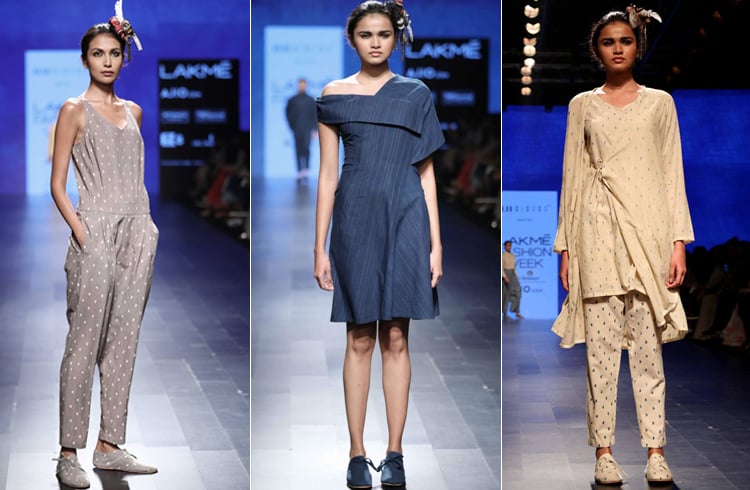 Urvashi Kaur
Designer Urvashi Kaur presented a sustainable unisex collection in earthy tones. The collection was centred around a traveller and a spiritual seeker influenced by Urvashi's travels to remote villages in India. Saris paired with kurtas, delicate kota overlays layering pleated slip dresses and block printed separates made up a collection oozing of the native India's culture and spirit. The designer rounded up her suave looks with comfortable loafers. Actor Imran Khan's wife, Avantika Malik played showstopper for this fresh collection.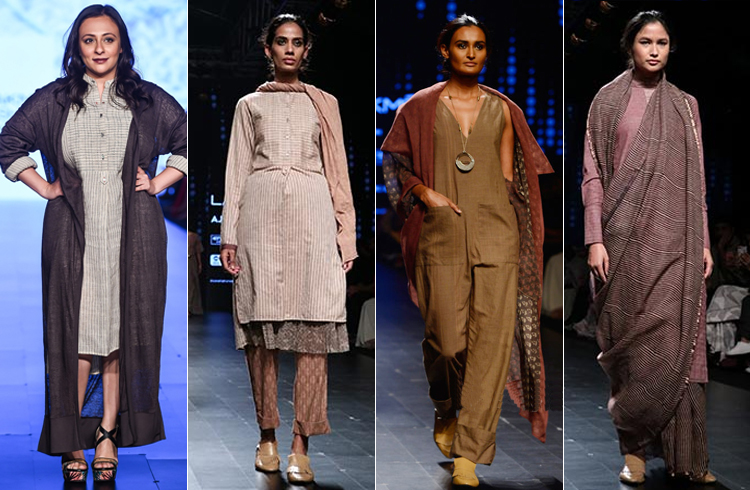 Ka Sha
Ka SHa delighted us with their go-to summer collection. Sweeping us with it's feminine charm, the collection boasted of summery elements like ruffles, frills, tassels, and pleated skirts in a rich ivory landscape. The frilled saree modified huge capes and a burst of colorful tassels, combined to create a feminine summer collection. The cheery yellow caught all our attention. From dusky purple to whites lined with colorful edges of blues, greens, and pinks, Ka-Sha's Lakme Fashion Week Summer Resort 2017 collection brought about a joyful summer experience on the ramp.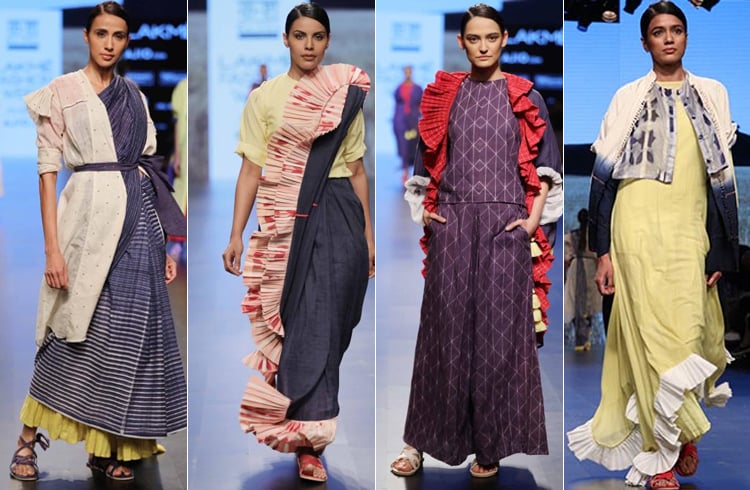 Antar-Agni
Antar Agni, a label which has observed much praise and appreciation for both it's men and women lines, presented soft, well tailored looks in shades of whites, beige, and blacks. The unconventional creativity fused with excellent construction techniques rendered a collection with each garment becoming a piece of conversation.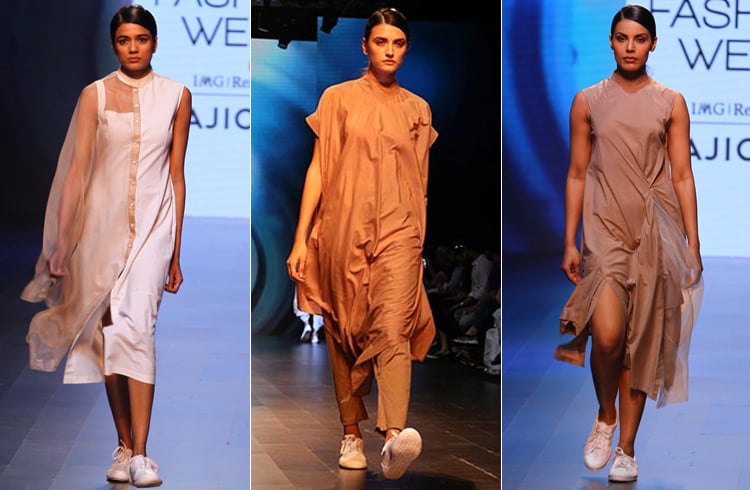 Anuj Bhutani
Anuj Bhutani started off as a gen next designer in the LFW 2014 edition. Now a seasoned runway designer with his label Reboot, Anuj attempted to explore the sustainable fashion peripherals this season, using a mix of jute, cotton, and khadi in earthy tones. Presenting a rather fluid collection for both men and women, Anuj surprised us with his modern day interpretation of the rich textures and fabrics. Minimalistic and clean cuts were the defining elements of his collection. The relaxed and rather laidback outerwear were the highlight of his LFW Summer Resort 2017 collection.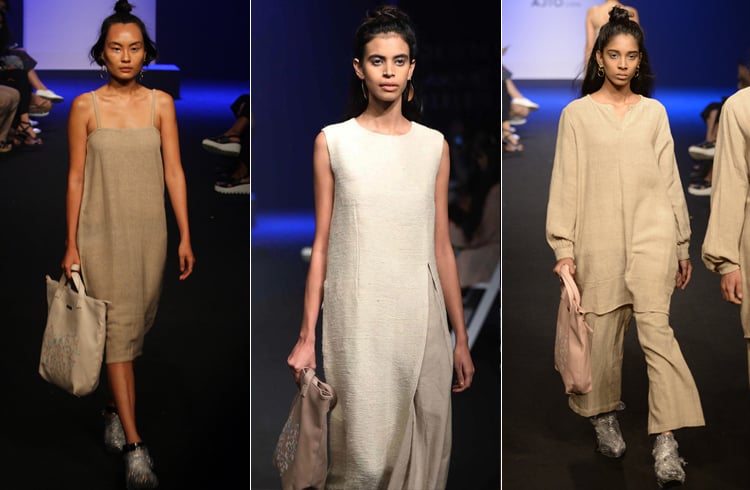 Eka
Designer Rina Singh presented a breezy summery collection under her label Eka. A melange of soft water colors infused with block prints and distressed finish created a collection that voiced the relaxed and merry vibe from the beaches of Goa. With a fuss free and wearable line, the collection flaunted layered separates, muted pastels and lace inlays and pretty cross stitch embroideries to create innovative silhouettes.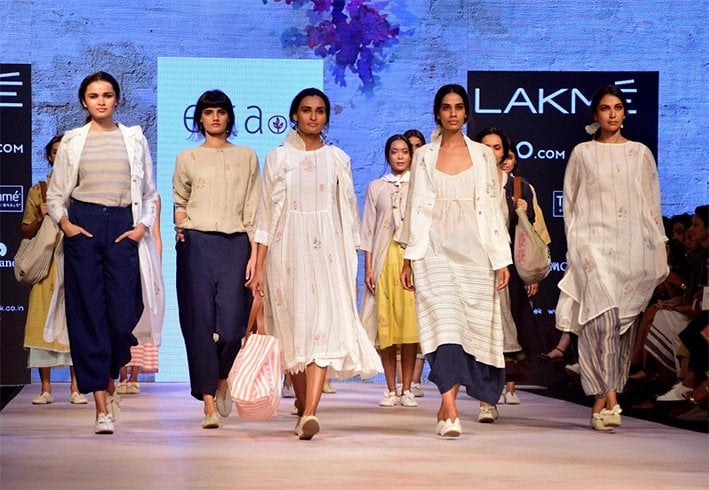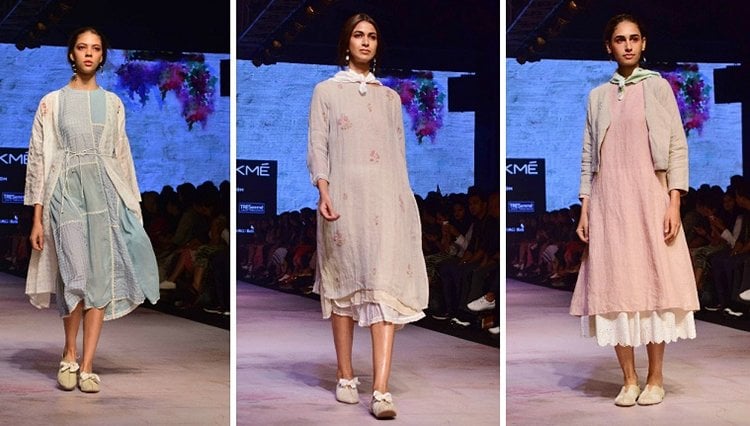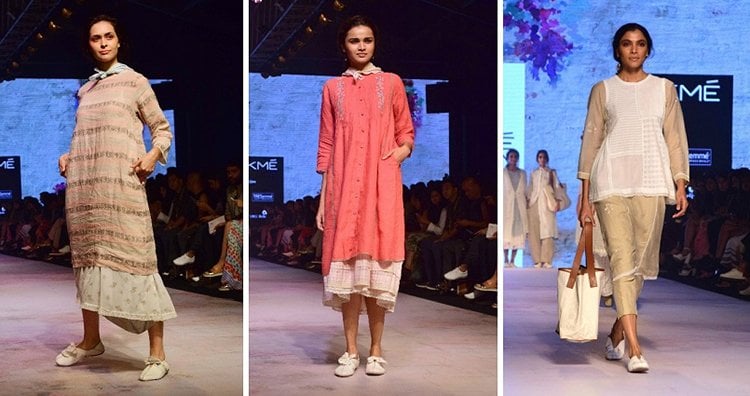 Amit Aggarwal
Designer Amit Aggarwal presented 'seamless' by AM.IT x Lakme Salon as the closing show on Day 1 of Lakme Fashion Week Summer Resort 2017. Using unconventional industrial materials, the designer presented an interesting medley of varied patterns in edgy forms. Amit reshaped tradition with broken pieces of patola sarees seamlessly woven into his signature style of sculpted forms. The metallic accents on wine, rust, teal, olive, khaki, mustard and ink blue lent a sharpness to Chanderi and silk. Boxy silhouettes with the quintessential geometric pattern of patola were clinched with wide metallic waistbands.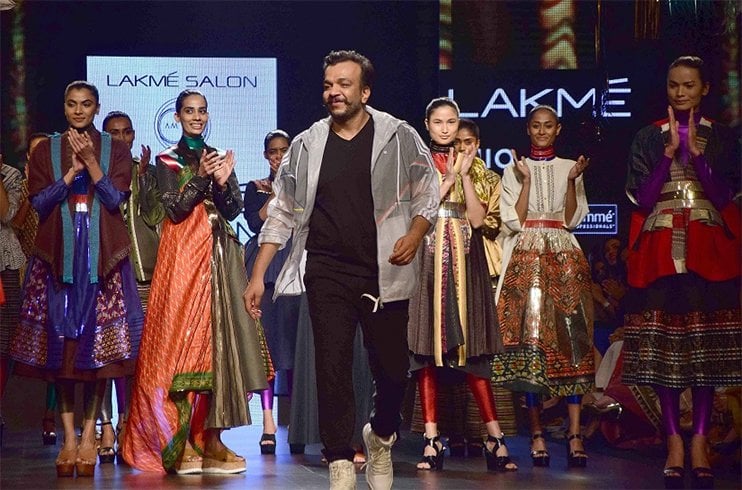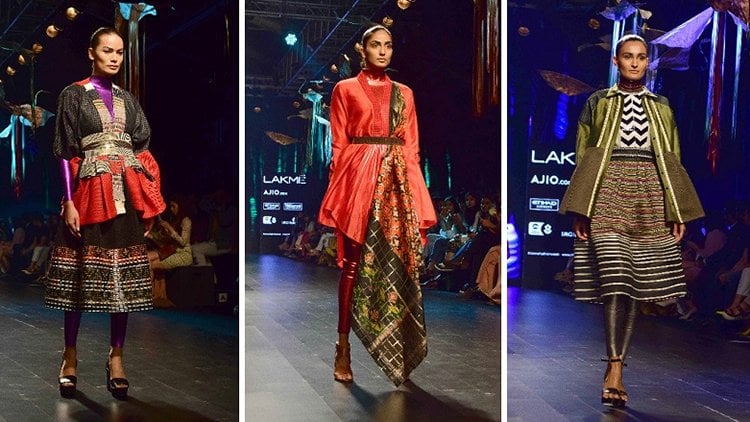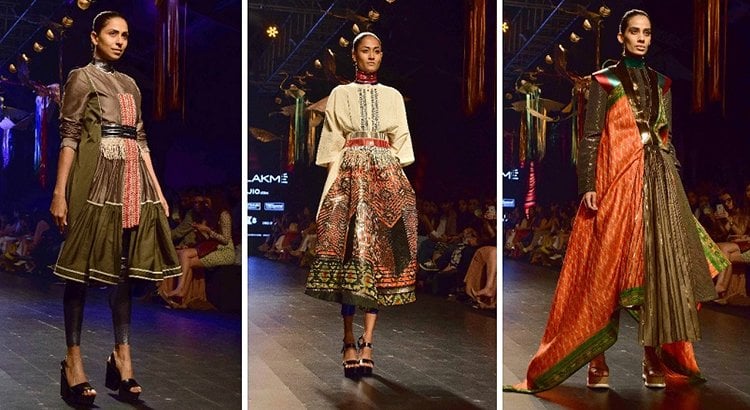 Images Source: instagram, lakmefashionweek