When one is born in a ruling dynasty of Bollywood, one cultivates an immaculate sense of style and fashion throughout the growing years and are full-fledged fashionistas, like Sonam Kapoor, by the time they hit the silver screen. Others, read Deepika Padukone, have to grow it gradually after they enter the industry. The XXX actress is a queen in her own rights, she had to fight for it, nothing was offered to her on a silver platter and in the past 10 years she has certainly emerged as one of the best dressed celebs in Bollywood.
[Also Read: Deepika Padukone]
Before Big Screen Happened
Her picture, however, was not this perfect all along. Remember the days when she featured on Himesh Reshammiya's music videos? No, those weren't the glorious days of Deepika's career and almost were the dark ages of her style sense. She was a model before becoming an actress and it boggles my mind wondering which designer suggested those outfits on her to be walked in on the ramp. Thanks to her naturally beautiful face, that saved the day despite the horrendous wardrobe choices.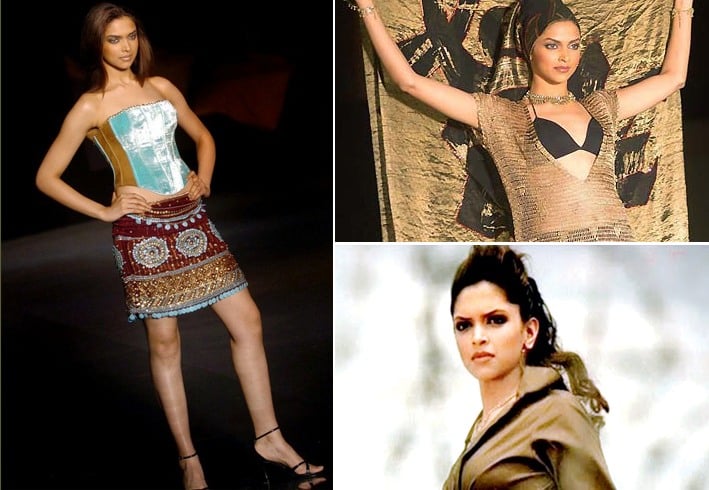 Debut In Retro
As pretty she was (and is), it was only a matter of time before an 'A' list director from Bollywood took notice of her and cast her in the main lead. When it happened for Deepika, it was the best of the lot. Dressed by Manish Malhotra, Deepika in Om Shanti Om replicated the 70s era like no one had ever done. The winged eye liners, the big hair buns and parallel salwars with tight kurtis – the year 2007 was legit a year of retro.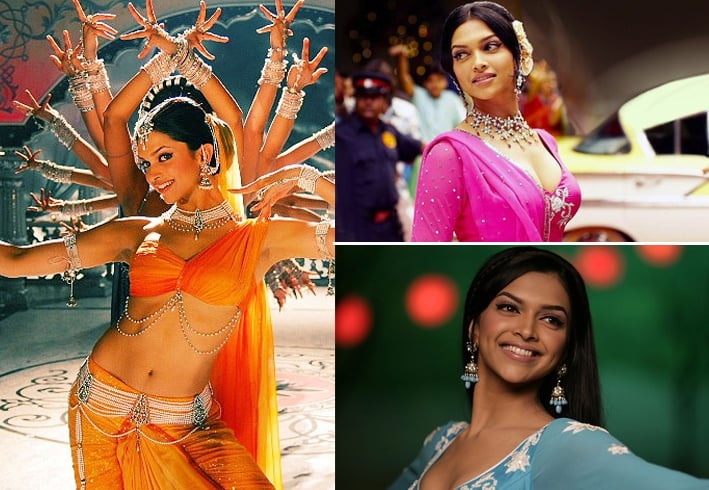 Initial Brushing With Fashion
She might have created an uproar when styled by the aces, Deepika's personal style was still far from perfection. The actress was struggling with her stokes in most of her appearances, still ambling towards the stable ground in the industry and till she didn't hire a stylist, her looks in filmy events left us less than impressed.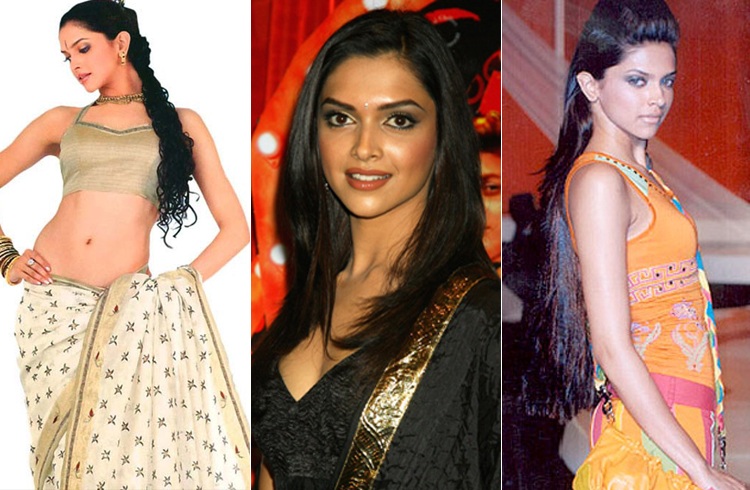 Emergence Of The Diva
But soon wisdom dawned upon her, and we got what the world today recognizes as Deepika Padukone, a diva in the truest form of the term. As her career progressed, bigger banners started signing her up, and she made a rapid progress to become one of the world's highest paid actresses, Deepika's fashion sense evolved and ran parallel to her professional growth. Her photo shoots bewitched the onlookers, and the audience was left gaping. Thank the heavens above, even the runway saw her wearing better designs than what she slipped into in her earlier days.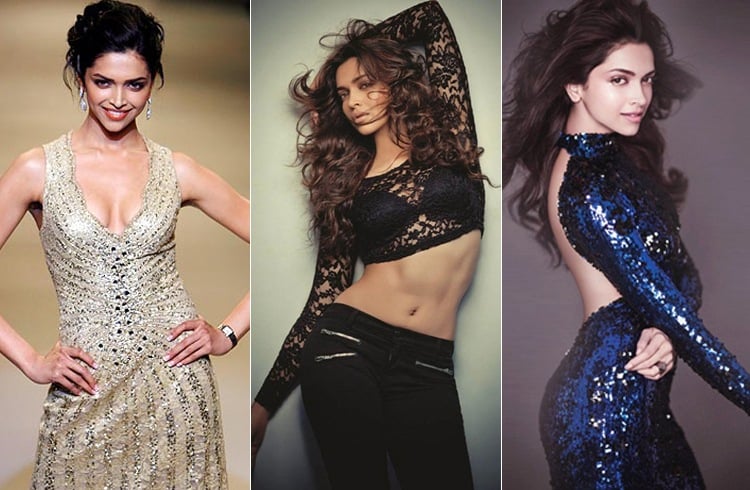 New Look In Every Movie
Deepika can boast a mixed bag of roles like none other. From a village belle to an ultra-modern spoilt NRI brat overseas, to an authoritative loving and responsible daughter, directors in B-town have trusted Deepika with roles of every flavor. And not only with her acting skills, she has brought a life into the character she played by infusing every one of them with a distinctive identity. Her looks in movies like Love Aaj Kal, Cocktail, Chennai Express, Piku, Ram-Leela, Bajirao Mastani, all stand independent of each other, they are an individual in themselves, they are not Deepika Padukone – that is the mastery this phenomenal actress has achieved.
[sc:mediad]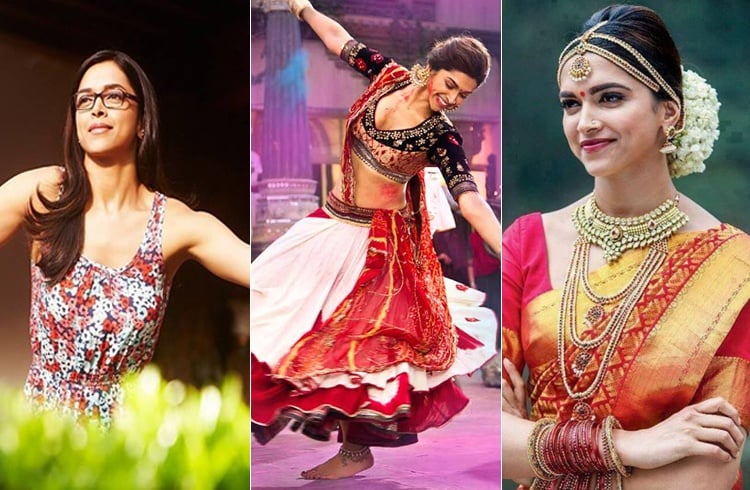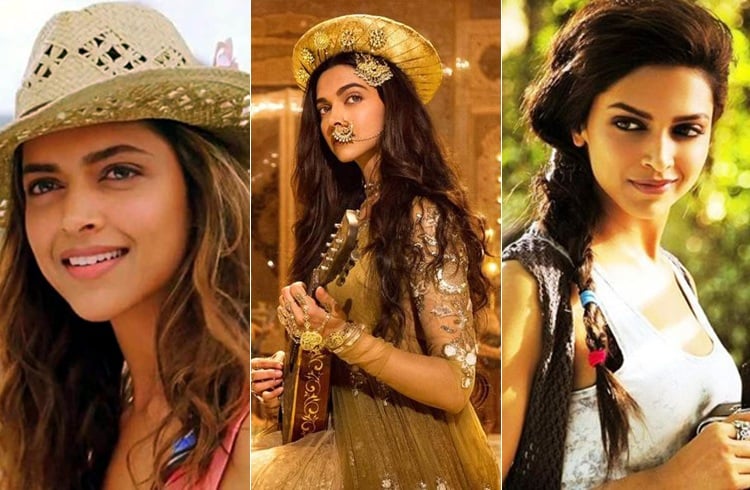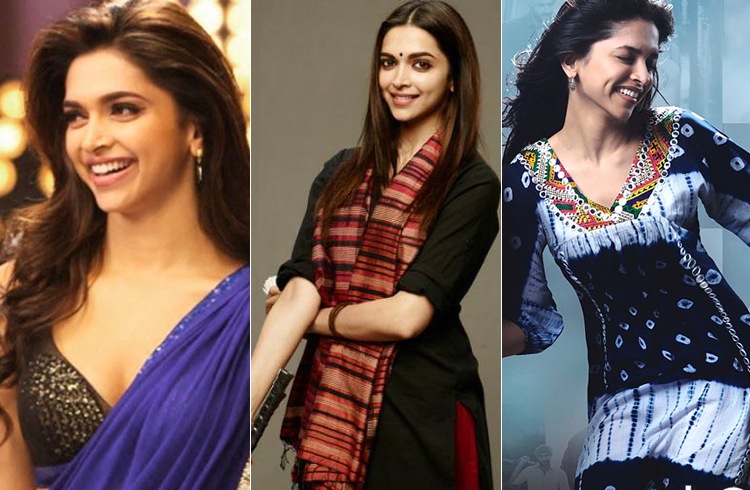 Bollywood Red Carpet
Not only did movies but all the major red carpets the 'Chennai Express' actress has walked has witnessed her in the choicest of designer wear. She arrives looking ravishing in gowns by big names in the fashion industry like Gaurav Gupta, Naeem Khan, Nikhil Thampi, Sabyasachi, Alexander McQueen, Dolce and Gabbana takes her game a notch up every time.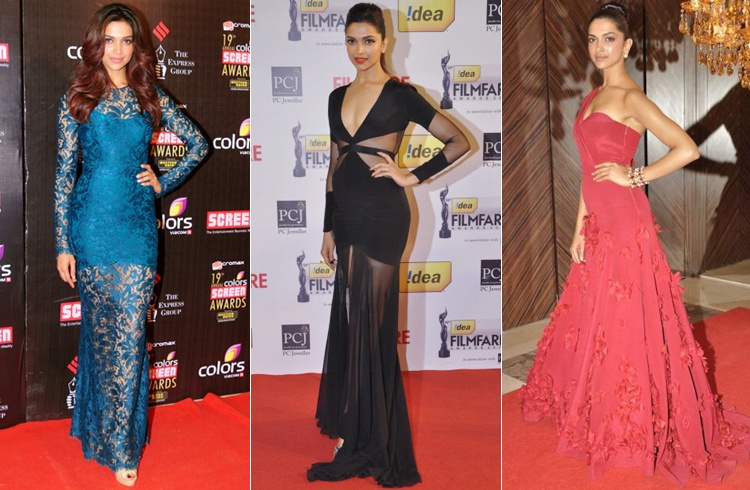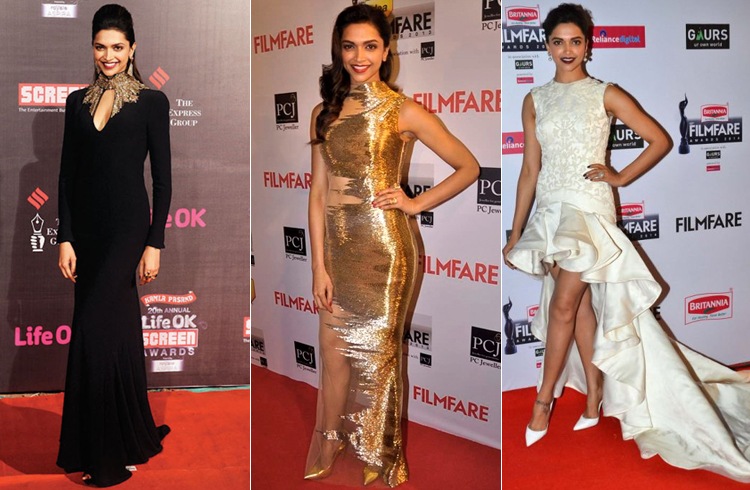 International Experiment
Unfortunately, her personal style didn't translate well with the international fashion critiques for her looks at MTV EMA and Cannes red carpet. We beg to differ here, because we are in fact a fan of the olive skirt she walked in on the red carpet of EMA a couple of weeks ago.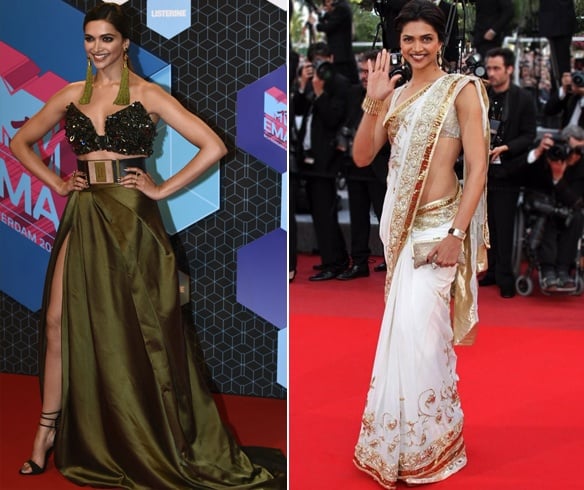 Less Is More On The Go
But when Deepika is not amidst the judgmental prying eyes of media and shutterbugs, she is just a regular girl taking a break from pounds of makeup and all those uncomfortable haute couture. Her airport style suggests she loves to keep it simple while on the go. A pony tails or a braid, a basic tee and well fitted jeans or leggings– home girl doesn't need an entourage of stylists to look good anymore.

In the past 9 to 10 years, Deepika has been a part of the best movies Bollywood has made. It amazes us how without any filmy family backing she had proved herself to be better than all other who boast their big name families. It is safe to say she is the most talented and successful actress of this generation and it will not be impossible for her to replicate this enormous in Hollywood too.
Images Source: pinterest