Don't we love the bling factor in our fashionable lives? Yes we all do, and this is why, be it for any reason, a touch of bling to wear every day is a must.
Now let's take a look at the many ways on how to get the chicest of bling storage items done the right way, through the concept of wine bottle crafts. Wine is good for health in moderation, we all know that, and the wine bottle when empty can be a good source to use as a storage option for our bling blongs too. Without much ado, we would want to show you three DIY wine bottle crafts that are functional and chic to make and use at home. And along with that, we would like to show you more jewelry and makeup organizers that you can DIY at home as well. Take a look!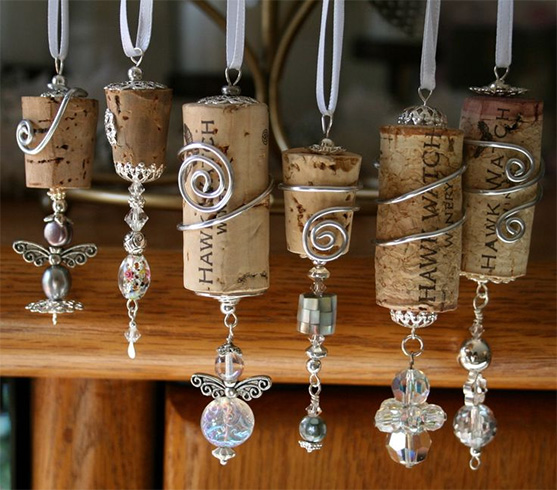 3 Wine Bottle Crafts to Organize Your Makeup and Jewelry:
1. Wine Bottle Jewelry Holder
Here is an easy peasy way on how to DIY your own wine bottle jewelry holder
What we love about this idea is that it is eco-friendly and very easy to make. You can customise this idea as you wish to, and choose whatever color scheme you want to play with. This is actually a very cute way to store your precious jewelry as well.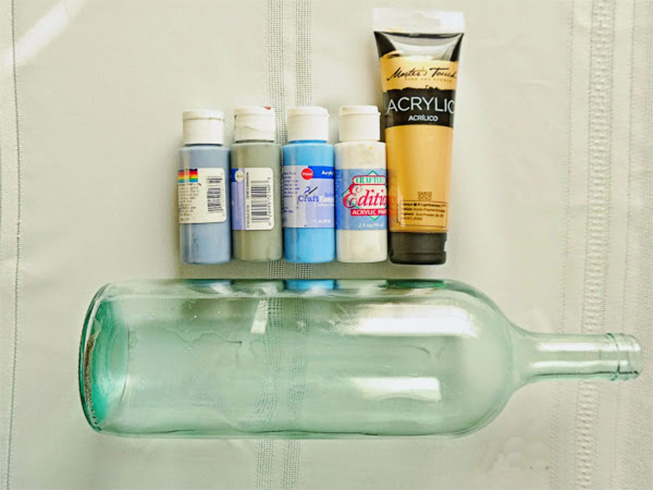 STEPS
We begin with taking an empty glass bottle which has been washed clean and dried.
Gather bottles of acrylic paint of your choice and as many number of colors as you want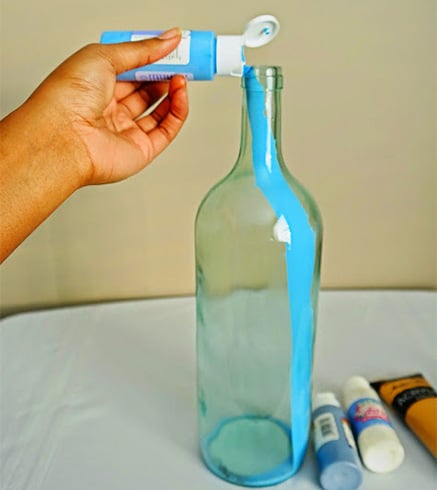 Pour into the bottle each paint color at the opening of the bottle and let it smoothly flow down the bottle sides. Do this for each color you have, one color at a time and let the interiors capture the colors and till the space within gets colored. Use just the right amount of color to flow in, so as to not create a puddle at the bottom. Look at the picture below for reference.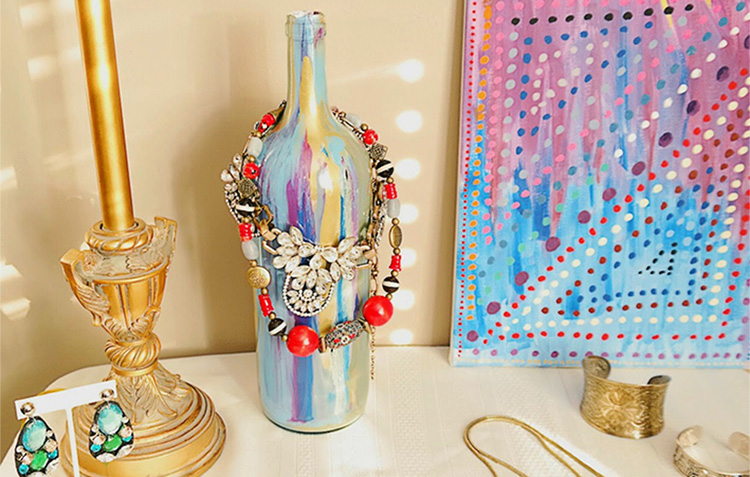 Once you have achieved the look you want, allow the color to set. It would take a day almost for the same to happen.
Voila! Your new jewelry holder is now ready to use.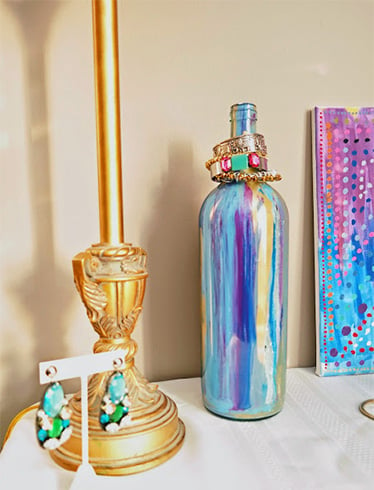 Wasn't that fun!
Here are more ideas on the wine bottle jewelry holder concept!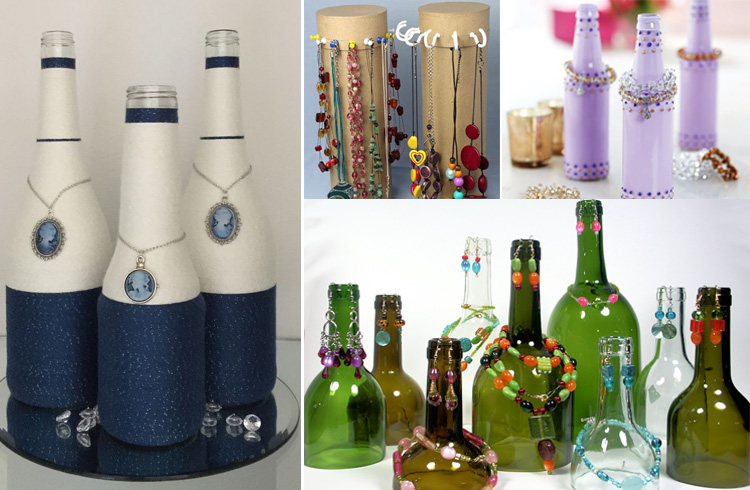 Now that we showed you ideas and also a DIY tutorial on how to make your own jewelry holder from a wine bottle, let's learn something new- how to create a piece of jewelry! Take a look!
2. Create a Piece of Jewelry
While we just love having a glass of wine when the sun goes down each evening, what is it that an empty bottle of wine suggests? More wine? For sure yes, but that empty bottle can become a niche piece of jewelry to decor the house and your room with, and here are a couple of ways to reuse the empty wine bottles.
If you ever wished to have a zen garden at home, here is you chance. You can reuse old wine bottles and make mini zen gardens at home. Take a look at this cute idea.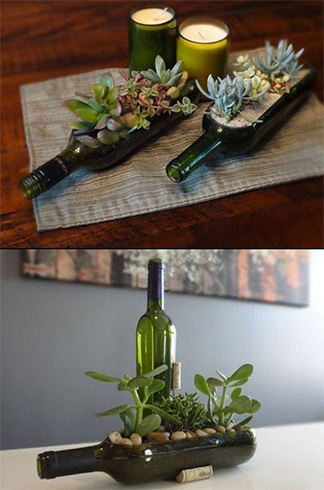 A Chic decor piece for the fireplace at home or maybe for the dining table, why not? Wine bottles can be reused and decked up as per your desires and wishes. Here is one of the sweetest ways we found around that can enhance the look of the room.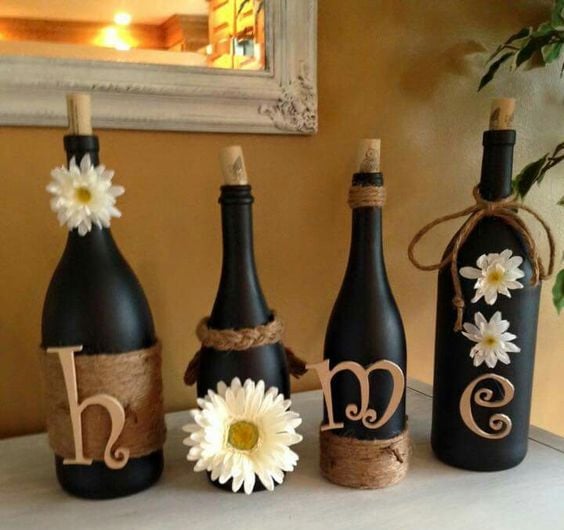 This christmas, reuse the old wine bottles you have and make christmas curious out of them. You can do the same with diwali and other indian festivities too. Gift them to someone you love or deck up your room in them.
[sc:mediad]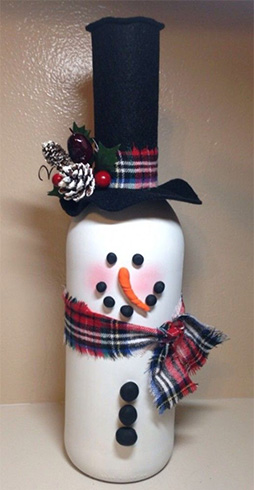 A little creativity with rice lights and paints, can bring in the magical galaxies into your room at night. Here is an idea on reusing wine bottles and bringing in the much needed oomph to the room you live in.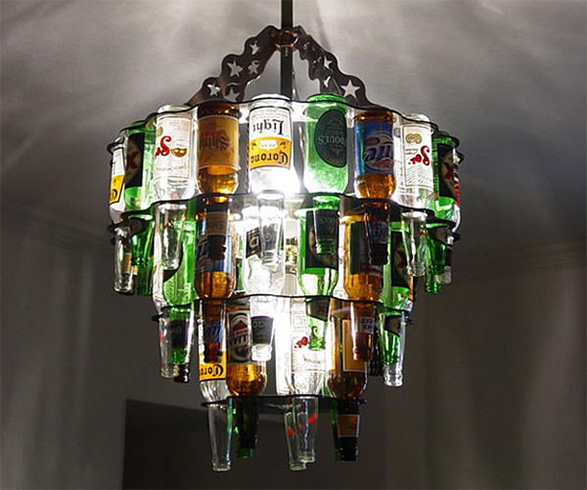 Something nice and rustic for your garden, a bird feeder made from an old wine bottle. We love this idea since it plays with minimalism and also brings a cozy touch to the decor and the craft as well.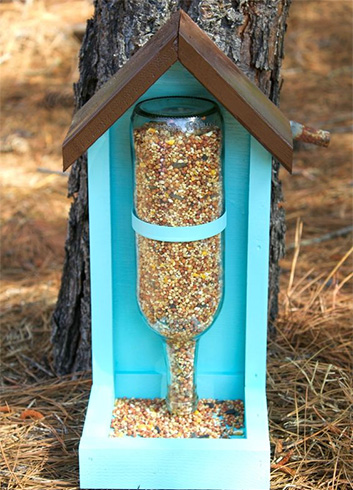 Here's an easy weasy way to start reusing old wine bottles and to turn them into something nice and chic- a decorative piece using twine and yarn! Take a look at the tutorial in this picture below, and follow the steps.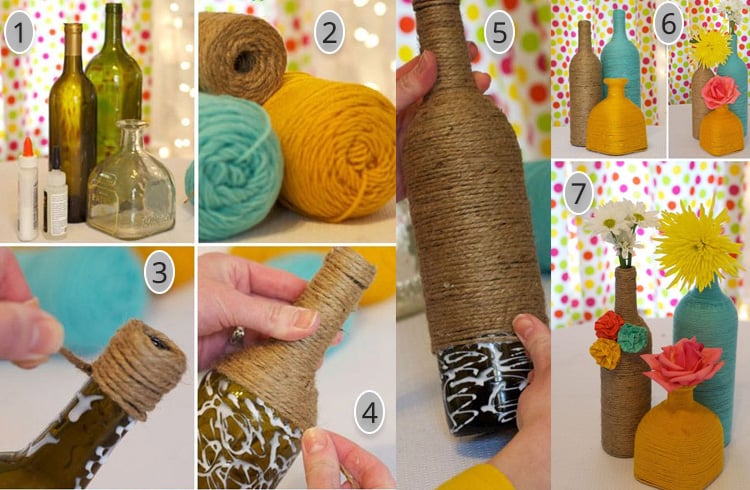 Halloween is not too far away, and if you needed chic yet cost effective home decor ideas for the season, here are three wine bottles reused and showing you how they can bring in the spooky effect.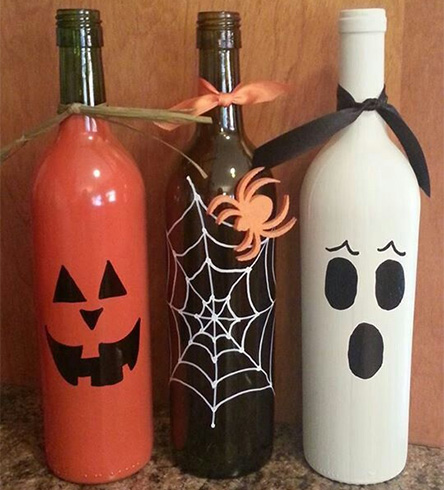 We hope these ideas caught your fancy, and if you want more, here are a couple more to choose to work on!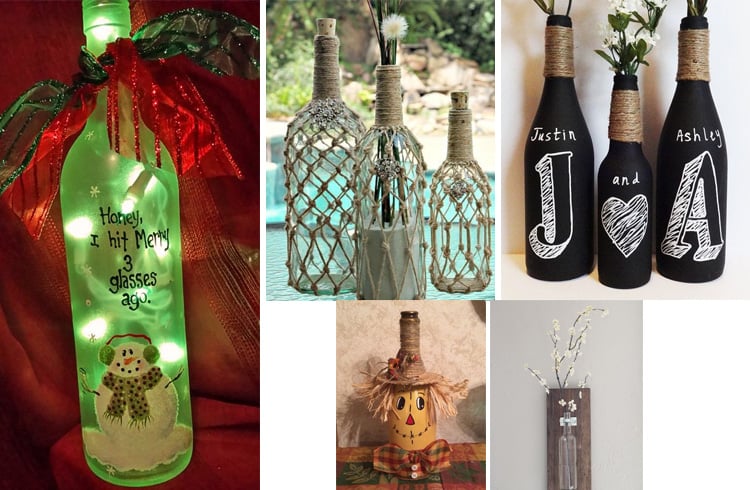 So now that you have had your fill of ideas as to what to do with old wine bottles, let's learn on how to repurpose old wine bottles into makeup brush holders! Very important to know for us fashionistas!
3. Makeup Brush Holder
Makeup brushes should be maintained well and kept in the right place, or else they would lose their sturdiness and powers to work their magic. While you need to get them cleaned almost after every use and with rubbing alcohol to say the least, storing them the right way would help the bristles stay soft and nice, and the handle of the brush stay strong. Here are a couple of alternative ways to store makeup brushes, using old wine bottles. You heard it right!
Every glam diva needs to have the right makeup brush holder to keep her pretty brushes in. A reused wine bottle painted in glitter seems to be an apt choice when thinking of the same. Here is a cute idea for the diva to use.
Yes, keep calm and wear your makeup like a pro and store your makeup brushes like a fashionista would. If you are wondering how to reuse the wine bottle as a makeup brush holder, here is an idea you could use.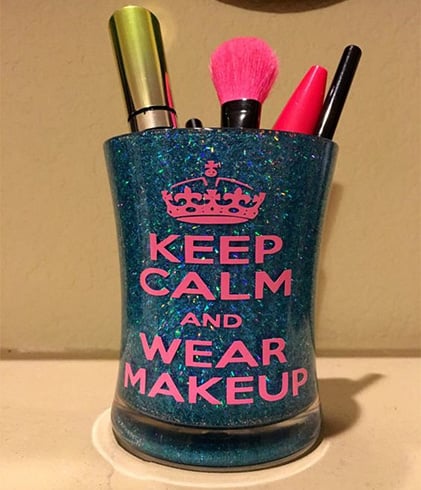 Here is a wine bottle that has been cut into half and reused as a glitter makeup brush holder. What we love is the minimalism note in it, and the way it screams of belonging to a fashionable woman such as you.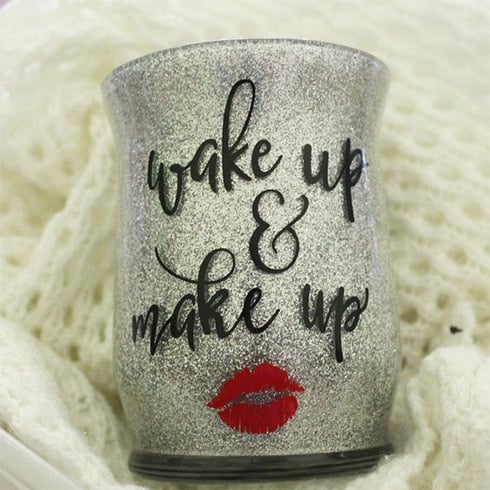 Glitter and stickers to deck up the cut out old wine bottle and to use as a makeup brush holder is a new trend. You too can get going with the same. Here is an idea to emulate.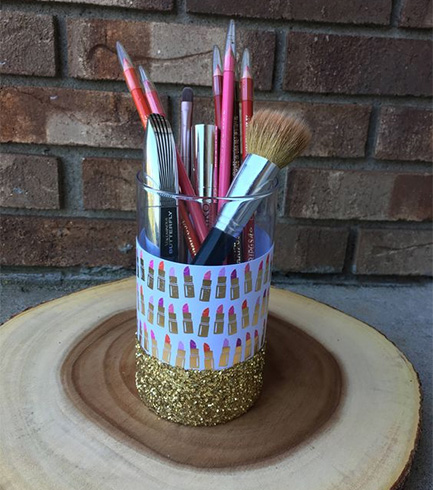 We looked around to get you the best ideas on how to make your own wine bottle makeup brush holders and this is a video we found, which is so easy and shows us three ways on getting it done. Take a look!
We hope you enjoyed the video on how to make your own makeup brush holder with the old wine bottles, and now that is done, here are a couple of tips when using DIY craft techniques at home.
Tips
While we are all in for recycling, we must say, repurposing an old wine bottle is a charming thing to do. Here are a couple of more tips for you to use.
If you would like to give the old wine bottles an astounding look, to store oils and more or as a decorative item at home, here is an idea to use.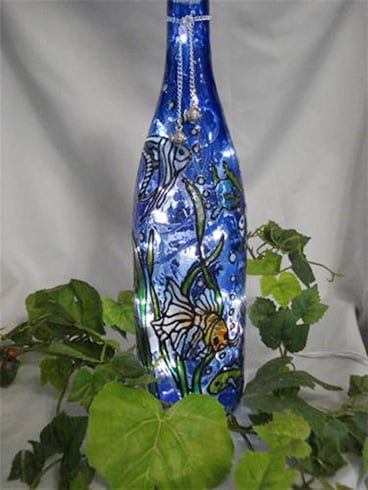 Get help to cut the top and the bottom of the win bottle so that you can create hurricanes in them. You would need a little wire to make the holder that holds the tea light or you can use a normal pillar candle, the choice is yours.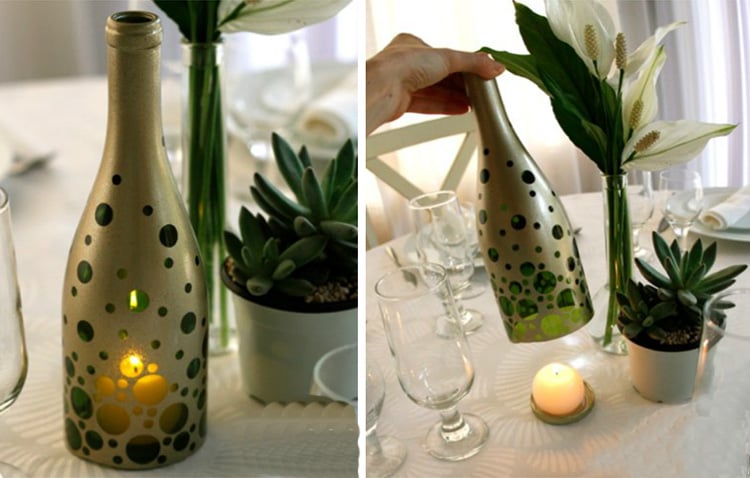 Reused wine bottles can be turned into crafty vases and can be gifted to someone on holidays or birthdays. Spread the cheer!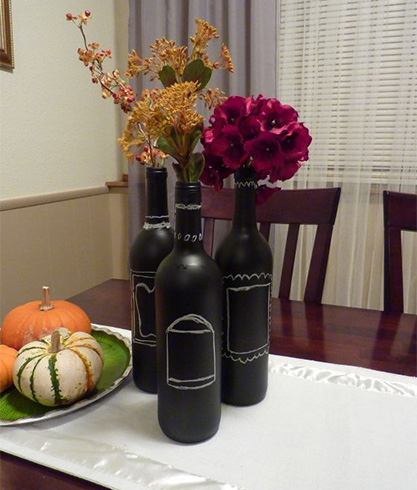 You can convert them into tiki torches this diwali and spread the light around the house. Quite an inexpensive way to celebrate the festival of lights, isnt it?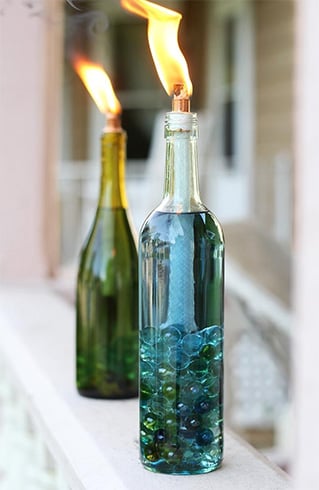 Fancy some mood lighting or dim lighting at home, but do not want to spend a ton on new lighting accessories- wine bottles can do the trick.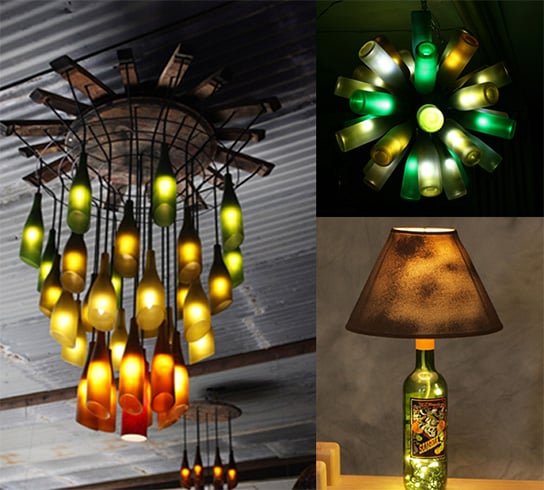 Get to an art and craft store and collect packets of orbees and stick them on the wine bottles. Deck the bottles more with nice tassels and bows for the holiday season decor.
Think of this candle chandelier made from old wine bottles as an ideal way to deck up the garden with.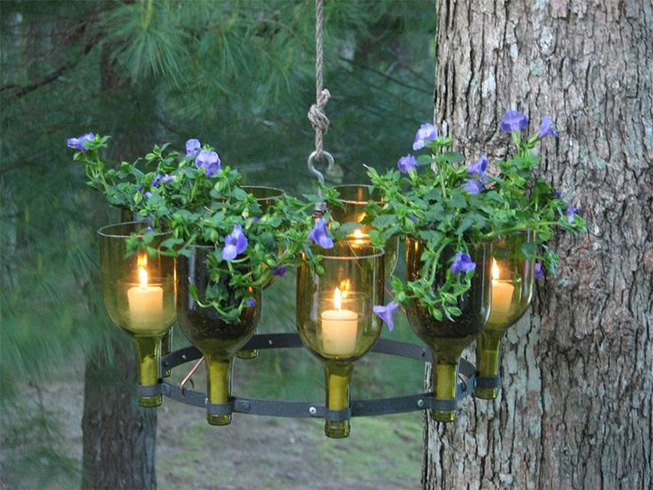 We hope you enjoyed our three concepts on how to repurpose old wine bottles. Not only that, we also showed you what else old wine bottles could be turned into- home decor for example. Enjoy this post, and do email us your own DIY ideas on the same lines and we would love to share it with the world. Have fun and let's say CHEERS!
Images Source: pinterest