Winter is here and with that being said, it is time to take out all the woollens and deck up in bright colors to beat the sombre shades of the season. But if you don't have colourful winter options to wear, you would then need to shop. Winters are a small season in India, which is why most wouldn't want to buy and splurge a lot, since the woollens are packed away soonest. So why spend, say most!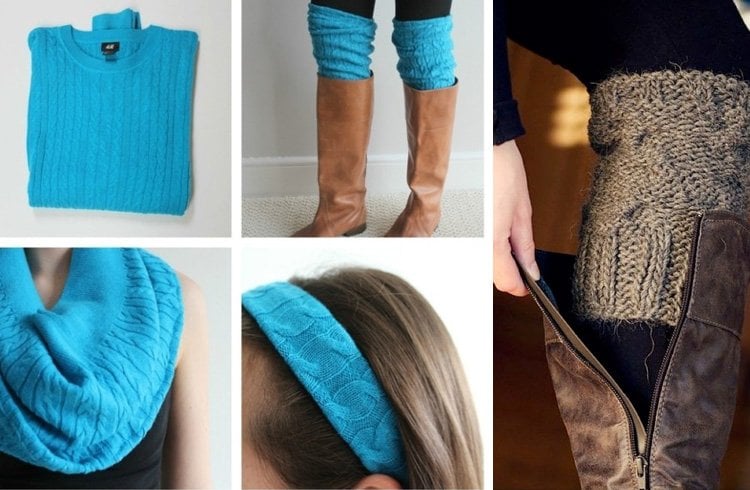 We have solved that for you and bring to you DIY winter fashion ideas to try and use. With DIY winter fashion, you get to make your own winter ensembles and save money too – now this is what we call fashion on a practical note. Here are a couple of DIY winter fashion ideas.
[ Also Read: How To Make Clothes Yourself: Your Pocket-Friendly DIY Guide! ]
Practical DIY Winter Clothes You Can Make
1. A DIY Winter Dress
Why spend a bomb on a chic winter dress when you can make your own lovely DIY winter dress. Save money dearies, save it up for something special and look at this tutorial below to make your gorgeous dress. We found this brilliant DIY party winter dress at Apairandasparediy.com to make at home and wear.
You need:
Sequin fabric measuring 1.5 x your waist in length (and 62in in width). It's best to pick a sequin in a matte colour like bronze or copper for a subtle and less brassy style.
Get onto the blog given by them for step-to-step instructions or ask your local tailor to help you make the same.
2. A DIY Winter Coat
Stay warm and trendy this winter by wearing fashionable winter coats! If you don't have one, we have an idea to share on how to make your own DIY winter coat. Take a look at this amazing design and idea as seen on eHow!
[ Also Read: How To Make Clothes Yourself: Your Pocket-Friendly DIY Guide! ]
This was an amazing idea to make a blanket coat, which can be emulated with various fabrics, textures, patterns and styles – imagine the fashion statements you would make with them!
3. A Chic DIY Winter Hat
Cute and very easy to make, fleece DIY winter hats in various colours and designs can be a fashion statement to flaunt with a pop of colour to wear with just about anything. The statement speaks of fun and life, and you can ring in the spirit of the holiday season too – reds, greens and whites! As seen on clicketyclak.wordpress.com – instructions and steps given to make your own hats
4. A Cute DIY Winter Scarf
Scarves are versatile fashion accessories that gel well with just about any ensemble or haute clothing you plan to wear. This is why, if you don't want to buy scarves, you can make your own DIY winter scarf at home. As seen on lydioutloud.com, here's an idea on how to upscale an old woollen shawl or sweater in to a chic woollen scarf!
5. A Quirky DIY Fur Hat
Fashion is meant to adorn, sans the killing of another species. So when we say fur, we mean faux fur hats. A faux fur hat adds a visual glam sham statement to whatever you wear, which is why making one of them is a must. As seen on TheGrommet.com, here is an idea on how to make your crochet hat look fab and chic!
[sc:mediad]
6. A Pair Of DIY Gloves
Keep your hands warm and toasty this winter by making yourself a pair of warm mittens for the hands. Here are a pair of Christmassy themed mittens you would be tempted to make!
7. Bow Socks
What do you do with an old pair of winter socks? Upscale them into a chic pair this year with a bow for each of them to deck up with!
Do write in and let us know your thoughts on these seven DIY fashion for winter statements that we showed you!