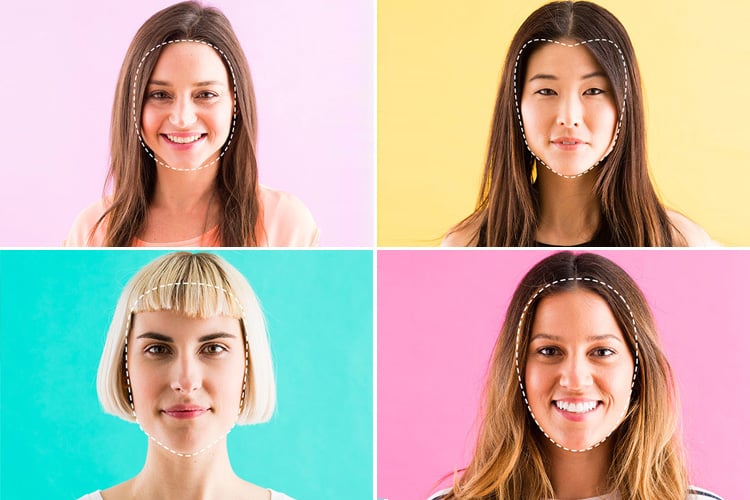 Your face shape is very important to determine what kind of hair cut you should have, or what are the glasses that will suit you the best and to also determine how you should do makeup on your face to make it look more appealing.
Are you wondering what shape is your face?
In this article we will talk about the most common types of face shapes and how to determine what kind of face shape you have.
There are six main types of face shapes and you will fall in any of these categories: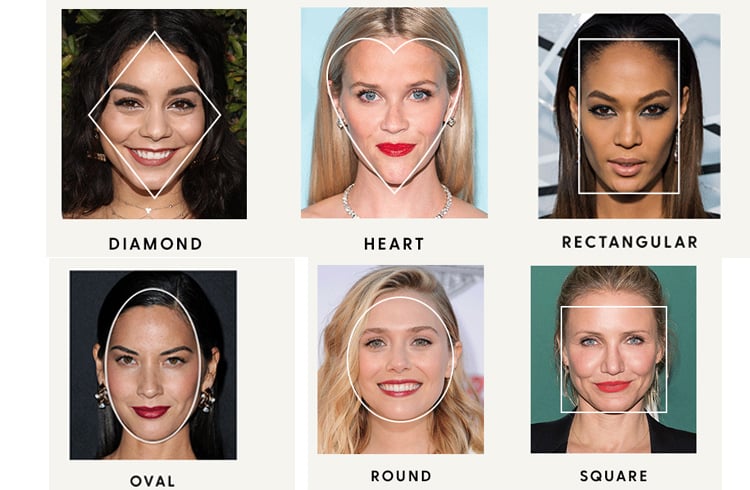 The square face
The round shape
The diamond shape
The oval shape
The rectangular shape and
The heart shape
Now which type of face shape do you fall in? To determine this, you will need a few things:
Grab a pen and notebook and start taking the following measurements with measuring tape:
Start by determining which is the widest part of your face and then deciding which one is the face type you belong to.
Forehead: if your forehead is the widest part of your face and it tapers as it goes down, you have a heart-shaped face also known as an inverted triangle
Cheekbones: A person with diamond shaped face has the widest cheekbones
Jawline: You have a triangular face if your jawline is the widest
Face length: A person with an oval face will have the longest face length
Using a measuring tape is the easiest way to find out your face shape and it can help you determine whether you should get a layered hair cut or wear a certain kind of jewelry. If you don't have a measuring tape handy, here is what you could do to find out what kind of face shape you have.
Tracing your face in the mirror: Take some lipstick and trace the outline of your face. Now go back to the list above to determine which category your face falls in and the widest part of your face will tell you what type of face structure you have.
Now you know roughly two ways in which you can determine your face shape, here is some in-depth analysis on what kind of face shape you might have and how to style it better.
Determining Your Face Shape:
1. Round
If you have a round face, it means that different parts of your face are almost equal in length and your cheeks are softer and rounder. Your outline will closely resemble a circle and this is the most common way to determine your face shape. The jawline is mostly curved and the forehead is smaller.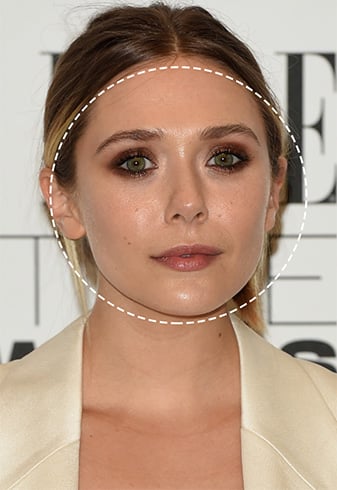 Celebs with your face shape:
The celebrity who has a round shaped face is Emma Stone.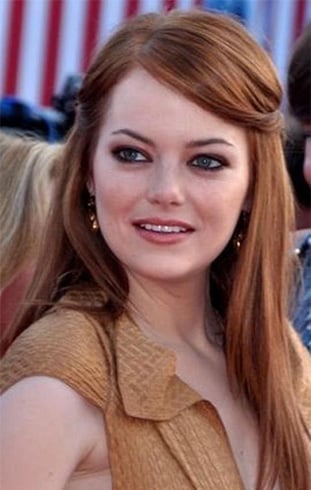 Best haircut for:
Short hair: For a short haircut, a spiky hair cut will suit the best. The choppy strands on your face work to give your face a much needed lengthening. This hairstyle works the best if you have thin straight hair but don't have this cut if your hair is frizzy and curly
Medium hair: Get a cut that has long wispy locks around your collarbone – this will make your face appear slimmer and has a flattening effect.
Long hair: Long layers and wispy locks skimming your jawline. This again makes your face look slimmer and gives more volume to the area you need. Overall you have a flattering effect on your face.
In the above picture, Selena Gomez is the perfect example of how you can use the haircut to make your face look slimmer.
2. Square
Square faces are as long as they are wide. Their cheek and length measurements are very close and maybe about an inch from each other. In addition to this, the cheek, jawline and forehead measurements are also similar. Jaws are very sharp and you can literally draw a line on them. Also, your cheekbones are super high and this is one of the most distinguishing features of a person with a square face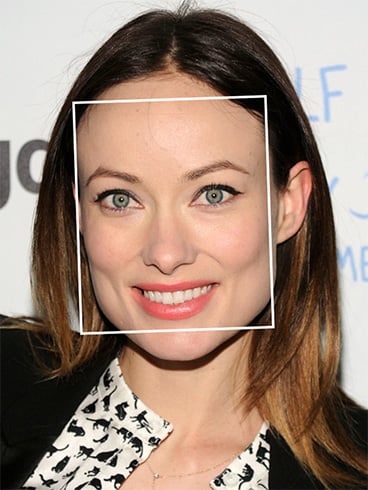 Celeb with your face:
Besides Olivia Wilde, Kiera Knightley is another common celebrity who is known for her square face.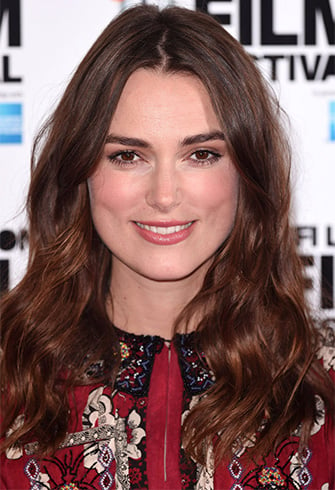 Best haircut for:
Short hair: A short bob with bangs framing your face will help to highlight your cheekbones more than your jaw. Always flatten out the bangs before you head out
Medium hair: Sweeping bangs and locks that skim your jawline will work again. The airy bangs will hide the strong jawline and put focus on your cheekbones.
Long hair: Structured airy fringes that are in and around your cheekbones look best with long hair. The hair cut easily softens the face thus making your looks stand out.
3. Oval
When someone has an oval face, it means that your features are round, but they are not symmetrical like a round face. The width of your face is generally smaller than the length and your jawline is smooth and elongated. Your chin is cute and round.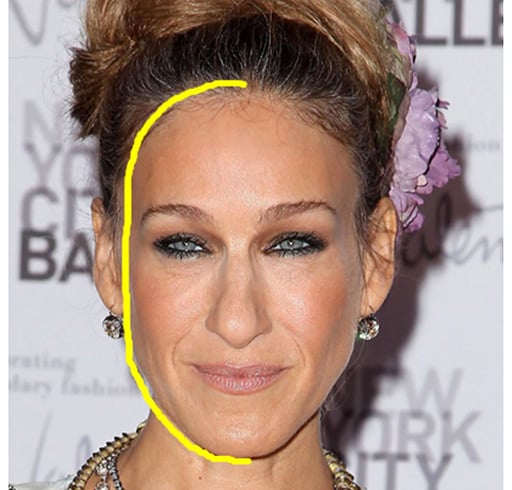 Celeb with your face:
Jessica Biel and Kim Kardashian are popular examples of celebs who have oval faces.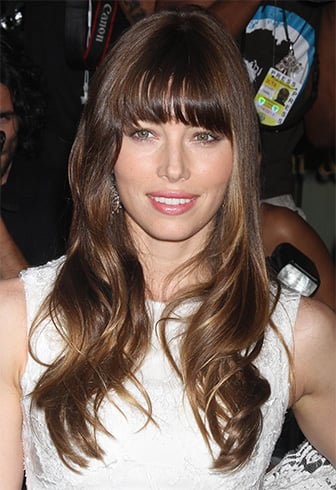 Best haircut for:
Short hair: An angular bob with layers that will hug your chins work the best on this
Medium hair: Airy and wispy bangs make your face look more elongated and also prevent your hair from lying too flat on your face
Long hair: if you are not too keen on your elongated face, you can use a retro and side-swept bang to make your face look a little shorter. Covering the area between your brow and your hairline can chop off a few inches from your face.
4. Oblong/Rectangle
When you have a rectangular face, your face is longer than it is wide and your jawline is not as smooth as it in in a square face.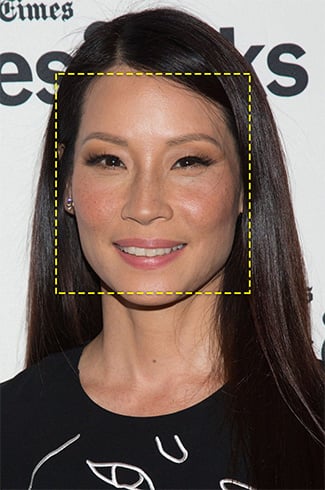 Celeb with your face:
R & B singer Kelly Rowland is one of the most famous examples of a celeb with an oblong or rectangular face. The best kind of haircuts for this kind of face include a straight bob that is cut shoulder length to frame your face. It is a very striking hairstyle and evenly balances out your face and makes it look longer.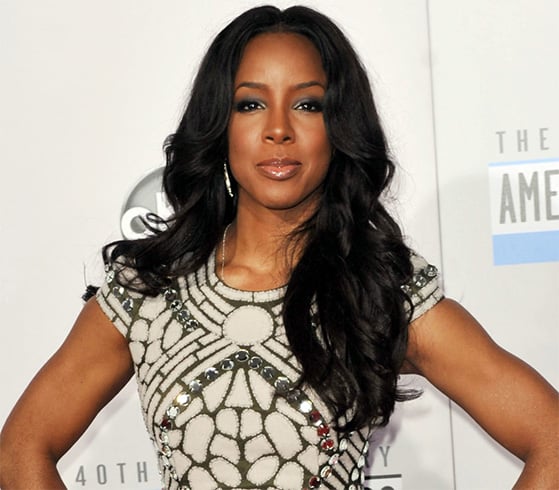 5. Diamond
When you have a diamond-shaped face, you will have features that will open up from your forehead and towards your cheekbones. The features will then drop gracefully down towards your chin. This one is also known as the inverted triangle face shape. Your face and cheekbones are wider than your jawline
[sc:mediad]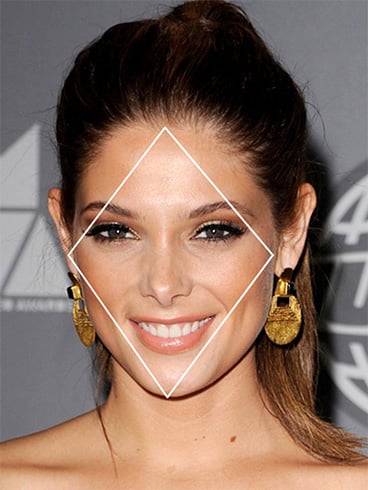 Celeb with your face:
Taylor Swift is a celebrity whose face most resembles a diamond.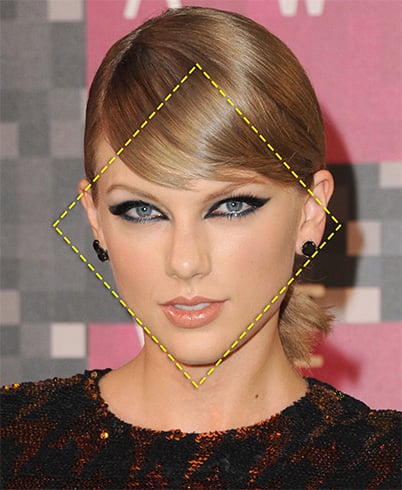 6. Triangular
When you will have a triangular shape of face, your forehead and cheekbones are narrow, but you will have a jawline which is wide. They are the opposite of a heart-shaped face and are easier to style with certain kind of hairstyles.
Celeb with your face:
One of the most common celebrities with a triangular face is Kelly Osbourne.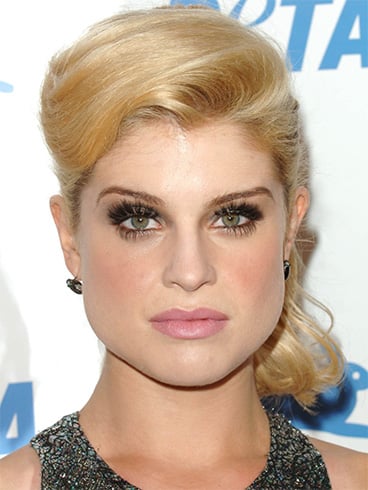 When you have a triangular face shape, you are more inclined towards hiding your jawline because it is very prominent. Sleek and layered haircuts and a short bob look extremely flattering on such a face and can easily soften the jawline.
7. Heart Shaped
The heart-shaped face, as the name suggests is shaped like a heart and has wider forehead, but tapers towards the chin. It is the opposite of a triangle and is also known as the inverted triangle shape. Most of the people who will have a heart-shaped face will possess a relatively pointy chin and the forehead will be medium-to-wide and so will the cheek measurements. These faces will also be a little longer than they are wide at the cheeks (about an inch and a half or less.)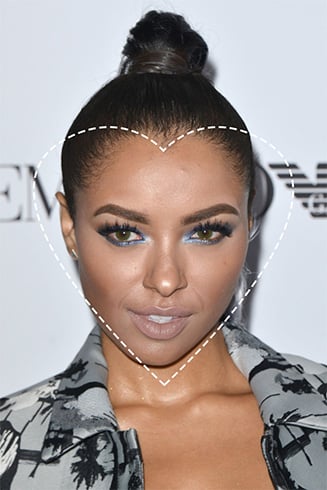 Celeb with your face:
Kourtney Kardashian has a prominently heart-shaped face and so does Chloe Moretz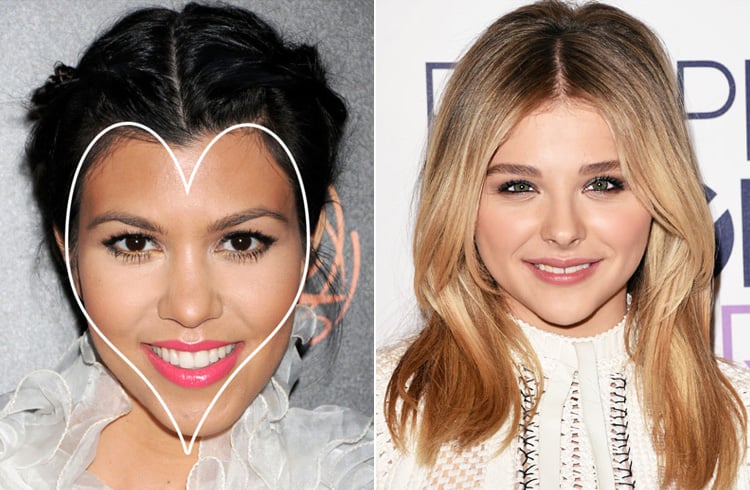 Best haircut for:
Short hair: A choppy bob with short layers on the top is good enough to break your wide forehead and make it look a little softer
Medium hair: if you are keen on camouflaging your chin because it looks a little too pointy, use a haircut that skims your collarbone and has a lot of layers
Long hair: A heavy and full fringe with gently tapered layers make the forehead look slimmer and shift the attention towards the chin instead
8. Long Face
The most common features of a person who has a long face is elongated features- starting from your forehead to the chin- even your jawline is curved in an elongated form.
Celeb with your face:
Liv Tyler is the quintessential actress with a long face and almost every hairstyle that gently frames her face suits her perfectly well.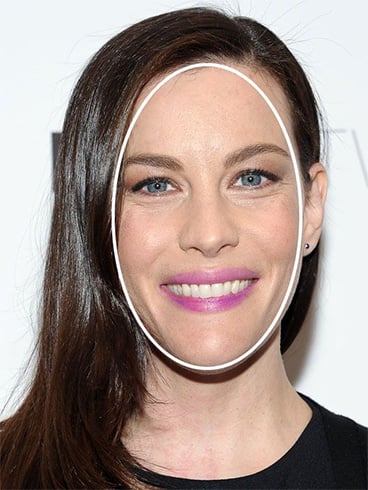 Final Words
Determining the face shape is very important to have a good haircut, some good makeup and of course jewelry that suits you. Once you are able to understand what kind of a face you have, you will be able to make much more empowered decisions about a number of things. Hence, you should always try and find out what shape your face is before going for any haircut or any drastic makeover. This article gives you all the ways you can use to determine the kind of face structure you have- make use of these tips and find out your face shape!
Images Source:beautyeditor.ca, pinterest
Recommended Articles:
Threading or Waxing – Which Is Better For Your Eyebrows
Foundation For Mature Skin
Ways To Determine Your Skin Tone
Identifying Pimples With Causes
How To Get Free Beauty Samples