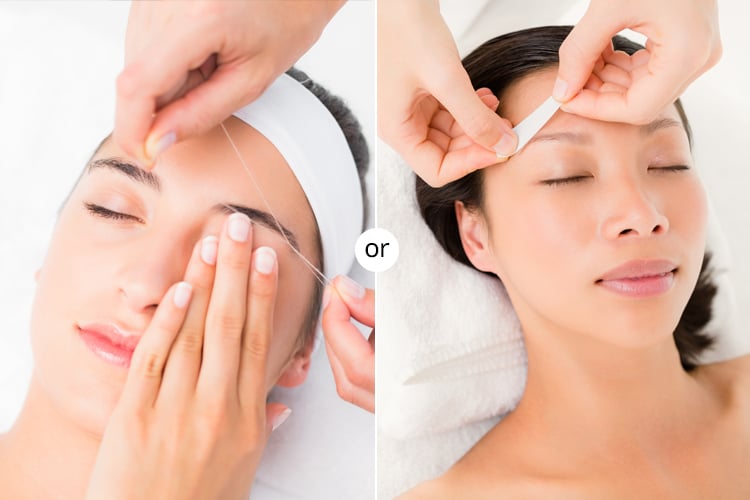 One defining epitome of the facial feature would always be the eyebrows. If they aren't shaped well, chances are the whole look is ruined. And while there are many ways to get well shaped eyebrows, the most common two are threading and waxing. However, this would lead us to the question (s) "WHICH OF THEM IS SAFE TO DO?"
Threading is the most commonly practiced form of eyebrow shaping, whereas eyebrow waxing too is catching up. They both have their own pros and cons to check out and consider, and that is exactly what we are going to talk about all through this post. Please read on and be well-informed.
What is Eyebrow Threading?
Eyebrow threading is an ancient method of eyebrow shaping, which uses cotton threat to get the unwanted hair plucked out from the root.
How it Works?
Threading experts would do it in a jiffy with a strong cotton thread.
Two long entwined pieces of the cotton thread is criss-crossed and rolled over unwanted hair, pulling them hairs in a clean movement.
The process is much like using a scissor in the air, with the help of your fingers.
The motion thereby is quick and removes hair at the follicle level.
While threading is the most preferred way to get the unwanted hair on the eyebrows removed, it would be wise to know the pros and cons before getting it done. We shall begin with the pros.
Pros:
The absence of dangerous chemicals
In the case of threading, you don't have to worry about harsh chemicals touching your skin. Only pure cotton threads are used.
Use it on sensitive skin
Some of us have delicate sensitive skin around the eyes. In such cases, threading would be best on sensitive skin. Since with threading there is little or no contact of the thread to the skin, chances are you wouldn't have acne development and rashes after the hair is plucked out.
Quick and fast
With eyebrow threading, the hair removal process is fast and smooth, as plenty of hair is pulled out in one shot. This is a process that can be done under five minutes; faster than waxing or any other hair removal technique..
Long lasting
Threading the eyebrows is long lasting, and much more than waxing. For around a month, you wouldn't have to come back for hair removal.
Less painful
Since the threading process is quick and fast, the pain is less when compared to other hair removal procedures, and the lasting is longer too.
Other pros are:
Hair grows finer than before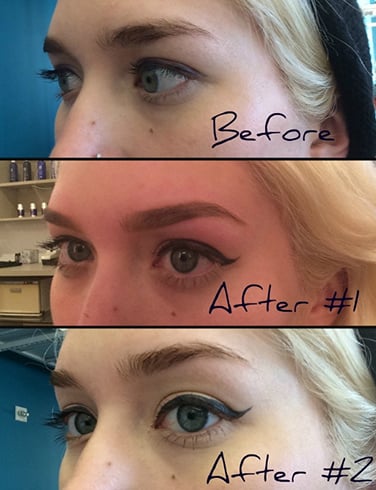 Cons:
Sensitivity
Threading can make the skin extra sensitive and limp over time and make the skin irate too.
Sanitary wise
Not all of us fancy the fact that the aesthetician has the thread in her mouth and the same thread working on our brows; direct contact to the skin.
Licensed no required
You don't need a license to thread someone's eyebrows, which means just about anyone with a cotton thread can do it for you. For waxing, you would need a certified salon expert to do the same. They would know the right temperature and the process.
Can leave the brows patchy
If the threading procedure isn't done right, the right hairs may not be removed and the wrong ones removed would leave the brows patchy. This would lead to faster regrowth and patchiness
Here we end the talk on what is eyebrow threading and the pros and cons associated with it as well.
Let's now take a look at waxing of the eyebrows, and if it is better than threading or not!
What is Waxing?
Waxing is yet another type of semi-permanent hair removal method that can be used on almost any part of the body. The world of fashion these days shows us that bold eyebrows are the IN thing on every face. However, there are some of us that still want to groom the brows. If this is the first time that you would be getting your brows shaped, and don't want to use thread to get the unwanted hairs removed- waxing is the answer. Please read on and be well-informed.
How it Works?
Unlike eyebrow threading, when you wax your eyebrows the game is different. The aesthetician would use a small pair of scissors to trim off long hair which can be seen easily. Remember, it would be trimming and not cutting; without the proper length, eyebrow waxing cannot be done. Then the wax would be applied and a strip placed on it. The strip then is pulled off immediately in the opposite direction of the hair growth.
Pros:
Longest regrowth period
There are a lot of debates happening on eyebrow waxing, but one of the pros noteworthy to mention here is that the regrowth period with eyebrow waxing is more than a month and a half.
Thinner hair regrowth
With eyebrow waxing, you can be rest assured that the hair which grows out wouldn't be thicker than before. Rather the hair grown out in the unwanted areas would be thinner.
Fast and in a jiffy
You won't feel the pain, and it won't take ages to complete. Give the aesthetician five minutes or less and the job is done, without you even knowing it.
Cons:
Sensitivity
Skin sensitivity is common when eyebrow waxing is done. This is because of the chemicals in store wax used in salons. Moreover when you rip the area off with wax, redness and irritation can occur if not done correctly. Chances of hyper pigmentation too can happen.
Sharper defined brows
While some of us want sharper defined brows to flaunt, not all of us would be happy having sharper brows round the clock. With eyebrow waxing, some areas could be left patchy too- this would be a disaster when not done right.
Now that we know and understand what eyebrow waxing is all about, the pros and cons too- we shall check why threading is better than waxing the eyebrows!
Reasons Why Threading is Better Than Waxing:
From bushy to unruly eyebrows, women and girls of all age groups are opting for threading, over other methods of unwanted eyebrow hair removal. But why is this happening? Let's take a look and understand. We shall discuss the pros and the cons accordingly, so that you get a clear picture.
1. No Dangerous Chemicals
To begin with, we don't need dangerous chemicals in the name of beauty to beautify us. This is why we would rather think of using cotton thread than salon stored wax to get the eyebrows shaped. There would be no chemicals used in threading. And this protects us too.
2. Good for Sensitive Skin
If you have sensitive skin, you would be taking all precautions to care for it. Why then would you want to have reactions and irritations caused by waxing to get unwanted hair removed? With threading, your skin would stay soft and supple, and there wouldn't be inflammation and redness to deal with post threading. And to make it clearer, with threading, there wouldn't be skin damages as well.
[sc:mediad]
3. Works Faster
Threading can be done in a jiffy, and with the right hands at work. The time frame is shortest, because you aren't waiting for the thread to dry; wax has to dry out and then be ripped off.
4. Long Lasting
It is a fact that threading would be more longer lasting than waxing. For around three weeks to four, you won't have to go back to get the eyebrows threaded again.
5. Doesn't Cause any Damages or Allergic Reactions
Since threading is done with pure cotton threads, you wont have any chemical reactions, skin damages and irritation to deal with from chemical substances.
6. Gives More Natural Finish
The look is at par excellent and very finished, and there are no disasters to worry about.
7. Better Overall Value
Aesthetically, threading is much more pleasing than waxing!
Now that we know why threading trumps over eyebrow waxing, let us take a look at the caution and tips with threading and waxing- whichever one you plan to choose and use.
Caution and Tips
No assumptions as such can be made to clearly say if threading is better than waxing or the vice-versa, because not everyone faces eyebrow threading and waxing problems. There are women that have faced issues with eyebrow threading, much as there are girls that have never faced a pinch with eyebrow waxing.
In India we have noticed most women opting for the traditional threading method since they don't want to experiment with wax. Wax has chemicals in it, and exposing that to sensitive skin around the eyes can be dangerous. Irrespective of your choice, here are a couple of tips to follow post the hair removal.
Here are tips to follow when post waxing or threading is done!
Start by washing your face with ice cold water and splash a lot of it on the area that has been waxed or threaded. This helps bring down the redness and closes the pores.
To minimize irritation, you can use aloe vera gel which would heal the area and also nourish the skin too
Don't walk directly into the sunlight after getting the eyebrows threaded or waxed
Don't steam your face after getting the eyebrows threaded or waxed
Don't jump into a pool of chlorinated water after the eyebrows are threaded or waxed
Never touch the area which has just been threaded or waxed with your fingers. This would spread infection from the bacteria on your fingers on to the skin.
Do not use makeup for the next couple of hours
No using night creams or any cream around the eyes for the first night
Don't use perfumes around the face for a day
Don't itch or scratch the area if you feel the same.
We hope this mini guide on threading versus waxing the eyebrows comes in handy and hope it makes good reading sense to you as well. If this is your first time, chances are that you would be going back and forth with your decision making on removing unwanted hair from the brows. We would strongly advise checking with a certified parlor or a skin aesthetician and then going ahead with the same.
[Also Read: Home Remedies For Eyebrow Growth]
Disclaimer: If you have very sensitive skin or couperouse skin and would like to get eyebrow threading or waxing done, it would be best to first consult with a skin specialist and then do the same. Always follow the advise of your parlor lady for post care, or else your skin would erupt and turn into a house for rashes.
Recommended Articles:
Foundation For Mature Skin
Ways To Determine Your Skin Tone
Way To Determine Your Face Shape
Identifying Pimples With Causes
How To Get Free Beauty Samples