In one glance or a post, it is but impossible for us to decode the collection and talk about it with due respect. However, we shall honor the Zuhair Murad Couture collection by showcasing a few collectives so chic, you may just want to look around and shop for them now.
The Gorgeous Zuhair Murad Haute Couture Spring Summer 2016 Collection
The ensembles as showcased in the gorgeous Zuhair Murad Couture collection, were very feminine and should we say 'fairy like'. Name a style in the book which hasn't been touched upon here, with regards to evening wear, cocktail and prêt a porter lines, and Zuhair has done it all with finesse.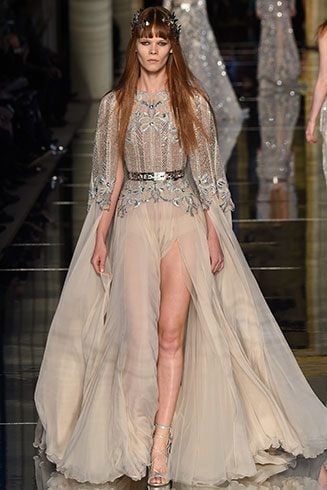 From stunning sheers and lace to net embellished appliqués, long flowing trendy pant gowns to the elegant Victorian touches, Zuhair Murad Spring 2016 collection has captured it all. Each piece is known to be an astounding streak of fashion for the fabulous fashionista to devour, and with enthralling work done on them as well. One word that comes to mind right now would be 'brilliant'.
Try Replicating Them, We Challenge You!
It seems like the hands behind the Zuhair Murad Spring 2016 Couture Collection, were much on the same lines of those that built the monument of love – the Taj Mahal. The astounding beauty till date cannot be replicated, and the same can be said about Zuhair's collection too. Even if it is done, the essence, elegance, beauty and charm doesn't seem to be captivating. No one can beat the artist and his imaginative ways, whatsoever.
[sc:mediad]
What You Need To Keep Your Eyes Open For?
With the Zuhair Murad couture, the collection is a myriad range to choose and devour. Now this is what we say and would want you to reckon as well. However, do keep your eyes open for the
gorgeous numbers-
Long gowns
Short birdcage dresses
Organza skirts
High slits
Long sleeved body suits
White pantsuits and more
[Also Read: Fashion That Have Caught Our Fancy – Look]
Sassy, Flirty And Fun Like
What seemed to be in the mind of Zuhair Murad fashion designer, would be the notes of the modern woman knowing what she wants, and how she wants it too. The models showed off the collection with utmost confidence, and the collection thus blossomed with waves being made and enthralling everyone in the front rows.
Themes were played upon, focusing on the modern day royal princesses to the nymphs in the forest, flirty feminine power to the elegant and very sophisticated sweethearts of the worldly charms. Graceful head-wear to silver belts and golden sandals, and embroidery done on the shoulders too!
Now that we have shown you many inspirational numbers from Zuhair Murad fashion spring 2016 collection, you can go ahead and think about a look you want to conjure for the evening parties.
Have fun!