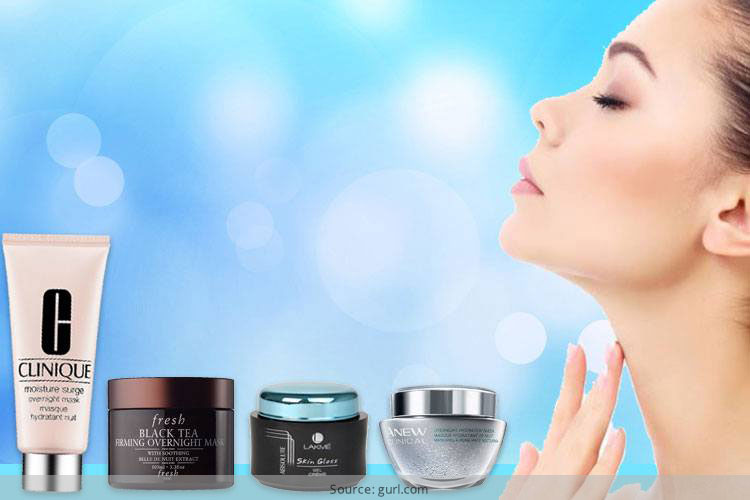 The internet is abuzz with photos of overnight face masks and everyone's talking about them. Should we use them? Do we really need them? Unless your skin is flawless and you wake up looking like Beyonce, we don't think you would need overnight face masks. But if you do need them, here is a little know-how you need to know about.
How To Get Beauty Sleep With Overnight Face Masks
Now we all know how to get beauty sleep and undisturbed that too, but beauty sleep tips are just not enough. We need a little more help which is why sleep masks are so important to have. No wonder it is one of the latest obsessions with skin care. Across South Korea, women are using overnight masks to moisturize their skin and wake up looking fresh. Skin experts say we loose plenty of water while we snooze, and it is the overnight masks that help restore the water hydration levels in the top layers of the skin. Night creams are good to use, but overnight masks are better, since they are lightweight and one can wear them without any mess.
[sc:mediad]
Look At The Korean Women For Inspiration
Korean women have the best skin care regimes in comparison to the women across the world, sometimes better than us Indian ladies too. Their beauty masks are very innovative and can be worn without a hitch. Koreans leave nothing to chance when it comes to skin pampering, which is why they have flawless skin.
Your overnight mask can do much more than just what the evening skin treatments or your night creams can do. All you have to do is to wear them and sleep off at night. The next morning when you rise, wash off your face and head on to tackle the day. It is that simple.
Five Overnight Masks That Can Help You With Your Skin Regime
1. Lakmé Absolute Skin Gloss Overnight Mask
Using this mask would make you wake up each morning, fresh as a daisy. The famed Lakmé Skin Gloss Overnight Mask is a powerhouse of minerals from glacial water that locks the moisture and hydration levels into the skin and replenishes the skin texture too. All you have to do is to apply the mask and wake up the next morning, only to wash it so that the suppleness of the skin is in check, and the brightness too. Your skin would be lovely and moisturized from the moment you wake up.
2. First Aid Beauty Facial Radiance® Overnight Mask
The fabulous FAB Facial Radiance® Overnight Mask is a leave-on mask that has powerful touches to hydrate and brighten up the skin, and nourish it deeply. Apply the mask as you would your night cream to keep the skin moist and nice. The magic of this overnight mask is that it doesn't allow the moisture to leave the skin, so when you wake up the next morning, your skin looks fresh and nice, toned and even complexion to flaunt as well.
[Also Read: Simple Makeup]
3. Ultra Facial Overnight Hydrating Masque
The Ultra Facial Overnight Hydrating Masque is a powerful formula, uniquely made to instantly help with the skin's needs of the moment. The formula also is packed to retain moisture for a very long time as well as to preserve hydration levels. Made from glacial proteins and plant leaves, the formula it has lets the skin stay soft and smooth, supple and refreshed from the time you wake up each morning. Better than a night cream or a daily moisturizer too, the overnight mask is free from parabes and colorants.
[sc:mediad]
4. Lancôme Énergie De Vie Nuit Overnight Recovery Mask
Believe it or not, at night the skin works to repair itself, which is why it needs a little more push and energy to do its work the best it can. With the Lancôme Énergie de Vie Nuit Overnight Recovery Mask, the much needed energy comes through and the silky balm texture it has keeps you hooked from the very first try. Best for oily to combination skin types, the Lancôme Énergie de Vie Nuit Overnight Recovery Mask works like a magical fairy whilst you sleep, making your skin brighter and softer as well.
5. Fresh Black Tea Firming Overnight Mask
We do lose a lot of hydration and water from our skin at night when we sleep. This is why we need an overnight mask to lock the same and to make the skin soft and supple. The Fresh Black Tea Firming Overnight Mask is ultra thick and non greasy, and the tannins in the tea with peptides in the cream can help keep the pH levels and the moisture levels of the skin in check.
Do let us know your thoughts on these overnight masks, and whether your question "what are sleep masks for" has been answered effectively or not!