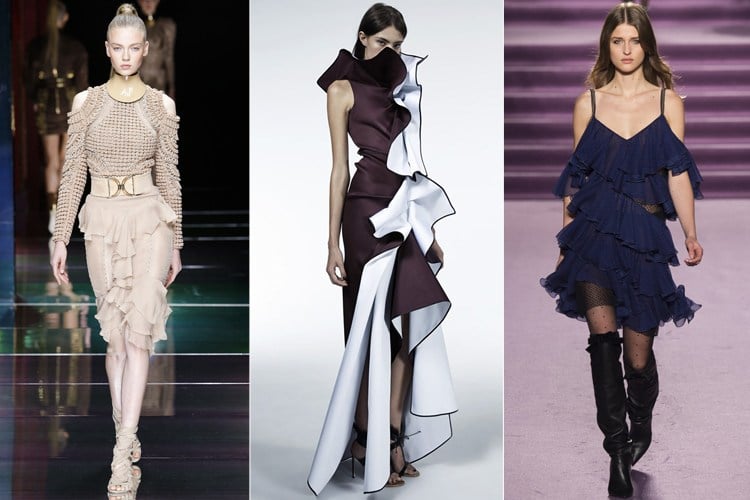 It is being called the 'Holiday Fashion' trend of 2016, so yes, we are indeed enthralled by it too. Here's to the various looks on ruffle fashion, which have been flaunted across various international fashion weeks. And since you may have not been up to date with the ruffle fashion saga, we bring to you the latest and the chicest collections in ruffle fashion, please take a look!
Amazing And Creative Latest Fashion Trends In Ruffles
[Also Read: Ruffles – The New Must Have Wardrobe Item]
1. Need An Elegant Ruffle Dress?
For the many cocktail events and parties galore, should you wish to be the diva around, what you need is an elegant ruffle dress in satin white. As seen at the esteemed Balmain Spring 2016 RTW, the satin ruffled ensemble in white has a crisp tux like appearance for the top, with cutouts and net embossed on it. The bottom half is where the magical play with ruffles happen.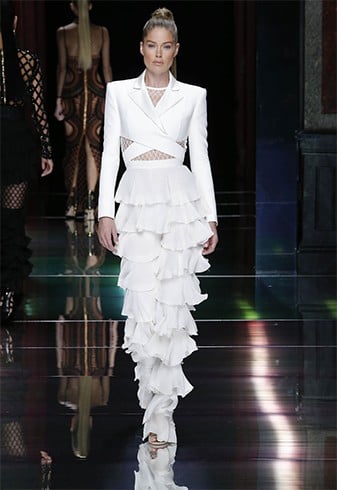 2. Something Unique And Decadent
Girly, feminine and very unique, and we must say, quite decadent too; the play of lilac on a ruffled evening cocktail dress spins magic. As seen at the London Fall 2016 RTW, this is a delightful piece that can be worn to an occasion or a party or even a birthday bash. The tiny appliqués in pink and large white floral patchwork on the dress are eye catching statements to watch out for.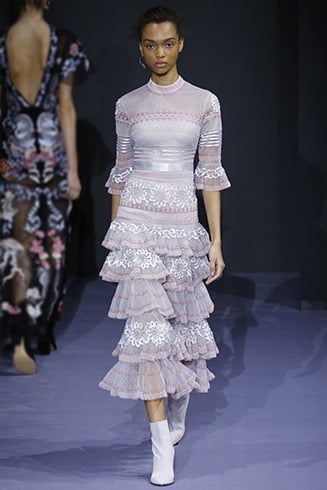 3. Casual Ruffles
For a very casual touch this evening and keeping in mind the sultry weather around, choose printed or striped ruffled blouses that can be worn with dresses, skirts, pants, shorts or hot pants too. You can wear a choker for the neck with this one to make the oomph factor come alive.
[Also Read: Fashion Taglines on Tees]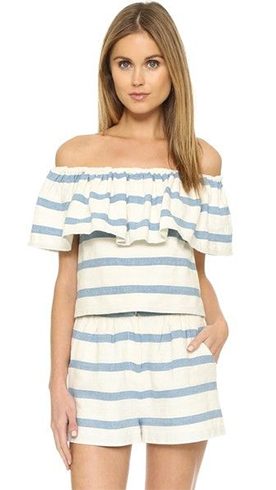 4. Chicas In Red Ruffles
Nothing speaks of romance and love, more than the passion embedded in the power of red. Red ruffled skirts with white tops for an evening at a bestie's bash, coupled with sparkling peep toed heels makes a fashionista's personality shine away. One of the latest fashion trends, the mid-cut long ruffle skirt as seen at the Blugirl Spring 2016 RTW is a must-have!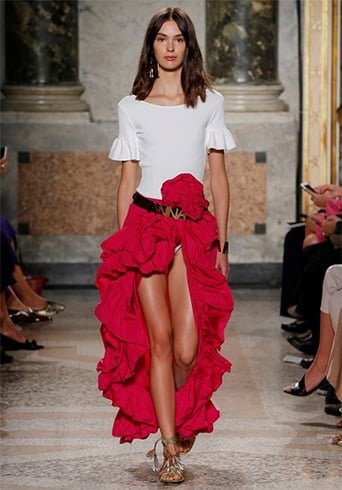 5. Neutral Toned Ruffle Love
Not too much into bright or dark colors? No problem! You get to have neutral palettes playing for you and to your advantage too. As seen on the Balmain Spring 2016 Ready-to-Wear Vogue Runway, a neutral crocheted cut-out top is paired with a ruffled midi skirt and nude shoes for company. What else could spell divine?
[sc:mediad]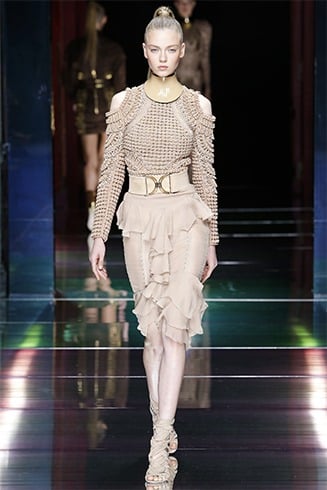 6. For The Beach Party
If you aren't going to be wearing bikini tops and skirts at the beach, chances are you would fall in love with this midnight blue strappy dress. Courtesy "Fall 2016 Ready-to-Wear Philosophy di Lorenzo Serafini", we see the base of the dress made from net with sheer fabric as a ruffled up embellishment all over. Gorgeous, sensual and very pleasing to the eyes!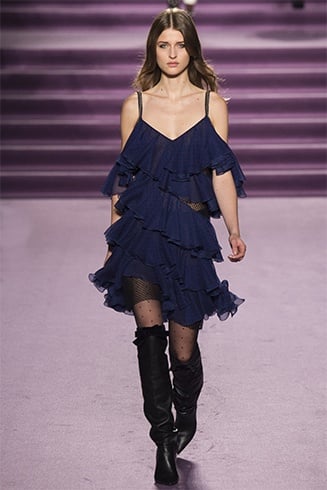 7. Pastel Colorful Maxi Ruffles
Fancy maxi dresses but not those boring ones you see around? Check out the line of colorful ruffle maxi dresses seen at the fabulous Milan Fashion Week 2016 doing the rounds on social media. With a leather belt at the torso for company, arm length sleeves and the play of pastel warm and cool tones, this is a dress perfect for the summer evening gatherings.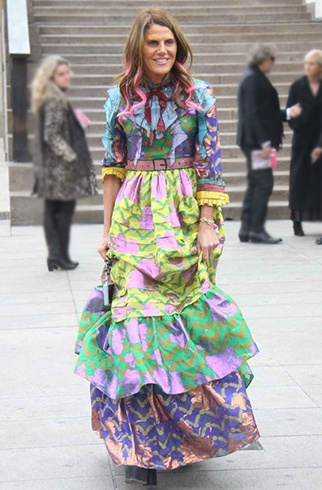 8. 60s Ruffles Are Back
Back in the 60s, most women and girls wore ruffle tops and ruffle sleeved shirts, along with a range of colorful ruffles clothing for work and other needs. Now taking a cue from that, your ruffled tops can be worn under spaghetti maxis and dresses, to work or anywhere you go, what say?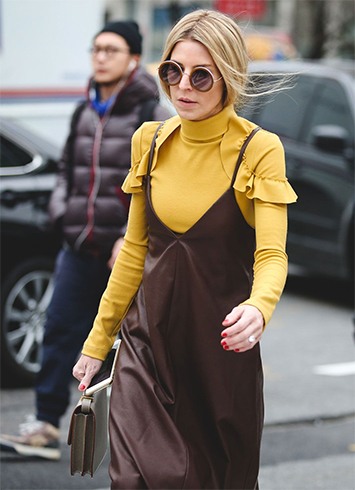 9. To The Movies In Ruffles
To beat the heat, you could wear baby ruffle tops with shorts, shirts, dresses and skirts or maybe the best ruffle dresses with chic accessories on the neck and the ears. You can also go minimal with one statement neckpiece, if the ruffle top is low on the bust line or maybe with cut-outs for company!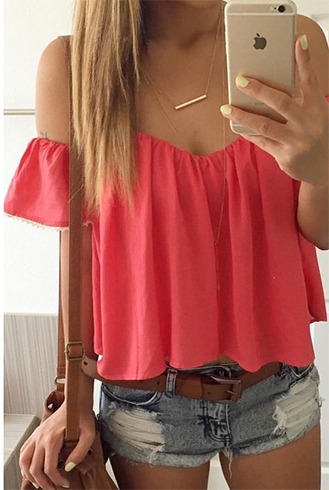 10. Halter Ruffles Tops For Women
Make a splash with a satin midi skirt to the ankle and more, and pair it up with a neutral toned halter ruffle top. Heels for the feet are a must, with a pair of chunky bangles on the hands, and that would be all, but wear neutral toned chunky heels for sure, or else the glam doll diva look wouldn't come through.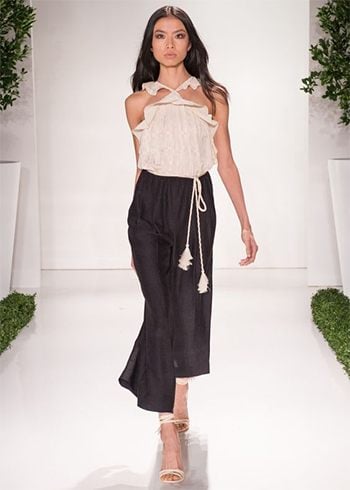 Have a blast trying out these ruffle trends and do let us know which ruffle style did you like the best!
Images Source: pinterest.com