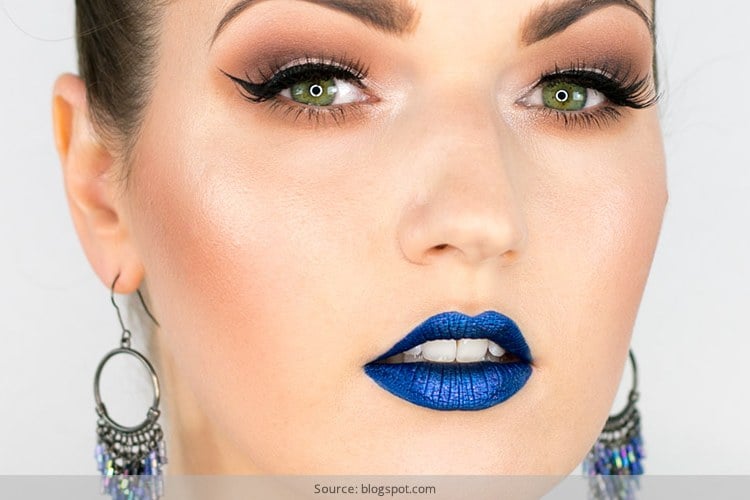 In awe of color-popping shades of lipsticks? Love following the trend? Well, blue lipsticks are much in rage and not for nothing. This beauty trend is no more just avant-garde fashion runway fad; the style is catching up in mainstream fashion for its dramatic effect and cool vibes. But how to wear blue lipstick with your high-street fashion style? To pull off a shade like blue is tricky, so lets see how we can pull the blue lipstick trend like a pro! To adopt the trend, we first need to understand what has made it such a rage among fashionistas and celebs alike.
[Also Read: Flower Jelly Lipsticks]
BLUE LIPSTICK IDEAS
Weirdest yet trendiest lip shade to make a fashion rift this year! The aquatic shades are an interesting change. No we don't mean punk-rock revolution kind of change, but an exotic kind of.
There are a variety of hues to choose from, ranging from pale to deep & dull to vivid. Also, by mixing a few lipsticks you can create a new spectrum of lip colors, such as: purplish-pink, deep red, plum and purple. How to get these shades? We suggest blending hues of royal blue along with your bright pink and red shades. This will give your lips coral and wine tints, which can be put on with a berry hue to give a shiny dark plum tinge.
The mixing and experimenting is not too much trouble. What's actually more difficult is to be able to execute this style with perfection – you don't want to end up looking like you have Smurf lips. So here are some tips to really make your blue lip color work well.
Ways To Apply Blue Lipstick
1. Select Out The Shade Carefully
The tint of blue you want should really do justice to the vestment you are wearing. Think about what you are going for. Bold or Unique? Creepy or Playful? Party or Date night? For instance, a smooth lipstick hue would look fab if you're going to a concert at night.
2. Keep Things Simple
There is a fine line between looking odd and looking unique. Apply the lipstick such that it accents your lips in an exclusive manner. How to do this? Don't go over with the eye shadow and other dramatic makeup.
[sc:mediad]
3. Use Lip Liner
This is a very important tip. This is the trick that helps keeps your lipstick neat and also bring out the color more. If you feel that the lip liner is not as crucial, compare the effects yourself.
[Also Read: How To Wear Orange Lipstick]
4. Carry It With Confidence
Your striking blue lip color will turn some heads and yes maybe hear some criticism. But that's only because it is a daring look. You are happy with the way you look, and that's all that matters. You go girl!
Still not convinced? Yes, we know it's a rather audacious look but it sure will be amazing once you're able to properly pull it off. Thus, to give you a deeper insight in to the style, let's have a look at some celebrities in blue lipstick.
[Also Read: How To Get Full Lips]
Celebrities In Blue Lipstick
1. Amber Rose
Her dark blue lips work fabulously with her funky blue tinted shades and getup.
2. Selena Gomez
Selena has taken blue lipstick to a new level by pairing it up with blue clothes and blue eyeshadow.
3. Rihanna
Here you can see how rad Rihanna looks by teaming up her blue lipstick with black overalls.
4. Lipuita Nyong
Her metallic blue lips give her face a fresh and glowing look.
5. Kylie Jenner
Bright blue lips on a white attire truly bring out Kylie Jenner's look.
So these were some Hollywood celeb suggestions on how to wear blue lipstick. Let's have a look at our Bollywood celebrities. Here's our gorgeous diva, Aishwarya Rai in blue lipstick.
She attended the red carpet event for the screening of her movie 'Sarbjit' at the recent Cannes Film Festival. What really turned all heads was her amazing garb. She opted to wear a flower-strewn Rami Kadi dress, and with this she bedecked lavender blue lipstick.
We're sure you're now ready to go try out these new shades of blue. But where to start shopping from? And which brands of blue lipstick are the best? Below are some of the blue lipstick brands in India.
Dolce & Gabbana Beauty Shine Lipstick in Light Blue
Lipstick Queen Hello Sailor Lip Gloss
MAC Lipstick in Matte Royal
MAC Lipmix in Blue
Sephora + Pantone Universe color of the year Matte Lipstick
And there you have it! All the reasons why blue colored lips are the rage this season. So get going, and set new trends with your dashing blue lips.