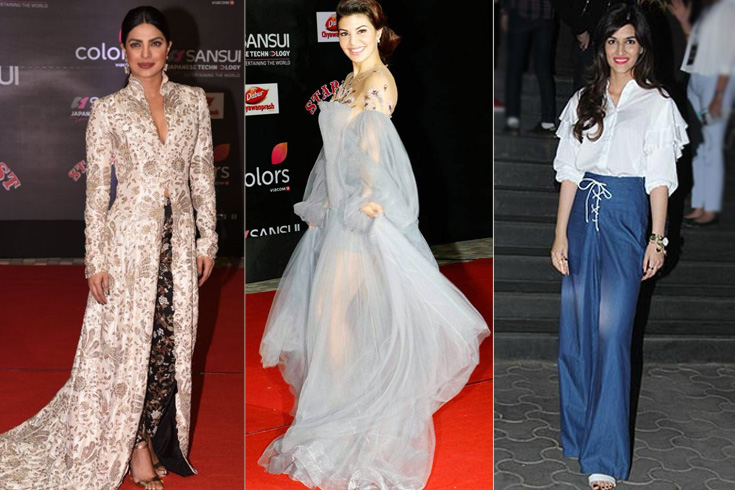 Oh No! Don't throw this question back at us because we aren't occupying the judge's seat here. We would just bring you these divas wearing similar and at times same outfits. You have to take a call on who wore it better while we will enjoy being the silent spectator for once!!!
[sc:mediad]
Alia Bhatt V/S Huma Qureshi
Alia Bhatt was spotted in this metallic gold midi skirt at the Global Citizen Festival. She paired it up with a slip top in black and rounded up the look with a camo jacket. This trend was embraced by Huma as well who was recently seen in the same gold skirt that she chose to team up with a black jumper spotted with bright white stars all over. Both the actresses went for a wavy look and let their hair down. Whom would you pick?
[ Also Read: Who Was The Best Dressed At The Filmfare Awards ]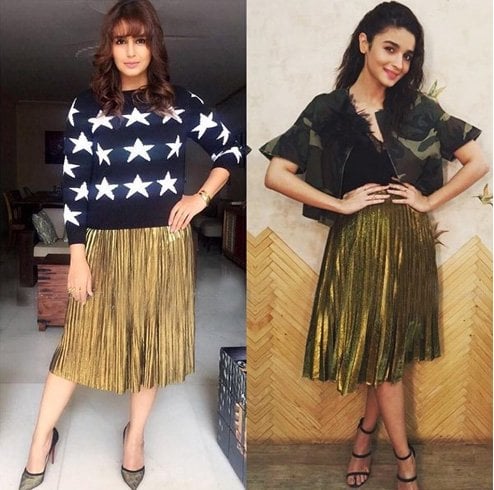 Alia Bhatt V/S Deepika Padukone
Alia Bhatt makes a consecutive entry on our list, spectacular, at the Ambani's pre-wedding bash. The 'Dear Zindagi' star was working the Manish Malhotra saree like a pro. But her look in the white saree with the golden sequin embellishments that she rounded off with a sleek back bun collided with the almost same look of Deepika Padukone who arrived at the even in a laser cut creation by Rohit Bal. Even Deepee's white saree featured a dull golden order and she chose the same sleek-back-bun look similar to Alias. Now, who is your pick here?
[ Also Read: We Are Enchanted By Deepika Padukone! ]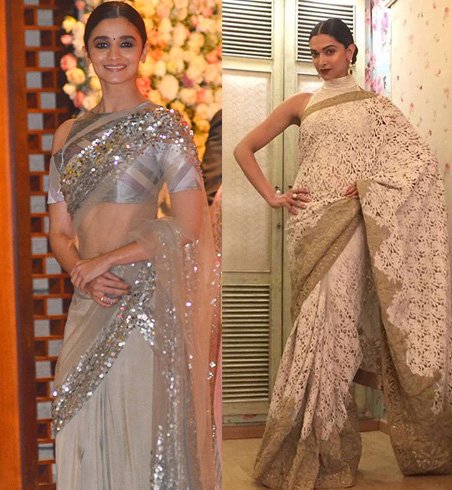 Kareena Kapoor V/S Bella Hadid
Be it Priyanka Chopra's red twirly ensemble at the Emmy's or Bella Hadid's scandalous red carpet moment at the Cannes, 2016 has seen some huge RED hot fashion moments. But the year has witnessed some awkward fashion face-offs in red too. Speaking of Bella Hadid, the super model was spotted in a Maison Valentino Haute Couture FW 16-17. The scarlet dress featured a plunging neckline and a dominating cape.
Apparently the gorgeous then mom-to-be Kareena Kapoor Khan was seen in a similar red Gauri and Nainika number at the Lux Golden Rose Awards. Though she went for a more conservative neckline, it is the cape we are talking about.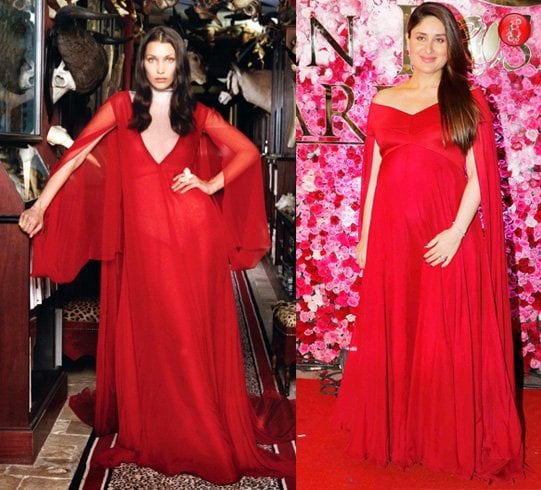 Sonakshi Sinha V/S Kriti Sanon
Now fashion face-offs are characteristically awkward, but they become almost unbearable when two stars run into each other in some high-profile event mirroring each other's style. Something similar happened at the star-studded screening of Amir Khan's most awaited Dangal. We are not sure if Sonakshi Sinha and Kriti Sanon were too excited to meet each other at the occasion, because as much as we know women, never are two thrilled to meet each other, dressed like each other. The ladies were both wearing loose button-up shirts matched with wide-legged pants. They kept the look nude and pleasant.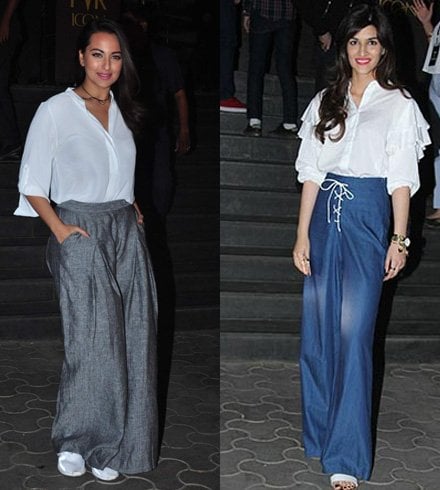 Sonam Kapoor V/S Jacqueline Fernandez
Things, however, become a little comfortable when besties do it, for then it's not fashion face-off anymore, rather it's called twining. Something similar happened at the Stardust Awards night when Sonam Kapoor rolled up with BFF Jacqueline Fernandez. Both the divas were slaying in similar gowns by Yanina Couture. While Bollywood's own fashionista was rocking a risky number complete a non-existent bodice securing her modesty with studded embellishment and a powder blue tulle skirt, Sri Lankan beauty chose to pick a more conservative version of the same gown.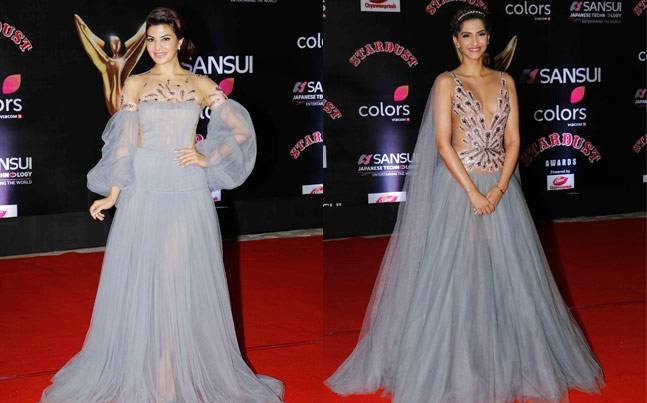 Priyanka Chopra V/S Deepika Padukone
India's two representatives in Hollywood are fighting it out in the fashion arena. Peecee was back home for a split second to attend a popular award show and made the best out of her limited time. Dressed magnificently in a cream and gold jacket she owned the red carpet and ensured all the attention of every shutterbug. But the heavily embellished creation of Anamika Khanna did ring a bell and it was not too long before we realized that a similar outfit was donned by none other than the XXX star Deepika Padukone earlier this year, back in January we are guessing.
Katrina Kaif V/S Jennifer Lawrence
Bodysuits are all that we care about now, especially when they are identical and are on two of the hottest bodies in their respective industries. The damsels we are talking about here are Katrina Kaif and J. Law.
While the 33-year-old Bollywood actress took to Facebook to flaunt her sassy look in a mesh bodysuit with one helluva zipper at the front, the same piece was adorned with the Hunger Games star in her upcoming movie Passengers. Damn! Are those bad boys lucky or what?
Images Source: instagram.com