Going crazy at times is good for you. Why should you always be a daddy's girl and do things right? Breaking the rules helps to give vent to your whacky side. It is time now to fulfill your crazy desires with your fashion indulgences. Thank God because there is a bucket list of things to do-and-buy. Want to know more about it? Read on!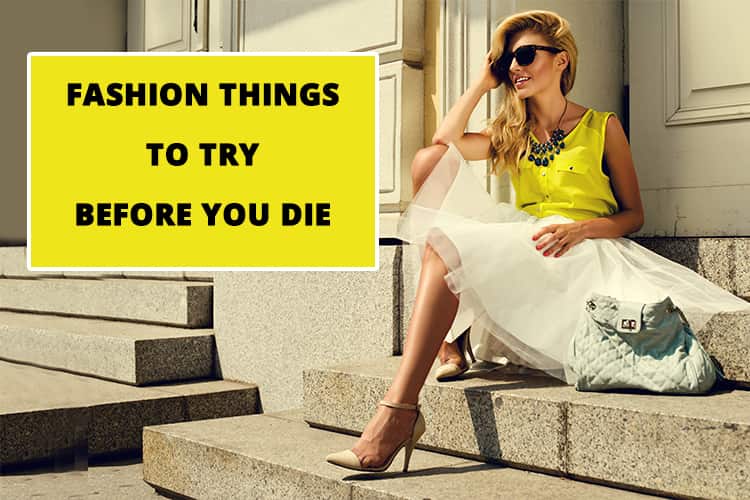 List Of Top Fashion Things That Should Be On Your Bucket List
Here are 35 fashion things to try before you die. Yeah, 35! You will love them all.
1. Own the most renowned brands in the world. Because it is high time, your wardrobe got prestigious labels like Chanel, Louis Vuitton, Michael Kors, Victoria's Secret… etc. There is one life, remember.
2. Are fashion capitals of the world just meant to be bookmarked? Go shopping at the international and all-time favorite destinations like Paris, Milan, London or New York! Make it the most important thing to do in life – at least once get yourself clicked with all the shopping bags in your hands at these places.
3. How about starting a fashion trend of your own? Take a fashion risk by all means, wherein you can go completely experimental with your looks. You never know – it might become the talk of the town in no time and get you a fan-following.
4. Why sit pretty at home or at the office when you can attend the world's most happening and famous fashion shows such as The Paris, New York or Milan Fashion Week.
5. Some of you are avid bookworms. Why not be an inspiration to some (and all) and be a fashion Idol?
6. Heard of the "Best Dressed Title"? Win at least one in your lifetime at any event or party (but please don't go uninvited to an occasion…courtesies matter the most).
7. On Halloween, dress up in an extremely whacky way. Try out the Gothic look!
8. Go for a mega mane makeover go for global color. Go for the shade that suits you the best! For me, it is the darkest brown. Oops! I should have kept quiet.
9. It's a different sense of thrill altogether – being a stylist for someone on their BIG day. Enjoy this privilege on your BFF's wedding.
10. Going to flea markets has its own share of fun. Do some street shopping at India's hottest shopping destinations, at a shoe-string budget. Being penny wise will make you wiser as you age.
11. Wear your guy's shirt all day long. Surprised? You are doing one of those fashionable things before you die.
12. Heard of Times Square, New York? Now get a picture of clicked standing there dressed in complete winter wear – Trenchcoat paired with boots make a great choice.
13. From saada YouTube, get your makeup or hair-styling lessons and try them on yourself. Me thinks most of you would have already done this by now.
14. You read so many fashion glossies in your free time (or carry some in your tote bag to work). Get featured in one of them.
15. For every girl living in whichever part of the planet, wearing Swarovski jewels is like owning the moon. Buy some for yourself. At least, this way, you will have fulfilled your life's biggest desire. Yay or Nay?
16. Red carpet events are always in the news. Make it to one such red carpet do dressed in an evening gown. And don't forget to pose for the paparazzi.
17. Sharing is Posting and vice versa. Be in the news by posting your "Outfit of the day" picture on Tumblr or Instagram.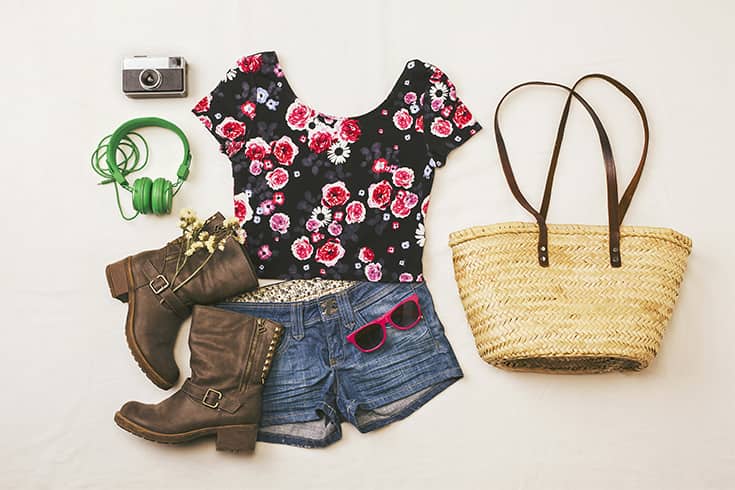 18. Have your own – online fashion store. It is a common trend these days among many fashion lovers.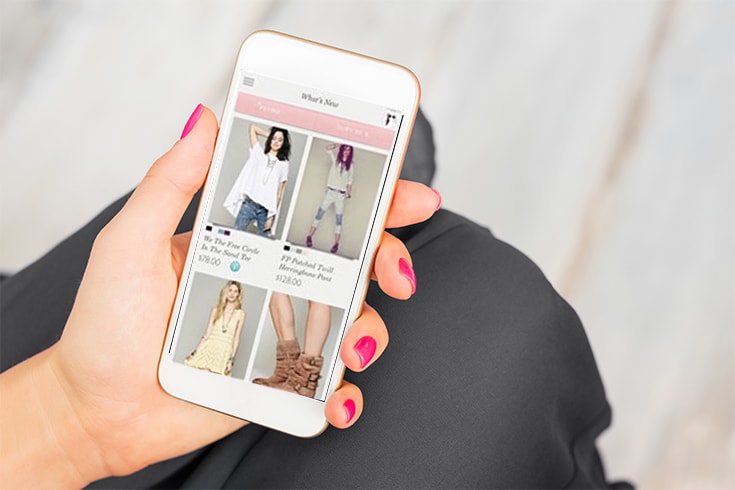 19. Almost all of us have our favorites when it comes to a fashion designer, fashion stylist, or an inspiring soul. Are you only going to keep reading or hearing about them? Go ahead and meet them. That way you will come closer to the demi-god or goddess.
20. Have a dress, which is celeb-look-alike. It will be the most 'prized' possession in your wardrobe.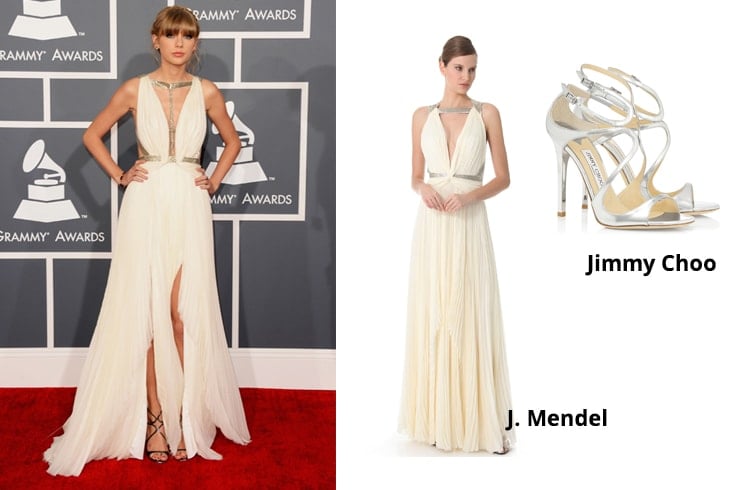 21. Become an overnight internet sensation by becoming a vlogger and posting your own beauty/hairstyle video. It is a popular trend these days.
22. There is nothing better than having your own fashion blog. So go ahead and get started.
23. When going to a party, wear a tiara and a ball gown. Everybody should live their dream of looking like a princess once in their lifetime at least.
24. Do you discard your old clothes as everyone else does? Hey, I have a great idea for you. AUCTION them before buying new ones!
25. Fashion books need not be authored by the great and famous fashion critics. You too can write a book about your take on all things fashion.
[sc:mediad]
26. Body piercing or tattoos are one of the easiest ways to get spotted in the crowd. Get them done to be a head-turner.
27. Over-dress to KILL!
28. Get 'bold' by wearing a red lip color.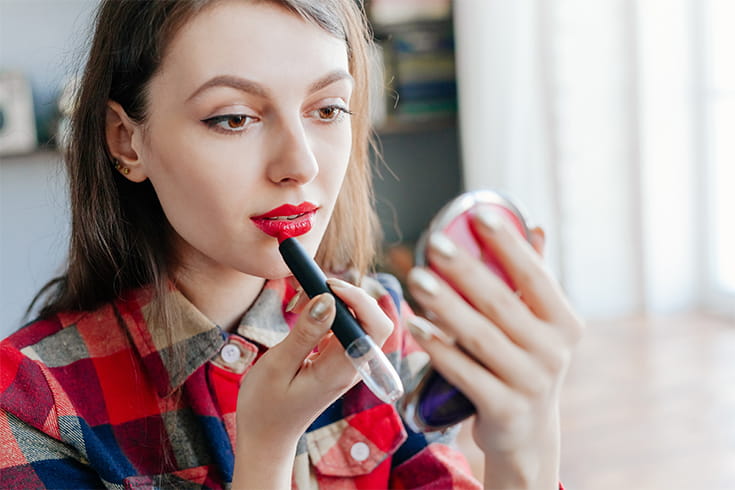 29. Heard of the 'Smokey Eye'look? Try it on yourself.
30. Make sure you have a DIY fashion hack no one knows.
31. Wearing cute sneakers as formal wear might seem a faux pas to some, but it is super cute.
32. An all-white one-piece bathing suit makes a bold choice for summers. Plus it has a retro effect.
33. Wearing socks with heels is not boring or trash but a runway trend, which makes a bold choice for real life.
34. Sparkle during the daytime. Who says sparkles are only meant for the evenings? Sporting sparkles and sequins during the day are good to go. Just pair a sequined top with simple jeans, and some cute sneakers or heels, and you are totally ramp-ready.
35.Glitter is not just meant for the eyes, it's good to go on lips too. Start with a bold base color, then apply finely cut glitter on your lips with your finger. Glitter lips- are just perfect for a night out.
Watch this video for some more fashion inspiration.
Hope you enjoyed reading these tips on 35 fashion things to try before you die. Which ones have you already tried and which ones are you game for after reading this post. Be frank and tell us in the comments box below.