Oxidized silver jewellery is chic and trendy. But did you know, these beautiful pieces that you buy can last forever if you know how to care about them. Here are a couple of chic pieces we shall show you and tell you how to go about looking after them too.
They come in various designs, shapes, forms and sizes. Women of all age groups wear oxidized silver jewellery in various forms. And most of them are blackened, with edgy and trendy designs, contrasting colors of gemstones and with a pop of diamonds too on them. But what exactly is oxidized silver jewellery? Before we show you a range of oxidized silver jewellery, let's understand them better.
Oxidized Silver Jewellery:
It is a piece of silver, which has been blackened or has been oxidized, and it is more on the lines of true sterling silver as well. However, the surface of the piece has been blackened on purpose through a chemical process. When the surface of the jewellery has been exposed to sulfides the color of the surface changes, and this speeds up the tarnishing process. What happens here is that there is a silver sulfide layer that forms on the outer surface of the metal, which gives the jewellery piece a very blackened look.
The term oxidation is kind of misleading when it comes to oxidized silver jewellery. This is because, there is no oxygen involved in the chemical process of changing the silver shine to black. In fact, it is the sulfides that have been introduced into it which turns the silver black. But this is an industrial term used, and hence it is known as oxidized silver.
The liver of sulphur is what most jewellers use to make the metal turn dark or black, which is a potassium sulfide that makes the silver surface dark. There are other ranges of shades that can be achieved through this process too. If the process being used is full strength, it would appear black with a matte gunmetalish touch. However, if the process is controlled, you can achieve a rainbow of colors, such as reds and purples, yellows, and blues too. The internal color and even the metal's properties do not change though.
Over time what happens is that the more you use and wear your oxidized silver necklace set designs, oxidized silver earrings, oxidized silver rings, the blackened part of the surface would eventually wear out. The oxidized polish will give way and the real color of the metal would shine out. It is a fact that the look of the darkened silver piece would change gradually over time. That is why it is best to be ready for the evolution of your oxidized silver pieces, over time.
But do remember, the oxidized silver pieces you buy have a very long life. Oxidized silver earrings, oxidized silver rings etc are long lasting since they take very long to interact with the surroundings. But when it comes to bracelets and rings, since they rub about too much, chances are that their shelf life would be lesser than that of earrings and rings.
If you know that your contact would be aggressive when you wear oxidized jewellery, it would be best to get them removed first. This would help keep the darkened colors for long. Cleaning with dips or polishes that are aggressive and is not advisable to use when it comes to caring for the jewellery. This would strip the blackened surface. But we will tell you more below about how to care for your oxidized silver jewellery.
How To Care For Your Oxidized Silver Jewellery?
Oxidized silver jewellery pieces should be cared for well. Here are a few steps we found worthy of mentioning on how to care for silver jewellery that has been oxidized. Please check them out.
Begin With Ingredient Mixing
Begin with mixing a little dish washing liquid in a large bowl of warm water. Stir them well and ensure that you do not create a bowl of bubbles. The water should be warm or lukewarm and not hot. This would not affect the oxidized silver.
Add The Silver To The Bowl
Now add each piece of the oxidized silver to the bowl and gently move them around. Allow the pieces to sit in the bowl for half an hour, or until you find that there is dirt that floats onto the surface of the water.
Post Cleaning
It would now be time to remove the oxidized silver jewellery pieces out of the water and place them on clean towels. Gently give each of them a wipe with the clean towel, and do not scrub them.
Other Ways To Maintain
There are other ways for you to care and clean oxidized silver necklace set designs, oxidized silver earrings, oxidized silver rings and other oxidized jewellery pieces as well. Here are two more ways.
[sc:mediad]
With Baking Soda
If you choose to use baking soda to clean the oxidized silver, you then would need to mix a teaspoon of the soda with warm water to form a gooey paste. This should be then gently rubbed onto the pieces. Wait for sometime and then gently wash them off in warm water. Use a soft cloth to dry them off.
With Toothpaste
If you are using toothpaste, you need to coat the pieces in it well. And then you need to run warm water over them, to clean them. Once the toothpaste foams up, rinse the pieces off with a toothbrush that has very soft bristles. Brush the pieces like you would brush your teeth, but be very gently. This would remove all the dirt and grime, and the stains too.
Now that we have given you an overview on what is oxidized silver jewellery and how to care for it, let's show you a couple of chic pieces that are being sold online. Check them out below.
Silver Oxidised High Class Luxury Hot Three Layered Classy Afghani Necklace
Athizay Tribal Necklace Oxidised Metal Black Silver Color Antique Texture.12 Inches Long Choker Metal Necklace
Multiline Company Antique Oxidised German Silver Tribal Banjara White Pearl Beads Necklace With Earrings
Fairybellskart Oxidised Necklace
Legend Oxidized Silver Necklace
Silver Oxidised Turquoise Floral Leaf Hanging Earrings
Sansar India Oxidized Silver Plated Coins Choker Necklace
Izaara 92.5 Silver Sterling Hallmark Silver Ethnocontemporary Dangle Earrings
Handicraft Oxidized 92.5 Sterling Silver Trendy Party Wear Mirror Silver Ring
Jewar Mandi White Oxidised Silver Plated Handmade Jhumki Earrings
Jaipur Mart Jhumki Earrings
YouBella Jewellery Traditional Silver Plated Oxidized Bracelet Bangles Set
The Trendy Trendz Black Metal Bangles Bracelets Set
Valentine Gifts for Girlfriend Wife | Shining Diva Fashion Jewellery Oxidised Silver Stylish Bracelet
Shining Diva Fashion Jewelry Oxidized Silver Jewellery Party Wear / Daily Wear Stylish Bracelet
AyA Fashion Oxidised Silver Bracelet with Stones /elastic /Bracelete like Bangle/ Party wear
Geode Delight Oxidised Silver Plated Mirror Ring
Jaipur Mart Handmade Godess Inspired Oxidised Gold And Silver Plated/Dual Tone Ring Jewellery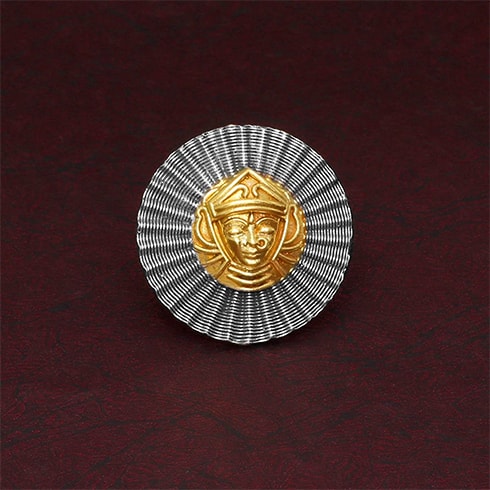 Izaara 92.5 Silver Sterling Hallmark Silver Oxidised Ring for Women
So here were a couple of chic oxidized silver necklace set designs, oxidized silver earrings, oxidized silver rings and bracelets. We hope you liked the tips we gave and the explanation on how oxidized silver pieces are born. Do write in and let us know how you liked this post. Also, let us know what all oxidized items of fashion you own, how you wear them and how you care for them too. We love hearing from you.