The FDCI India Couture Week 2019 show was an event of many things. Bigger picture like inclusivity, diversity, dependable designs, and the like led the runway. The event led to further conversations around the fresh and creative presentations. All this became reasons for optimism similar to what designers like Suneet Varma, Amit Aggarwal, Pankaj and Nidhi surely endorses.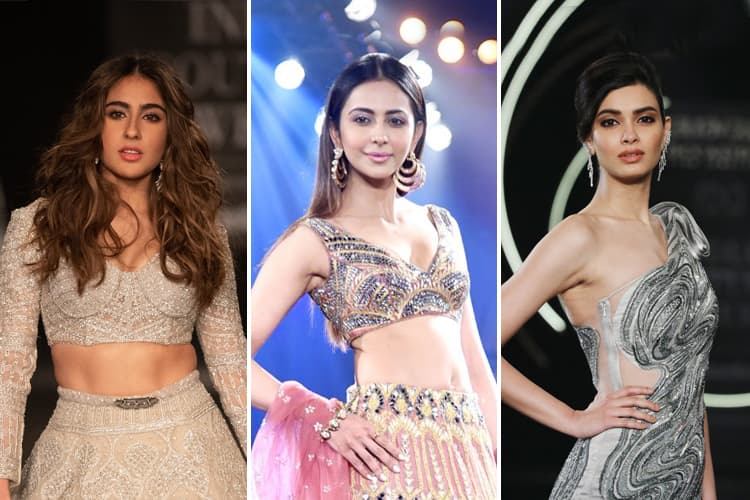 Here is a breakdown of Day 1 to Day 7 of FDCI India Couture Week 2019.
Day 1| Monday, 22nd July, 2019
9:30 pm Amit Agarwal
Day 2| Tuesday, 23rd July, 2019
9:30 pm DLF Emporia & Mehta & Sons Present Suneet Varma
Day 3| Wednesday, 24th July, 2019
8:00 pm Pankaj & Nidhi (Jewellery by House of Aynat)
9:30 pm Visit MONACO Presents Rahul Mishra
Day 4| Thursday, 25th July, 2019
8:00 pm Sulakshana Monga
9:30 pm Shyamal & Bhumika
Day 5| Friday, 26th July, 2019
8:00 pm Archana Aggarwal Timeless Jewellery Presents Reynu Tandon
09:30 pm Falguni Shane Peacock
DAY 6| Saturday, 27th July, 2019
8:00 pm Gaurav Gupta Occasions Fine Jewellery
Day 7| Sunday, 28th July, 2019
8:00 pm Swarovski Presents Tarun Tahiliani
FDCI India Couture Week 2019:
Day 1 Highlights:
Here are all the highlights from Day 1 of FDCI ICW 2019:
Amit Aggarwal:
Amit Aggarwal's couture collection at FDCI India Couture Week 2019 was a vision treat and his strongest yet. Opening with a sequence of handmade, three-dimensional re-imagined embroideries in several shapes transitioned into an updated form of bio-mimicked motifs and designs. There was also plenty of rich-textures and a stunning mix of visual treats.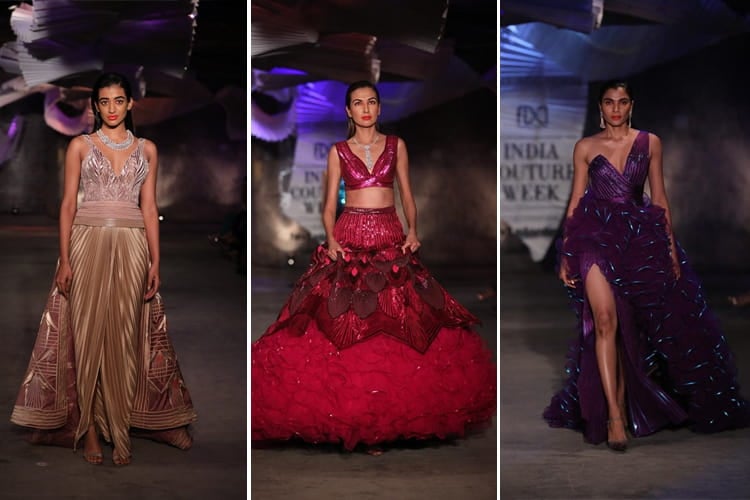 Another breathtaking moment was when Kiara Advani took center stage as the showstopper for the designer's couture collection in an exquisite red textile ensemble matched with jewellery by Narayan Jewels.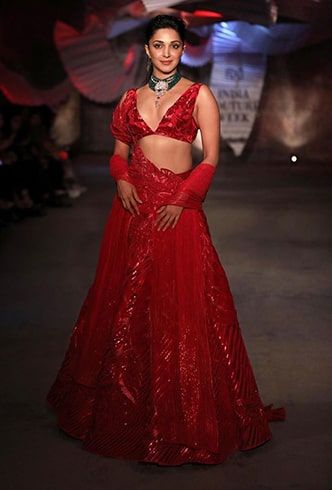 Day 2 Highlights:
Here are all the highlights from Day 2 of FDCI ICW 2019:
Suneet Varma:
Suneet Varma has long mastered the technique of swoon-worthy ensembles, but the FDCI India Couture Week 2019 proved his design chops has no boundaries. Amongst a series of whimsical icy hued ensembles, Varma managed to conceive the idea of a dreamy wedding look. Other standouts included the pastel hued dresses which marked the distinctive shift from customary red and pink bridal wear. At the event, the designer had this to say, "We have abandoned any kind of heaviness and embraced lightness, without making the bride feel bogged down or look like a showpiece at her own wedding. She must be able to enjoy a glass of champagne and dance on her D-Day."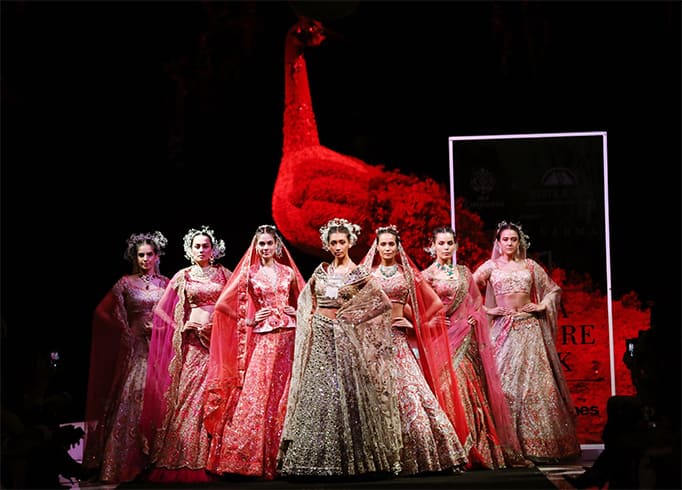 Day 3 Highlights:
Here are all the highlights from Day 3 of FDCI ICW 2019:
Pankaj & Nidhi (Jewellery by House of Aynat):
Debutants husband-wife duo Pankaj and Nidhi kept the theatrical fashion flame burning in FDCI India Couture Week 2019. The designer emphasized on hand-cut appliqués and explored Trapunto quilting from an avant-garde approach. The prêt collections saw the use of duchess satin, little lattice-work and fringe adornments.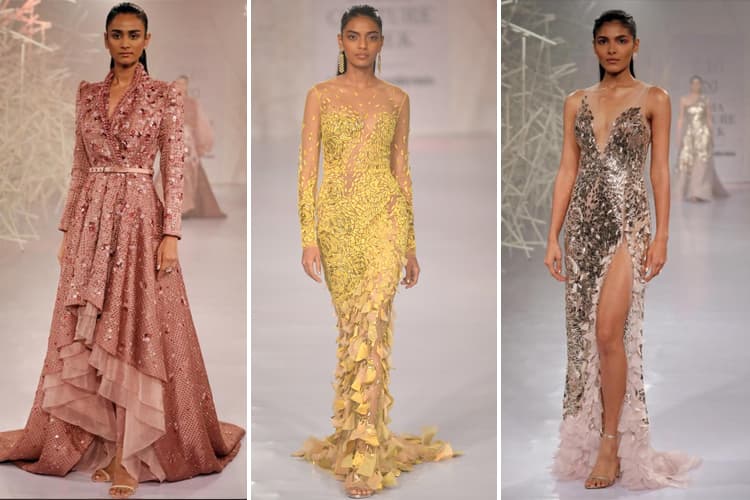 Aditi Rao Hydari made quite an entrance in a dreamy weightless ensemble paired with House of Aynat jewellery. The designers bought a lovely juxtaposition giving respect to their roots, but still leaving a lot to say.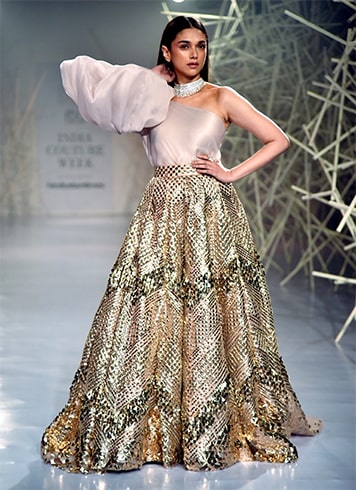 Rahul Mishra:
3D, construction, color, and cut alongside white are in the designer's style DNA. While this year, Rahul Mishra's couture collection was all about giving an ode to nostalgia. His point of view for FDCI India Couture Week 2019 was all about showcasing the perks of living in a modern village. The couture week witnessed genda phool flora and fauna, cranes and ducks floating in water, and pictorial stunning landscapes. The show trickled into Mishra's thoughts for painterly graphics and depicted his obsession for the current season.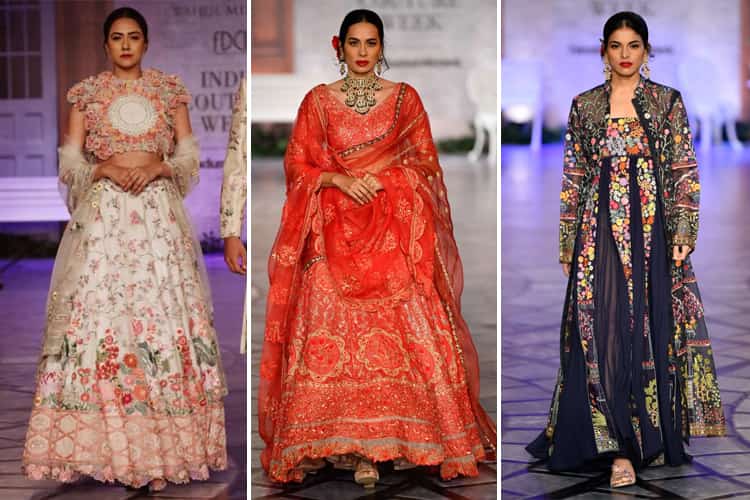 Day 4 Highlights:
Here are all the highlights from Day 4 of FDCI, ICW:
Sulakshana Monga:
Banaras, the holy city served as the underlying theme of Sulakshana Monga's ICW line. And it all seemed like an authentic study with cultural landscape thrown in her signature sparkle. It's clear that the designer gave more thought to Radha-Krishna motif; Monga used art symbols and bridal lehengas with booties. The designer played with great proportions with the collection that aimed to promote material exploration.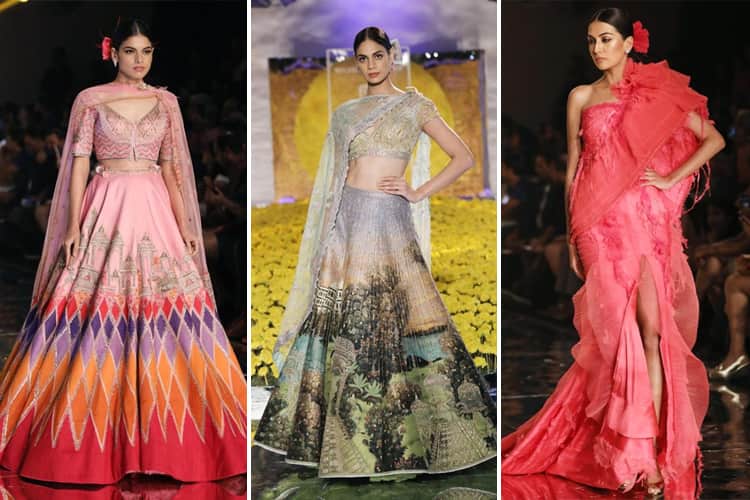 And where there is a showstopper like Malaika Arora, the designs seem pointedly seamed with the modern Indian bride in mind.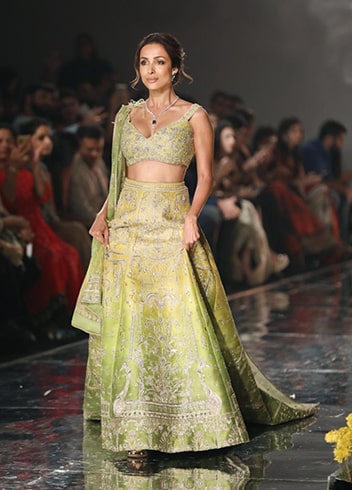 Shyamal & Bhumika:
The designer duo's point of view had more of floral and flounce feel, focusing on what Indian women today can wear. Delicate cutwork edges, feminine floral, embroidered zari threads, and organic wild silks filled Shyamal & Bhumika's 2019 runway.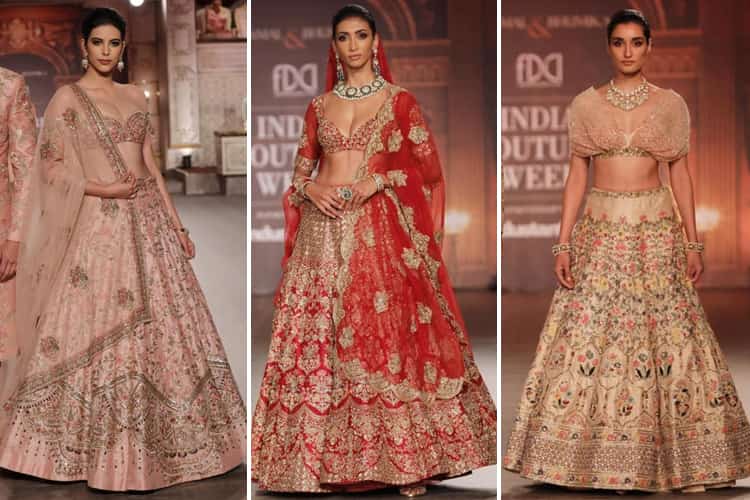 The gorgeous Kriti Sanon was the showstopper for the husband-wife designer couture collection.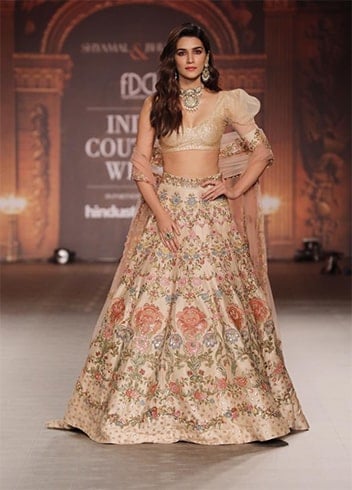 Day 5 Highlights:
Reynu Tandon:
Celebrating her 20th year in the fashion world, this is her fifth appearance at ICW 2019. She displayed exquisite works of shirt-like lehengas and hand-woven chanderi.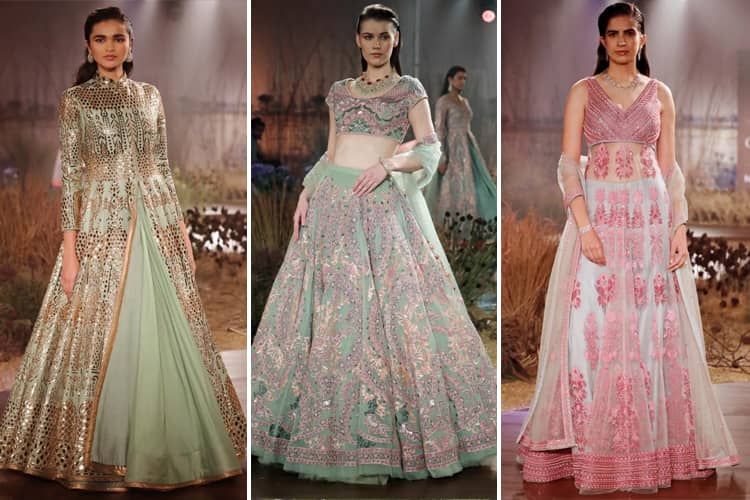 Her couture collection, The Savannah Saga was graced by the gorgeous Rakul Preet.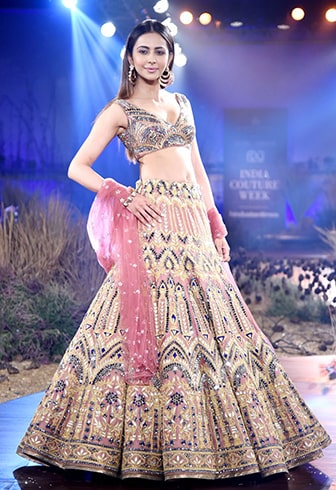 Falguni Shane Peacock:
This is the second outing for the designer-duo at the ICW displaying an unequivocally gorgeous couture collection.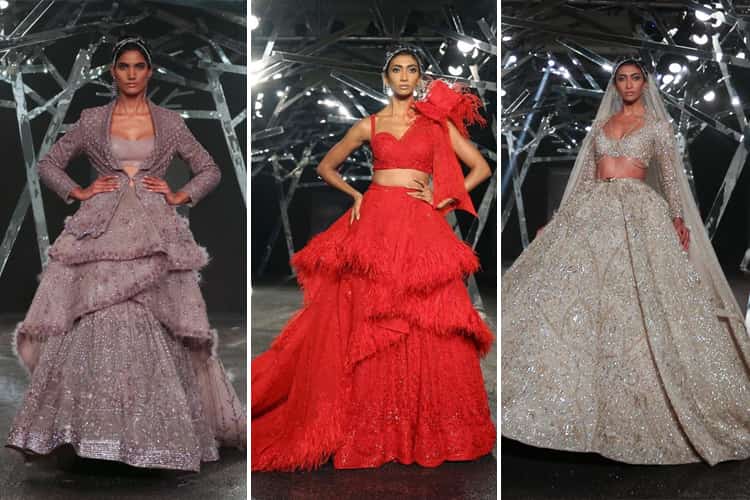 Walking the ramp as showstopper for their collection was ramp debutant Sara Ali Khan who offered a refreshing stance on un-fussy.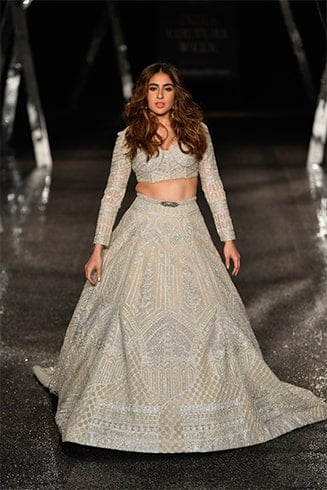 Day 6 Highlights:
Gaurav Gupta:
The designer is mostly about the designs which does not sound novel. With an emphasis on fit and futuristic design, the line offers a cool take on essentials that are far from insignificant. Presenting at the ICW week, the designer's couture collection was subtle but with presentation of smart tailoring and shiny baubles.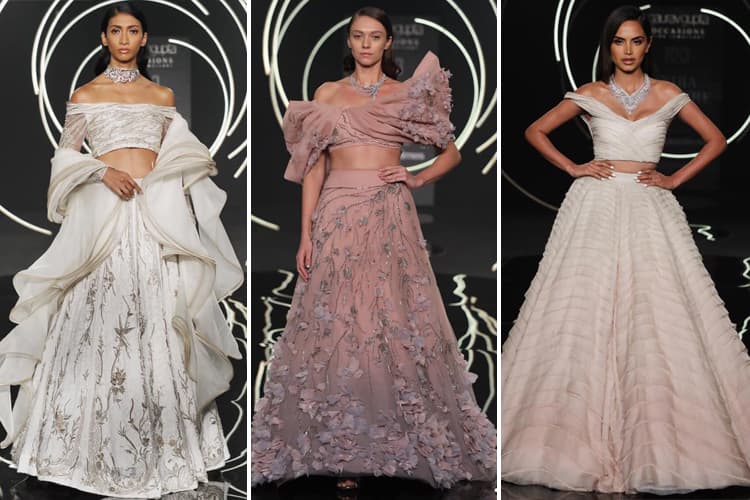 Diana Penty walked the ramp displaying a design of strength and inventiveness.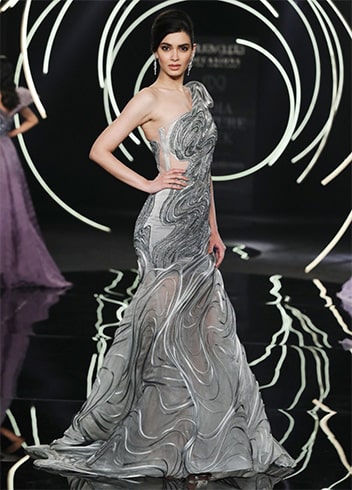 Day 7 Highlights:
Tarun Tahiliani:
Tarun Tahiliani brought the perfect ending to the FDCI India Couture Week 2019 with his couture collection, Bloom. Making his approach to the young, spirited bride, the line saw unique silhouettes, structured drapes, and rich representation of someone looking to be herself on her wedding day. From embellished lehengas, saris, and anarkalis in impactful colors like beiges, reds, oranges, and nudes with just the perfect touch of magical. His approach certainly felt different than what's usually displayed at the runway, but was a welcome change, nonetheless.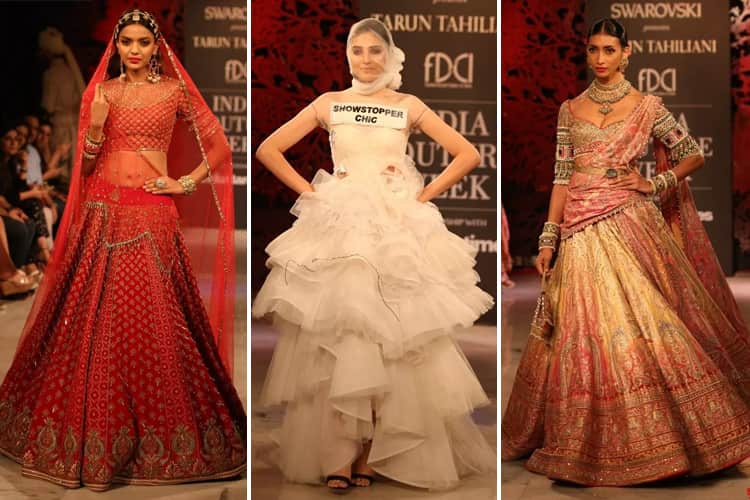 These are all the highlights from FDCI India Couture Week 2019 show. Hope you enjoyed seeing them all.
Images Source: www.facebook.com/FDCIOfficial
July 29th, 2019
Author: Lima Aier
---
FDCI India Couture Week 2018 Leaves Us Bedazzled!
The FDCI India Couture Week is an annual show facilitated by the FDCI to celebrate the latest collection of couture in the country. In their 11th season now, the India Couture Week, this year is presented in association with the Hindustan Times and Sunil Sethi Design Alliance. Check out the post for details of the fashion fiesta.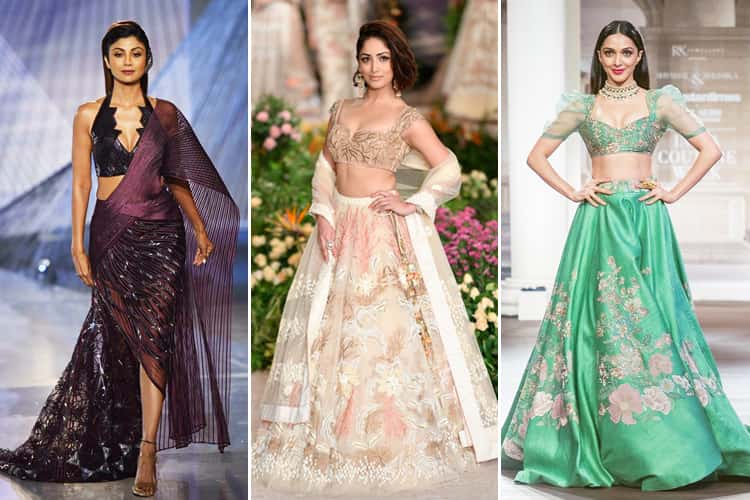 Taking place from the 25th to the 29th of July at the Taj Palace, New Delhi, 10 ace couture designers will present their perspective on Indian couture and celebrate indigenous craftsmanship through their latest collections at the ICW 2018.
Talking about the theme this season, President of FDCI, Sunil Sethi shared, " The shows this season will celebrate the robustness of crafts and the power of subtle nuances that play peek-a-boo in the design world with their pleasing silhouettes. The designers will create a timeless grid of style in this 11th Edition of FDCI India Couture Week."
Like every season, this year too, the fashion fiesta promised to be a week filled with glamorous shows showcasing awe-inspiring couture pieces that are sure to line the festive and bridal closets of fashionistas across the country.
With Tarun Tahiliani kick-starting the fashion fiesta and Rohit Bal's celebration of couture being the fitting grand finale for this gala event, you need to check out the bridal trends that ruled the ramp!
Many Bollywood beauties including Aditi Rao Hydari, Kareena Kapoor, Kangana Ranaut, Shilpa Shetty, Kiara Advani, and Yami Gautam played muse to their favorite designers as they transformed into stunning showstoppers. Go ahead and check out the highlights of ICW 2018 !
Designers Who Participated In ICW 2018:
The FDCI India Couture Week celebrated the best of bridal fashion this season. Go ahead and get ready to be mesmerized.
Tarun Tahiliani's " Elysium":
Tarun Tahiliani described his Elysium collection in three words, "Weightless, Finesse, and Extravagant".
The veteran designer presented his collection titled "Elysium" in association with "Swarovski", at the ICW 2018. Bringing together all those feelings of happiness, contentment and a sense of ecstasy and euphoria in his collection, the designer delighted his audience with a mesmerizing show that deserves to be equated to a glimpse of the Paradise.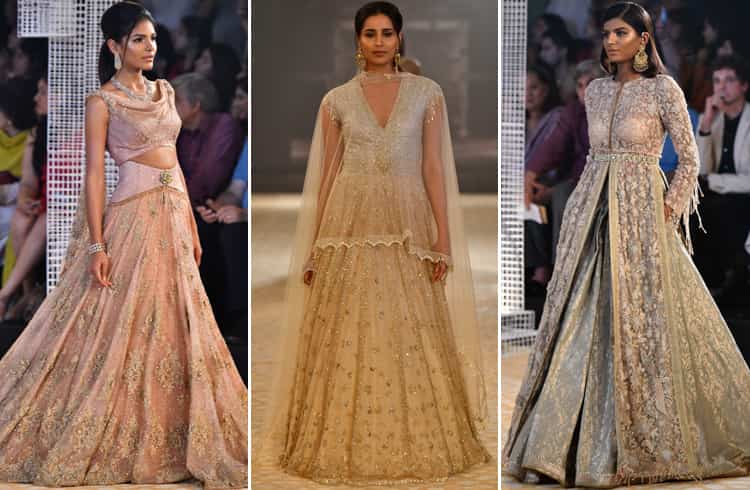 With the buzzword being lightweight couture pieces, Tarun made a stunning advancement in the perception of couture making them more wearable. When asked the designer said, "And finally after months of work, we unveil the occasion, bridal and couture collection. The key has been to achieve lightness, after hearing thousands of women complain about being tortured in clothes they could not move in or weighed them down. So, the new lightness, in Elysium, for modern-day glamour and ease of wear. The new voice of tradition at last," said Tarun Tahiliani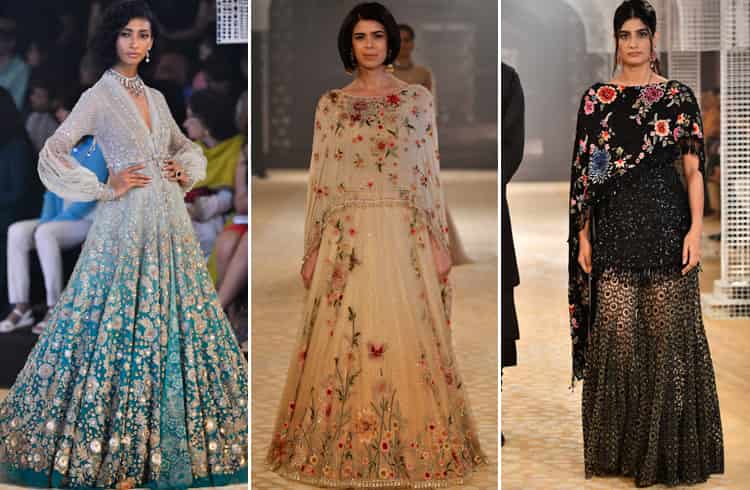 The lineup boasted of occasion wear, festive and bridal outfits. From blacks and beige to peaches and reds and subtle shades of blue, the collection oscillated between lightweight dresses, anarkalis, draped sarees and lehengas.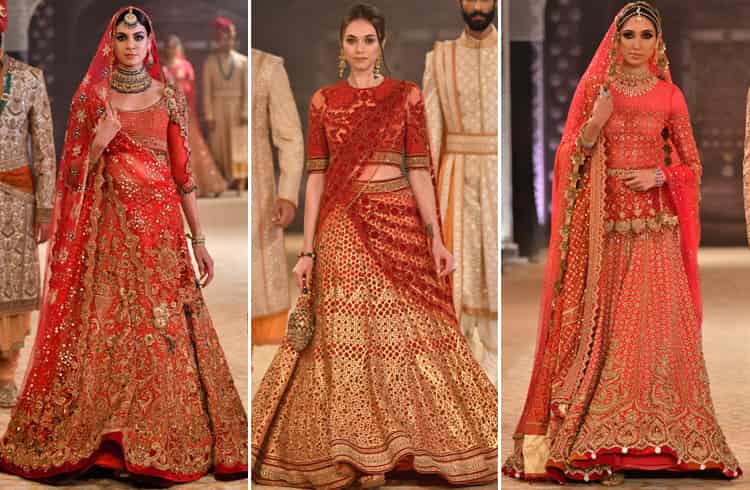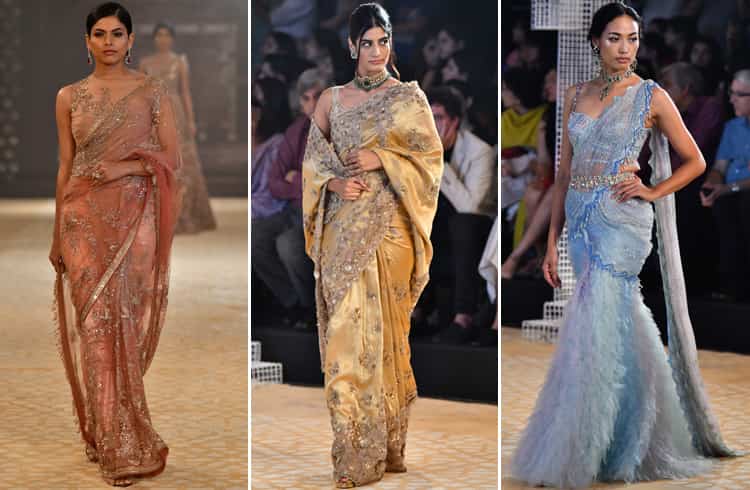 In terms of craftsmanship and embroidery, Tahiliani went big on his Swarovski association. In his home ground, Delhi, Tarun sealed the first show of the ICW 2018 with the gorgeous Aditi Rao Hydari playing his resplendent showstopper.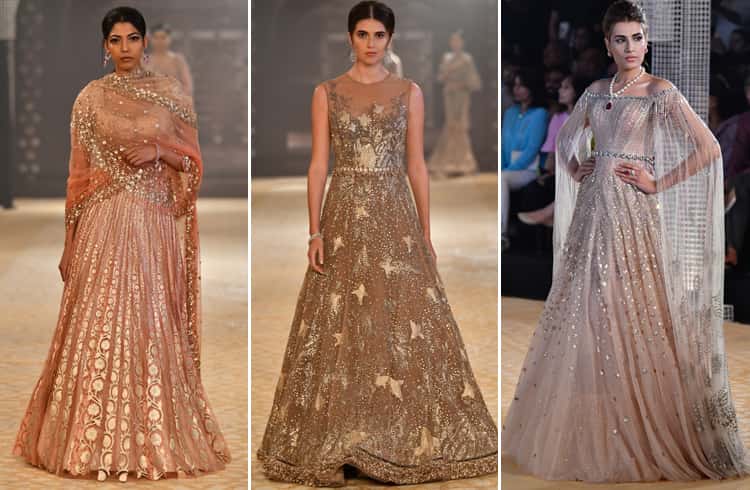 Aditi walked in looking like a fairy wandering in her paradise. Dressed up suave in a subtle tone of pink, Aditi radiated regal elegance as she took to the ramp like a queen dressed in a lehenga replete with Swarovski crystals and pearls. The pretty tulle blouse and ombre veil added to her celestial look. The feather touchups scored brownie points.
Anju Modi's "A Maiden's Prayer":
Anju Modi is a name that brings back memories of iconic outfits that Deepika Padukone wore in blockbusters like Bajirao Mastani and Ram-Leela.
This time closing Day 1 of the India Couture Week 2018 with her show, Anju Modi traded her usual intricate and heavily embroidered couture outfits for a collection inspired by the art and architecture and the dramatic fashion of the Victorian era.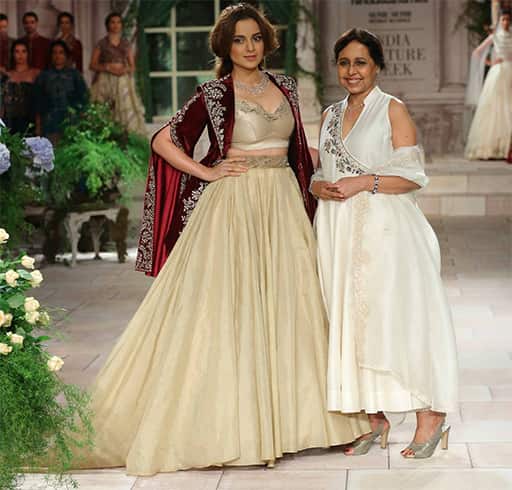 Modi stated at the press meet stating, " Sometimes, I secretly wish I lived in the Victorian era – an age that holds eminence, pride with an attitude, is where we found our inspiration this season."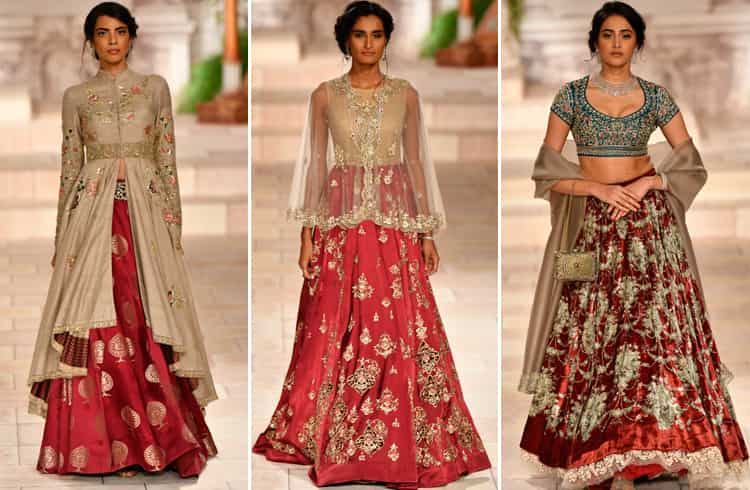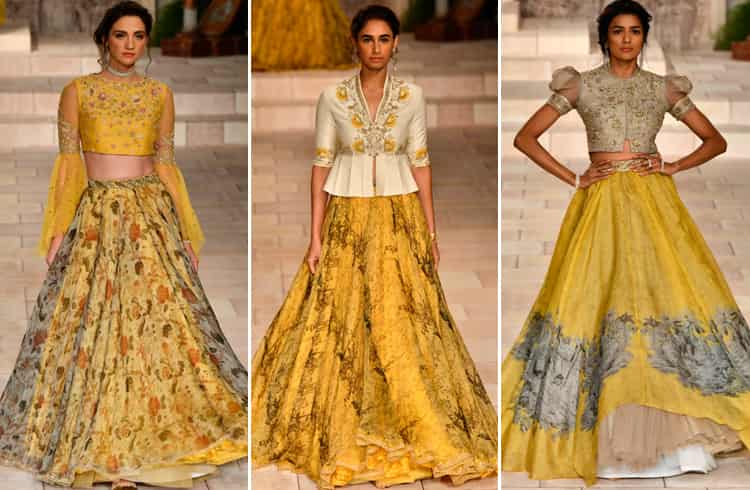 Enveloping the essence of the 19th century, the designer titled her collection, " A Maiden's Prayer". Moving to a more subtle and romantic English color palette Modi incorporated the pretty mustards and soft teals, grays, and peaches. Heavy fabrics and intricate textures made the collection a dream for every bride for her d-day.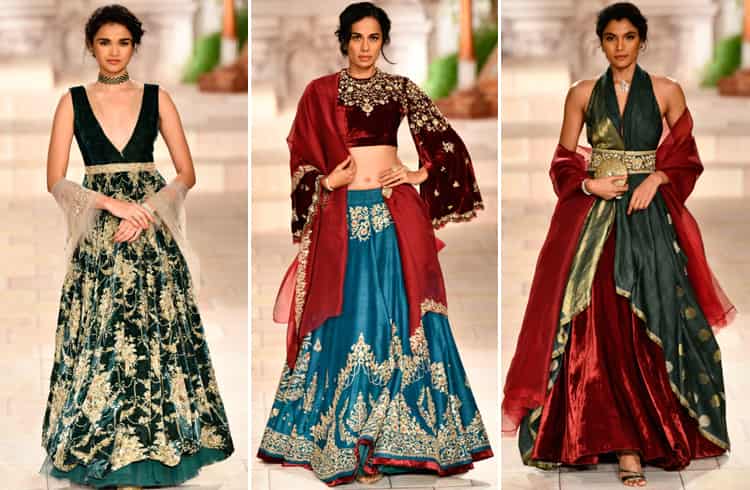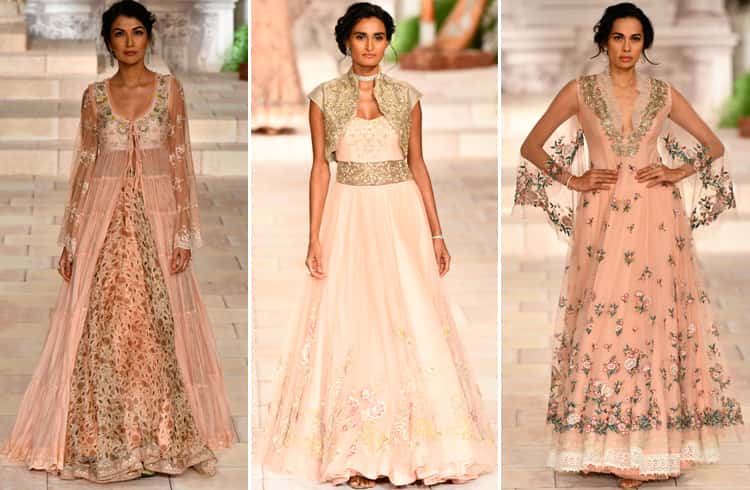 The bold and beautiful Kangana Ranaut was the face of the collection. Dolled up in a golden lehenga paired with a royal embroidered velvet cape she exuded opulence. To amp up the Victorian appeal, the designer had her muse go for a dramatic hairdo, accessorized with an embellished hairband.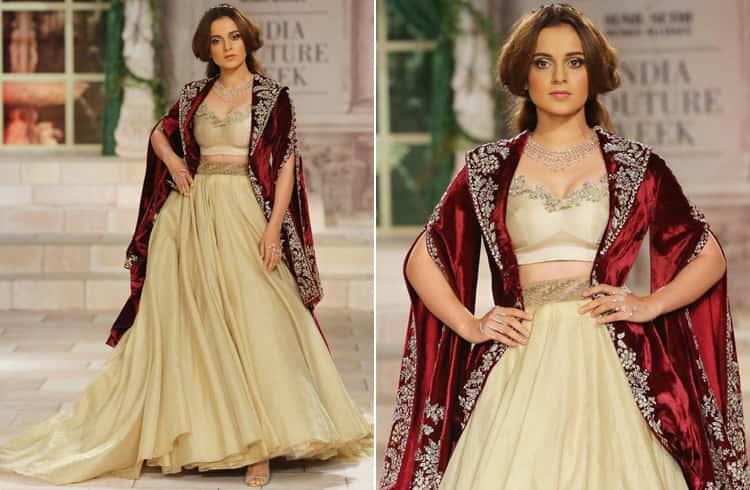 [sc:mediad]
Pallavi Jaikishan's Collection "Nostalgia":
Taking her audience back in time with her collection "Nostalgia", the seasoned couturier Pallavi Jaikishan presented a delightful collection that basked in the beauty of vintage couture.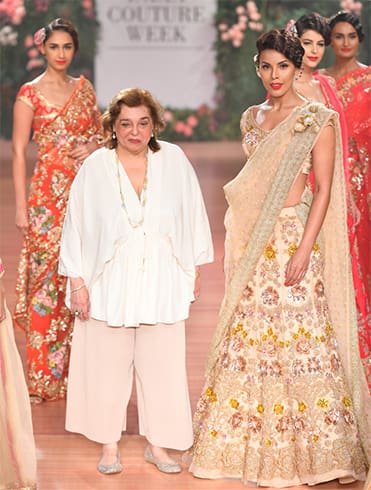 Presenting a beautiful melange of retro chic and neoteric, Pallavi's couture lineup featured trousseau for new age brides who love to carry a piece of traditional attire done up the contemporary way.
A combination of old and new fabrics ranging from georgettes to satin to metallic lame textiles, she presented an array of lehengas, shararas, anarkalis, and sarees.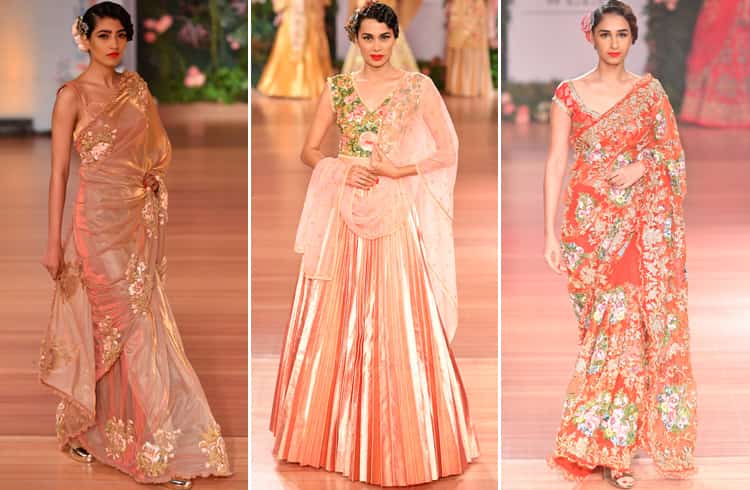 Apart from Pallavi's signature floral motif that was revamped with french knots and other modish touchups, Jaikishan revisited her chakra motif that featured in her collection almost two decades back. Another high point as far as craftsmanship is concerned was the glass work done on the fabrics.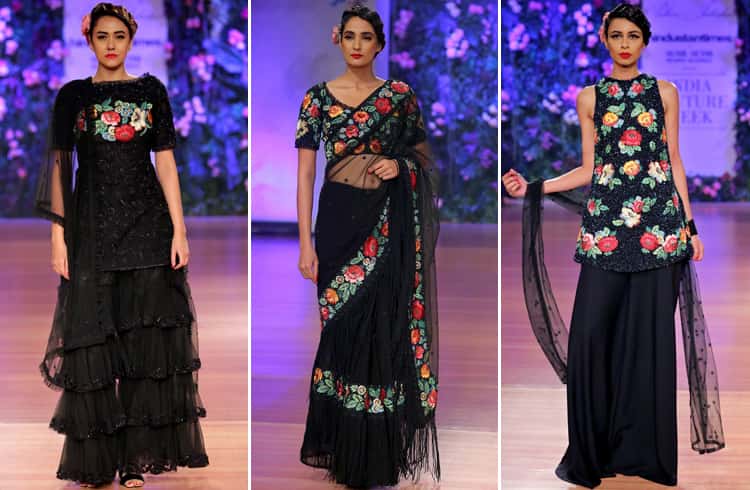 A press release described her collection as, "Couture by Pallavi Jaikishan, for this season, is a beautiful juxtaposition of revived classics with new age silhouettes, perfect for the woman who treasures heritage and yet likes to be on trend."
Other than the usual hues whites, blacks, sterling gold, and oyster silver Pallavi used unique colors like dove blue, old rose, cranberry red, and mustard yellows to supplement the understated glamour of the collection.
Pleated lehengas and shararas designed using Italian and French brocades looked regal. Elegant ruffle play and belted cholis were yet another highlight of the couture collection. For sarees, Jaikishan stuck to using organzas while adorning the edges with a host of fringe detailing.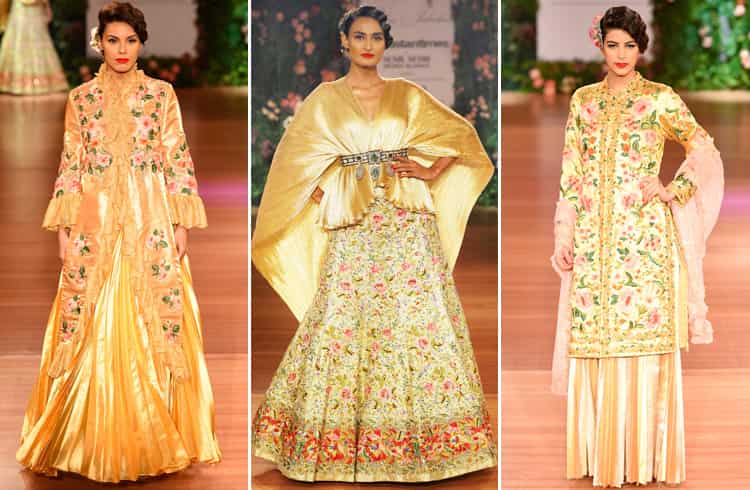 The showstopper outfit of Pallavi Jaikishan's collection was a dazzling off-white lehenga done up with ostentatious silver floral embellishment all across its escapade.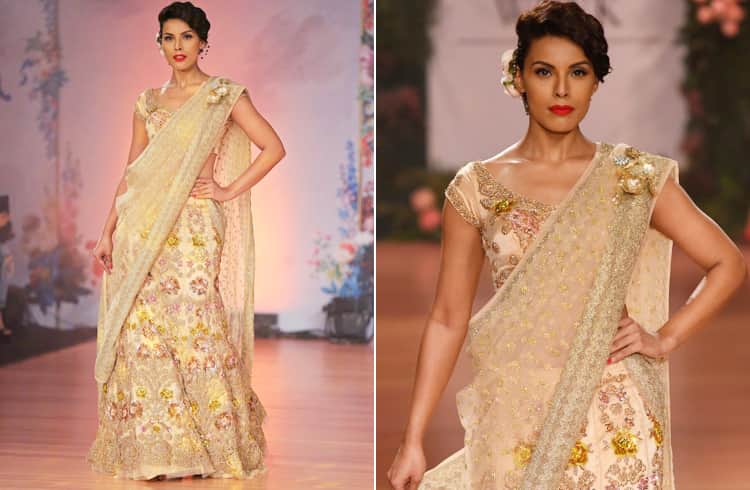 The curtains were drawn on Day 2 after the glamorous show by designers Falguni and Shane Peacock.
Falguni And Shane Peacock:
It was all about glamour, attitude, and oomph for Falguni and Shane Peacock's show at the India Couture Week 2018. Everything about the collection was drop-dead gorgeous and simply wow.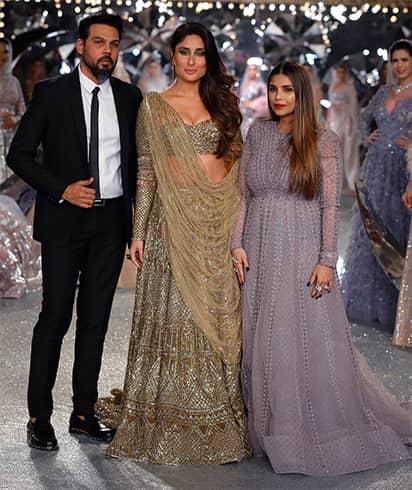 Drawing their inspiration from the closet of French royalty and the jewelry capital of Rajasthan, Junagarh, the two creative geniuses created a dream couture collection.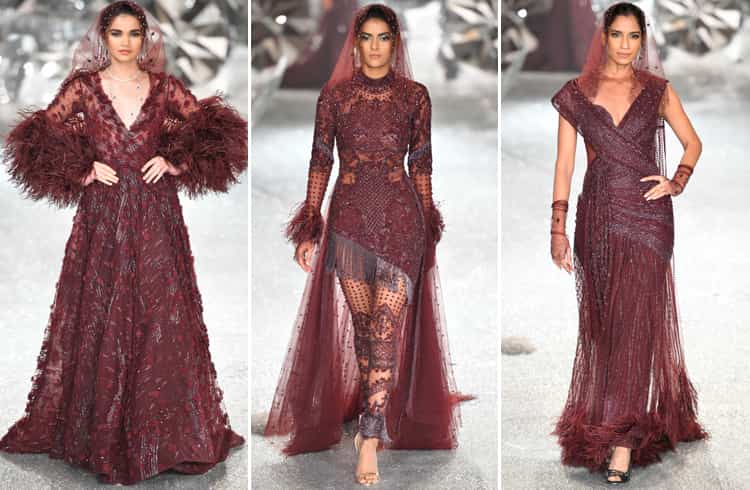 The stunning trails the show presented were enough to take your breath away! Now every bride would love to have that in her trousseau. Add a few feathers and a whole lot of Swarovski sealed with dainty veils to the collection and the result was breathtaking!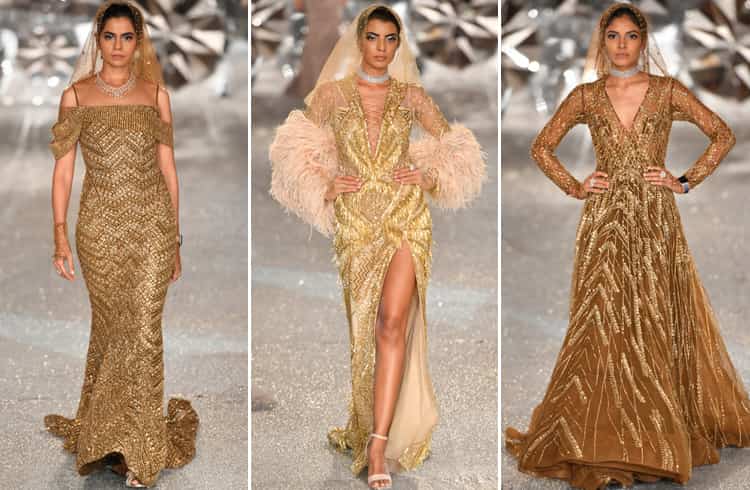 Plunging neck and back lines, a clever blend of fabrics, and unusual silhouettes were consciously incorporated by the designer-duo to render a flattering shape to the bride and take her beauty to the next level.
Dazzling outfits in hues like Persian violet, medieval blue, pearled ivory, desert dust, honey peach, plum purple, burgundy, lavender and not to miss beautiful golds had the audience captivated.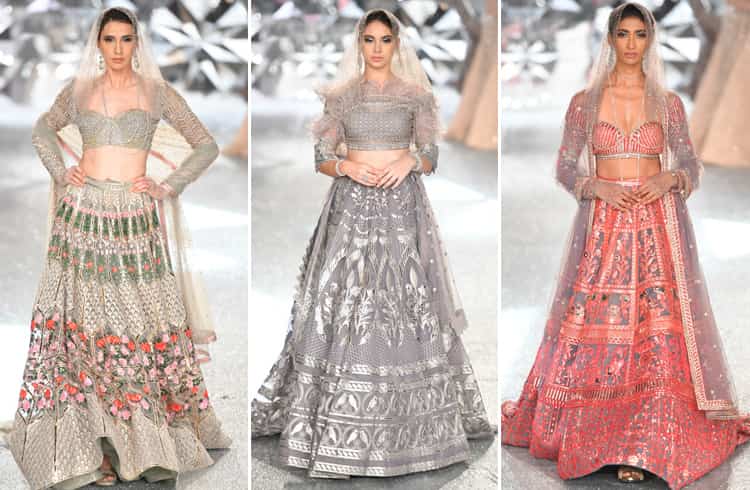 Gorgeous diamond jewelry from Prakshi Fine Jewellery perfectly complemented this spectacular collection.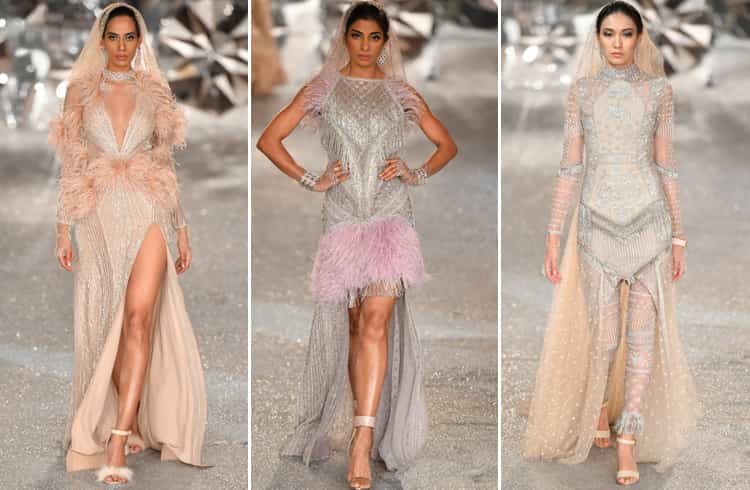 For such a ravishing collection that spelled every bit chic and glamorous, the designers found the most fitting showstopper in Bollywood's begum, Kareena Kapoor Khan.
Kareena is known for carrying the most dramatic and glittering styles with utmost panache and elegance. The collection was in complete sync with Bebo's charismatic persona and luminous aura.
Wearing a 30-kilo all-gold lehenga, Kareena took the ramp and ruled it like a boss. The plunging neckline was complemented with the full-length sleeves. Layering the all-glitter ensemble was a subtle nude dupatta, the feather play on the edges rendered a dramatic finish to the awe-inspiring outfit.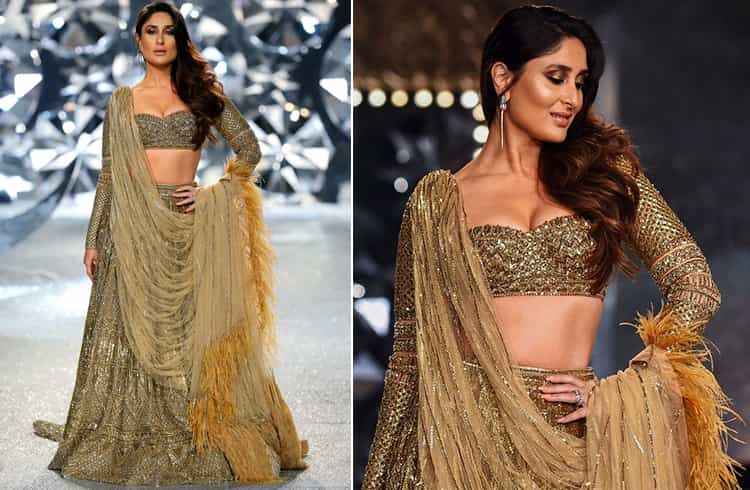 Amit Aggarwal Presented 'Crystalis':
The 'Crystalis' couture collection presented by Amit Aggarwal on day 3 of India Couture Week 2018, drew inspiration from the breath-taking crystal formation that takes place in nature. Using modern industrial materials with zardozi and ari handwork, Amit Aggarwal, the wizard of fabric, with the assistance of textile designer Tanira Sethi, presented experimental textiles during the show. With jewel-toned embellishments on cashmere laces, each creation reflected intensely the beauty of the natural crystal formation.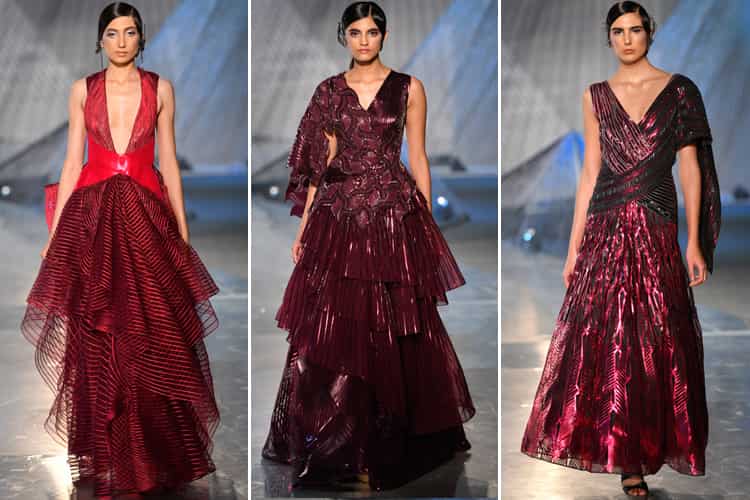 From asymmetrical maxis, midis, minis with ruffles overdose, frilled tops, dresses, gowns, to futuristic sarees all were a part of Amit Aggarwal's collection at the India Week Couture 2018. Volume filled outfits, drapes and structured sleeves in bold jewel tones, soft golds, greens and smoky purples were all we could see in Amit Aggarwal's collection that elevated the bar of innovative fashion.
Sasha and Kaabia Grewal of Outhouse created jewelry that was inspired from complex crystalline structures and intricate organic forms such as that of the metallic chrysalis cocoon to complement the edgy collection. All jewelry pieces were crafted using materials and metallic hues that blended perfectly with the collection's color explosion.
Moving on, the makeup artists played along with the theme of the designer and kept the makeup as shiny as they could. Lastly, the models walked in customized shoes in metallic shades from shoe couturier Nidhi Bhandari as they took to the ramp.
Shilpa Shetty was the showstopper for the futuristic creations and the diva magnified the beauty of the metallic saree gown tenfold with her grace.
Suneet Varma Presented 'Nayanatara':
Suneet Varma presented his collection 'Nayanatara' on day 3 of the ICW 2018, which reflected his thoughts and ideas of an Indian princess. A collection that boasted of a deft use of shimmer that turned every creation into a whimsical fairytale grabbed many eyeballs.
His 55 creations included evening dresses with exciting fringes, tassels, interesting necklines and sleeves, and jackets with oversized motifs and appliques. Adding rhinestones, sequins, pearls along with ruffles, mirror work, frills, flares, and embroideries on sheer and other fabrics, he nailed the show with an overdose of glitter and glamour.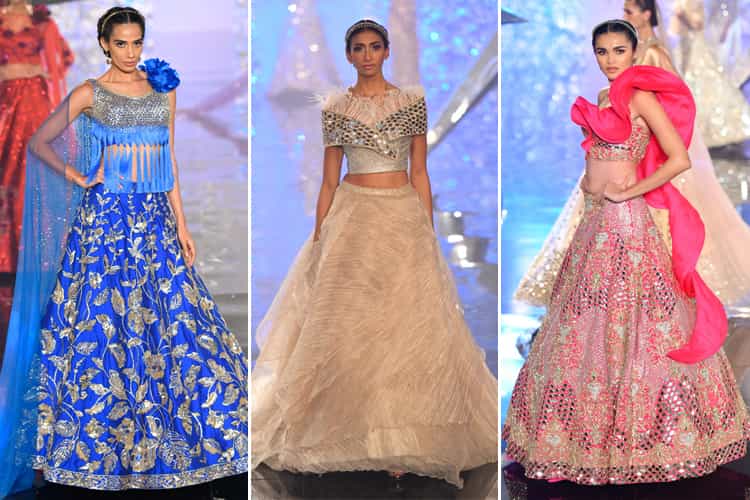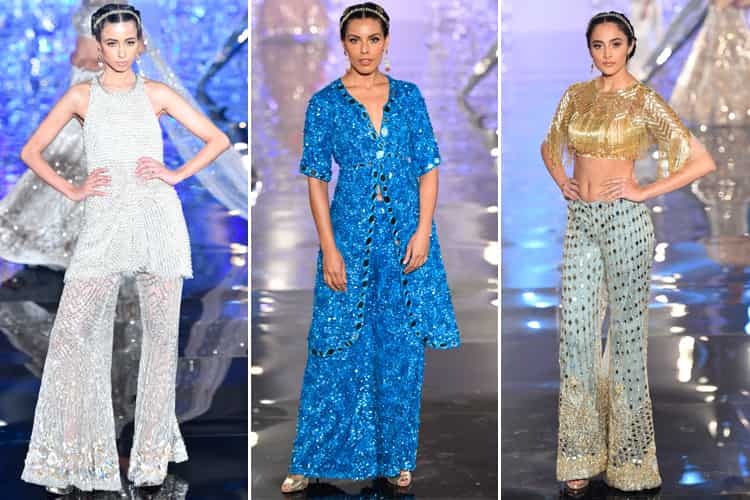 The color palette included colors like gold, crimson, royal blue, purple, almond, green, turquoise, lilac, tangerine, and lemon. Volume filled outfits were truly designed to illuminate the beauty of the wearer royally. Suneet Varma surely offered a fresh take on bridal fashion that was truly a perfect blend of sexy, royal, and trendy.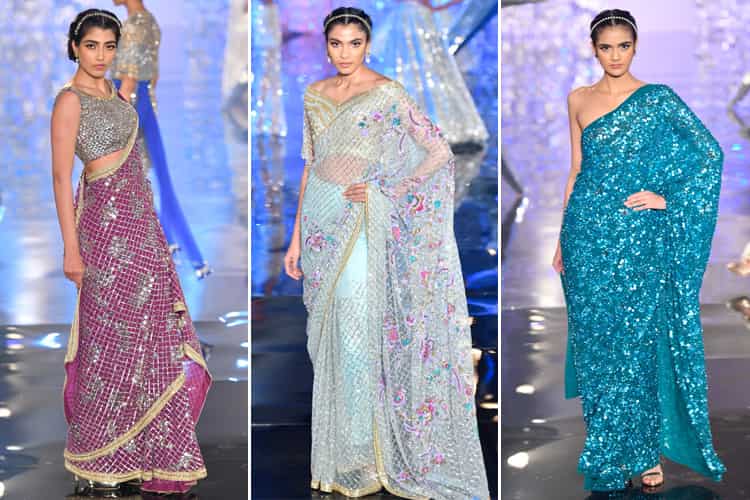 Shyamal & Bhumika Presented 'Muse Of Mirrors':
The designer duo, Shyamal, and Bhumika showcased their collection 'Muse of Mirrors' on day 4 of the India Couture Week 2018. From sexy necklines, sheer sleeves to intricate details and asymmetrical hemlines, the designer's collection gave a boost to wedding fashion.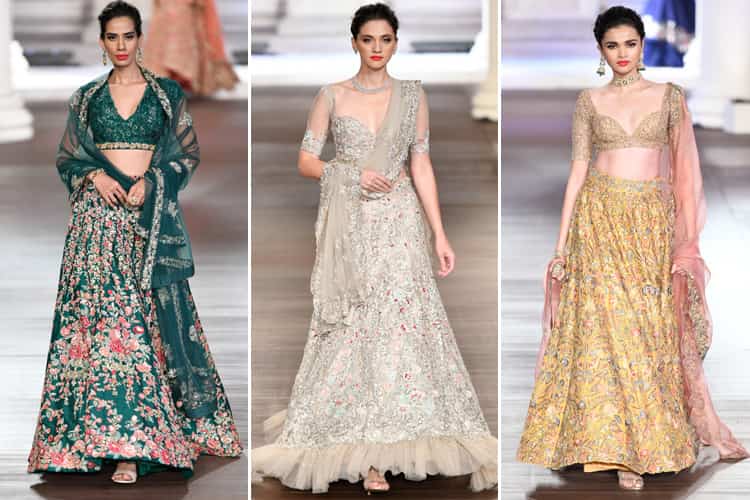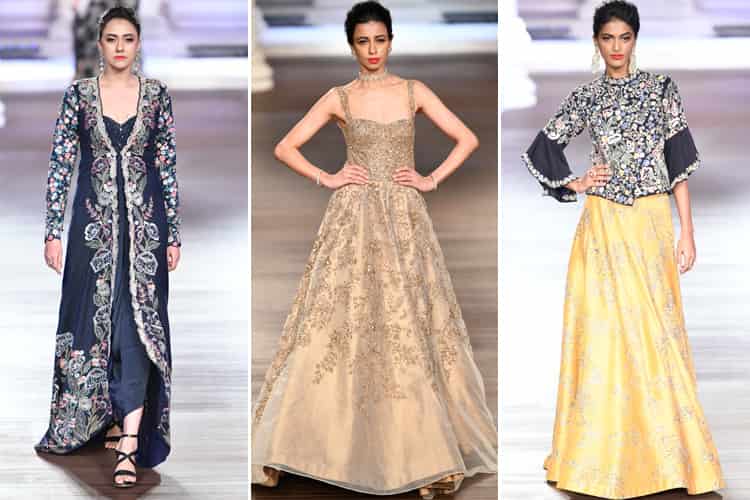 Moving away from overzealous embellishments, they created a traditional collection in natural fabrics with ancient embroidery work like zardozi pita and floral appliques. The collection included lehengas, sherwanis, sarees, and anarkalis in fine crepes, Matka silk, and georgettes.
Vintage colors like grey, ivory, ochre along with crimson red were used widely in the collection that truly recreated the beauty and romance of old painted ceilings, archaic passageways, and much more.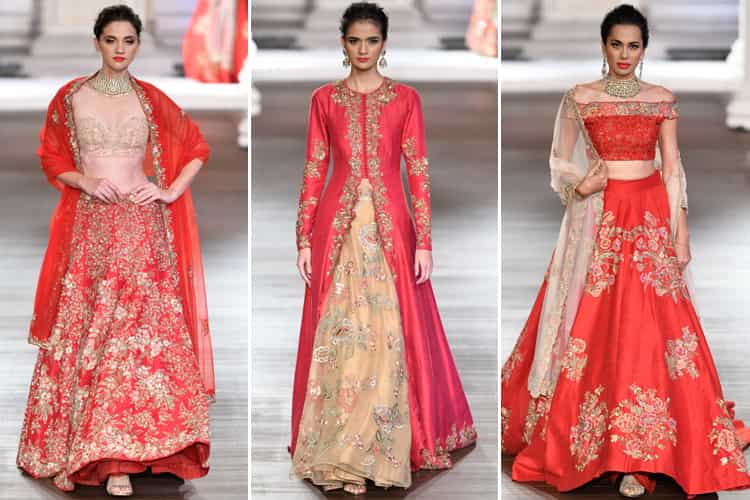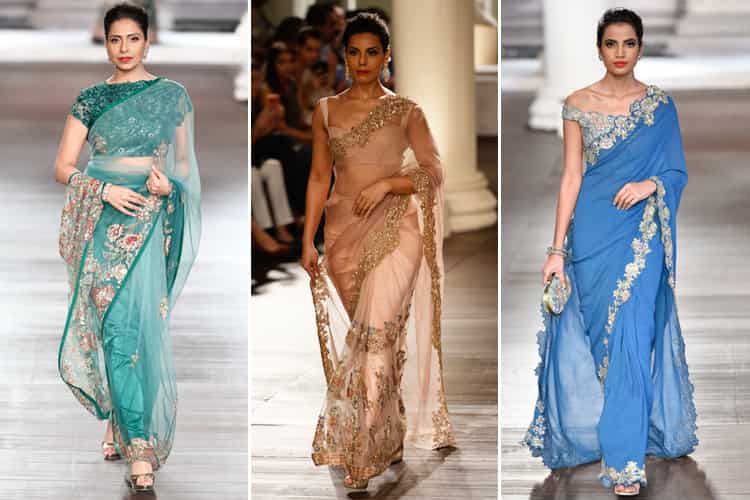 Kiara Advani was the showstopper for the designer-duo and she looked stunning in a seafoam green colored lehenga. The floral details of the outfit created with the use of intricate laser cuts and pearl embroidery gave the diva a flirty vibe. Kiara's look was accessorized with a gold and Kundan choker necklace from RK jewelers.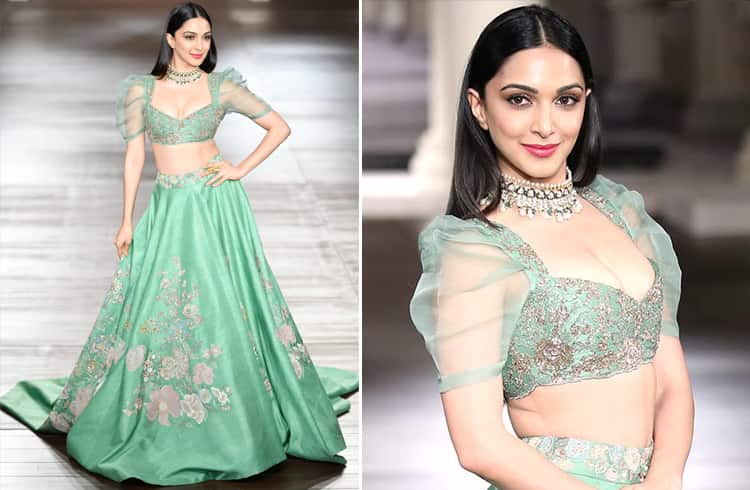 We absolutely loved the soft and clean approach to bridal fashion this collection offered with the use of lacework, rich embroidery, and crystal beadwork on modern form-fitting silhouettes.

Presented 'Maraasim':
Rahul Mishra showcased his collection titled 'Maraasim' which means relationships on day 4 of the ICW 2018. For his collection this season, Rahul Mishra chose to dive deep into the visual history of the Mughal era and incorporate elements like geometry from Persia and a vibe of Pichwai paintings.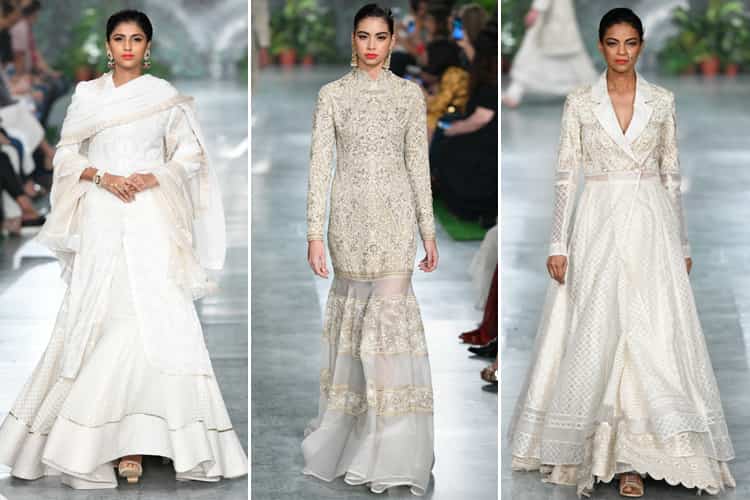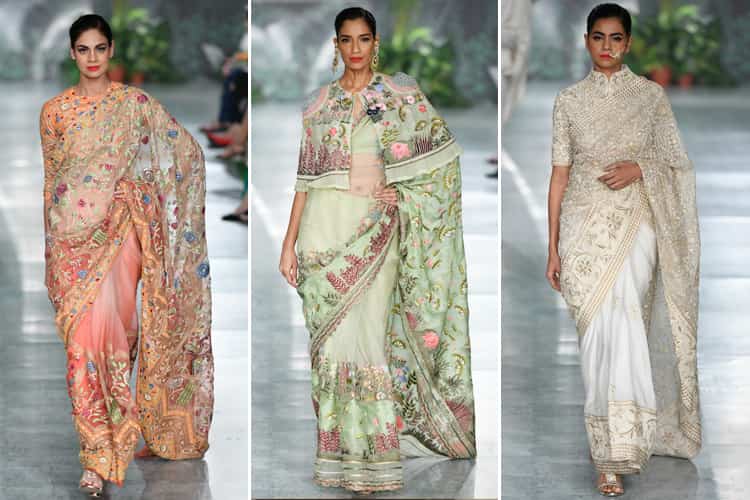 From soft pastels and ivory to fiery colors like orange and red, the color palette was wide-ranged and both sweet and spicy. In chanderi, organza along with chikankari embroidery, 3D applique, and threadwork, the cocktail dresses, saris, long jackets and capes, kurtas and lehengas were a true visual delight. For the much-needed shimmer and shine, the designer opted for understated Swarovski crystals.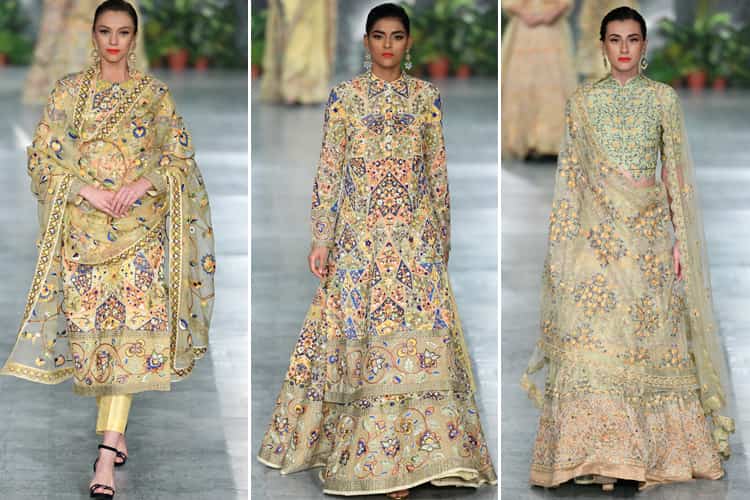 Reynu Taandon Presented 'Once Upon a Dream':
On the last day of ICW 2018, Reynu Taandon showcased her collection 'Once Upon a Dream' that spelled beauty, grace, and magic. Rich with opulent embroidered pieces loaded with 3-dimensional sequins, beads, and crystals, the collection was truly celestial and conventional.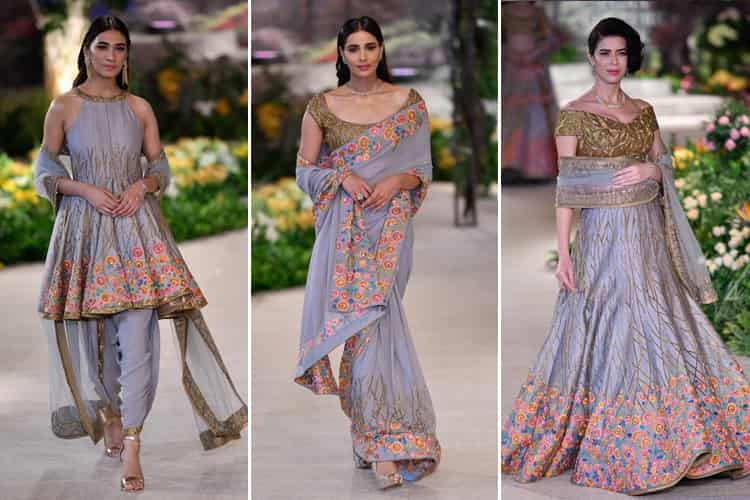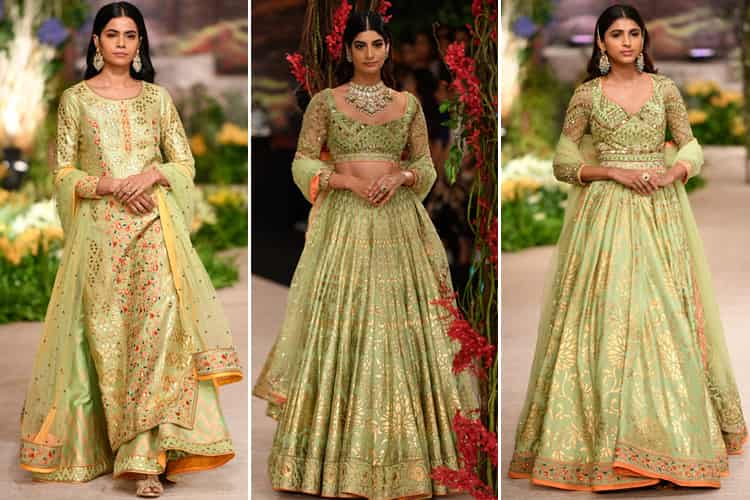 On pastel-colored outfits, floral and geometric motifs were highlighted in bronze, gold, and silver. The color palette ranged from corals, ivory, gold, mint, lemon, and pink giving a refreshing garden vibe.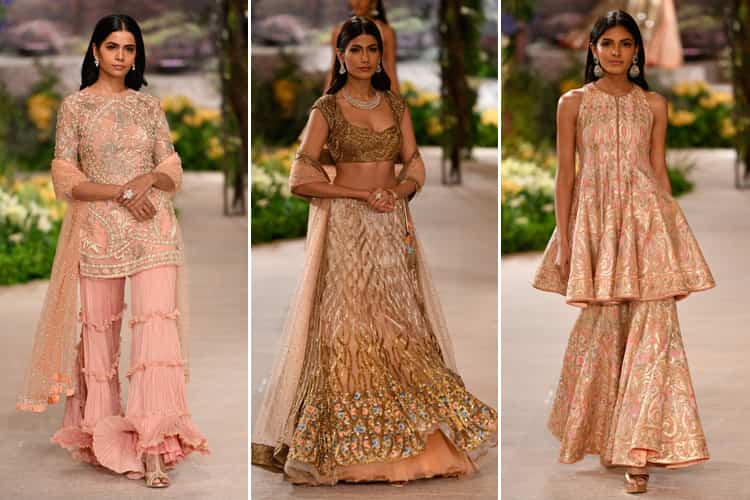 From chanderi lehengas, floor-length anarkalis, cholis, jackets to floral saris the designer's collection was exquisite. The highlights of her show were the laces, the long sleeves, plunging necklines and laser cut sequins on sheer net dupattas.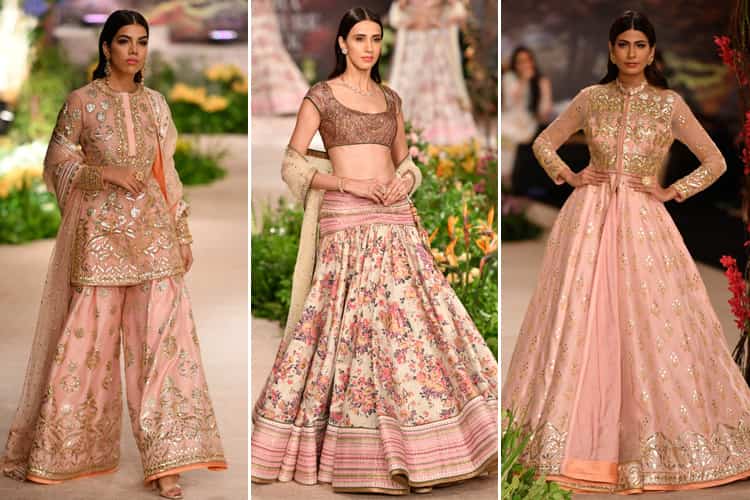 Yami Gautam was the showstopper for the designer and the actor stunned us with her gorgeousness. In a voluminous blush-toned lehenga enriched with intricate embroideries and ruffles along the hems, the diva was a spectacular sight for sore eyes.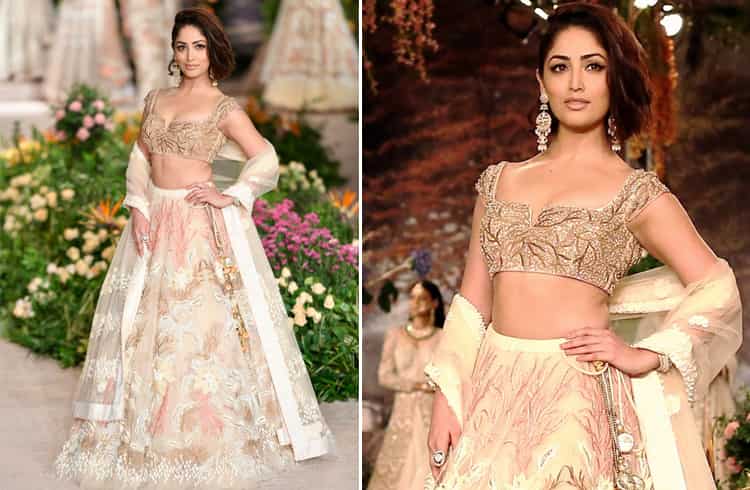 Rohit Bal Presented 'Guldasta':
Last but not the least Rohit Bal presented his take on bridal couture called 'Guldasta', a bouquet of flowers. He rendered a collection full of flamingos, lilies, sunflowers and elephants on gowns, lehengas, skirts, and sarees. It was a throwback to his childhood days reminiscing about the beauty of the flora and fauna of Kashmir's forests and gardens.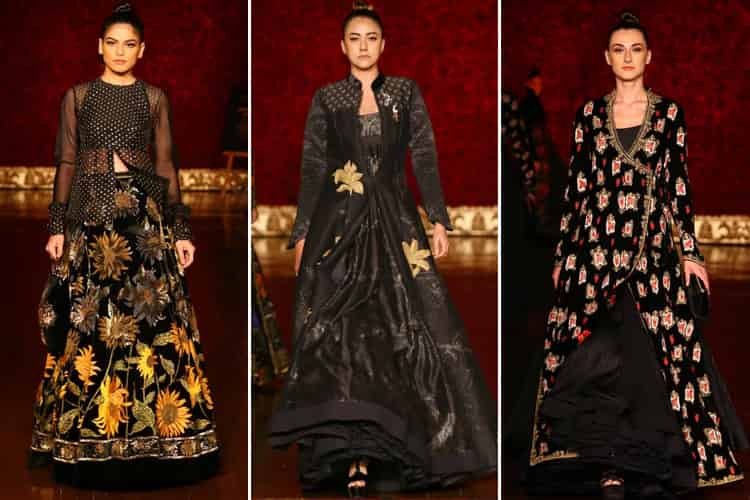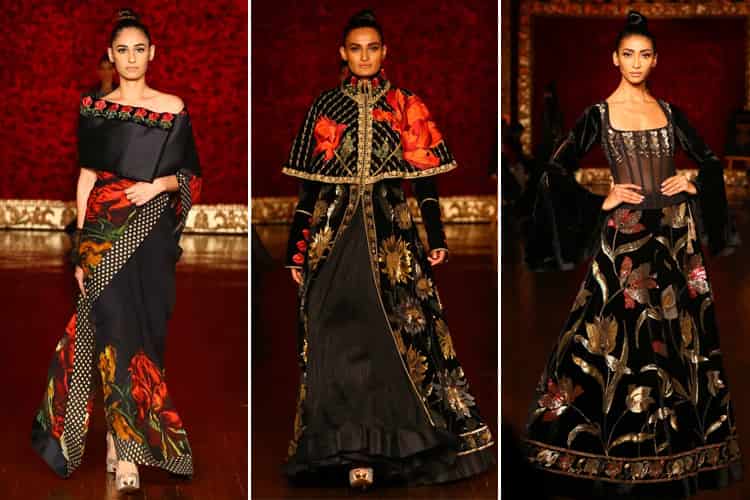 Luxurious in every frame and delivering delicate artwork was the designer at the ICW 2018. From floor-grazing anarkalis to regal lehengas, in jewel tones and monochromes, Rohit Bal's collection was jaw-dropping.
Blending florals with animal motifs in jewel hues like ruby, and red as well as greys, ivory, blacks, and pearls, the collection was definitely brilliant. Each and every piece of garment showcased seemed fit for the kings and queens of fashion with their richness and regal elegance.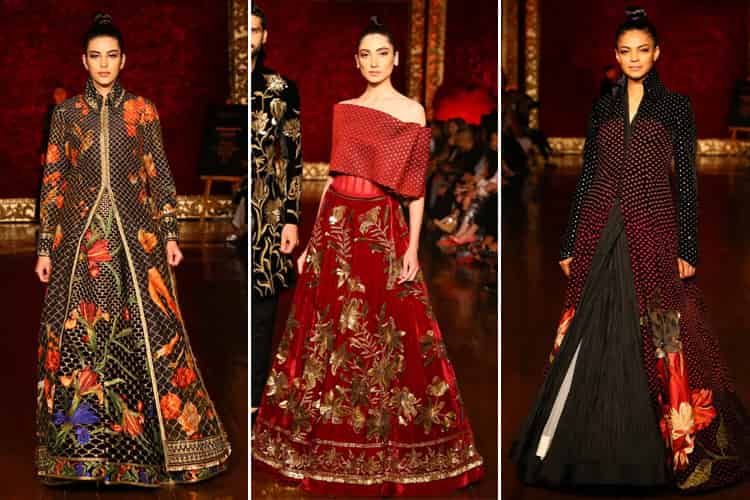 It sure seemed like a fitting and spectacular grand finale for an awe-inspiring India Couture Week 2018. Can't wait for the next season of the mega event? Stay tuned for more fashion updates!
May 30th, 2019
Author: Lima Aier
Images Source: facebook.com/TheFDCI, vogue.in, Sagar Ahuja/Vogue.