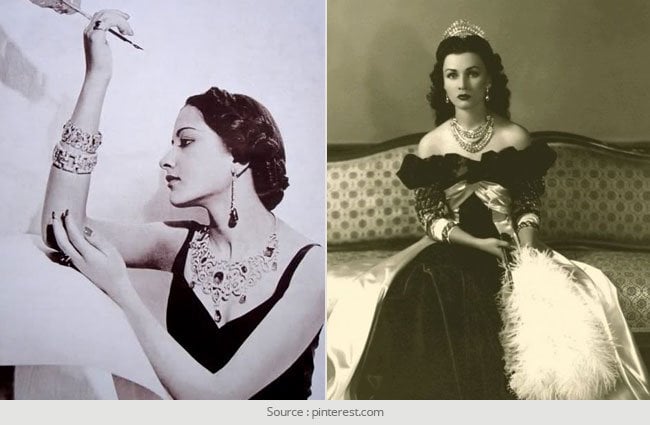 India has its own royal historical importance. It used to be a country of many different royal dynasties in the pre-independence era. Even post-independence, if may not officially but royal dynasties still happen to exist. Indian queens used to be famous world over for their incredible beauty, effortless regal style and huge social activities. They were the master of their own minds and loved to live their life luxuriously and on their own terms.
We looked back to five such royal queens, whose beauty bounded no limits! Their style and fashion sense are still remembered today and will always be decades after.
1. Maharani Gayatri Devi
Vogue described her as one of the most beautiful woman in the world in the 60's. Late Rajmata Gayatri Devi, the Maharani of Jaipur (1939 to 1970), is the epitome of true royalty and effortless style. Her choice of fine fabrics like pure French chiffon sari draping her, a small bindi shining on her forehead and delicate pearls complimenting her outfit speaks of her style statement with the grace and poise.
Columnist Nisha Jhangiani in Verve Magazine described –
 Delicate floral prints, dainty leheriyas, discreet bandhinis; she made every unobtrusive print her own, coupling them with slightly puff-sleeved blouses and a dot of a bindi. Over the years, the pale pastels may have made way for more mature teals, blues and greens; pearls may have been replaced with bolder diamond solitaires; but the sassy downward pallu drape remained. And though she may have been the recipient of many an opulent gift in her lifetime, her most treasured one was a navratan necklace of ruby, emerald, coral, sapphire, pearl, diamond, garnet, cat's eye and yellow topaz strung on a gold chain – given to her by her Maharaja. And it's this heartfelt sentimentality that made me fall hook, line and sinker for her sense of style.
Did you know?
Maharani Gayatri Devi has been mentioned in The Guinness Book of Records for having the most expensive wedding in the 1940's. She received a blue Bentley, a two-seater Packard and a mansion in Himalayas as wedding present. Her wedding trousseau boasts of sheets from Czechoslovakia, shoes from Florence, and nightgowns in mousseline de soie from Paris.  (As per www.anaisevents.com)
2. Indira Raje of Baroda (Maharani of Cooch Behar)
A mother passes on her beauty her daughter! It was evident the way Maharani Indira Raje Devi of Cooch Behar passed on her beauty, sensuality and taste for fine fashion to her daughter Gayatri Devi, who later became the Maharani of Jaipur and the most beautiful woman in the world.   Maharani Indira Raje Devi had a grandiose charm about her.
Did you know?
As mentioned in one of the articles at verveonline.com – Indira Devi first spotted the buttery smooth textile i.e. chiffon in Paris, and being the fashion visionary that she was, asked if the available width could be extended from 34 inches to 42 inches.
She was a strong-willed personality, who used to follow her own heart. As she chose to break off her arrange marriage with the Scindia of Gwalior to marry her love, Prince of Jitendra of Cooch Behar.
Her pearl necklace and ear danglers were seen in many of her old pictures, hinting at her love for those.
3. Sita Devi of Baroda
Known as 'Indian Wallis Simpson', Maharani Sita Devi of Baroda was always into the luxurious life and her love for having or buying luxurious items evidently prove that.  She was known for her meticulous detail to fashion as it was said that she used to travel with a thousand of saris with matching handbags and shoes.
Akshay Chavan, a royal enthusiast and amateur historian in Verveonline –
"She loved her jewels and she knew how to capture attention.  At a time when most Indian women and maharanis were photographed with their heads demurely covered, she was often seen at the Waldorf Astoria or The Dorchester, her hair thrown back to show off earrings and necklaces, hands posed so as to show off her bracelets and rings to best effect. Even her cigarette holder was studded with rubies."

[sc:mediad]
Did you know?
As per the Frenchsampler.blogspot.com – In 1953 the Maharani sold a pair of bejewelled anklets to Harry Winston. They had several large emeralds and diamonds. The jeweller set these stones into a spectacular necklace that was purchased by the Duchess of Windsor. The Duchess wore this to a 1957 New York ball that was also attended by Sita Devi. When other guests were admiring the necklace. The Maharani was heard to exclaim that those jewels looked just as nice on her feet. The embarrassed Duchess returned the necklace to Harry Winston. 
It was believed that the last order that Maharani made was for 260 exclusive saris from a factory called Saree & Co., which used to create French chiffon saris.
4. Maharani Sita Devi of Kapurthala
 'Secular Goddess' was how Vogue described then 19 years old Rani Sita Devi of Kapurthala, who was considered India's most glamorous royals of all time. After three years, she was named amongst the five best dresses women on earth by the worlds' top-most fashion magazines. She was the daughter of a Zamindar and got hitched to a younger son of the Sikh Maharaja Jagatjit Singh of Kapurthala.
Did you know?
Rani Sita Devi of Kapurthala could fluently speak many European languages. She was a muse to an Intalian couturier Elsa Schiaparelli who named her 1935 collection inspired by Sita Devi's Saris.
The Maharani was popular for her fine sartorial choices, which bespoke her royalty in her wardrobe.
Rani Sita Devi's was pampered a lot by her husband who loved to lavish his royal wife with dazzling jewellery from the likes of Cartier Van Cleef & Arpels. Being true to her royal status, she was always seen wearing beautiful jewels gaining her praise and attention among her socialites.
5. Princess Niloufer of Hyderabad
 'Style with substance' or 'Beauty with a Purpose' can best define Princess Niloufer of Hyderabad. She was a royal not by birth but by the virtue of marriage like other Queens.  'Kohinoor of Hyderabad' as she was popularly called, Princess Niloufer used to be considered among the most beautiful women in the world.
She used to speak about women's rights. She also got herself trained as a nurse during World War II and carried our relief work. After she divorced her husband, she donated all her wealth to build a hospital for women and children in Hyderabad.
Princess Niloufer loved to dress up in latest fashion at social outings.  Her looks and clothes were the talking point all over the country and in European cities.
Did you know?         
As per princessniloufer.blogspot.com – The New York Fashion Institute of Technology showed the 1940s saris of Princess Niloufer, an Ottoman princess who married the son of the Nizam of Hyderabad. She made the traditional sari her own by giving it a Western touch through decoration and the placement of motifs. Her saris were ornamented with sequins, beads and metallic embroidery on chiffon, crepe and net, with the floral designs falling in the front or over the left shoulder. Many of these saris were designed by a Frenchman, Fernande Cecire, and embroidered in India. This is reminiscent of the days of the British Raj, when Indian princesses travelled to Paris and had saris designed by French couturiers. 
In a report in Siaset.com –
 Niloufer had a style of dressing that attracted the public and caught the attention of the fashion media.  Her sarees were especially crafted by Madhavdas, a designer from Bombay.  These were frequently studied and analyzed.  Even in later years, when she shifted to wearing European style clothes when travelling abroad, she still managed to cut a fine figure.  One of her European dresses formed the topic of discussion in the New York Times in 1961.
Princess' clothes have inspired the attires of Bollywood leading ladies from Waheeda Rehman to Diya Mirza and served as textbooks for later designers, most recently for couturier Suneet Varma.