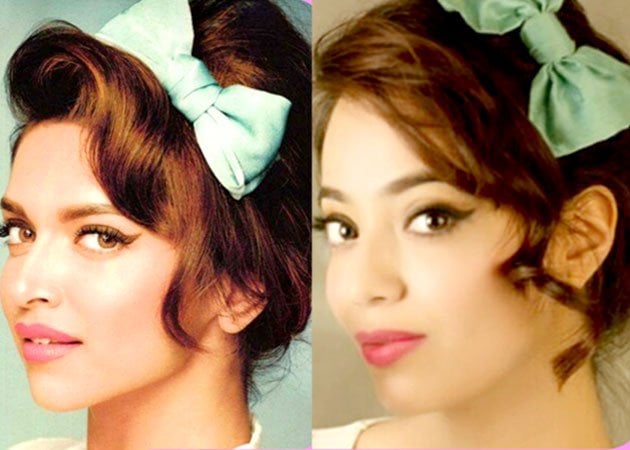 Deepika Padukone's retro look is a rage these days
Bollywood's reigning queen Deepika Padukone is not only one of the leading actresses in Bollywood, who is famed to give back to back hits, but she has also been style icon lately for the entire young female generation in the nation.
The actress is trending all over, whether it's for her red carpet outfits or the style statement she has been flaunting in various promotions and TV shows. And not only her wardrobe collection, but her hairstyles have also been quite a rage next to her tattoo thing. Her hairstyles are the most copied ones, as the Chennai Express actress makes sure to flaunt different hairstyles with her every public appearance.
Since her retro look is quite popular these days, Navyata from Hindi fashion channel FOMO (Fashion on My Own) has picked one of her retro looks and shares an easy 6-step tutorial to get the retro bun look. Do have a look at this DIY retro bun!
Watch this video!
Step 1 – First detangle knots
Start by brushing your hair to detangle it so that it is easier to style. If you have frizzy hair, apply a small amount of serum to detangle and smoothen it out.
Step 2 – Clip up
Neatly divide a small portion of the first half of your hair and clip it up roughly.
Step 3 – Apply hair volumiser
Take a bump-it hair volumiser and place it on the crown area of your head and cover up the bump-it by taking sections of hair from the two sides of your head and turn it into a half pony-tail.
To keep it steady, secure it with a couple of bobby pins. If you are unable to find a bump-it, you can simply back comb the front half section of your hair to volumise it and then secure it with a good quality hair spray.
Step 4 – Use hairspray
Gently smoothen the surface with a brush to remove the tangles and use hairspray to hold it in place.
Step 5 – Create the bun
Take hold of the loose hair sections and twist them into a bun. Use hair pins to keep the bun in place and bobby pins to keep fly away strands at bay.
Step 6 – Secure with hairspray
To complete the look, gently remove strands of hair from the bun to frame the face and create a softer look. Secure the hairdo with a texturising hair spray.
Hope this helps! Stay tuned for more hairstyle inspirations from DP!!