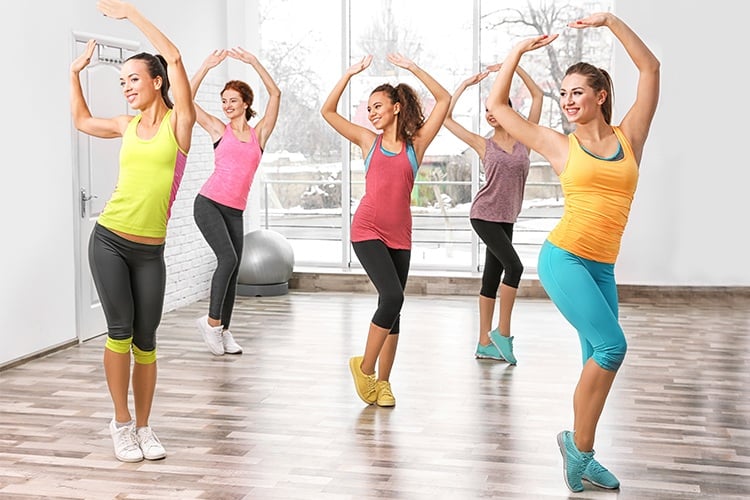 Hitting the gym this time of the year can be so boring, and we need something to excite us to get into the groove and mood of staying fit. What better way to do that than to have Zumba for beginners; pretty much the most amazing workout and dance ever, with great music, hot bodies dancing, amazing people to workout with, smiles galore, laughter and you also get to burn a lot of calories doing that as well. Say goodbye to the run of the mill aerobic sessions and exercise balls, the 123 counts and more, and bring home the videos that can teach you Zumba for beginners, and get going on the path towards a happier and a fitter you. If you love to dance, gyrate, and jiggle, and emulate the hot Latino ladies with their moves, Zumba for beginners would thus be for you.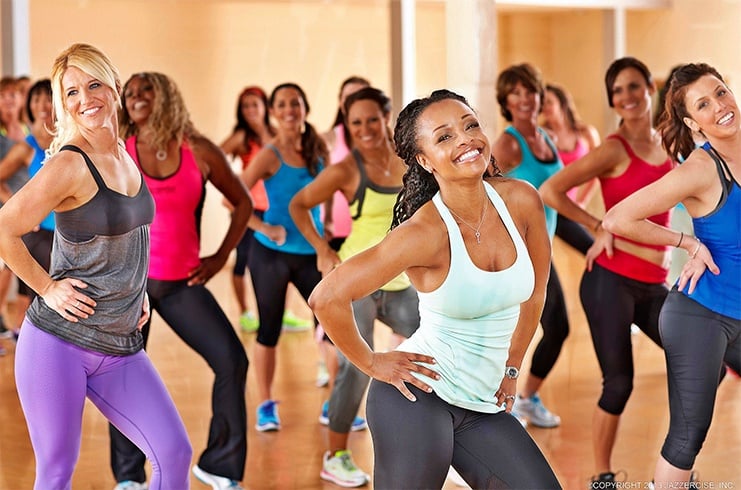 Zumba For Beginners At Home:
With all of the sessions watching home tutorials and videos on Zumba for beginners, you really don't need an instructor if you have good grasping power. The combo of Latino music, dance etc from merengue to salsa, samba to mambo and more, or even the Latin ballroom touches to the Zumba dance, you would not stop swaying your arms to the beats, gyrating your hips and kicking your legs too.
Do remember, this is not your traditional aerobic class and you do not have to be a pro at the stepping and clapping too, and you do not have to have the perfect timing as well. As a beginner learning Zumba for beginners, the main aim is to tone up and lose weight and to enjoy the dance. The movements are pretty much free-flowing and once you are done with the first session, which would seem like a happy boot camp, you would also feel as though you have been called to a party.
In most cases, when you do Zumba for beginners, it would be wise to keep it to half an hour or forty-five minutes or even an hour. This is a workout that you would enjoy and you would not know how time flies too. If you are not getting your Zumba lessons done at an academy from a certified instructor, no issues. You can check for Zumba dance videos online and they come for free with certified instructors giving their tips on the workout. This makes it easier for you to practice Zumba dance anywhere and at any time you wish to.
Remember, you would be working up a sweat at the end of one of the first few Zumba dance lessons, and increasingly so after each session too. Hence, wearing apt clothing and shoes would be a must, and access to a shower room thereafter is important for hygiene reasons.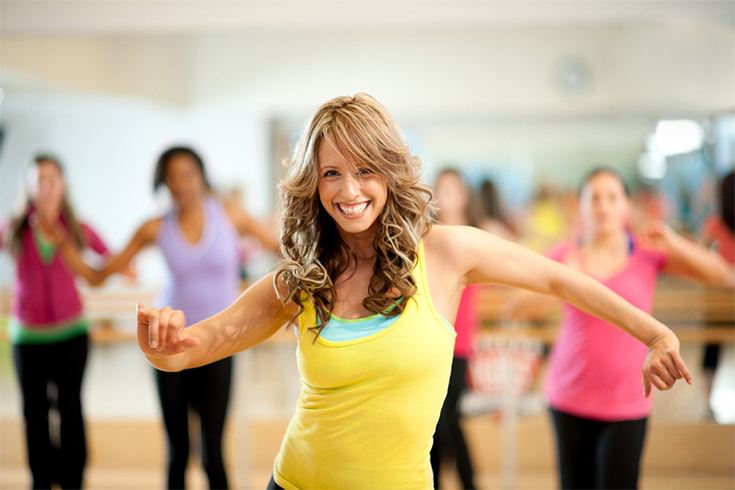 What Is Zumba?
The cardio dance workout is a latin inspired fitness workout cum dance that uses choreographed steps and music to make you move into a party zone while you are doing your fitness regimen. There are many other such dance types inspired by the vivacious Latinos to choose from, and they have everything from African beats to jazz, hip-hop and more, but nothing beats the gyrating mood of Zumba dances.
Ever since Zumba dances became popular in the early 90s, it has become a rage across the world and today, billions are dancing to the tune of Zumba. More than 110 countries and across many locations worldwide, Zumba dance schools are mushrooming and making people fit and happy.
The art and dance form of Zumba dance is very cardio-centric and there are specific programs for all age groups, so choose the one which is best suited for your needs. And there are even classes for couples, individuals, groups, kids too- why would you want kids to be in front of the dreaded video game always, and not make them move to stay fit. Even senior citizens can do it and you can inspire your elderly folks at home to do Zumba dance lessons as well with you.
Can Anyone Do Zumba?
Yes, that is the answer! The form of Zumba dance is for one and all, and for anyone who wants to dance for pleasure or for fitness. So no matter who you are and what skills you have, Zumba fitness and dance does not care. Zumba wants to make you fit and happy, and you can be any of age, shape, size- the world of Zumba welcomes you with open arms. Do it in a class or do it solo at home by watching the Zumba fitness videos. No issues! If you ever check around, you would find people from age seven to seventy doing Zumba workouts and Zumba fitness routines, and there are many who were once obese but thanks to Zumba workout and Zumba fitness programs, they have shared their amazing weight loss journeys and have made it to where they are today. If they can do it, so can we, you and us! So get ready to shake your booty and here is what you can expect in any Zumba session whether you wish to join a class or do it at home.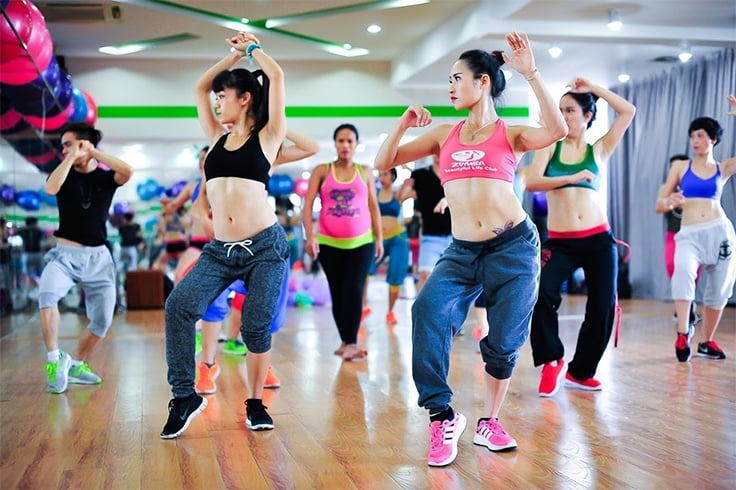 Expectations From A Zumba Session!
In most cases, Zumba workouts and classes are an hour long, and they have a set protocol to follow. The beginning is as usual, with a warm-up that is quite dynamic and interesting and then there is an ending with a cool down, and thrown in would be a couple of basic stretching exercises to follow.
Each workout portion would be the length of the song the trainer chooses to play. Most of the dance steps are choreographed by certified instructors, and there is a personal touch and flair most trainers would create for their students. And over time, you too would add your own touch and flair, so there is no set rule of following steps when it comes to Zumba workouts as such. You can at ease create your own individual Zumba workouts too, and have your hips gyrating to exaggerated steps and the cha cha cha moves as well.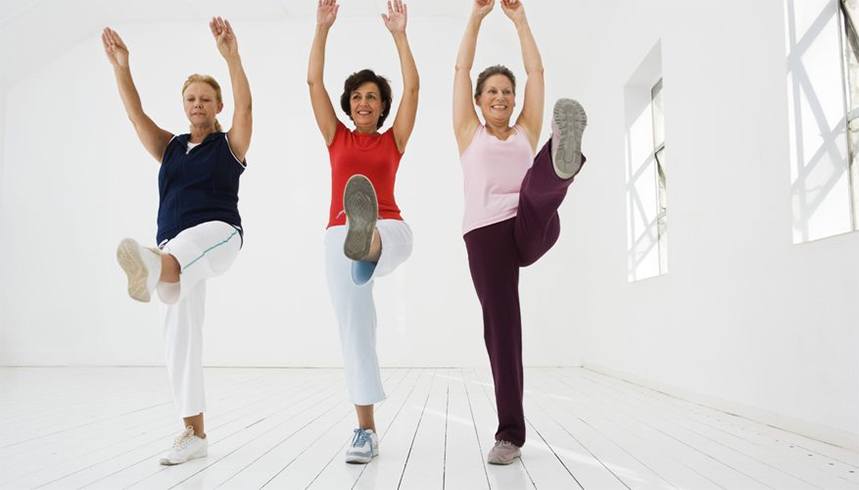 The art of Zumba and the Zumba dance steps are so different from the traditional aerobic classes you may have attended, seen or worked out in. In aerobics, you learn one move and then add on to enhance that move. This can get monotonous and boring, but with Zumba, even within the same song, different moves can be done, and you can choreograph an entire song just as you like it. Shake your hips side to side, give forward thrusts or maybe just sway your arms and legs to the African beats or more, we leave that choice to you.
There is less talking and more action in Zumba dance steps, which is much more happening and beneficial, and the cues are given on what to do with your hands and legs, or which direction to move. In most cases, loud hand claps would be a signal to move to the next step. And as a participant, you would learn the ways and moves in the first class, without much ado and thinking. Getting a hang of the Zumba dance steps is not a troublesome affair. You rather would enjoy it and who knows, you may just come up with a dance routine of your own and go viral with it too. So enjoy!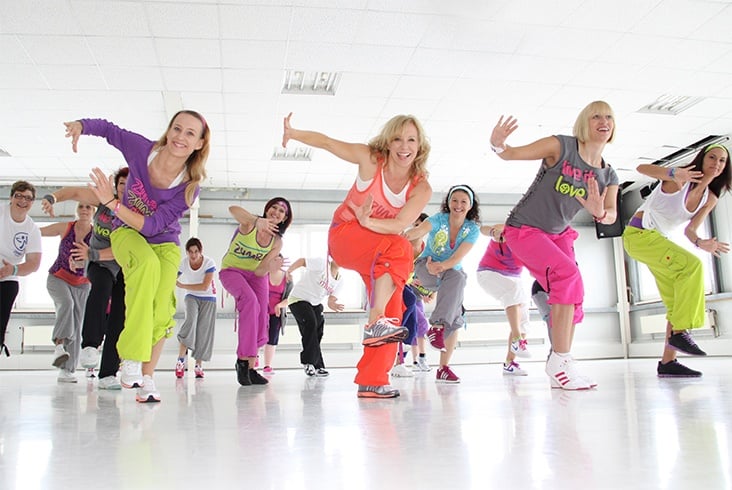 But do remember, you should dress up apt for the Zumba dance session. This is because Zumba dance steps, would make you sweat and to also make you stretch; hence clothing should be easy to wear and not uncomfortable. This is what we are going to talk about below; continue with the reading, please!
What To Wear For A Zumba Workout?
Clothing that should be worn needs to be moveable (very important); sticking to semi loose tops and pants would be best. Moreover, the fabric should be breathable or else the sweat would not dry up and move off the body when the Zumba aerobics session is on in full -swing. The room can also heat up fast owing to the fact that there are many people working out with you, or maybe you are doing this at home. Hence, wearing clothes sans layers would be best. Shoes should be comfy with a good grip, and those that would allow you to pivot your moves easily too.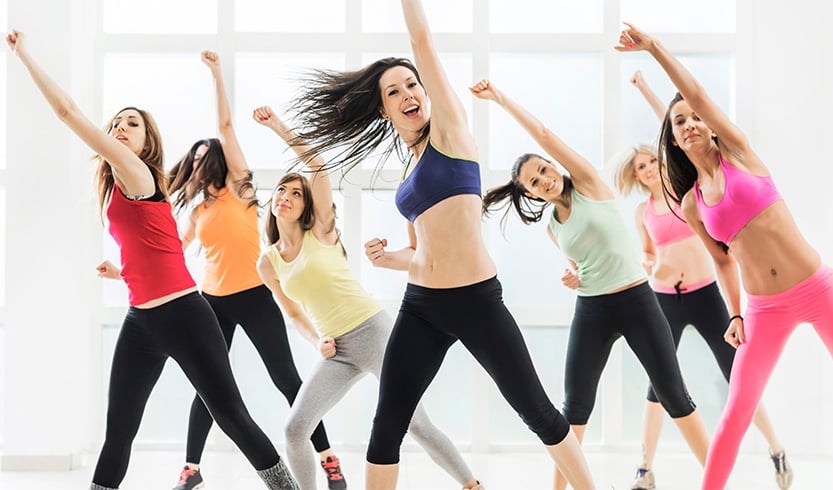 When you do start Zumba aerobics, you must keep a bottle of water and a personal towel with you always – you will need them. There is always a gap or break of thirty to sixty seconds between every song; it is recommended that you take this break to catch your breath. And if you have a heart rate monitor at home, it would be nice to use it to check how well your heart is beating. Cardio does increase the heart rate, but you do not want to overdo that, now do you!
More On What To Wear while Doing The Zumba!
Zumba routines are not the run of the mill and boring, to say the least. And you may wonder if what you are wearing for a Zumba session is apt or not. Will it match the workout needs or not. This is why, we have come up with a list of things that you can and cannot wear to Zumba routines, and this is for your comfort sake.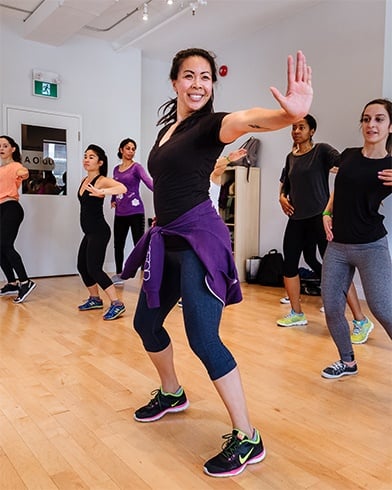 Things To Avoid While Gearing Up For a Zumba Session:
Check out the don'ts you need to keep in mind while dressing up for a Zumba session. Watch this video for more info on Zumba:
1. No Cotton Allowed:
When you take up Zumba routines, it would be quite different from the other classes that you would have experienced, and certainly quite different from the gym sessions you have been in. This is why wearing cotton is NOT ADVISED, since the workout is intense and sweaty. Cotton has the tendency to absorb sweat very quickly, and this could lead to friction between the fabric and the skin, causing irritation and rashes in the long run.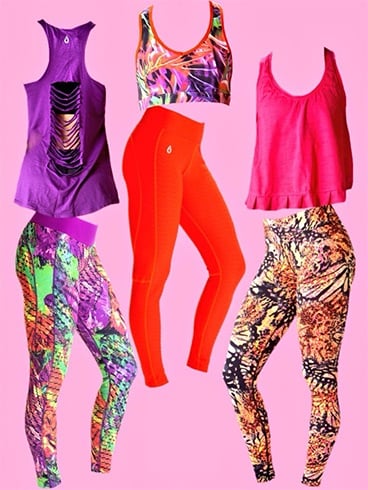 2. Low Necklines Not Allowed:
While we love our cold shoulder cuts and low cut tops, let's keep them for date nights and not for Zumba routines. No matter how gorgeous your favorite BTown girls look in them on-screen, it does not prove beneficial. There would be a lot of bouncing and moving around, and hence wearing anything that is revealing should be avoided. You would be jumping, bending, swirling, gliding, etc, and you do not want to wear low cut tops while doing that, believe us when we say that! To check if the tops are apt for the Zumba sessions, it would be wise to wear a top and jump around in them for a minute and then judge for yourself whether the top is apt to wear for the Zumba workout or not.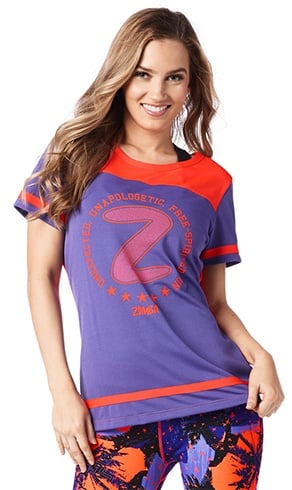 3. Avoid Wearing Thongs:
When we work out at a gym or at home, we tend to wear clothes that are very form fitting, and pants that are tight, whilst avoiding panty lines. This is why you would notice many women wear thong underwear. But with Zumba aerobics, it would be wise not to wear thong underwear, since it is uncomfortable to move around in them, to bend and to dance too; there would be a lot of sweating happening as you move vigorously to the Zumba beats, and the bacteria can travel all the way into the genital area causing infection and chaffing. It can rub continuously and cut the skin too. So NO THONGS should be worn when you do Zumba aerobics.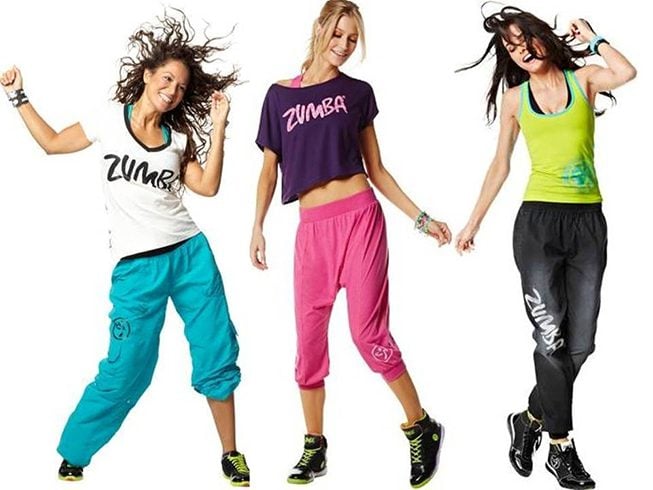 4. Say No To Long-sleeved Shirts:
Most music videos show you women wearing long-sleeved shirts around the waist and dancing to Zumba; those are music videos. In reality, to keep warm, before and after a Zumba workout you can wear them, but not during the Zumba aerobics routine. Since the activity is strenuous and intense, you would not be comfortable tying the long sleeved shirts around the waist and performing Zumba. This would only add more bulk and heaviness, and you would not be able to perform well. Moreover, it turns into a distraction while the workout is on, and this would not allow you to enjoy the Zumba routines as you would want to. You could also trip on the extra clothing midway and hurt yourself, which is why any extra layers should be placed in the lockers before you start.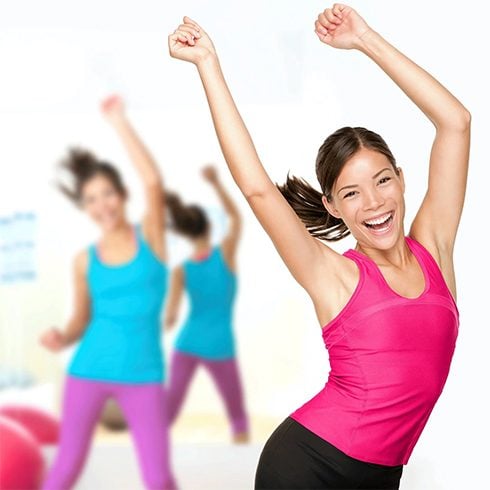 How To Dress Right For a High-Performance Zumba Regime:
Since Zumba is a routine that calls for high performance with loads of fun thrown in, a certain attire is a must to wear. The attire should be comfy and safe, and the fabric should be breathable, stretchy and one that absorbs the perspiration away in no time. The right clothing to wear is important, and those that do not interfere with the moves and sway too. So anything form-fitting and non-cotton would be best to wear, cargo pants and exercise bands with well-fitting shoes too.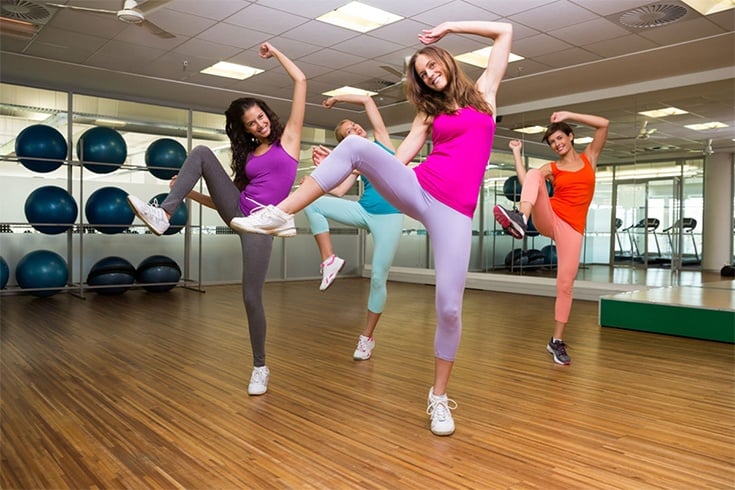 1. Choose The Right Bra:
We did mention about what type of underwear not to wear, so now learn about why the bra choice you make to wear for a Zumba session is important. The right sports bra that fits you right and supports the breasts is what you need. It should be comfortable while the Zumba routines are on, and should not allow chaffing between the breasts to happen. Since there is a lot of moving, it should wick away the sweat too. Also check for the material of the sports bra. It can cause irritation if the right bra is not worn and the right fabric is not chosen.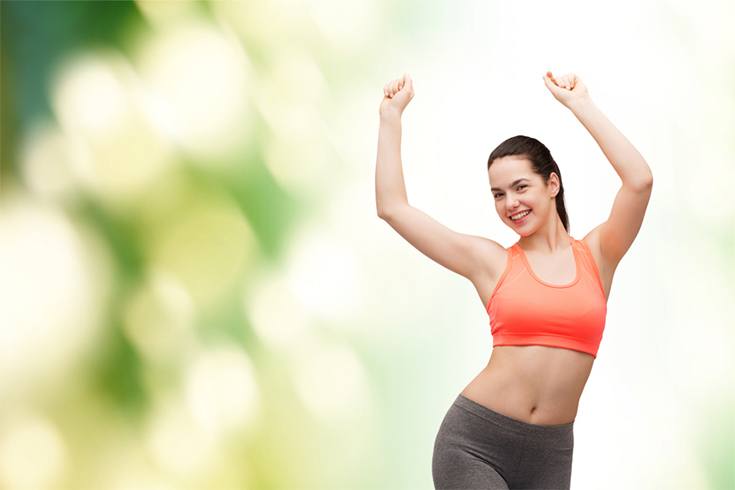 2. Pick The Right Footwear:
Apart from the innerwear, and the outerwear to wear when Zumba aerobics and fitness routines are on, you should pick up high quality branded shoes meant for Zumba only. They would be ideal since they are designed for dances, they are breathable and they are lightweight too. They come in various sizes, shapes and colors or designs, and can be doubled up as your dancing shoes too.
Now that we did speak at length about Zumba dance, what to wear and what to avoid, here are more tips on Zumba for you to know.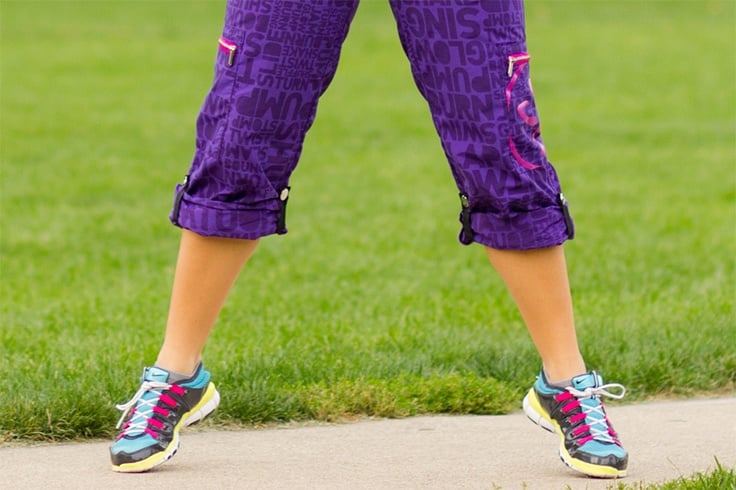 Zumba Tips:
Whether you are doing a class with a bunch of friends, solo, at an academy or at home, it is always good to have the right expectations from yourself. Know that you are a beginner at the Zumba aerobics and that you have no clue about the Zumba fitness steps as such. Clear your expectations and set limits, remind yourself and your instructor about your medical history etc, and then decide what type of Zumba aerobics would be best for you. You can also seek professional guidance even if you are keen to do the Zumba session at home at least initialy. Remember, the main aim here is to take the classes with happiness and joy, and not too seriously or else it would get boring and you would not enjoy it.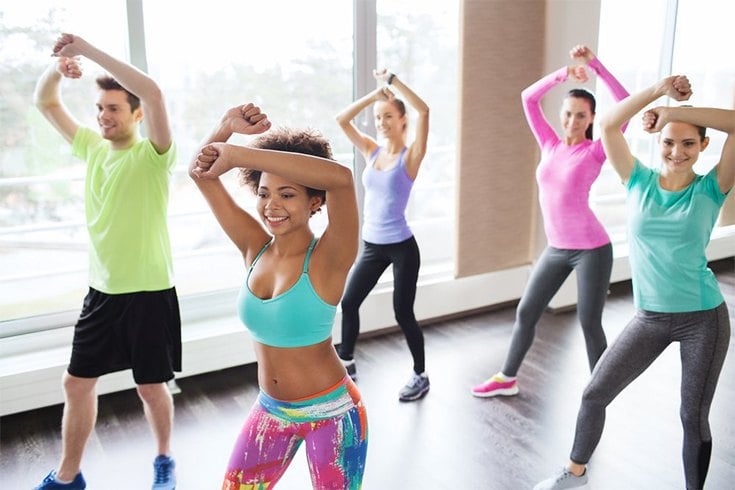 If you are not able to master all the steps on day one of Zumba dance, there is nothing to worry about. In all honesty, no one does. Steps and the Zumba routines moves would get easier as you practice the art more. And do not hesitate to move from one trainer to the next if you feel the need to do so. And the same would be for the Zumba routines you see or learn in person or through videos as well. As mentioned, Zumba does not force you to enjoy, it allows you to enjoy.
It is one of the highest energy cardio-dance-fitness workouts you could ever try and there is a lot of fun too involved in it. Most of the times when you do the Zumba routines, it does not feel as though you are working out because you would get caught up in all the fun. And there are various types of Zumba routines to try as well. Here are some to know off!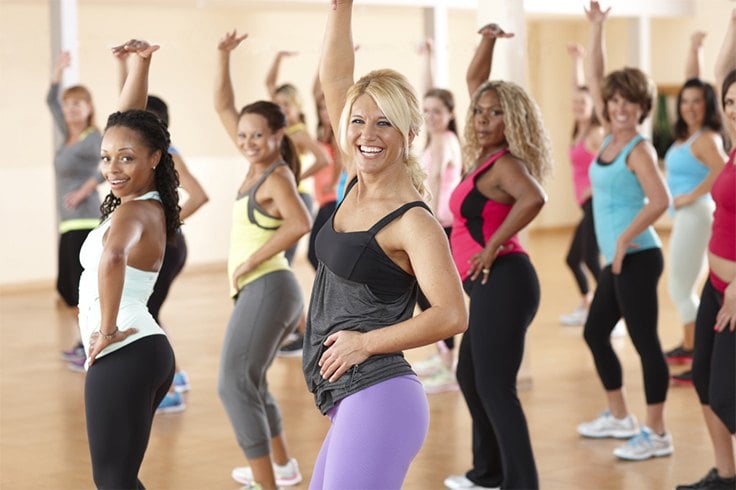 1. The Aqua Move:
Here the moves are very easy on the joints of the body and you would have the benefit of water aerobics with Latin dance moves thrown in. Here is a video of the same.
2. The Basic Zumba:
With this form of Zumba routine, you would have a combo of various dance types- merengue, salsa, cumbia, and reggaeton with the first level of basic, and with the second level of basic, you would have dance forms such as the belly dance, flamenco, tango, and samba movements thrown in. Here is a video of the same.
3. The Gold Zumba:
If you would like your parents and grandparents to take part in Zumba dance routines, you can introduce them to the gold version, and get them on the path to shaping up their bodies too. Here is a video of the same.
4. The Toning Zumba:
This is a dance move which would have weighted Zumba sticks used in your Zumba routine and workout. Here is a video of the same.
5. The Zumbatonic:
For large groups, families, and circle of friends, this is the best, and even for kids too. Here is a video of the same.
Is it for everyone?
The above-mentioned styles as shown and seen in most Zumba dance videos are for everyone. And although at first, you may find it intimidating to dance with strangers in a room, you can practice solo in your own privacy at home, watching Zumba dance videos.
What we noticed in the popular Zumba dance videos that everyone enjoys the routines. And that is why most health clubs and spas too have started hiring out their spaces for Zumba dances. You can even download free DVD versions, games and videos from popular online tubes and practice by watching the Zumba dance videos at home.
[sc:mediad]
Can Zumba Help With Weight Loss?
By dancing Zumba? Yes, you can. And this is why it seems to be the number one choice amongst many who do not want to do hardcore strength training and weight-lifting to lose weight and tone up, but to enjoy and to do the same. With Zumba what happens is that you are getting to mix cardio with resistance training. And this gives out the max calorific output, and fat burning opportunities, body toning in totality and more. If you want the body to be sculpted with loads of music and fun thrown in, Zumba exercises can help you achieve that too. The movements as mentioned are easy to do, follow and full of fun too. People tend to forget how time passes by and burn a lot of calories without realizing a session is over.
Typical Zumba classes would have Zumba exercises that have many forms and dance styles thrown in. And there would be slow and fast rhythms thrown in, which allow for the best cardio workout and body sculpting exercises. You can either follow an instructor or do it yourself at home by watching Zumba exercise and fitness videos online.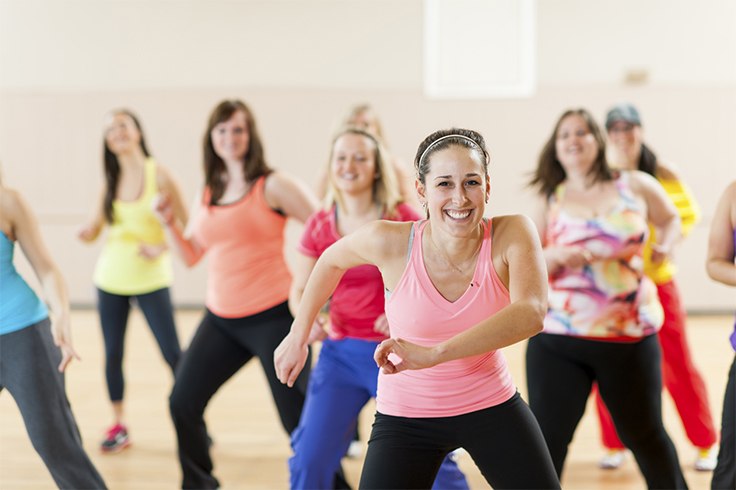 Popular Zumba DVDs:
If you are someone who enjoys high energy and music that motivates you to do your best then you will love Zumba. And the moves are unique, with combos that would make you bite the ticket to fitness too.
With that being said, you now would be introduced to a couple of worldwide best Zumba dance videos for weight loss that have the easiest Zumba aerobics, Zumba routines and more. Take a look at them.
1. Zumba Fitness Total Body Transformation System DVD Set:
If you wish to use this Zumba dance video DVD set at home, go right ahead and do so. What you would get in this kit would be high-quality fitness DVDs with toning sticks. Each of the DVDs has six workout sets for fitness which are designed to work out for your head to toe fitness needs. They have hot latino dance steps, and the music is pulsating, with Zumba routines that are easy to follow. The maraca-like toning sticks are used to help with body sculpting and muscle toning workouts. The set in question has a basic workout for you to use, and an express workout that is twenty-minute long, with a body sculpt and tone workout video to use as well. And if you want more fun, there is also a cardio party workout along with a flat ab workout that will get you roaring.
Here is a video of the same:
2. Zumba Exhilarate Body Shaping System DVD Set:
To shape up your body and to make toned sculpted contours come through and through this year, you would need Zumba routines such as the ones shown in this DVD set. It is highly popular, revolutionary and can be done solo within the comfort and privacy of your home too. The steps are easy to follow, and there are plenty of pulsating moves and rhythms to enjoy as well. Salsa, merengue, calypso, reggaeton, hip-hop, belly dance and cumbia notes, with maraca-like Zumba sticks for body sculpting, you also get to hear the verbal cues while enjoying your workout too.
Here is a video of the same:
3. Zumba Fitness Incredible Results DVD and Zumba Max DVD:
If you love working out solo and want to learn Zumba at the comfort of your own time and pace, you would need this DVD set, to begin with. The Zumba Rizer is one of the highest rated Zumba exercises that can tone the glutes and legs with single and easy defined step aerobics. You get to do a quick start for about forty minutes and then a twenty-minute express rush, which will give you a through and through basics of the Zumba steps. You also get information on calorie burning and total body workout plans, super cardio dance party tracks, bust intervals and more for fifty minutes, which is fun and full of high energy, that throws in the extra dose of fat burning routines.
Here is a video of the same:
4. Zumba Fitness Gold Live It Up Dvd Set For The Baby Boomer Generation:
For more on doing home-based Zumba exercise, here is a DVD set that allows you to groove as per your needs. With a lower intensity workout which is made especially for you, you get all the guidance you need from the first basic steps to the finale workout plans, and it leads you to the goal of becoming healthy and vigorous too. The dance moves shown are exciting as ever and the fitness workouts involve gyrating pulses and latin upbeat moves, with worldly rhythms that would fuel and fire you up. You also get nutritional tips to use with this total body wellness program. With this set, it always seems to be a party, and it revitalizes the body and the mind too. With the Zumba Gold LIVE IT UP program, there is no turning back once you start the Zumba dance sessions! It is that interesting.
Here is a video of the same:
5. Zumba 101 Workout DVD:
Everything you wanted to learn and practice about Zumba but did not know where to look for. Here is now a DVD set that brings home Zumba lessons to you in a jiffy. If you think you cannot dance, don't worry. This is a DVD set that would be teaching you the science and art of Zumba dance through step by step guidance, and with four core rhythms too. The easy to follow class is perfect for those with a time crunch since the duration of the video is only half an hour. Half an hour can do a lot of wonders for the body.
Here is a video of the same:
We thus come to an end on showing you many popular Zumba dance videos for weight loss, that have easy Zumba moves and step by step easy Zumba classes to follow as well.
In conclusion
Zumba is a fun and very entertaining form of exercise. It is also an exercise regime that is highly popular and intense, and there would be plenty of dancing, jumping, and cardio thrown in. This is why, we have emphasized on wearing the right attire, and shoes. Do write in and let us know how you liked this post, and if it has started shaking you up to join a Zumba dance class or to DIY at home? We would love to hear from you and know more. Also, do let us know if you do Zumba, and how it has personally helped you. If you would like to share some tips and advise too, do write in so that other women reading this post can be inspired and motivated to join Zumba dance or Zumba routines bandwagon soon.