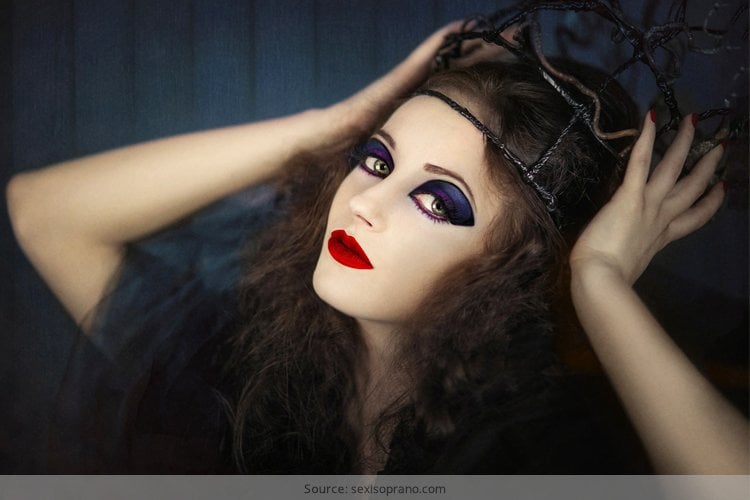 When we girls get to being naughty, there's no stopping us. And this time though, with Halloween knocking at the doors, we can make the wild side come out and the men go swooning over our chic styles. If you want to get wicked and wild on a bright note this Halloween, we bring to you some girls Halloween costumes, which would ensure that the living turn their heads and fall for your naughty side. Ready to ride on the bandwagon of witchy naughtiness are you? Here are amazing inspirations for wicked girls Halloween costumes, we found across that you can flaunt and wear! And guess what, no eyebrows would be raised. Take a look!
10 amazing girls Halloween costumes to wear this year
1. The Skeletal Suit
With the right skeletal Halloween makeup, you could be the scariest thing around this Halloween. We found this amazing Halloween costumes for girls around, where the cost is affordable to manifest the same. A sleeveless tight top and a pair of leggings are all that you need. Grab hold of white paint and a friend who can draw the skeletal system on the dress.
[sc:mediad]
2. Grandma With Tweety
If you 'thot you thaw a putty cat' you then would be remembering grandma from the famous cartoon series. Check up on how to get the mature skin makeup done, grab hold of a solid hued blue skirt and a white shirt and a white wig too. Props needed would be a stuffed cat and a birdcage with a yellow lovebird in it.
3. The 101 Dalmatian Look
Remember the movie 101 DALMATIANS? Back in the 90s this movie was a hit and you can now be the evil lady of the movie in a checked pencil skirt, and a top in same hues. If you have a real Dalmatian puppy for company, nothing like it to enhance the Halloween party costumes on this note. You can also carry around a stuffed Dalmatian pup, and don't forget to wear that black and white wig.
[Also Read: Indian Tribal Halloween Costume]
4. Can't Touch This
Be the sassy diva at the Halloween party, where everyone can see you but cannot touch you. To do the same, dressing up as a flowering cactus would be a great idea. What you need is a solid hued long green dress, and a large pink flower with a couple of wooden clothes clips.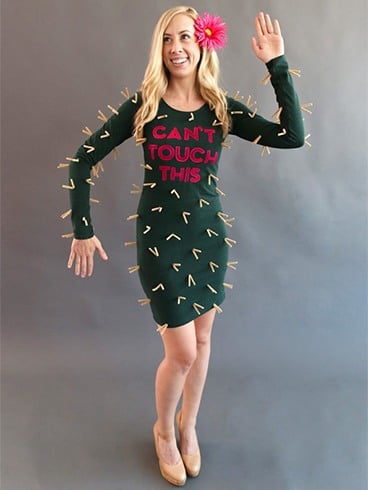 5. Poison Them Up
Not literally, but you can do so being Poison Ivy. A short green mini skirt with a green boob tube is all that you would need, along with a red long haired wig all styled up and props such as ivy leaves in a bunch all around you, with green smokey eye makeup.
6. Yes, We Can Do It
All hail to women power with this wonderful Halloween costume party clothing idea. Drives home a message that we women are powerful enough to take on the world in our own ways! To get the Rosie the Riveter costume, one would need to have a crisp grey shirt and a checked flannel skirt, along with a polka dotted head scarf for the rugged woman look to come through.
7. Be Mary Poppins
We have all grown up to the likes of Mary Poppins, and every doting man out there was once her follower. Make the men fall for you this time at the parties with the Mary Poppin suit. A white shirt and a black skirt, black stockings and booties for the feet with a hat on the head, would make the look come as complete.
8. A Mermaid
This is one of the easiest and very sensual of the many Halloween costumes fashion wise for women to wear. A boob tube on top and a mermaid skirt below in shimmery colors would be the thing to dote on for the look to come through. Ruffle your hair and wear metallic makeup for the eyes, and allow your creativity to flow.
9. You Could Be A Seductress
Grab on an old black cocktail dress and a couple of statement accessories to go along with it, and you could be the sensual seductress at the parties. Don't forget that dark red lipstick and the sleek black hair wig to complete the look. Heels are a must to accentuate the look!
10. Be The Superwoman
Choose whoever you want to be, but the superwoman Halloween costume ideas for girls and women are the sexiest lot that would make eyes pop out and heads turn!
Do let us know what your Halloween costume would be like this time, and if you have more ideas on cute Halloween costumes for girls, Halloween outfits for girls, Halloween dresses for girls and Halloween makeup to share with us too!