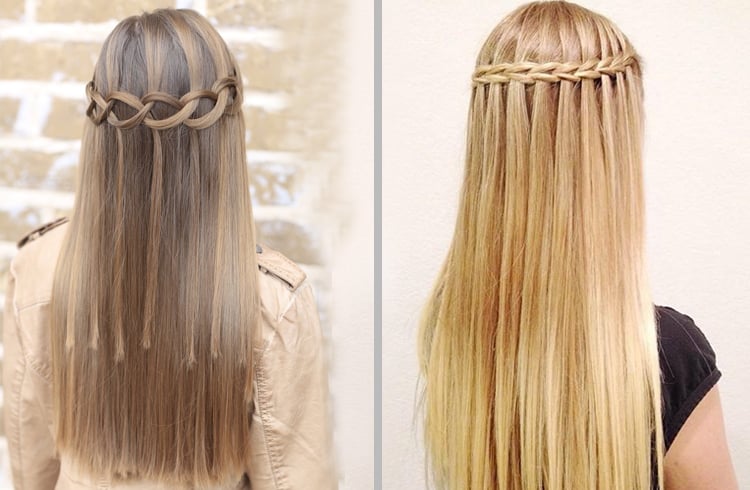 When you see a girl all dolled up, she has three cards up her sleeve – the best of makeup, costumes and accessories and the best of hairstyles.
Talking of hairstyles, the waterfall braid is one of the most beautiful and fancy hairstyles for girls that has come up in recent times. So much so that it can be worn on wedding occasions too.
Now don't you be under the impression that waterfall braid is all about one style. When you are wondering how to make a waterfall Hairstyle, there are innumerable options in front of you. From waterfall braid with curls, waterfall braid prom hair, two strand waterfall braid, cascade waterfall braid, dutch waterfall braid, waterfall side braid, waterfall braid with loose curls, waterfall french braid, waterfall braid for short hair, waterfall braid updo, to double waterfall braid and waterfall braid bun, you can pick the one and customise it to the occasion and need.
[ Also Read: Braid Hairstyles]
Oh my god! How vast the world of waterfall braid looks. First of all, let us find out the stepwise process through waterfall braid tutorial. Even though a Waterfall Braid might take a few tries before you do it perfectly, the final result is so awesome you will definitely love it.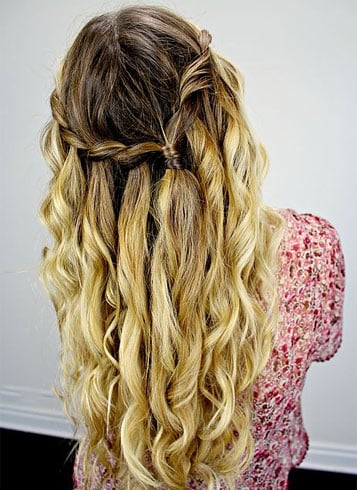 Waterfall Braid Tutorial
Talk of waterfall braid instructions and all you need is your hair – short, medium length or long and just a few bobby pins.
First of all, you need to pick up three strands of hair starting from your hairline, as if you are doing a French braid.
Now keep crossing the strands on the top of your head and following the steps.
When you get behind your opposite ear, do a normal, three-strand braid for about an inch.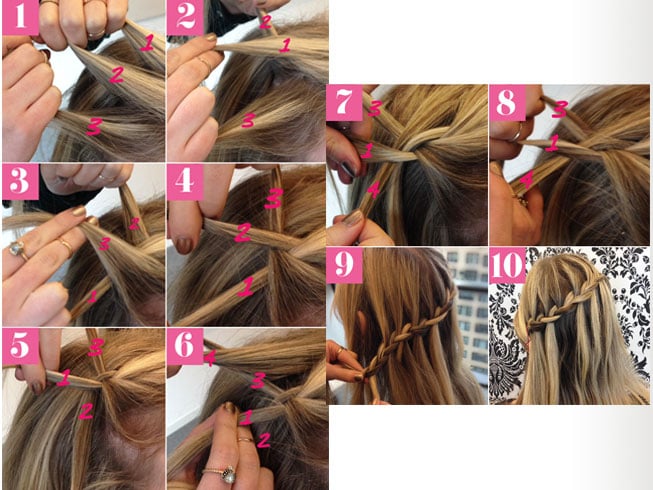 Here is the video which will teach you how to do waterfall braid with curls.
Remember one thing. Braiding curly hair is much easier than braiding straight hair. That's because it is able to hold a braid more easily.
Looks interesting, eh? Why not check out dutch waterfall braid?
Waterfall Braid Styles
Here are some waterfall braid patterns you can try out in the comfort of your home. You can put on jeweled barrettes on your hair locks also to impress your dating partner or be a star at the occasion you have been invited for.
1. Strand Waterfall Braid
Perfect for shoulder length hairstyles, a waterfall braid with curls is just as effective for medium length locks as it is for long hair.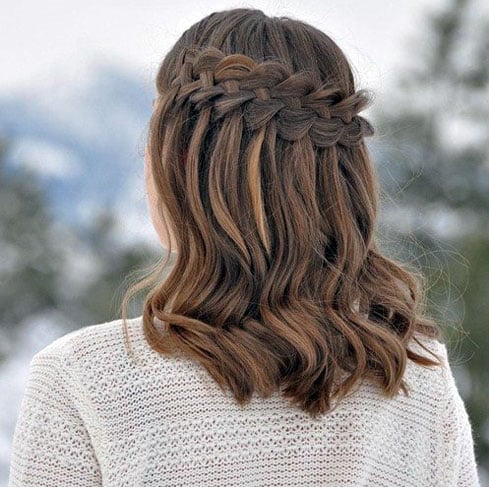 2. Jeweled Crown
Give your hairstyle a royal look by putting jeweled pins into the twisted braid. This kind of half updo is a perfect match for weddings and proms.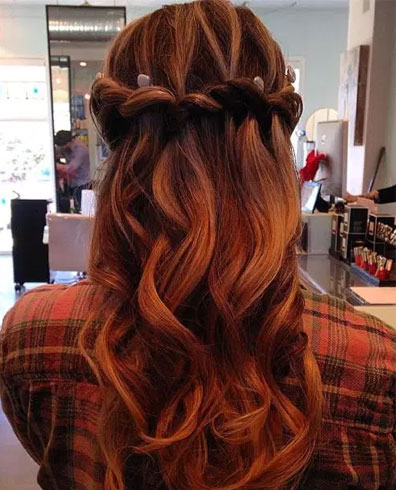 3. Love Knots
Wish to sport an impressive hairdo? Then try out the winding spirals as shown. Not only does it look simple, but sophisticated too.
[ Also Read: Top 4 Braided Hairstyles ]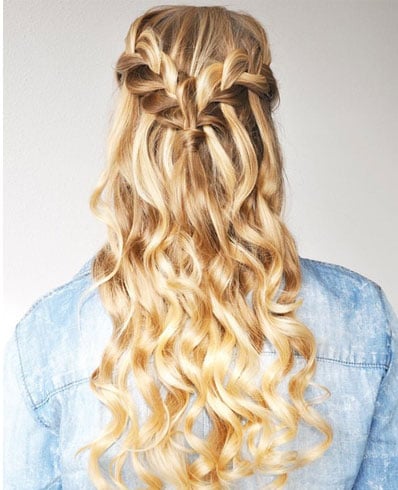 4. Purple Love
Fun spirited young women can try out midnight violet colour in waterfall braid.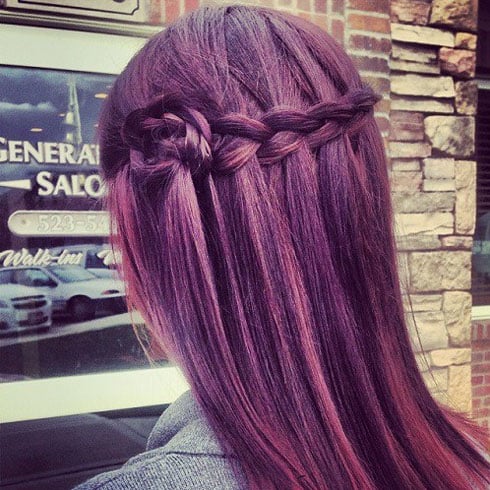 5. Side Waterfall Braid
When you have long flowing waves such as the one in the picture, then you can look casual and homey both in the waterfall side braid. The best part is this kind of waterfall braid goes well with evening gowns.
[sc:mediad]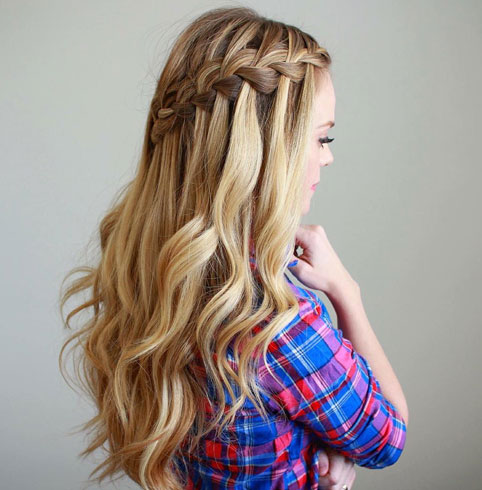 6. Long And Stupendous
From washing to styling, long hair is a tricky thing to manage. But on select days when you don't want to curl, straighten or even brush your hair, then go for a fresh and stylish option in waterfall crown.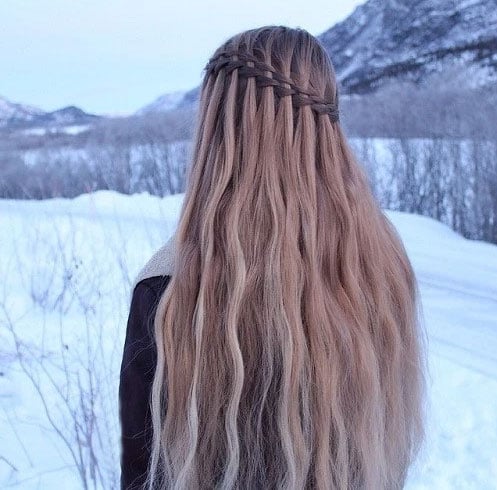 7. Sweety Affair
Well, the first glance of a double waterfall braid might look tricky and complicated to do. But it's a marvellous hairstyle which won't disappoint you one bit.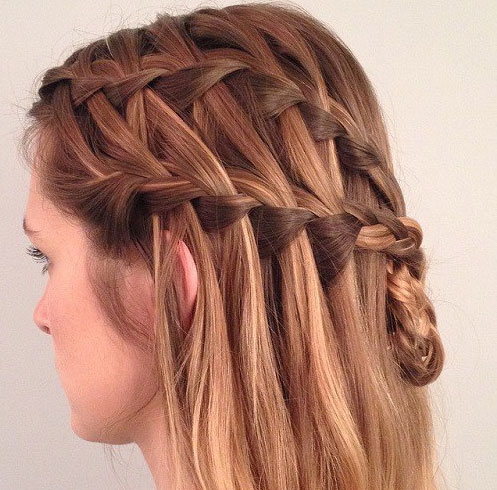 8. Caramel Way
You may call this easy waterfall braid a tribute to Brown and Polson custard powder (just kidding)! Actually it helps you show off your color in a sprightly and unusual way. The best part about it is that caramel highlights set against dark chocolate roots are a real treat to the eyes.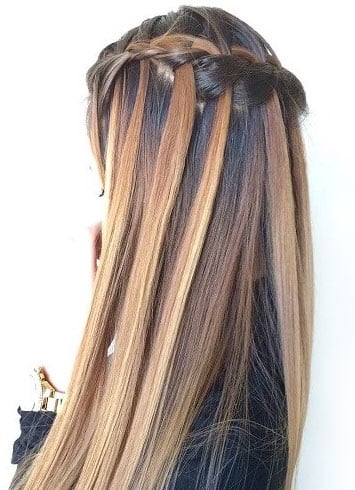 9. Double Waterfall
How about trying out the double charm when you have all of your hair long and in the same light colour? In this double waterfall braid, style gets maximum impact and is a sure head-turner.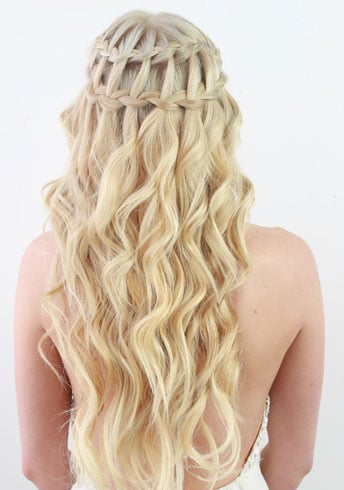 When you are on the lookout of a quick way to change your everyday look, or going on full glam, waterfall braid and curls are a sure winner. The length of hair is not an issue. This hair style suits medium to extra-long hair and different textures.
Hope you liked the waterfall braid tutorial step by step and waterfall braid instructions. Feel free to tell us the occasion for which you will be trying out easy waterfall braid and waterfall braid and curls.
Images Source: therighthairstyles.com