This young lass on advice from her school authorities took to learning cricket. She joined Gian Jyoti School Academy, which is not a hop-skip-jump but 30 kms away from her home in Moga, Punjab. With the nerve of steel, and unstoppable dedication, she worked hard towards becoming an allrounder for the Indian women's cricket team. She became the first woman representing India to score a century in a Women's Twenty20 International (WT20I) match. Such an amazing cricketing talent that she is at such a young age, what about Harmanpreet Kaur fashion profile? Is it equally impressive? It is. Let's find out.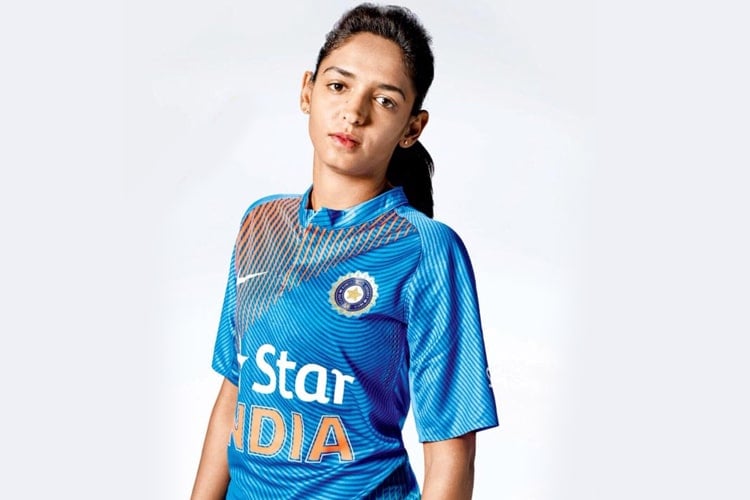 About Harmanpreet Kaur:
Sportsmanship is surely in Harmanpreet Kaur's genes. Her father Harmandar Singh Bhullar, a clerk at judicial courts has also been a volleyball and basketball player. Her mother's name is Satwinder Kaur. In fact, the cricketing sensation Harmanpreet's father and mother are baptized Sikhs. Harman has two brothers and a younger sister Hemjeet who is a post-graduate in English and assistant professor at Guru Nanak College in Moga (Punjab). As for the coach, Harman trained under Kamaldeesh Singh Sodhi's Premier Cricket Academy. Do you know Harman even used to play with men in her career's formative years?
Harmanpreet Kaur Personal Life:
Time to know Harmanpreet Kaur biography, the cricketing allrounder who is greatly inspired by Virender Sehwag.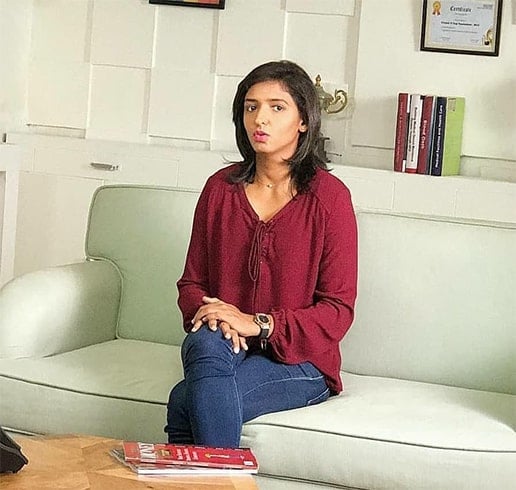 Harmanpreet Kaur Biography:
Harmanpreet Kaur Date of Birth
8th March, 1989 [celebrity_age_calc data="1989-03-08″]
Place of Birth
Moga, Punjab, India
Zodiac Sign
Pisces
Nationality
Indian
Religion
Sikh
Role
Batting All-rounder
Batting Style
Right-handed batsman
Bowling Style
Right-arm offbreak
Marital Status
Single
Body Stats:
And what is Harmanpreet Kaur height and Harmanpreet Kaur weight like? Here it is:
| | |
| --- | --- |
| Build | Slim |
| Height | 5 ft 3 inches |
| Weight | 54 kg |
| Waist Size | 26 inches |
| Hip Size | 32 inches |
| Body Measurements | 32-26-32 |
| Eye Color | Black |
| Hair Color | Black |
Given Harmanpreet Kaur age of [celebrity_age_calc data="1989-03-08″], one can safely say that this cricket sensation has come a long way. What say?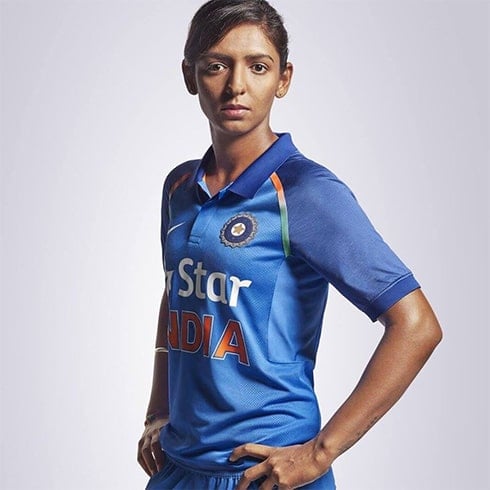 Education:
Schooling from Hans Raj Mahila Maha Vidyalaya, Jalandhar.
In 2014, Harmanpreet moved to Mumbai before the Railways offered her a vocation.
Details of Harmanpreet's college education not available.
Occupation:
Indian cricketer batsman Harmanpreet Kaur is the Wall of Indian Cricket. Her enormous hitting against world-class teams and her splendid innings are a true reflection of her cricketing tactics and her forte in the game.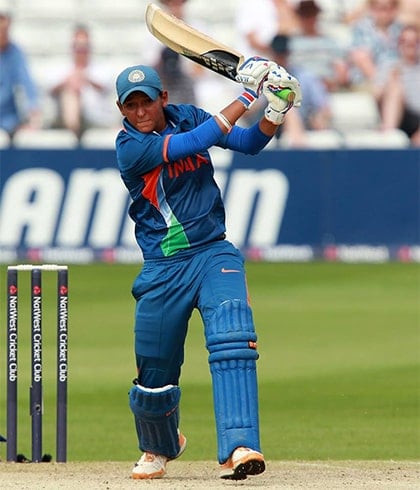 Titles:
Be prepared to fall off your chair when you read the achievements of Harmanpreet Kaur bagged by her in such a short span of time.
On 7 March 2009, Harmanpreet made her One Day International (ODI) debut against Pakistan team in 2009 ICC Women's World Cup.
On 11 June 2009, Harmanpreet made her T20 international debut against England.
In 2013, Harman was 107 not out against England and 103 against Bangladesh.
In 2015, Harmanpreet Kaur took a record 9 wickets against South Africa Women's Team. India clinched victory by an innings and 34 runs.
In 2016, Harmanpreet was signed by Sydney Thunder (a foreign Twenty20 establishment) thus becoming the first ever Indian cricketer to play for an overseas T20 franchise
The same year in January 2016, Harmanpreet helped India win matches in Australia
In the ICC Women World Cup 2017, India was not in a comfortable position having scored 35 at the loss of 2 wickets in the first 9 overs of the semi-final. And then magic came in the form of Harmanpreet Kaur. She scored 20 fours and 7 sixes putting the third highest World Cup score and fifth highest overall. Her tremendous 171 not out on mere 115 balls made India put up about 281 runs in a rain-affected match, which was subsequently reduced to 42 overs a side. Every reason for Harmanpreet Kaur to be given the 'Player of the Match' award, after India defeated the six-time world champion with a narrow margin of 36 runs.
In May 2017, Harmanpreet was signed for England's local Twenty20 competition, the Kia League. Harman also signed for Surrey Stars in August 2017.
In October 2018, Harmanpreet was named as the Indian captain for the 2018 ICC Women's World Twenty20 tournament in the West Indies. In fact, in the opening match of the tournament against New Zealand, Harman became the first woman representing India to score a century in WT20Is when she made 103 runs from 51 balls.
As of now, the Wall of Indian Cricket Harmanpreet Kaur has scored 1974 runs in ODIs (one-day internationals) and 1223 runs in International T20 matches.
Anything brewing on Harmanpreet Kaur Latest News? Yeah, after India's win over Australia in the final group league encounter of the ICC Women's World T20, the Indian captain said that her team is bound to perform well because of the quality on their side which was proved during their 48-run win against Australia. Way to go, Harman!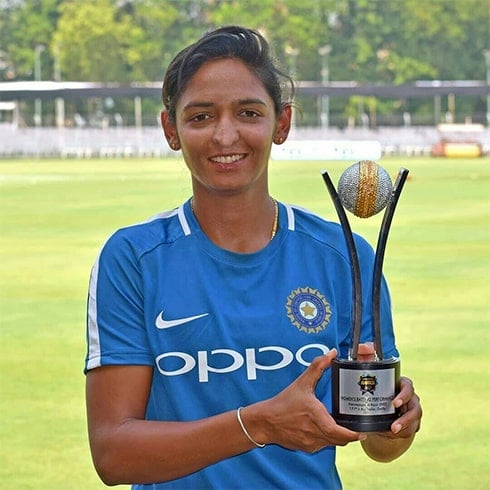 Professional Profile:
The fact that Moga town born Harmanpreet is today the most looked after Indian player with offers rolling in from renowned establishments in England and Australia is a matter of great pride for the Indians. Having debuted in one-day international match against Pakistan in 2009 ICC Women's World Cup to getting awarded the prestigious Arjuna Award for Cricket in 2017 by the Ministry of Youth Affairs and Sports speaks milestones about Harmanpreet Kaur biography.
[sc:mediad]
Fashion Profile:
India's star cricketer Harmanpreet Kaur has a fashion side too. She looks for other opportunities too, besides cricket. Let us trace down Harmanpreet Kaur fashion profile.
Cricketer Harmanpreet walking on the ramp for Mysore Fashion Week for designer Archana Kochhar on September 17, 2017 at Radisson Blue Plaza, Mysuru. This was Harman's first experience at a fashion show and she rocked in an elegant-looking blue lehenga. Designer Archana posted Harmanpreet's first ramp walk on Instagram and captioned it as "Look who walked for me at Mysore fashion week. @imharmanpreet_kaur, vice-captain of Women's Indian Cricket Team."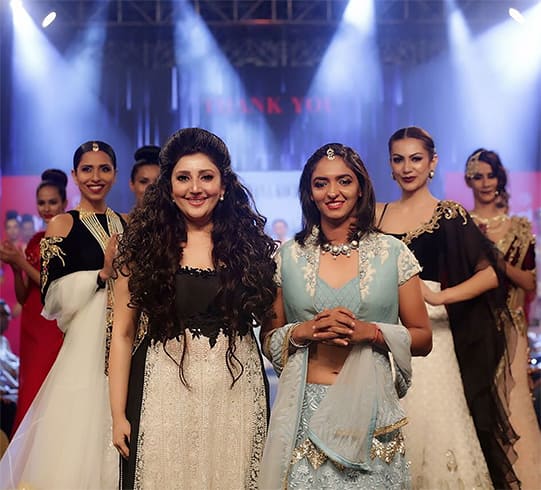 When asked what prompted her to walk the ramp at the Crocs Mysuru Fashion Week for the designer, Harmanpreet said she wanted to do something different and what could be more different than walking the ramp. Harman told IANS "If we are getting an opportunity to do something different as well, at times I think we should do it. Sometimes you do get opportunities to learn something new, so what is the harm in doing so." She further added "We are playing so much cricket nowadays. Sometimes, too much cricket is not good for us… We get stuck at times. Doing some new things at times breaks the monotony, entertains you and you can feel fresh. Then when you go back to the field, you are rejuvenated and play better with a fresh mind, as well as enjoy your game on a better level". 
Beauty:
Not much is known about Harmanpreet Kaur makeup tips. We will update you on this when it happens.
Fitness:
The 5ft 3-inch young lass Harmanpreet Kaur weights all of 54 kg. No news on Harmanpreet Kaur diet plan. Regarding Harmanpreet Kaur fitness secrets, this is what the cricketing sensation has to say "It was not at all difficult in terms of fitness, as I like fitness and like to play football. There were injuries, but thanks to physio, I did alright".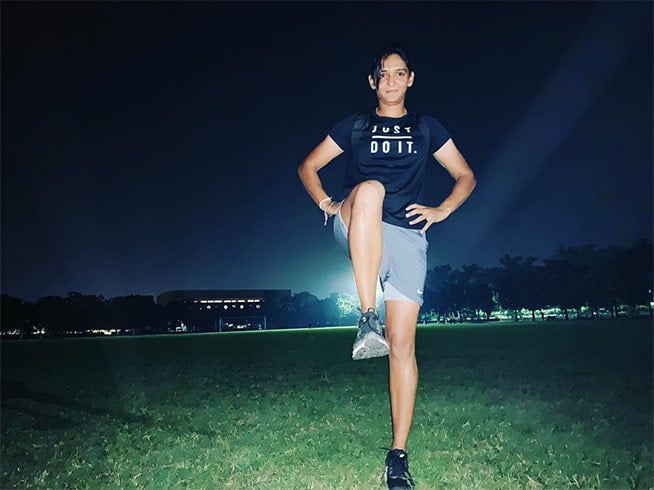 Brand Endorsements:
When a celebrity, endorsements are not far. CEAT Ltd. announced its association with Harmanpreet Kaur for a period of two years. This will make Harman a valuable addition to team CEAT.
Social Official Profiles:
How accessible is Harmanpreet over social media? Have a look-see at Harmanpreet Kaur social profiles below:
To sum it up, Harmanpreet Kaur has been such an inspiring force for India, and especially for girls who want to make a name for themselves in the field of sports. How did you find this blog? Feeling recharged to try your hand in the field of cricket? Feel free to write your comments and share this post in your social network too.
Images Source: facebook.com/CircleofCricket.HarmanpreetKaur/