Her nickname is Lady Sachin (sometimes the "Tendulkar of Indian women's cricket"). She is a leading Indian Women Cricketer – a batsman. She held the record for the highest individual score by an Indian Woman Cricketer in a World Cup match (91 not out off 104 deliveries which included 9 fours) against New Zealand in Women's World Cup 2005. She is a right-hand batsman. Leg break is her bowling style. Dancing was her first love but she quit it at the age of 8 and got into cricket. At the age of 17, she was selected for the Indian women team. She is an avid reader. Her favorite commentator is Naseer Hussain (former English cricketer). She lives in Hyderabad. Meet the female cricketing star on the Indian horizon and an achiever, Mithali Raj.
Personal Details
| | |
| --- | --- |
| Name | Mithali Dorai Raj |
| Birthday Date | 3 December 1982 |
| Birth Place | Jodhpur, Rajasthan |
| Sun Sign | Sagittarius |
| Eye Color | Black |
| Hair Color | Black |
| Nationality | Indian |
| Religion | Hinduism |
| Education | Mithali did her schooling at Keyes High School For Girls (Secunderabad). She attended Kasturba Gandhi Junior College for Women in West Marredpally (Secunderabad). |
| Occupation | Cricketer |
| Marital Status | Single |
Family Details
| | |
| --- | --- |
| Father | Dorai Raj (an Airman in the Indian Air Force) |
| Mother | Leela Raj |
| Siblings | One brother Mithun Raj |
| Spouse | N/A |
| Children | N/A |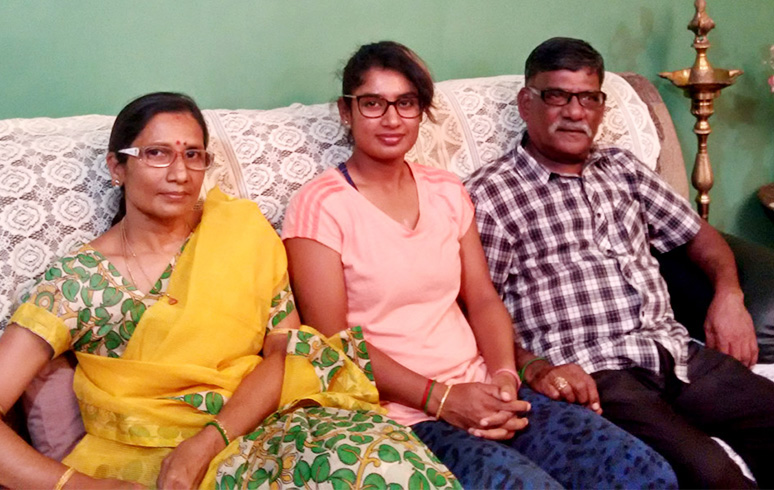 Past Relationships:
Aww….No juicy stories here. As of now, it is cricket for Mithali Raj. Unless she meets some hot and famous cricket star belonging to the opposite camp. You never know, so keep your fingers crossed.
But this is what she says to Femina on the concept of marriage –
"I'm not in a hurry to get married because of my age. Marriage is not the only thing a woman is made for. I would like to study further, probably sports psychology, and help young sportsmen and women.''
Superb thinking! Hope all ladies out there reading this agree with her?
Body Status:
| | |
| --- | --- |
| Build | Hourglass |
| Height | 5 ft 4 inches |
| Weight | 54 kg |
| Waist Size | 28 inches |
| Hip Size | 35 inches |
| Shoe Size | 8 (US) |
| Dress Size | 6 (US) |
| Body Measurements | 34-28-33 inches |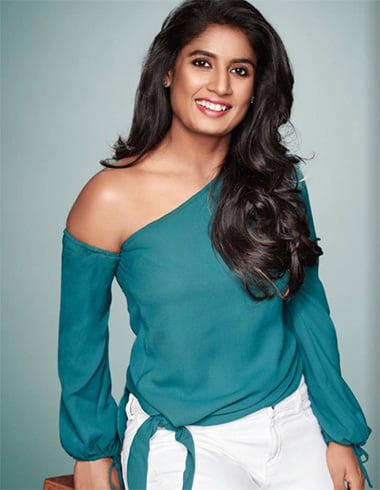 Mithali Raj Without Makeup
So how does Mithali look with no makeup at all? With a super fit body, a sun-kissed face, luscious locks, and a charming smile she can definitely win hearts. Let's go through the pics: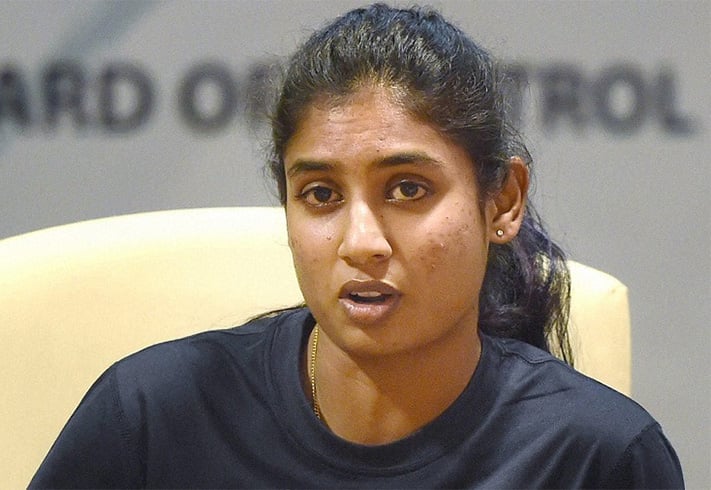 Favorite Things And Hobbies
| | |
| --- | --- |
| Color | Black |
| Food | Soan Papdi (popular North Indian dessert) |
| Place | London |
| Sport | Cricket |
| Brand | N/A |
| Actor | Aamir Khan, Shah Rukh Khan. In the world of cricket, Michael Clarke is Mithali's favorite cricketer. |
| Actress | Anushka, Kajal |
| Film | N/A |
Mithali Raj Weight Loss
Workout Plan
Some quick bytes from Mithali on her fitness regimen as told to Times of India:
"Mornings are new beginnings. They are a time for a new start. I'm always geared up as the sun comes up. I live a strict, disciplined life – wake up at 6.30 am and hit the ground for practice till 9.30 am. After that, I go to the gym and work out until late afternoon."
On being asked by The Hindu on her views on fitness, this is what Mithali Raj says –
"I'm not a yoga person, but everybody I know recommends yoga for flexibility. At the same time, one should incorporate some cardio and strength training. For someone starting his/her fitness journey, my advice would be to start slow, but stay consistent."
More on what she told The Hindu during an interview in the recent past:
"The key is fitness. My fitness routine has changed with age. As a young kind, I was into running. Later, I started strength training. Now that I'm 34, it's all about maintaining a good fitness level with proper recovery and rest periods."
Diet Plan
Being a world-class cricketer Mithali needs to have a disciplined approach when it comes to food too. She makes a conscious choice to eat healthy to stay fit.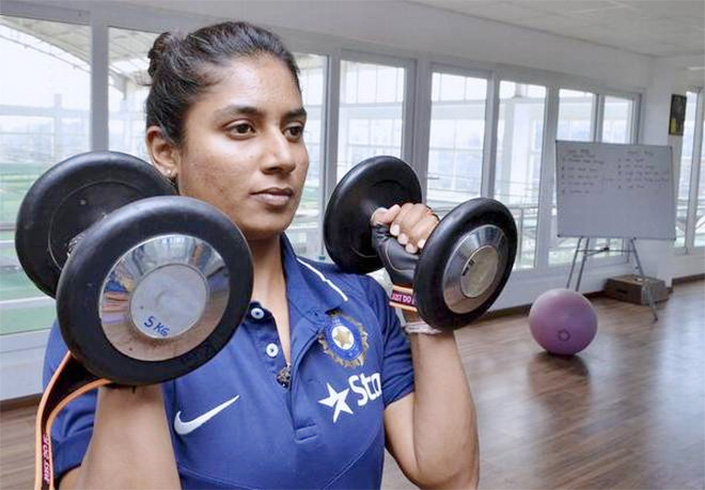 Facts About Mithali Raj
Pin-worthy it is for every girl….
Mithali was just 10 when she started playing cricket.
She was admitted to St. John's cricket coaching camp in Hyderabad by her parents. Former Hyderabad Ranji player, Jyothi Prasad mentored.
In the domestic circuit, Mithali has represented Air India, Railways and India Blue.
Mithali Raj's blue jersey number is 3. Any guess why? Her birth date is 3 Dec.
At 21, Mithali Raj became the youngest captain of the Indian Cricket Team. The lady cricket star has led the team in over 100 cricket matches (maximum by an Indian woman).
Mithali has 5 centuries under her belt in Test Cricket. This young achiever also holds the record of scoring most '90s.