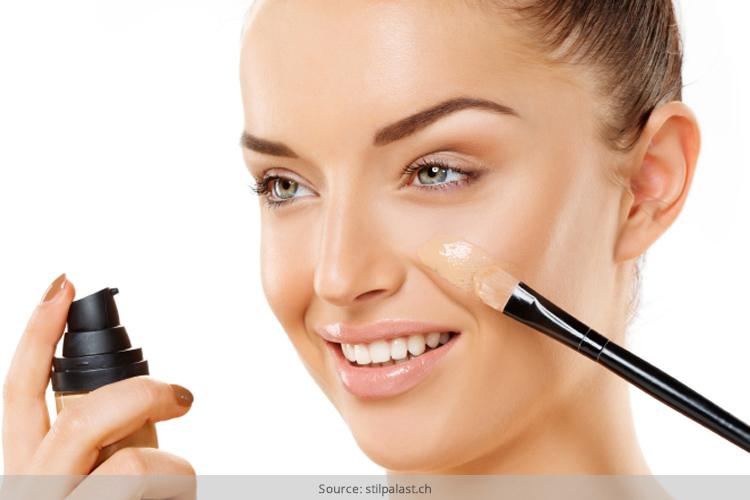 Women and girls, if you have oily skin, we lend you a shoulder to cry on. But wait, why should we cry when there are very easy ways to ensure that your party makeup lasts longer, even when the sebaceous glands over work. What your skin needs is a loving touch and the right cosmetics to use, which we are going to share with you right now. So get ready to accept all invites out to dance, jig and jive whilst the holiday season lasts and let not the oily skin scary story stop you from doing so.
Read These 7  Commandments and Use Them
You need to prime your skin to begin with, and do so with makeup primer of repute. This should be done once the cleansing, toning and moisturizing of the skin is done, and before the first layer of foundation is put on the face. A makeup primer is the best bet to makeup application for oily skin, which helps work as a base and shields the skin too. Areas to focus would be the T zone and choosing an oil-free anti shine product, but not a silicon based one is best- silicon attacks sensitive oily skin, and can cause allergies on the skin too.
[Also Read: Best Serums For Oily Skin]
For the eyes, you need to stop using cut crease makeup styles and do not prime the eyelids before applying makeup. If you have redness or dark circles, refer to the color correction(What Are Skin Color Correcting Fluids And How Do We Use Them) post and learn how to use the right concealer to dab away the same. A primer meant only for the eyelids should be used, which would be the base before the eye shadow is used- helps soak up excess oils on the eyelid skin
Foundations can fade away with oily skin, which is why you should opt for powder based foundations and not cream or liquid ones. Powders help keep away the unhealthy oily shine and sheen on the skin, and is lighter to the skin too. If you do want to use liquid foundations, use one that is mousse or water based, mattifying and non comedogenic!
[sc:mediad]
Invest in TL4 powder which is also known as the face setting powder. The aim here is to dab away the shine and keep the sheen away from the skin, which allows the foundation to last long and strong. Overdoing it isn't advised or else you would look chalky. What you need to do is to dab a pinch on a fan brush and then apply on the areas that shine the most- the T zone mostly
When choosing blushes for oily skin, a matte one would be the best and not the shimmer or cream ones. Since oily skin makes the blush fade away soonest, you would need a powder blush to help keep the cheeks with a rosy healthy blush for long; cream ones wouldn't stick long on the cheeks.
[Also Read: Best Face Wash For Oily Skin]
The lesser the better with layering of makeup products on the face is advised, since oily skin can be slippery for the makeup to stay and last long. When you wear multiple layers, it would tend to look cakey and as a mask or would melt, and either of these situations is not desirable. Layers worn the least is best for oily skin, and tinted moisturizers with enough SPF in it would work wonders.
Keep blotting papers handy, which helps you achieve a flawless look and a matte one that too- any time of the day or the night. This means, your face would shine all through an event or the day or the evening, and with blotting sheets, a coy touch now and then would help keep the look you manifested, intact.
Here were seven tips on how to manage your makeup if you have oily skin. We know very well how tough it can be to visit the washroom now and then for touch ups, and it is embarrassing too when the liners and blushes are smudged because of the humidity around. Don't let such embarrassing situations ruin the moment for you. Use these seven tips and make sure you never have to worry about the oily saga spilling over!