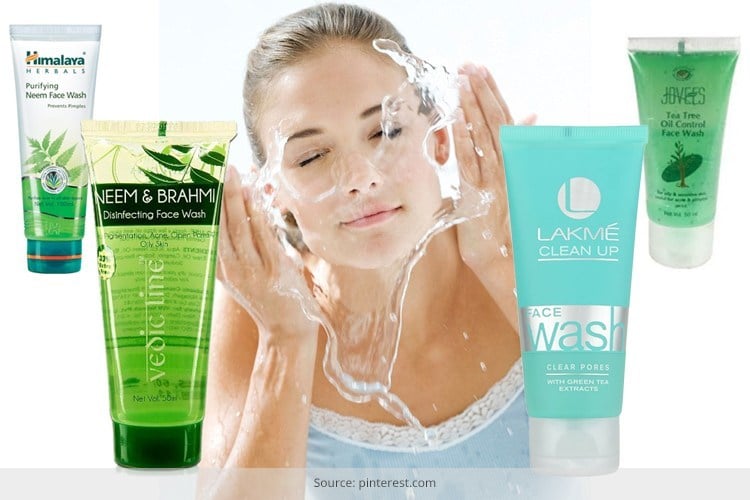 Oily skin is the most sensitive of all skin types. And selecting the appropriate products for this type of skin can be a tedious job as it takes a lot of deliberation and research. You never know when you apply one product wrong and the next morning you wake up with a hoard of breakouts. Maintaining an oily skin is more than often a headache, and even the basic three-step regime of cleansing-toning-moisturizing can leave you exhausted. Today, lets take a look at best face wash for oily skin.
Here Are Top 15 Face Cleansers For Oily Skin
These perfectly reliable cleansers not just simply unclog the skin pores and remove all impurities, but also keep the oil secretion in check for a prolonged time.
1. Clean & Clear Foaming Face Wash
This is a foaming facial wash produced by the famous brand Johnson and Johnson. It is the best face wash for oily skin, available in India . The rich foam of this face skin wash rinses away all dust particles, sweat, and impurities that your oily skin has collected during the day. Clean & Clear Foaming Face Wash uses an ingredient called Triclosan which fights pimple causing bacteria very effectively. However, this anti-bacterial property does not turn your face dry and dull. This also has a percentage of glycerin in it that helps in maintaining the suppleness of the skin.
2. Neutrogena Oil Free Acne Face Wash
One of the best cleansers for oily skin is the Neutrogena Oil Free Acne Fash Wash, which is comparatively a new brand in the Indian market than the products that we have or will be discussing. But just in a short span of time it has earned quite a reputation for itself, by coming up with a range of amazing skin care products. This face cleanser for oily skin controls the greasy appearance of your oily skin and cures acne pretty well. The product has 2% of Salicylic acid content. It works towards healing any prevailing damage in the skin, kills germs and prevents further break outs.
[Also Read: Aloe Vera Uses]
3. Himalaya Purifying Neem Face Wash
Himalaya, as a brand, enjoys its reputation for its products with herbal ingredients. The purifying Neem Face Wash for skin, just as the name suggests, has extracts of neem leaves which is very effective in killing acne causing bacteria. This gel based skin care product cleanses the face thoroughly of dirt, germs, excess oil, and dust particles stuck on the skin. It gives your face a blemish free glow and keeps breakouts in check.
4. Vedic Line Neem & Brahmi Disinfecting Face Wash
Here is one of the most remarkable face cleansers for oily skin from Vedic Line. It has the goodness of neem along with extracts of tea tree oil, camphor and Brahmi. The characteristic feature of this face wash is its herbal formulation. People with skin sensitive to chemicals can undoubtedly place their confidence on this face wash. Its natural ingredients will reach out deep into the skin pores and pull out all impurities, leaving it fresh and glowing.
[sc:mediad]
5. Jolen Face Wash Gel with Lemon Extracts for Oily skin
Jolen has come up with this non-oily and soap-free cleaning Gel rich with lemon extracts. Lemon is widely known for fighting acne and other skin infections. With its organic and natural properties, it digs deep and pulls out impurities from the skin pores. The acidic properties of lemon will also exfoliate the skin, ridding it of dead cells and boost the overall complexion. What's more? You will love the lingering tangy aroma of this gel that stays back for quite some time.
6. Lakme Clear Pores Face Clean-up Face Wash
Lakme is perhaps the oldest known brands in this sub-continent, needless to say what reputation it enjoys for all the skin care products and cosmetics that it brought into the Indian market since decades. The Lakme Clear Pores Face Clean-up Face Wash is a new addition to the company's skin care range. The product is aimed at those fighting oily skin troubles. It is a perfect blend of gentle chemicals like salicylic acid and herbal ingredients like green tea extracts. A regular use of this product will help keeping breakouts in check and give you a refreshed face.
[Also Read: Toners For Oily Skin]
7. Jovees Tea Tree Oil Control Face Wash
Like all other Jovees products, the Tea Tree Oil Control Face Wash, is a smart blend of a range of herbal items like tea-tree, aloe, apple juices, and cucumber. Tea-tree oil, with its anti-bacterial properties kills pimple causing bacteria. Aloe, cucumber and apple juice work together towards the rejuvenating the dull skin. The net turn out is a smooth flawless complexion.
8. Olay Oil Minimizing Clean Foaming Face Wash
The evolution of Olay as a brand in Indian market has been phenomenal. Olay has different kinds of products to address all your skin problems. The one name which is synonymous with keeping your skin supple, smooth and younger looking is Olay. It's products are perfect for rejuvenating and moisturizing your skin. One such product is the Olay Oil Minimizing Clean Foaming Face Wash. This oily skin face wash is perfect as it deep cleans and thoroughly removes dirt, oil and makeup without over drying your skin. It has a creamy texture which leaves your skin feeling firm, oil free and fresh.
9. Lacto Calamine Deep Cleansing Face Wash
One oily skin face wash name which cannot be missed is the Lacto Calamine Deep Cleansing Face Wash which is one of the most reasonably priced product and is a must try if you have oily skin. With extracts of Vitamin E and Raspberry, this face wash helps your skin in multiple ways like deep cleansing your face, removing excess oil and dirt, tightens pores and protects your skin from aging with it's anti-oxidants. Due to the presence of Raspberry it gives off a sweet fragrance. Make sure that you rinse it off with good amount of water or else you will as if you still have some face wash on your face. People with dry skin should avoid this at all costs.
10. Garnier Pure Active Neem Face Wash
Garnier is one of the most well known brands and is widely used by people of all skin types. One of their products is the Garnier Pure Active Neem Face Wash which is a perfect face wash. This soap free formula is enriched with Real Neem Leaf Extract and Tea Tree Oil which purifies your skin and helps by fighting germs that cause pimples, fighting pollution which are harmful for your pores and washing away excess oil which attracts dirt and germs. It leaves your skin feeling clean, clear and refreshed.
11. Aroma Magic Neem & Tea Face Wash
The Aroma Magic face wash for oily skin is herbal and ayurvedic product which consists ingredients like neem and tea tree. This oil balancing face wash is also helpful in curing acne, improving skin tone, lightening scars and blemishes. It is a soap free and paraben free product.
12. Nivea Aqua Effect Purifying Face Wash
This is definitely one of the best cleansers for oily skin. Suitable for combination skin as well, this face wash is quite effective in removing all the extra oil and sebum from your face. It leaves behind a refreshing and cooling sensation that will keep your face fresh and bright.
13. VLCC Melia Face Wash
The brand VLCC is known to one and all. Their products are quite effective and hence are used and recommended by a lot of people. You can also find one of the best face wash product by this brand which is the VLCC Melia Face Wash. It is suited for your oily skin as the Melia extracts in it can control the excess sebum on your face. It also contains anti-fungal and anti-bacterial properties which can help you getting rid of pimples and acne.
14. Aloe Veda Turmeric Clarifying Face Wash
The Aloe Veda Turmeric Clarifying face wash is another product for oily skin that you can use. It is sulphate free, paraben free and contains aloe vera. The turmeric present in this face wash will help in controlling the excess oil on your face.

15. Lotus Herbals Tea Tree and Cinnamon Anti Acne Face Wash
This oily skin face wash from Lotus Herbals is an acne and oil control face wash. People with sensitive skin can also use this product. With ingredients like tea tree oil, oak bark and cinnamon, this is a good face wash for oily skin.
Make sure that you include any one of these products as part of your oily skin care regime and see the difference. I will reiterate that taking care of oily skin can be a tiring job. You have to be continuously vigilant towards its breakout tendencies, watch what you eat, follow proper oily skin care tips  and what kind of makeup you wear. But cleaning the face with a proper cleanser boosted with anti-bacterial properties will certainly help control the problem to some extent. Again, every oily skin is not similar to the other. Some skins receive cleansers with chemical formulations positively, others might just react to chemicals. Such skin types will respond to natural products with more resilience. If you are not sure about your skin type, get it tested by a dermatologist or take an expert advice from your beautician.
Keeping the skin clean is the first step to flawlessness. Don't miss to follow it up with toning and moisturizing. Just in case you didn't know, there are moisturizers for oily skin as well.