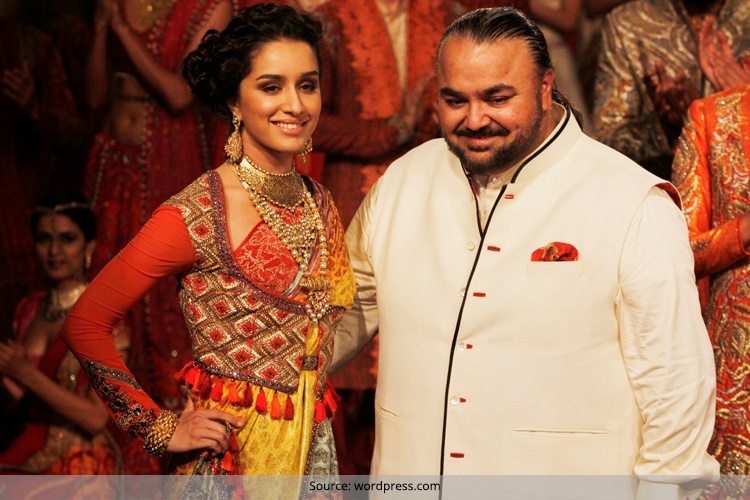 There is a difference between globe-trotting and global signature. This man of style and substance is a blend of both.
Time might have traveled many years but this ace designer, couturier and fashion czar from New Delhi has grown vintage and timeless with time.
[Also Read: Top 10 Fashion Shows in India]
I am referring to Jagsharan Jit Singh Ahluwalia known to the world as JJ Valaya – a brand that needs no introduction. The founder of the House of Valaya in 1992, the JJ Valaya collection today is an epitome of royal and regal touch in costumes.
A NIFT topper, Valaya released his first book Decoded Paradox in 2011, as a fine art photographer and The Soul in the Space (2012).
But this Jodhpur-born gentleman was cut out for creating bridal trousseau, designer suits, and designer sarees, as much as being a seasoned lens man.
Childhood Years Of Valaya
Valaya was no ordinary boy. His father was a senior army officer, which made Valaya fortunate enough to see the best of everything during their travel from Jodhpur to Delhi, Pune, Lucknow, Chandigarh.
Army is a discipline in itself which taught Valaya things like punctuality and sticking to deadlines. These are a couple of reasons that made Valaya extremely adaptable, resilient and widened his horizons.
Having been born in Rajasthan, things like regality and nomadic culture influenced Valaya. Over a period of time, regal and royal fervour of Jodhpur stayed on with Valaya, further inspiring him in his creations in a colourful, magical and vibrant way.
Interestingly, Valaya was born in Jodhpur at a place that was only seven hours far from where Raghavendra Rathore, yet another blue-bloodied fashion-cum-costume designer was born.
Fashion Journey Of Valaya
Valaya didn't have any couture magazines, fashion supplements, internet or computers to fall back on when he started off in the business of fashion designing. This was around twenty five years back when there were hardly any fashion shows and fashion brands were at a primitive stage.
It was therefore an era of trial and error when there were no benchmarks to follow. Valaya was the first designer who did a solo fashion show in the year 1993.
[Also Read: Rohit Bal Collection]
Interestingly, Valaya admires American fashion designer Ralph Lauren for his business acumen and considers home-grown Rohit Khosla as the father of Indian fashion.
The JJ Valaya bridal collection are among the top bridal collections of India.
Bridal Regalia Of Valaya
According to Valaya, royal streak is his biggest signature. Valaya loves and prides in India starting from its history, glory, splendour and abundance.
He also has a list of favourite Indian actresses who have worn his creations – starting from the gorgeous Dimple Kapadia to Kangana Ranaut, Lara Dutta, Deepika Padukone, Aishwarya Rai, Sonam Kapoor and many more.
Fashion is showing new colours each passing day. And this showed up in Valaya's show opener in the Mumbai edition of the 'Blender's Pride Fashion Parade 2015' held recently, where extravaganza in clothes in different hues coloured the ramp.
Tradition blending into the modern, the highlight of the night was our Sona darling Sonakshi Sinha who sashayed down the ramp in a ruby red heavily embellished anarkali lehenga of JJ Valaya collection that had intricate zari work.
[Also Read: Floor Length Wedding Anarkali]
From Spain-inspired The Maharaja of Madrid showcased at the India Bridal Week to the bridal and partywear collection in 2014, JJ Valaya bridal lehengas have been real showstoppers.
[sc:mediad]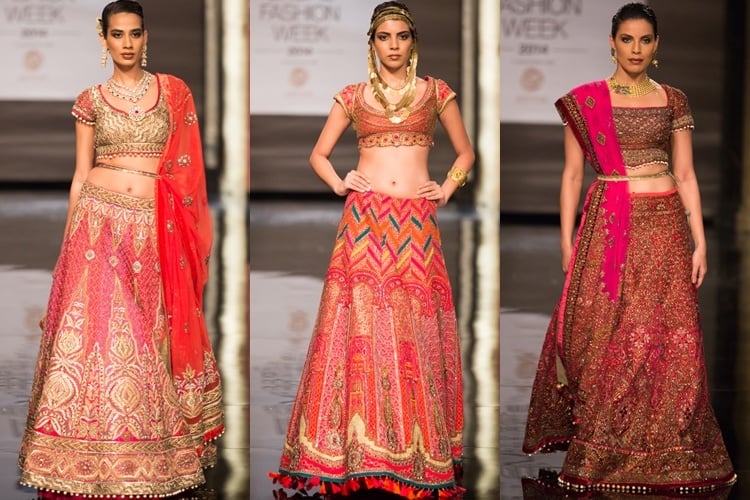 JJ Valaya as a designer has always won our hearts and we can never get tired of looking at various JJ Valaya collection. Whether it is JJ Valaya wedding collection or JJ Valaya sherwani collection or JJ Valaya bridal collection, each collection has always left us breathless and wanting for more.
Take a look at some of the exquisite creations from the latest collection of JJ Valaya which he displayed at the Amazon India Fashion Week Spring/Summer 2017.
JJ Valaya is not just known for his lehengas and sherwanis but also for his beautiful anarkalis. Check out these gorgeous outfits from the JJ Valaya anarkali collection.
It goes without saying that Valaya's vision and his timeless creations have no comparison. Whether it is JJ Valaya designer suits or JJ Valaya designer sarees, the splendid collection of hand embroideries and bridal trousseau are a rage in itself on the Indian and global front.
With dollops of contemporary classicism, each piece of JJ Valaya collection has a fresh look to it which looks distinctive from other designer wears. This is why JJ Valaya is seen as the trend setting god of the fashion fraternity.
Hope you have been mesmerised by Valaya and his creativity in couture. Tell us which of his creations, colours and celeb held your breath.