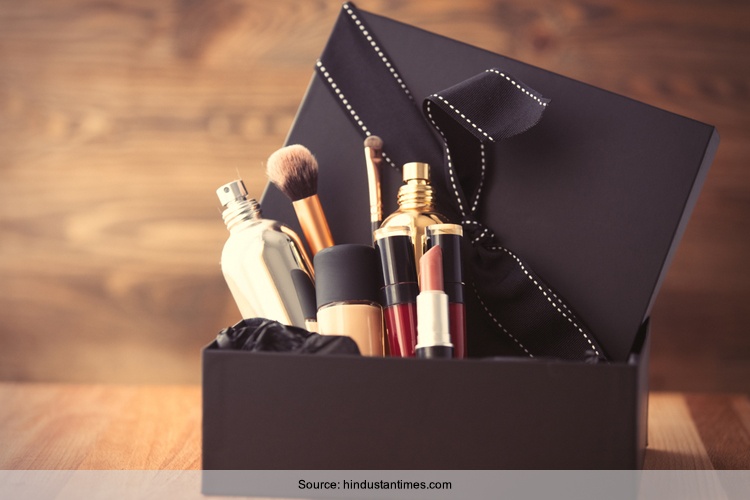 Tell me of one woman across all ages who minds being pampered? Not a single soul you may find. In this light, the trend of makeup subscription boxes has gone up many notches. What is this new fad of beauty subscription boxes, monthly makeup box or monthly beauty box that is catching up?
In this unique concept of makeup box, you need to sign up, pay a monthly fee, and then? Every few weeks, what lands up at your doorstep is a box containing five or six beauty items. The boxes vary from hi-end, specialist to themed. As for the pound-shilling-pence, the price of a monthly makeup box is lesser and cheaper than what you would pay for individual items. Some of the makeup items are of sample size, whereas others come at their regular size (i.e. the one sold in shops). From beauty-focussed to skincare-focussed, you get complete diversity and range in monthly beauty box. Sounds BEAUTI-FULL, doesn't it?
So here we go finding about the hottest monthly makeup box – some costly, some affordable which you might find difficult to resist (and purchase or gift as well). Pampering yourself is an exclusive right for the ladies, so why hold yourself? Indulge, the way you should.
1. Cohorted at £35 per month plus free postage
Why is Cohorted called the "Best Buy" in beauty subscription boxes? It comes with a sleek black box with a satin tied bow (which makes it a winner in terms of its premium appeal). The next thing that enthrals you after the regal packaging is the luxury hand-picked brands. Well, the March edition of Cohorted showcased the following brands – Pur Minerals Secret Crush Eyeshadow Palette, The Vintage Cosmetic Company Eyelash Curlers, The Living Proof 4-in-1 Styling Treatment, Urban Decay Naked Skin Bronzing Beauty Balm and Lancome Absolute Yeux Repairing Eye Care. If good things come in small packages, then you and I have got what we aspired for.
2. Birchbox at £10 per month plus £2.95 p&p
This is a well-known brand in beauty subscription boxes. Birchbox is a theme box of smaller size that gets you five products every month. Customer-friendliness is such that subscribers can update their beauty profile details online mentioning whether their preference is for products meant for colored/ thick hair or dry/oily/sensitive skin. Isn't this a good idea – when the customer's monthly makeup box is suited or tailor-made to her "face" or "hair" needs every time?
3. LookFantastic at £13 per month for 12 month subscription
What's in "Ready, Set, Glam" Beauty Box? It is a #LFBEAUTYBOX filled with party-prep products. The fantastic thing about LookFantastic box is that it guarantees a value of at least £50. The products vary from beauty staples to relatively unknown products.
4. Glossybox at £21 per month
There is something special about feel-good treatments. And GLOSSYBOX is yet another online subscription service which has become a favourite of beauty addicts worldwide – with its well-known luxe brands and up-and-coming makeup products. The good thing about a GLOSSYBOX monthly makeup box subscription is that you get samples of the best hair products and skin care products for womenfolk wrapped in a PINK BOX.
Also, when you order your products online from GLOSSYBOX, you get 5 travel-size beauty products delivered to your doorstep. The beauty subscription boxes are beautifully packaged. The products vary from moisturiser, face masks, eye shadow and hair tie (life-savers they are to any beauty addict) which change very month. Talk of value-additions and with each beauty box that arrives every month containing new cosmetic samples, you get beauty tips from experts on how to look gorgeous. You also have the benefit to subscribe for 3, 6 or 12 months. Nice to be spoilt for choice, right?
5. LoveLula at £12.50 per month
"Natural beauty delivered monthly to your door" is the claim made by LoveLula. NO Parabens, NO SLS's and NO animal testing, the monthly beauty box from LoveLula is a great chance to try out various Natural Beauty brands and products in a cost-effective manner. This beauty box has simplicity written all over it. Some of the respected brands included in the beauty box are John Masters, Ren and Balm. Since natural beauty is the essence of this brand (and therefore the box), LoveLula makeup box is worthwhile gifting to someone who has a knack for natural, organic products. Natural makeup products are always a timeless treasure.
[sc:mediad]
6. Mintd at £65 per month
As you can make out from the picture, the Mintd is not just the most expensive makeup subscription boxes, but the most premium and luxury one. You know how the makeup box arrives? It's a clean-looking Scandi-style box. Those who have an eye for premium luxury will love this beauty subscription boxes. The value of each haul is at least £135. The January box of Mintd has some of the most well-known brands in it – the likes of Dermalogica, A-list favourite Magicstripes, swanky French, Japanese-inspired beauty brand Evidens, Los Angeles-based luxury skin care brand African Botanics (the products are all made in South Africa) and sensitive skin specialists Sond. This confirms Mintd is a VERY VERY PREMIUM beauty box. As for the subscription, it is monthly and bi-monthly.
Talk of the premium-ness of the brands in Mintd monthly beauty box and you will find the "Evidens" day moisturiser for dry winter skin – the only thing that might pinch you is its hefty price tag (£205 for 50ml)! Now did this make you fall off your chair?? Heavens!
7. Pink Parcel at £12.99 per month
Pink Parcel is UK's No 1 "period" box. The main priority of this feminine brand is to make women feel their comfortable best when they are down every month. Being a "period" box, it has essentials for day time, for night and for later…and amazing treats as well. So when they say, on their home page "Take Care of yourself with Pink Parcel" you almost feel the pride of woman-connect. All the products are discreetly packaged and slim enough.
Grazia has this to say about Pink Parcel "Perfect for those who really get it bad around that time, or just to make Mother Nature's visit a little more palatable".
Some of the products in the Pink Parcel monthly makeup box include Sebamed Feminine Intimate Wash. In fact, such is the tuning of the monthly delivery that the woman subscribers get their favourite tampon or sanitary towel brand in conjunction with their period. Apart from the regular and preferred sanitary products, the Pink Parcel box contains delicious eatables – chocolate, biscuits, tea, skincare products, mascara and other cosmetic products. Isn't this a welcome treat for women at their time of the month?
8. My Little Box at £11 and £3.95 postage per month
It has originated in Paris, gained subscribers in Germany and Japan and now launched in the UK. My Little Box boasts of French-inspired kooky gifts and beauty products. A touch of Parisian chic every month, My Little Box collection is a total package by itself – with the best formulas, the most sought-after scents and the most brilliant colours. BTW, 80,000 French women have already subscribed to this Parisian cult brand. Some of the Partner brands include Batiste Dry Shampoo, Calvin Klein, Essie, Givenchy, Garnier, Kerastase Paris, L'Occitane En Provence, L'Oreal Paris, and many others.
9. Betty Box at £12.50 per month
When the tagline says "Create your own Betty Box" you have got your first pampering message. Aimed at teenagers, Betty Box gets you monthly period essentials (tampons, sanitary pads or a mix of both), beauty products from top brands, sweet treats, and more. The colourful box is designed to tie in with that time of the month when you are feeling down (not out). Every item in this period –cum-makeup box is well-showcased in the form of mini bags or boxes. That is why, Betty Box is a sensible gift idea for teens who hate the very idea of buying personal products in the shops. Each Betty Box has beauty bits from well-known brands like Burt's Bees, Carmex and Aussie, and a cute pair of earrings with some sweet treats. Hold on! Don't miss out on a handy booklet which comes in this beauty box telling you how to use each product!
The Final Verdict
Each makeup box brand has a "weight" of its own. And that has nothing to do with the grammage. If you ask which of the beauty subscription boxes are high on our favourite list – it is 'Cohorted' for its VFM at the same time addition of luxury and limited edition products like the Nars x Andy Warhol eye shadow. The 'Mintd' box is incredibly good value and has luxury products for indulgence. 'The Pink Parcel' is a nice pick-me-up for women for one of those days they need it most.
So, beauty addict that you are, I hope you got a fair and comprehensive idea of the beauty subscription boxes which can be customised to your needs and budget. Have you ever tried this concept of makeup subscription boxes? If yes, then tell us your experience and your favourite beauty subscription boxes.
Disclaimer: The prices mentioned for the individual makeup brands here are not be considered final. They are subject to change.