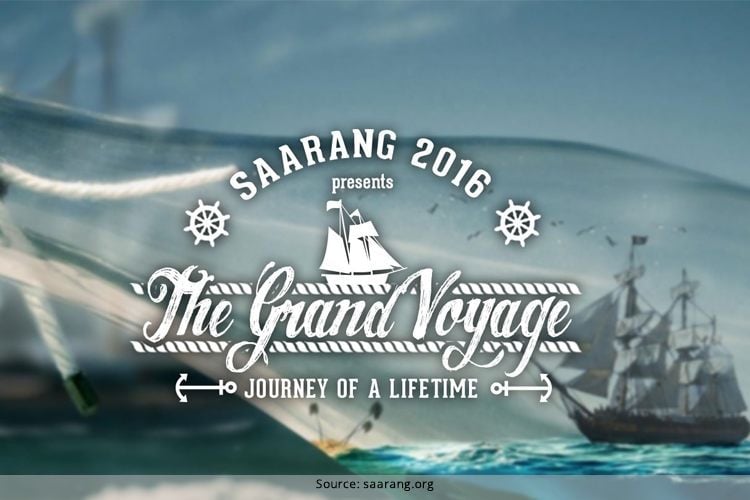 In the past, FashionLady has collaborated with quite a few IIT events, so it shouldn't come as a surprise to you when we say that we will be collaborating with IIT Madras as well, for their annual fest Saarang. Come this January, from the 6th to 10th Madras will be buzzing with Saarang fever, and we will be there enjoying every bit of it!
[Also Read: This Year's 'Vogue' By Mood Indigo Is Going To Be Brilliant!!]
Saarang 2016 brings us all The Grand Voyage – journey of a lifetime. With lots of events, proshows and competitions, we are sure that Saarang 2016 will stand up to its promise of taking us on a journey of a lifetime.
For those of you who are aware of what Saarang is, we are pretty sure that you must have started with the process of registration. For those unaware, hop on and we will take you through it.
Saarang is the annual cultural and social fest, organised by the students of IIT Madras. Known for being one of the most popular inter-collegiate fest across South India, Saarang welcomes close to 50,000 students every year. The five-day event that's held in the second week of January every year has promised to be the biggest event ever this coming year. We can't wait to see what they will surprise us with.
[sc:mediad]
From dance to music, arts to designs, debates to quizzes, the core committee members and co-ordinators of Saarang have made sure to cater to needs of every student.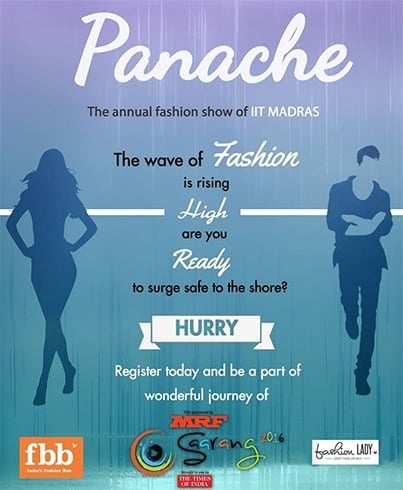 But what has got us excited the most is the fashion event Panache. You may be a budding model or a designer, it doesn't matter! Just register yourself. With a maximum team of 15 members, where upto 8 models and 4 designers are allowed, Panache is going to be one amazing ride. The 5 themes that are to be followed give designers a vast expanse of opportunity to experiment with. If you are a fashion enthusiast like us, then you must quickly register yourself online as the registrations have already started!
In closing we would like to say – we can't wait for this year to end and January to come sooner!
See you at Saarang lovelies!