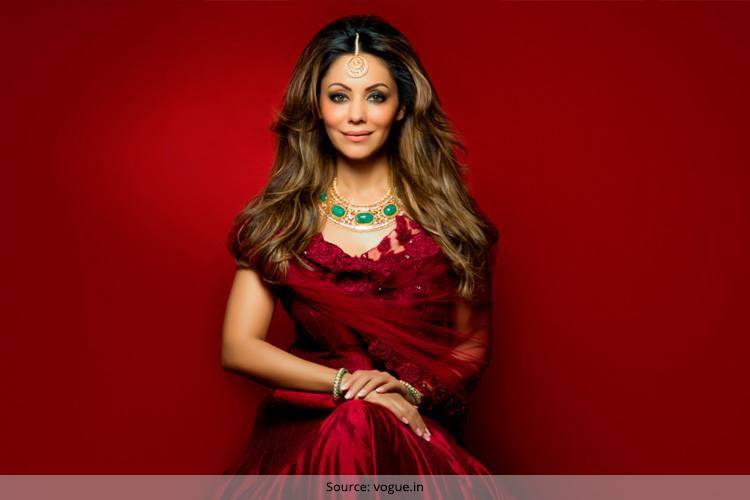 Gauri Khan today will be celebrating yet another birthday with her family and friends. And we here at FashionLady are excited as though she's gonna spend it with us! Wishful thinking on our part perhaps? Anyway! As they say, she will be turning a year older and wiser.
But the thing is, she has always been wiser and smarter. That's the thing we always loved about her. She never appeared in any movie, but her charisma as a star wife was enough for us to fall in love with her.
While she's celebrating her birthday today, we would like to list down the things that we absolutely love about her. It'd be an ode for her, from the team!
Let's start shall we?
1. She's A Loving Wife
Ever since I gained consciousness, I can remember Shahrukh Khan appearing in movies. I'm a little about twenty now, and there hasn't been a day when I've heard about some scandal about the couple. There hasn't been a day when I woke up and heard that their wedding is on rocks. Touchwood! But we would like to give the credit to Gauri! For being a very loving and caring wife!
2. She's A Caring Mother
Being a star wife is not easy. With your husband's strict travelling schedule, you don't get the time to spend time with him. More times than not, he isn't home for dinner, he isn't at school at the parent teacher's meetings. So, who runs the show at home? Gauri!! And she's been doing a great job!
3. She Supported Surrogacy!
I mean, who does that? Only a strong woman does that!!! We have no idea why their baby was a surrogate baby, but we are extremely happy and proud that such a power couple has advertised surrogacy and paved way for other mothers!
[sc:mediad]
4. She's A Fashionista!
Satya Paul has collaborated with Gauri and launched a line of sarees that exude passion, class and style. When people do that with you, for you, you know you are a fashionista!
5. She's A Passionate Career Women!
All things said and done, after being so busy handling husband, kids, a very busy social life, Gauri had time to make a career of her own. She didn't wait for Shahrukh Khan to hand things on a silver platter. Nope, she did it all on her own and made it on top.
Well, what can we say? We have massive respect for her as a person and she makes us proud!
Here's wishing her a very happy birthday!!