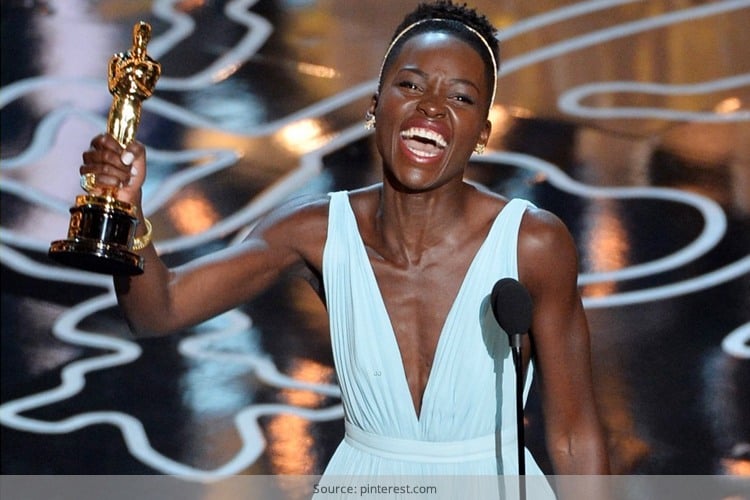 "When I look down at this golden statue, may it remind me and every little child that no matter where you're from, your dreams are valid. Thank you."
Source: Washington Post
That was just a few lines from the fabulous Lupita Nyong'o Oscar speech, which shook the world and brought tears to many eyes. There always comes a time when the world sits by the edge of their seats to hear an inspiring tale or more, and this time Lupita Nyong'o made that happen.
[Also Read: Get Inspired From Lupita Nyong'o Hairstyles]
Whilst the hierarchy of the glitz and glamour world is accused of having only 'fair skinned' beauties being the epitome of success and wins, as portrayed – we see the likes of Lupita Nyong'o changing it all. Likewise, when we look at the Indian fashion and Bollywood scenario, a change is must and the embracing of black or dark skinned divas should be the norm now.
For all the dusky sirens reading this, here are a couple of stylish looks from Lupita Nyong'o that can inspire you to go out there and make a statement – flaunting your gorgeous ebony skin like never before. Take a look!
Gorgeous Looks Of Hollywood Actress Lupita Nyong'o
1. If you thought cut outs in whites, pearly off whites or creams were for the fair skinned ladies alone, you were wrong. We see here, the gorgeous Lupita in a sleeveless cropped cut out with an elegant white midi skirt. The look comes clean and complete with the heels!
[sc:mediad]
2. At the esteemed Star Wars "Force Of Fashion" event, Lupita proved once again to be a stereotype breaker, wearing an all black elegant frock. Made from silk and lace, and embossed with shimmer touches, the gorgeous diva made a statement and broke the internet in this dress.
3. A stunning white sleeveless dress with gorgeous blue floral touches, minimal makeup and the neutral toned pumps for the feet, makes Lupita once again steal many hearts at the red carpet.
4. Burnt mustard orange, long evening gown with low plunging neckline on broad shoulders is what the gorgeous diva flaunts. The monotonish fashion statement, complete with shoes and a clutch bag in the same hue makes an amazing statement for heads to turn.
5. For women with dusky tones and those that have been told that they cannot wear cool toned colors on their evening gowns, here's your chance to seek more inspiration from the gorgeous diva. Gracing the look and completing it with a gold belt and shoes, and chunky gold wristlets, we see the actor breaking fashion norms here again!
6. Stripes all the way for this brave and beautiful actor, we say! She looks stunning and with the makeup focused only on the eyes, Lupita knows how to burn the red carpet looks with sophistication and style!
7. A fancy look in crepe floral maxi skirts can be yours too; if you know how to carry it with confidence. The look comes about as super clean and sophisticated even though it has a low V neckline, but that can be camouflaged with a long chunky neckpiece that goes down all the way!
8. Play with solid hues and color blocks all the way. Dark coats over a solid hued bright long dress, and shoes to match the vibrancy of the outfit too, with a neutral toned bag in hand – Lupita's style mesmerizes us all!
9. While the Lupita Nyong'o Oscar dress was a magnificent one, you should also look at this piece in satin neutral tones that make a divaish effect. Mermaid dresses in draped bows and chic pleats enhances the curves on a dusky diva!
10. Lacey tales in an orange outfit, with a cropped top and a beautiful midi skirt comes as a clean fashion statement, so elegant, that you may just want to try the look now!
More than just her speech on beauty, even her style shows us dusky girls how to dress up for formal and casual gatherings in colors nice and bright! Do write in and let us know how inspired are you by Lupita's fashion sense!