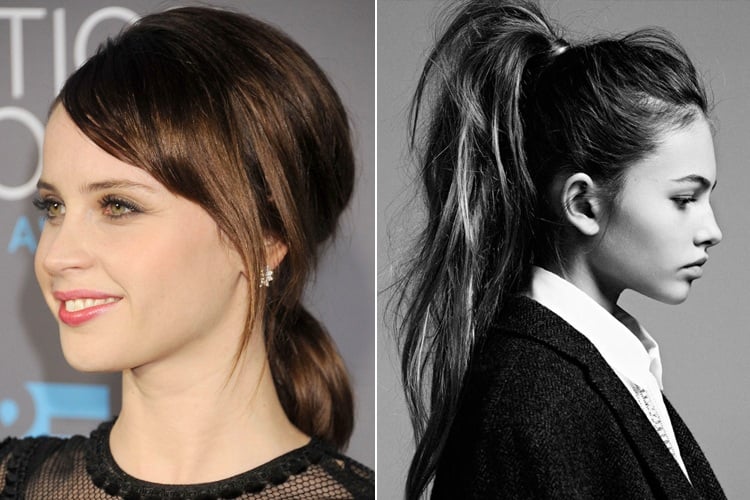 Putting your hair up essentially means a ponytail- one of the most common hairstyles ever! So, if you are feeling like your hair isn't looking that great, you put it up in a pony or if you need an outing to the gym, you will still put your hair up in a pony! Ponytail hairstyles are so common and easy that most people would sport it during any time of the day. But how do you make sure that the ponytail hairstyles that you are sporting are not to commonplace and boring? Well, we are here to help and we have curated some of the best and cute ponytail hairstyles that will definitely give you an edge over others. So, let's get started:
How To Make a Ponytail
The simplest way to get started is to know how to make a ponytail. Comb your hair and put them all in a scrunchy. But make sure that your pony is not too tight because if your pony is too tight, you will end up getting severe headache.
Ponytail Hairstyles
Ponytail hairstyles are amazing and easy. Here are some of them to get started:
Sky High Ponytails
Having a right high ponytail is really a difficult task and more so if you have curly hair. This is a hairstyle we would recommend for those who have straight and sleek hair. It is something that you have seen often on Ariana Grande and she flaunts it with élan. Just tie your pony high up on your head and let your hair loose. Trust us, it looks amazing!
Glam Curls And Ponytails
Would you like to channel some glam without too much bling? Opt for this wonderful hairstyle where you will just need to curl the lower portion of your long ponytail. Tie your pony securely and let your curls hang loose. Check out Amy Adams in this glam look.
[sc:mediad]
The Vintage Twist
For those of you who are a sucker for retro hairstyles, this ponytail is the ponytail of your dreams and you can channel your inner diva with this retro hairdo. This one also works better if you have bangs. Just twist your hair to create a ponytail with a twist. Use large hair pins to hold down your hair better. Take style cues from our favourite Penelope Cruz.
Bubble Them Up
Did you ever think that something like bubble pony would exist? Well, it does and Olivia Munn flaunted it beautifully on the red carpet. To recreate the same pony, tie your hair in a pony with a clear band and then take 1.5sections of your pony and use it to secure your pony at its length. To make the bubble pony stand out, puff the different sections of the pony by gently pulling at it or using the back of a comb to give it a tug.
Pump It Up Like Kim
When it comes to ponytail hairstyles, the Kardashians are no doubt the reigning queens. Some of the best ponytail inspirations can be obtained from these reality TV stars. Kim's really popular for her sleek pony looks, but once in a while, she also flaunts the bumped ponytail. Here's how to do it: Take the top section of hair and gather the rest of your hair into a medium-high ponytail. But make sure you secure it with an elastic band. Now slowly unclip the top section of your hair and use a volumizing spray to tease and brush your hair and create a puff. For those who do not have dense hair, you can use clip on extensions too.
Whether you have short hair or long hair, ponytails are effervescent and easy ways to up your hair game. Use our ideas and turn heads with these amazing ponytail hairstyle ideas!