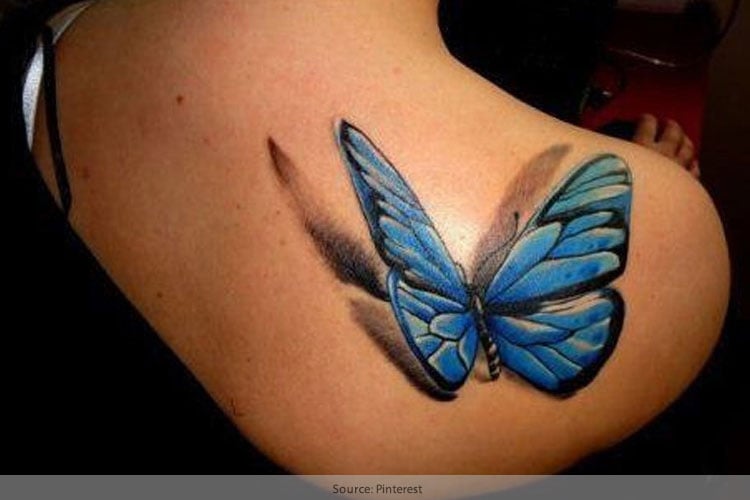 With the current rage, it's not surprising that you decide to get inked. However, deciding on the design is no mean task. After all, it's supposed to be etched forever on your body. For us gals, butterfly tattoos are the ones that almost every girl get herself inked with. Very stylish and incredibly feminine, these can be etched on any part of your body and can be from a tiny piece to elaborate and intricate designs. With the butterfly coming as a transformation from the ugly caterpillar, it also symbolizes the transformation through a chrysalis with which almost every female can connect in some way and lend the tattoo a deeper meaning and expression. Moreover, its 160,000 different species and incredibly beautiful vibe with spectacular colors helps you stay above the anchor, cross and dream-catcher. Let's check out a few of our favorite butterfly tattoo designs.
[ Also Read: Wear Botanical Tattoos For The Love Of Nature ]
Butterfly Tattoos
Small Butterfly Tattoos
If you are getting a tattoo for the first time, getting a small butterfly etched either on your foot, arm, back of hand, nape, etc., can be terrific! Merging your name initials or that of your soul-mate on the foot can look extremely stylish and meaningful. In the second image, the white ink infusion butterfly at the nape and shoulder joint area oozes an aesthetic appeal that is unbeatable. Else, tell your own story with multiple beautiful butterfly tattoos with minimal frills and embellishments but creating a stunning and unique effect with their simple lines, styles, and positions.
Tribal Butterfly Tattoos
An epitome of elegance, tenderness, and magnificence, tribal butterfly tattoos are an excellent choice in both black and white and vibrant shades. Symbolizing freedom, boldness and a free spirit, they lend you endless options. Check out the vibrantly bold piece spanning across the whole of the lower back. A simply creative piece on the leg is bound to attract eyeballs wherever you move! Give your back the stylish and bold tribal ooze with the green and purple butterflies!
[sc:mediad]
Butterfly And Flower Tattoos
Being natural partners, the combination of flowers and butterflies creates breathtakingly beautiful and colorful final butterfly tattoos! Extremely trendy, fashionable, feminine and stylish, these glamorous pieces can be adorned on almost any part of the body from elegant to the vivacious bold pieces! Express your deep passion and intense love with butterfly and rose tattoos on your leg! The intricate piece on the upper back with multiple butterflies over a single big rose can look so edgy and tell its own story! Go creative with varied flowers and butterfly tattoo ideas to create a seamless body art that can closely mimic a mural!
Blue Butterfly Tattoos
These tattoos typically have light and sometimes dark blue butterflies with thick black accents. Not only do they look extremely aesthetic but also stand for joy or change of luck! Few also perceive the blue butterfly as the granter of wishes. Butterfly neck tattoos never go out of fashion! Give it a style statement with a 3D butterfly tattoo! Else, let your side look so edgy and sensual that it leaves everybody bomb-shelled! A heart butterfly tattoo on the leg is definitely not for the faint-hearted! It is one of the most sensual butterfly foot tattoos! The mesmerizing blue butterfly with leafy wings seems to convey its own message!
Black Butterfly Tattoo
Whether you are opting for Celtic, gothic or tribal style, the black accent butterfly has its own unique charm! Whether you want to show your dark side or want it to symbolize someone no longer with you, a black butterfly tattoo is the perfect way to express it! For those who do not wish for color, all black tattoos are perfect and can look extremely suave and trendy! Butterfly tattoos drawings look best in all black! Monarch is one of the most etched butterflies. Heighten its beauty in all black! Check out all other cool pieces on various parts, right from tiny pieces to the ornamental ones!
Celtic Butterfly Tattoos
A very beautiful and distinct design, Celtic butterfly tattoos are deeply connected to natural elements and are strongly inspired by spirituality and paganism. Symbolizing love and transformation, they look sensational when worn alone! They are little tough to inscribe as they are etched by forming knots! You will love the bold statement oozing Celtic butterfly in the back! The Celtic butterfly series in the legs is certainly one to stop traffic, no matter whether it is in black or in vibrant hues! Give your lower back a bold statement with Celtic tattoos!
With such overwhelming butterfly tattoos inspiration, which one are you going to get tattooed on your body? Do share with us.