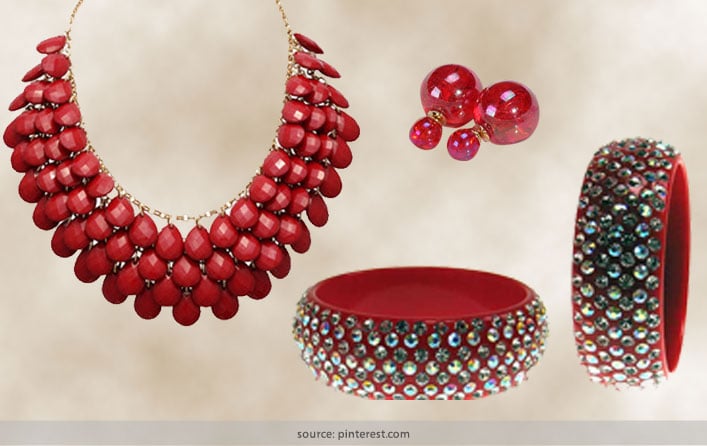 In this day and age, when all things plastic are the norm, why would our fashion accessories stay behind? We are talking about chic plastic jewelry that have become trends nowadays, and not just with the college going PYTs, but with working women too. Today we would like to show you a couple of haute plastic jewelry items, which can be worn to various occasions, events and gatherings.
[Also Read: 7 Commandments To Wearing Statement Jewellery At Work]
Gorgeous pieces For Daily Wear Made By Plastic Jewellery Designers
If you don't want to wear your costly metallic touches in gold, silver and platinum, you can opt for plastic jewelry in chic styles. Take a look!
1. What do you do with your old plastic bottles when the contents are over? Throw them away or reuse them as containers for liquids? You now can check across social media to learn how to use these old bottles to make simple and chic plastic earrings. Here are a couple of designs for inspiration
2. If you love studs and tops for the ears, we are here to show you plenty of them in bright vibrant colors that bring out the youthful touch and more on you. Take a look at these chic earrings that make many fashion statements, which can be worn with just about anything.
3. To make those wrists dance with happiness, you can wear colourful plastic bangles to match any ethnic or western ensemble. In colors bright and chirpy, these plastic bangles would draw the eyes and make you the center of attention. Here are a couple of them to please your fashionable soul.
[Also Read: necklaces for women]
4. For the neck, you could go in for a range of chokers or maybe long plastic neckpieces, statement heavy necklaces or just the plain plastic colourful fanfare too- there would be many ways to make yourself happy and haute!
5. Most of us still prefer plastic dangling jewelry, which is why we want to present to you a couple of chic numbers that would make you want to buy them all and now! Here are some elegant styles and pretty designs to choose from.
[Also Read: The Guide To Diamond Ring Cuts]
Statement Pieces To Wear During The Festivals
With the festive season around the corner, it is time for you to stack up on many plastic accessories and fashion items, which is why we would like to show you statement pieces to fill your stash with.
1. Statement neckpieces
A gorgeous neckpiece for the evenings when out at a party.
Bold and interesting beaded floral patterns for the neck
[sc:mediad]
Fringe and plastic touches for the neck to wear at an event
An emulation of red and ruby crystals but made from plastic
Green and yellow splendid gorgeous touches for the neck
2. A Range of Shrink Plastic Jewelry
Quite a fishy touch with a golden plastic embossed fish neckpiece
Monochromatic shrink neckpieces for PYTs
Geometric lace Jewelry shrink plastic earrings
There are many more such ideas that come from plastic, which can be curated into styles pretty fashionable and nice. Do take a look at the social media posts online that teach you how to make your own gorgeous plastic numbers at home. Save your money and energy looking for that perfect plastic rings jewelry and statement pieces; make your own!