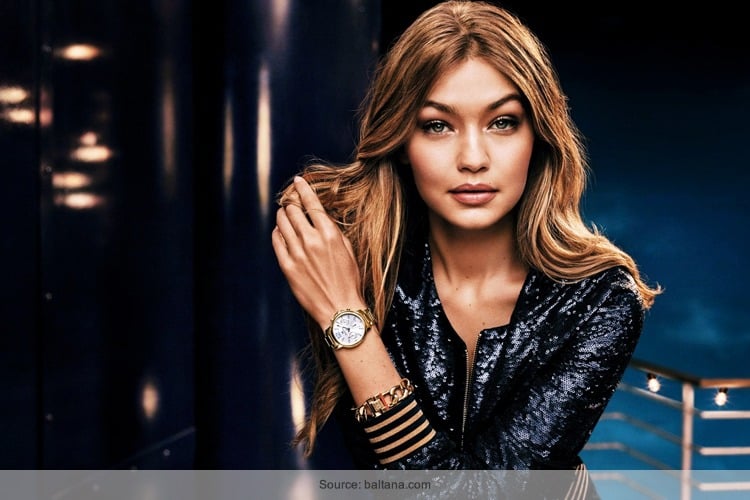 There is always something about a Californian beauty. She's strong, smart, bubbly, sassy and super sexy to name a few qualities, but she turns out to make a diva of herself without trying too hard as well. And one name that befits such a description would be the sweetheart of the American fashion clan, Gigi Hadid.
The world of glamour and modelling it seems cannot get enough of this raving beauty, and the sunny disposition this Californian babe churns out for the camera and the paparazzi.
The bonafide bombshell that she is, Gigi is known to be curvy and smart, and she knows how to carry herself in just about anything she wears. From midriff bares to the curve hugging ensembles and the sexy V necks that plunge dangerously low; here's Gigi Hadid style, we Indian PYTs can follow.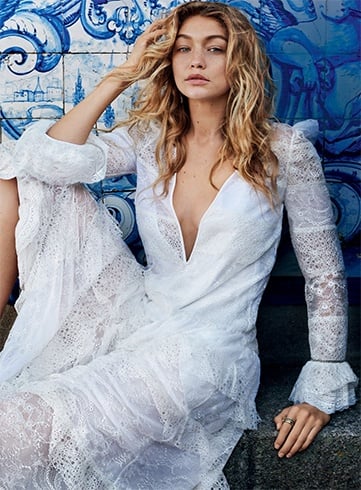 If you have it, you should flaunt it like Gigi Hadid style
We never knew transparent clothing could be worn so haute and sexily, just as we see it is a norm in Gigi Hadid style.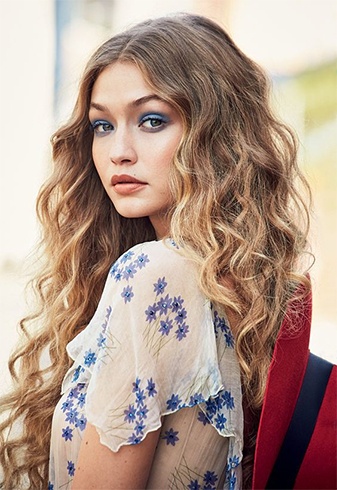 The many ways you could wear a bikini top and flaunt it to paint the town red would be like to wear it as Gigi Hadid does – a red cropped jacket on top of a red bikini top to set the mood ablaze.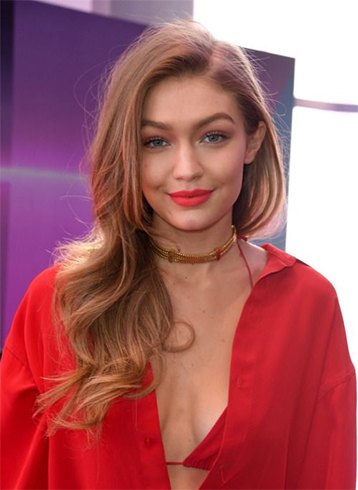 Chunky boots for the feet and a blazered structured long black skirt; who said corporate looks were boring? We love this look of the model, and the way she carries it too with monotone touches and oomph!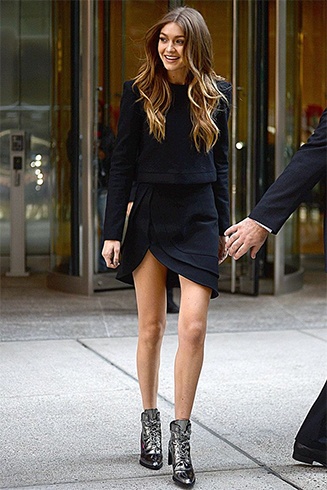 Minimalism once again but with a touch of all things glamorous. Accessories in place, sunshades so cool, a two piece denim emulated bikini suit for the beaches; we now know what to fire up the rave parties on Goa beaches with!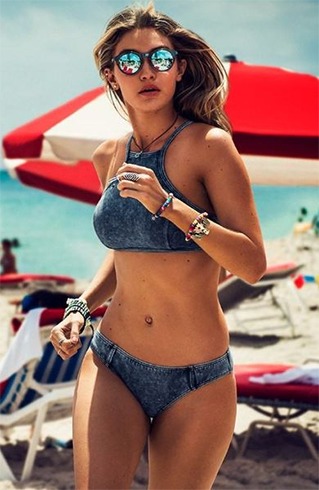 If you need a little more inspiration for a formal spring gathering and are wondering what to wear, here's a cue from the books of Gigi Hadid street style going all formal, elegant and chic at the same time.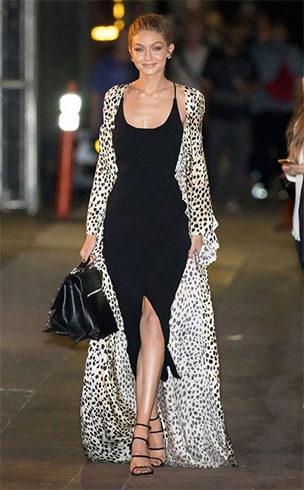 So how do you look super feminine and cool as Gigi Hadid when going out with the girls for a movie today? A cropped neutral hoodie top and a pair of black opaque pants with sneakers in white, of course!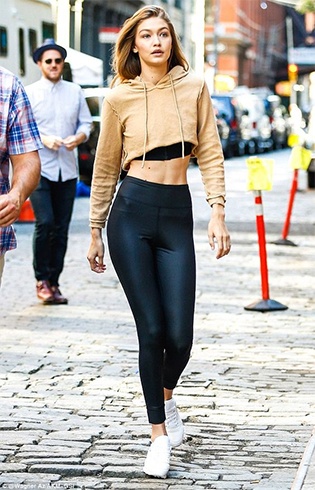 Have a fit body and want to flaunt it at the gym? Here's a style that's easy to emulate and fashion up with. Bands for the hands, and a sporty two piece black and red outfit!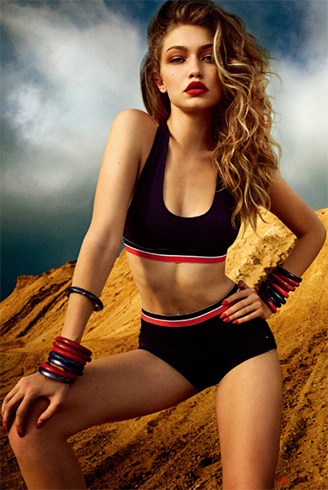 One more for the beaches, and this time it is Gigi wearing the halter two piece blue bikini to set the mood right and hot for the many onlookers around. Here's your inspiration for the spring parties on the beaches!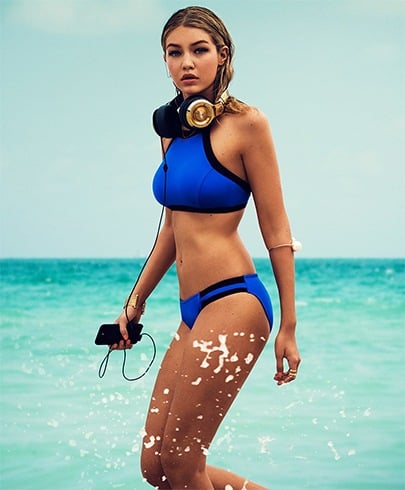 Quite boho chic is the Gigi Hadid fashion when it comes to street style, which is why while the nip in the air is unforgiving, we can make heads turn in an all-black two piece ensemble, coated in prints.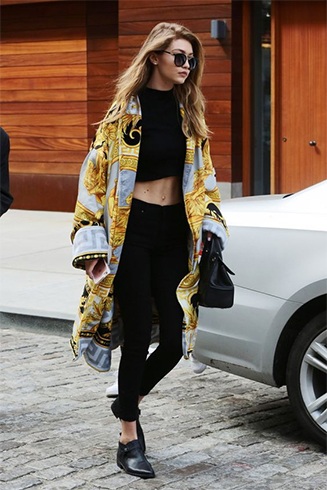 Stripes can make the fashion statement hit sky high, and when you have zig zag striped tops, pair them up with solid hued light pants and a pair of boots to dance the night out with your girls. One of the cutest Gigi Hadid outfits we girls can easily wear!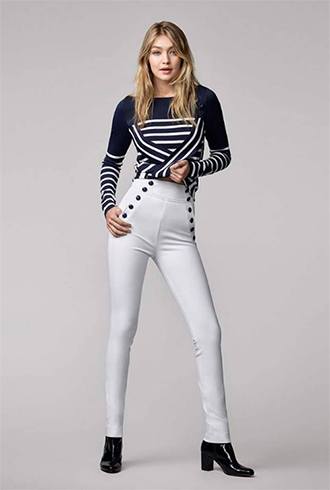 A little sneak a peek with skin show can do no harm, not if you wear the red ball dress as Gigi Hadid dress does and cover up with a faux fur coat. Haute and elegant for sure, all eyes would be on you for the entry you make at the parties.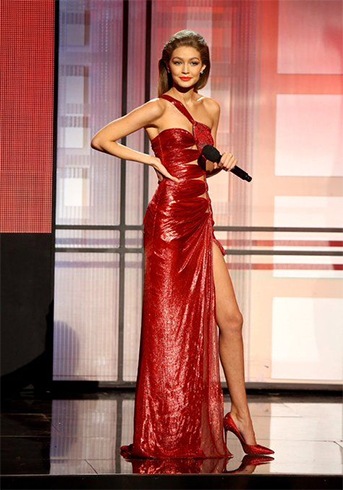 An oversized cardigan can be paired with a pair of skinnies for the bottom and a top in white above. Sneakers for the feet and a pair of shades complete the look.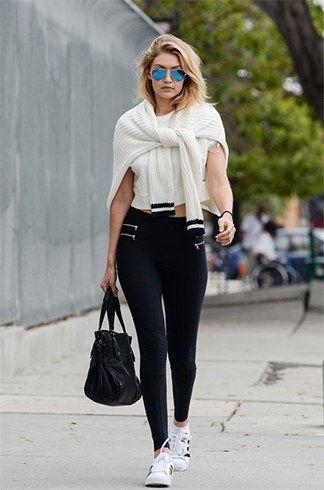 Monotone fashion at its best by Gigi Hadid model; black and white combos with a choker for company and black knee length boots can amp up the hotness factor in easy street style wear next year!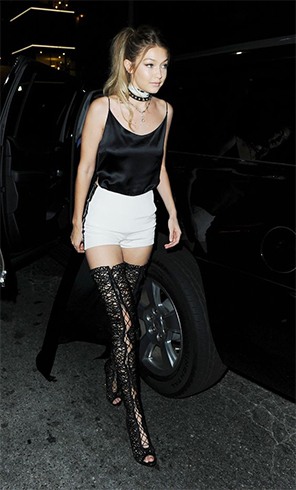 So we showed you the many fashion styles of Gigi Hadid, the model from California. From the Gigi Hadid runway, Gigi Hadid gallery, Gigi Hadid photoshoots and more, tell us which of them have inspired you a lot!
Images Source: pinterest