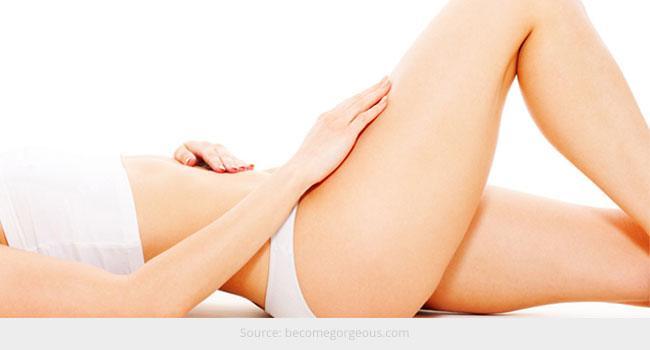 Are cellulite in your body affecting your beauty? Almost 85% of the women representing different ages and sizes suffer from this beauty issue. Cellulite occurs when free floating fat cells are deposited just beneath the skin. It usually develops in the areas of buttocks, thighs and legs. It has an appearance like that of the dimpled surface of an orange peel.
What causes cellulite? Unhealthy lifestyle, hormones and sometimes genetics play a major role in the formation of cellulite. But the good news is that, you can get rid of cellulite if you start working on it as soon as it appears. We recommend the following home treatment for cellulite.
The Dry Brushing (Most Recommended)
Body brushing to fight cellulite is one of the most recommended treatments. Dry brushing helps improve blood circulation and lymphatic drainage, and removes the dead cells from the upper layer of the skin, which leads to the reduction of cellulite. Make sure to choose a brush which is made up of natural fibers.
Firstly, both, the skin and the brush should be completely dry. Brush upwards from your feet to your shoulders and focus more on the cellulite areas. Brush from left to right, as it helps in more circulation of blood to your heart. Always do this before taking a shower and on a dry skin, for five minutes. And then take a bath to remove all the dead skin cells, and other toxins. You have to do this daily before taking bath for five minutes until it disappears.
Consuming Cayenne Pepper
Cayenne pepper helps in the elimination of toxins from the body, which results in the reduction of appearances of cellulite. It is a natural fat burning food which also heats the body to increase its blood circulation.
Add one teaspoon of cayenne pepper powder to one tablespoon of grated ginger, and a freshly squeezed lemon in a warm water. This is a cellulite detox. Drink it once or twice daily for a month or two to see visible change.
Homemade Coffee Scrub
Antioxidant rich, there are several awesome benefits of coffee for hair, skin and body, as much as it is considered as a fuel we take in to recharge ourselves. Coffee scrub is also proven to reduce cellulite in the body. Massaging coffee scrub will lead to the removal of the dead skin cells and various other harmful toxins. The caffeine of coffee tightens the skin.
[sc:mediad]
You will need: ¼ cup grounded coffee, 3 tablespoon sugar, and 2-3 tablespoons of coconut oil.
Mix it well to form a paste, then massage it 3-4 times a week with firm pressure. You will get the results within weeks.
The Use of Natural Moisturizers
Doctors always suggest the use of the natural moisturizers such as coconut oil, or other body oils.
Undergoing Body Detoxification Baths
Taking detox baths will help your skin get rid of dead skin cells and rejuvenate the body as well.
To prepare the bath, mix ¼ tsp ginger powder in a cup of hot water and let it completely dissolve. Then, prepare a warm bath and add 1/3 cup apple cider vinegar, 1/3 cup of pink Himalayan salt and 1/3 cup epsom salt, along with ginger powder mix. Allow the ingredients to dissolves for a minute and then dry brush your body. Now, soak yourself in the bath for about 20 minutes. This will detoxify your body!!
Apple Cider Vinegar
There are so many benefits and uses of apple cider vinegar, as the product consists of magnesium, calcium, minerals and potassium. Consumption of the vinegar also helps reduce weight and keeps the body rid of harmful toxins, water retention around stomach and thighs. It also reduces bloating and prevents fats from getting deposited.
Mix one part apple cider vinegar with one part of water and a tsp of honey, and rub it on the affected area.
Alternately, you can make a drink mixing two tablespoons of apple cider vinegar and one tablespoon honey and drink it twice a day and see the changes for yourself.
So these were some of the home remedies for Cellulite reduction. Hope this helps.