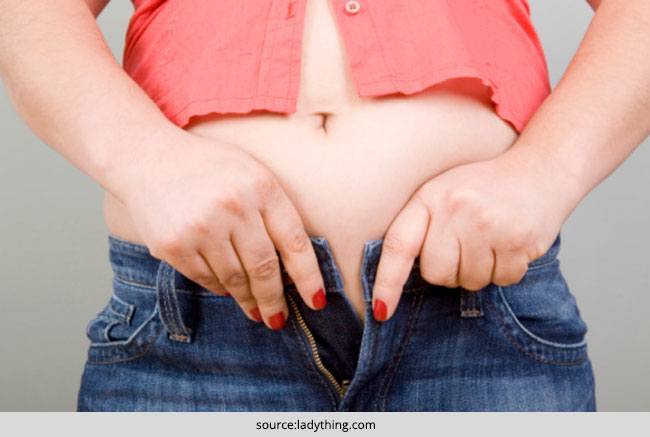 Have your sister's wedding up? Are you hoping to be under the spotlight by being the pretty bridesmaid who hangs around the bride and runs around for her to help her get what she needs?
And you have also bought a pretty designer lehenga that is such an awesome fit for you. You also have all your jewellery ready to match the outfit for the wedding and all other series of functions before and after the wedding. Sounds so much fun, right?
But how many of you realize that wedding time would also mean binge eating, relatives forcing you to have sweets, munching on snacks to finish any wedding chores on the street with road-side food, and so on. Yes! That's what we are getting at.. Chances of you putting on weight on your waist-line.
Hemce, we have this article posted just for you on how to avoid stomach bloating. These will not only help you stay away from bloating but will also be useful as flat belly tips.
Let's read!
We are not talking about any weight gain following your munching's on oily and spicy snacks a day before the wedding, but the temporary abdominal inflation that has occurred due to formation of gas. While many believe that bloating occurs from fluid accumulation, it is actually caused due to gas, unless you're suffering from heart or liver diseases.
[Also Read: How to Lose Belly Fat]
How to avoid stomach bloating? Here are some useful tips to consider!
1. Mix lemon to your water
While many believe lemon can lead to acidity, it is actually a natural diuretic. If you are having a bloating problem, you should not only increase your liquid intake, but try adding lemon to your water. Lemons when added to warm water can help reduce the salt retained in the body. However, be warned not to use straw for drinking as you may consume air along-with and this will only boost the bloating.
[sc:mediad]
You could try different refreshing and detoxifying drinks to cleanse your body too. Try to drink lukewarm water mixed with few drops of lemon 20 minutes prior to your meals. This will help you cut off the oily and spicy ingredients from your diet, giving you a good digestion.
2. Avoid caffeine
Here is a major culprit to your stomach bloating. Whether there is a wedding in your house or you are simply struck at your workplace, work load stress just drives us crazy, whilst making us crave for tea or coffee that is nothing but loaded with caffeine. There are plenty of reasons why you must stay away from caffeine. These are honestly not good for anyone. However, you can switch to decaf for a healthy you. You can also try different types of herbal teas to keep your system fit and your belly flattened.
[ Also Read: Food Poisoning Symptoms]
3. Sodium consumption should be brought to check
Now this may come us a surprising revelation, but it's true that too much sodium intake causes stomach bloating.
Sodium, which we usually consume through salt, should not exceed more that 1500 mg per day for adults. You must know how to limit the sodium in your diet.
So, it's better to avoid salty snacks and foods that are loaded with salt. Also try to keep sea foods to minimal. Also, try not to add extra salt to your salad, but try substituting it with pepper or fresh herbs to spice up our salad.
4. Increase potassium content in your diet
In order to avoid bloating, you can add more bananas to your fruit salad. The potassium content present in banana helps in maintaining fluid balance in your body, thereby eliminating bloating. Bananas are not only good for your body, but bananas for hair and skin can be great too.
If you are serious about having a great body, then you need to consume the right mix of carbohydrates, fats, proteins, water, salts, vitamins, and both soluble & insoluble fibers. Apart, from following these flat belly foods and tips, you also need to do some exercises. Also, doing some abdominal workouts at home will also help you keep all that stomach bloating away.
[Also Read: How To Get Rid Of Abdominal Pain]
Hope this post on how to avoid stomach bloating helps you in staying fit!