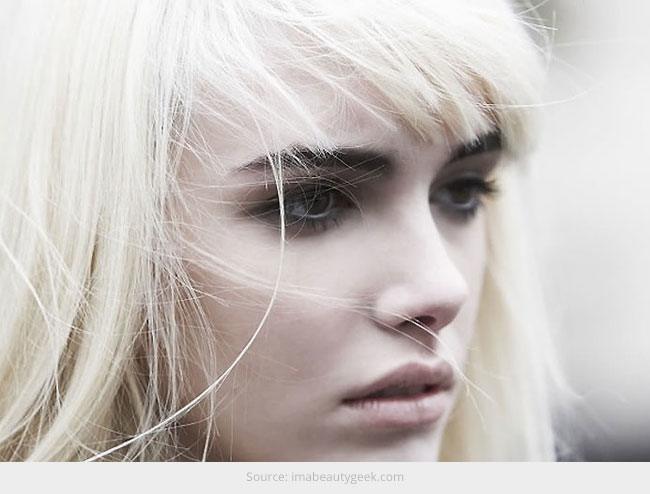 Graying is one of the worst nightmares for any beauty conscious woman. And when grey hair start appearing on the brows, it gets even more worse. But with so many tips available, we can now easily conceal our beauty flaws just as grey hair on our heads. While hair coloring is quite easy, eyebrows can be a challenge because of the limited space. So if you are wondering how to color white hair on eyebrows then you are at the right place. Do have a read!
Before we go through the techniques in coloring eyebrow grey hair, let's first find out the possible reasons for white hair in eyebrows –
Pigment imbalance
The melanin pigment renders black color to the hair. And when the balance between the chemicals present in the pigment gets altered, the brows tend to grow white hairs.
Aging
This is one of the major reasons for graying. Sometimes hormonal imbalance starts the aging process early and thus leading to appearance of white hairs.
Hormonal imbalance
Certain hormonal factors lead to white hair in eyebrows and it can be cured by getting into medication.
Poor diet
Unhealthy diet especially oily food and lack of proper nutrients also encourage white hairs. The more you consume processed food, the more likely is the appearance of white hairs.
Malnutrition
Skipping meals and not including essential nutrients in the diet often lead to malnutrition that causes several health problems and beauty ailments such as graying of hair.
[sc:mediad]
Smoking
Research has shown that people who smoke are prone to white hairs than non smokers. So, if you want younger brows then quit smoking immediately.
Autoimmune disorders
Those suffering from autoimmune disorders such as albinism, vitiligo, and pernicious anemia are also prone to white hairs everywhere in the body.
How to prevent white hair in eyebrows
Castor oil
Apply and massage castor oil/oilve oil on eyebrows twice a day. It also helps in faster growth of eyebrows.
Balanced diet
Always follow a well-balanced diet and avoid oily and spicy foods.
Plucking
Stop plucking white hairs as the roots of these grey hairs leave behind serum that gets in contact with other hairs, thus leading to new white hairs.
Vitamin B12
Add foods enriched with Vitamin B12 to your daily diet, as Vitamin B12 helps in preventing the premature graying of brows
How to color white hair in eyebrows
Use eyebrow pencil or powder
These days you'll get an array of brow pencils and powders. You can also go for a liquid brow pen and start slowly covering up all the white hairs. You can also use a dark eye shadow to cover them up.
Hair dye
When you dye your hair, use a thin brush and try to cover up the grey hair in brows with the same dye, and leave it to dry and rinse it off while you wash your hair.
Those were a few tricks on how to color white hair on eyebrows. Also do not forget to follow the remedies, especially the diet part which is highly essential to prevent premature graying.