Slay This Winter Like Our Bollywood Celebrities
December is here already. And though we want to do nothing but laze about under our blanket the entire day, life isn't that easy. We need to respond to that irritating alarm that goes off every morning and go about life – shivering. What's worse? The layers of heavy garments we throw on to keep safe from the chill. Now that is something we can't compromise on. But what we could do instead is add that extra bit of spice in our winter wardrobe to keep us going through the chill. Layer it up, like the stars – because the stars get cold too.
[sc:mediad]
Layers can get cumbersome, and unglamorous, but not if you do it the way Rihanna, Blake Lively, Miranda Kerr and Kareena Kapoor are doing it. With multiple layers on the top, a cute scarf around the neck can work as a great accessory – of course it protects you from catching a cold too. How about a beanie to protect your head, and ears. Oh, ears get too cold this time of the year – nothing can replace a beanie. Whoever told you winters can only be fought with colors like grey and black and brown – fire them today. Because colors are fun, no matter what.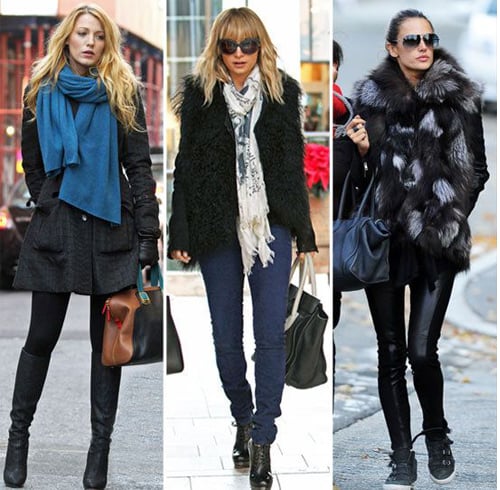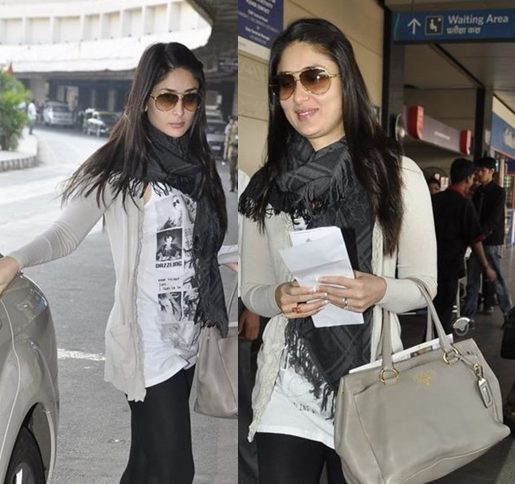 Choices In Jackets
Jackets are a must in every wardrobe this season. I have a staple one that I wear to work, or when I go to get my groceries and would have loved to sleep in if I could. But that's because I have broken in it and I am too lazy to break in a different one. Our celebs, however, love to experiment with various choices when it comes to jackets. The one extending till their feet, the others to their waist – at times a crop jacket could be fun too.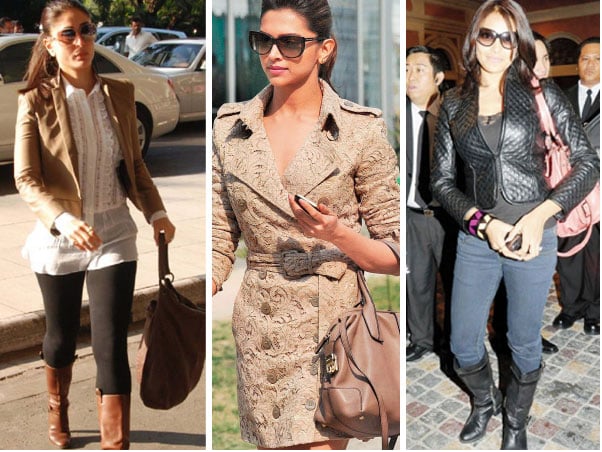 Reintroducing Denims Every Year
Denims accompany us throughout the year, but their appeal is a little stronger when winter hits the nose. Denim jackets would never get old. Every year we store them in a trunk, a trip around the sun and 'hey' we say to the good old denim. Even the likes of Deepika Padukone, Priyanka Chopra and Sonam Kapoor couldn't resist the charm of the good old denim.
Ugly Woolens No More
Christmas sweaters have always been famous for being the ugliest things mankind has seen. But then there are these angels who make even the ugliest of woolens sexy and stylish. The self-design sweater of Deepika Padukone looks cozy like a dream and who is not loving the little Peter Pan collar on that girl. An average grey woolen wouldn't look that great, but Anushka knows how to work it anyway. But hands down, the awards for the cutest woolen ever goes to Alia Bhatt.. errr or.. Kareena Kapoor? Well, you decide – we are good with either and both.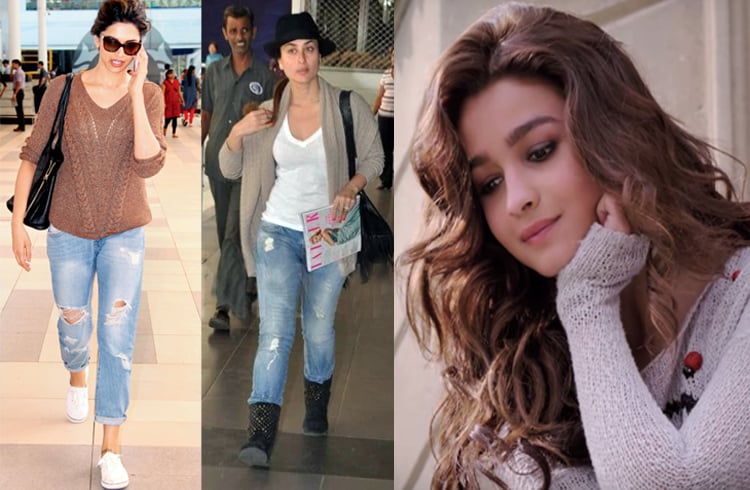 Leathers – Real Or Faux
Leathers make a huge comeback during this time. And though I am not the biggest fan of leather and fur on a personal level, I do love me some faux leather and fur – simply because no animals were killed in the making of them. The look one attains by flashing some high-end leather is irreplaceable, and Bollywood knows it well. Though Katrina Kaif and Shraddha Kapoor prefer their leather in black, Aishwarya Rai Bachchan picked a jacket in tan for the movie Jazbaa and we are still feeling it.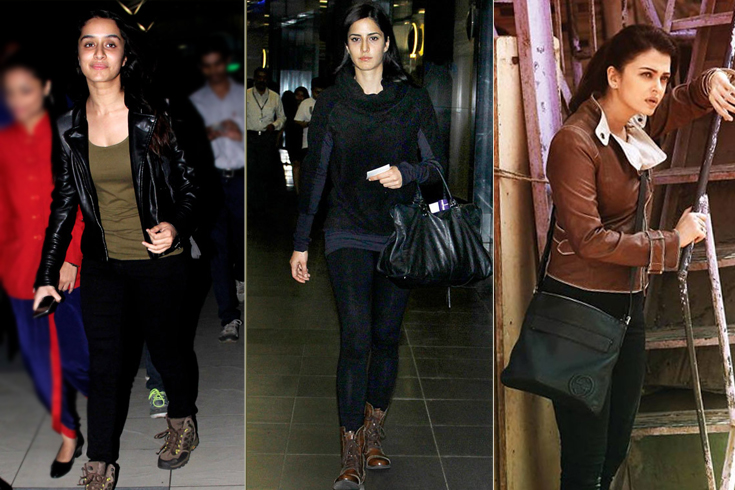 Big Bad Boots
Because winter fashion is not complete without boots, or maybe because we love our feet just too much. The point to be noted here is that we all share a common love for boots. The geography we inhibit doesn't allow us much room for sporting the boot but we can sure wear a couple of these big bad boys during the last quarter. Well, all our favorite girls are doing it. The Begum sure has a closet full of boots and we can't even. Neha Dhupia completes her look with a scarf and solid knee high boots, must have been too cold out there. And though I hate to refer to Deepika every time I talk style, but I can't help it, the girl is the best at it. Just look at those fringes, just look at them.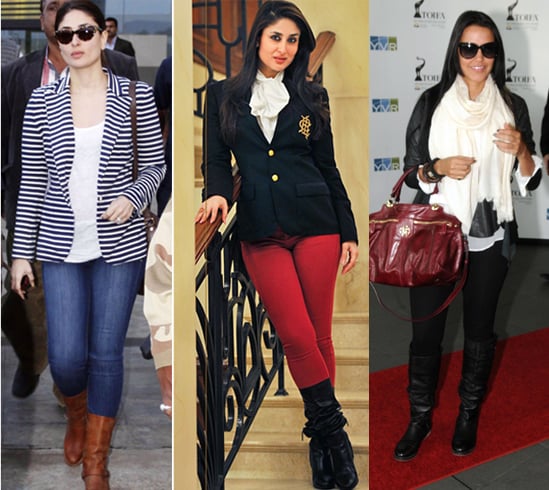 So, to round up the celeb winter style – layering with woolens and leather, accessorizing with a scarf and completing with heavy knee high boots – it is. Here are a few mind-blowing pics for your winter inspiration.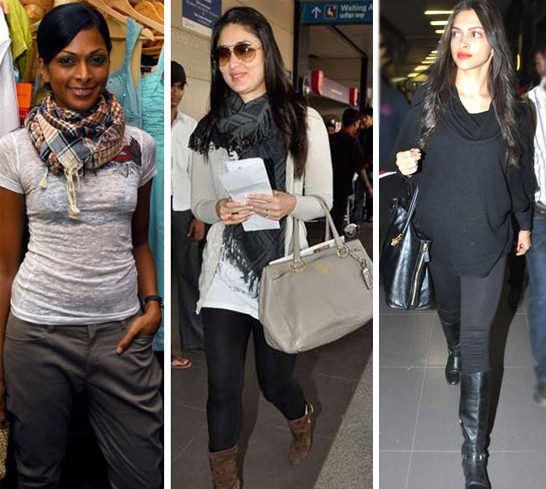 Images Source:instagram.com