Through her ground breaking performance in Quantico, the leading lady of the show has garnered quite some popularity across borders. Crossing the ocean and finding success in a land not very welcoming of Indians was certainly not a cakewalk for the former Miss World, but with her beauty and talent she has silenced the prejudices and secured herself a much secured ground.
Priyanka Chopra – The Miss World
Modelling, as she expresses in many events, happened to her in a fluke. Her mother and brother stealthily sent her regular pictures to the Miss India organizers, and she got selected, leaving the professional models with professionally designed port folios behind. Following the win at Miss India, bringing the crown of Miss World home in the year 2000, as she states, wasn't a big deal at all.
[Also Read: Times When Priyanka Chopra Killed, Killed Ruthlessly]
Priyanka Chopra's Style Evolution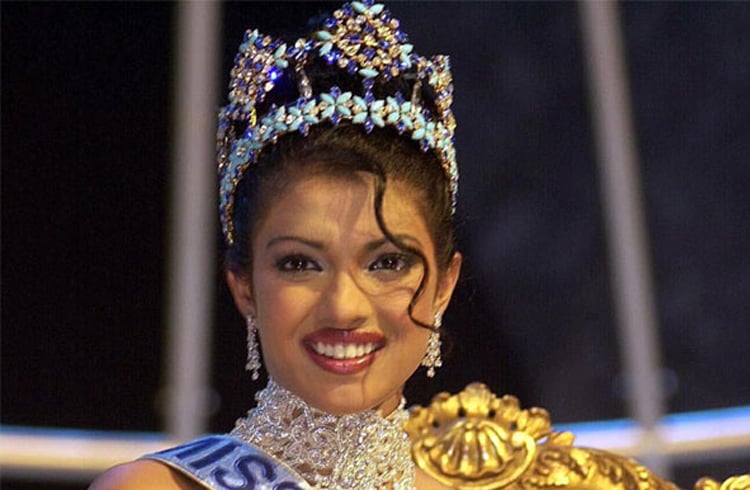 Early Modelling Stages
Though we were a little suspicious of her claims, that modelling happened to her by chance, we trust her when we look at the pictures of her early days. The astute sense of style that she flaunts at the most prestigious venues now, was the farthest thing from young PeeCee. I think it is safe to say, after looking at these pictures, that an average girl posts better selfies on Instagram today with a better understanding of lighting and pose. But Priyanka was up for greater things in life and she worked hard with unmatched perseverance to scale the heights she has covered now.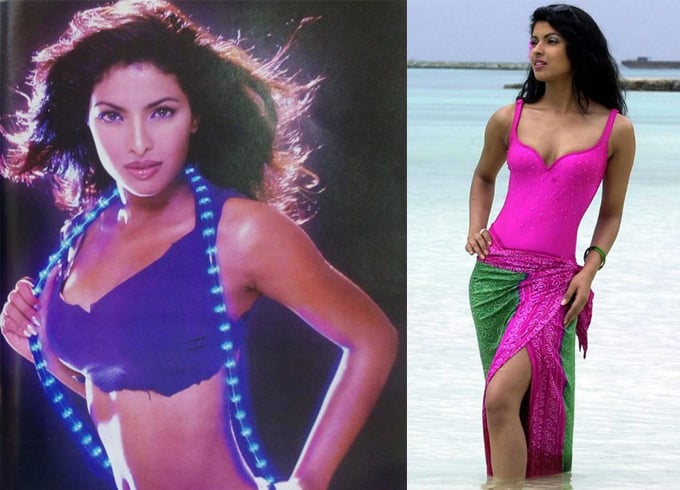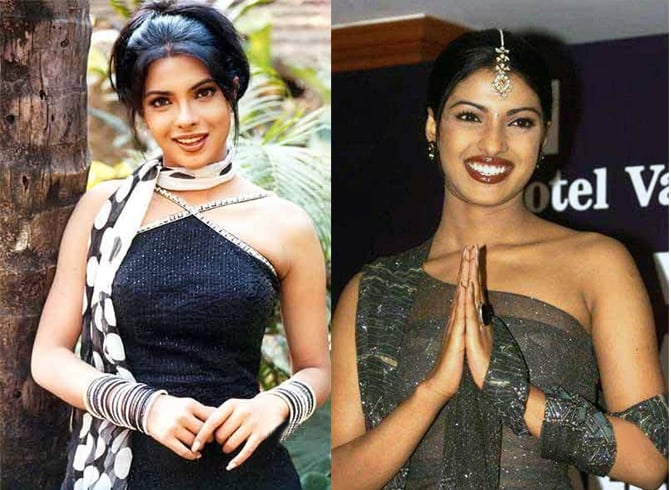 Talks On Priyanka Chopra's Plastic Surgery
Over the years there have been much speculations about the actress's changing looks and the reasons behind it. Some have been vocal about their accusations that Priyanka Chopra has resorted to Plastic surgery, perhaps for than once. Now the star has never confirmed an injection or a knife, a little nip and tuck here and there, but we leave you with the final decision. Do look at these comparisons in 'before' and 'after' pics and settle yourself on the possibilities of a cosmetic surgery.
The Long List Of Priyanka Chopra's Filmography
Priyanka has been a part of over 60 Indian movies and that alone leaves a number of big names in Hollywood behind. She started off with movies that appealed to audience of commercial movies or in Bollywood terms the 'Masala Movies' like Andaz, Kismat, Bluff Master and Don that gave a face to Priyanka Chopra's fashion but didn't do much for her talent. Thankfully, it wasn't too long before movies like Fashion fell into her kitty giving her ample opportunities to display her acting skills on the screen rather being the pretty heroine dancing to the male lead's tunes. Priyanka's looks also picked up intensity and intriguing charm in the latter half of her career. Her retro look in Gunday, historical look in Bajirao-Mastan and a very dramatic and ethereal appearance in Ram-Leela testifies her improved and applaud worthy sense of style.
[Also Read: Priyanka Chopra Hairstyles]
Priyanka Chopra On Bollywood Red Carpet
The Mary Kom star frequents star studded events globally and have taken her red carpet game several notches up in the last few years. She loves herself a good Indian saree while gracing the eventful occasion of Filmfare, IIFA, Stardust and numerous other award nights held in the honor of the achievers in Bollywood. Though the six yards of Indian Tradition stays her favorite option, she has also experimented with gowns in a few Bollywood celebrations.
[sc:mediad]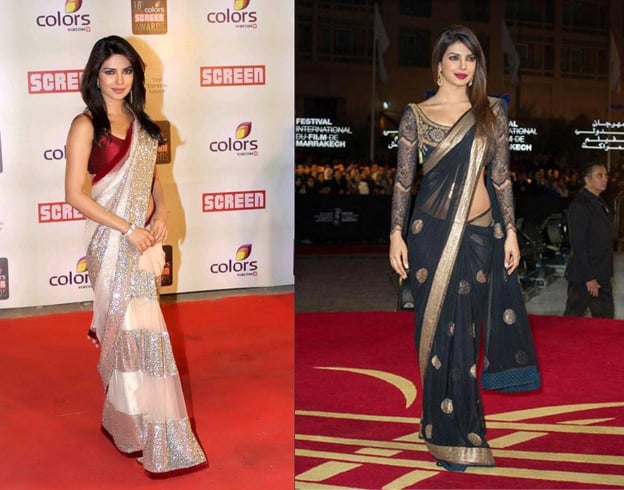 Priyanka Chopra On Hollywood Red Carpet
She has transformed into a something unreal and illusionary since moving to Hollywood. At least her looks at the red carpet confirm the same. She was glorious at the Oscars and carried the magnificence to the People's Choice Awards and the Emmys'. It was not a co-incidence that she ranked high on the best dressed list of every fashion magazine across the globe.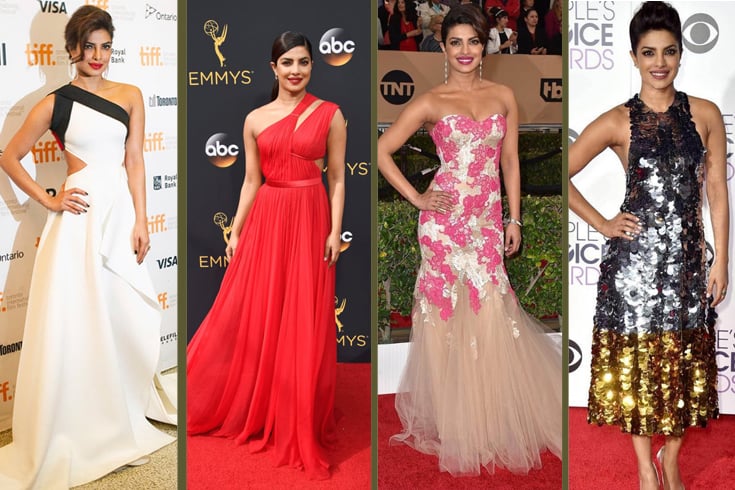 Priyanka's Looks In Quantico
'Daddy's little Girl' isn't a little girl anymore and her looks in the successful Hollywood series Quantico is a testimony of the same. She has been slaying every single episode mercilessly and we get why. She looks hot as hell in leather jackets and one can't even describe her when she emerges out of water in a swimsuit.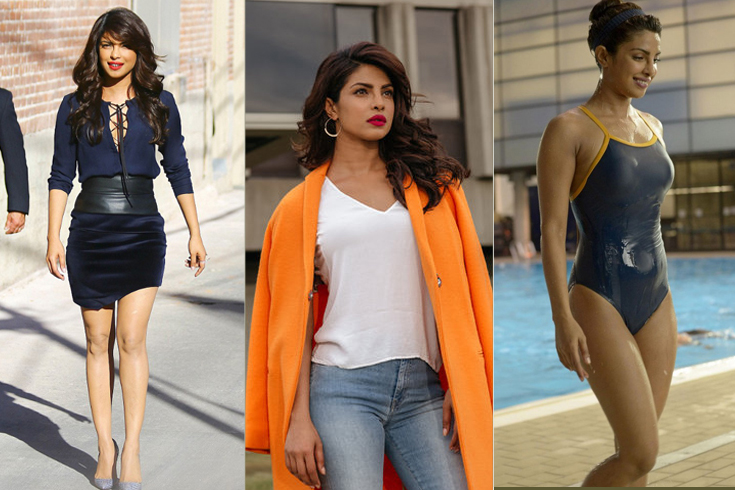 Airport Style
And yet, despite all designers ready to dress her up, she prefers it keeping simple, like you and me, when on the go. Her airport style would comprise comfy denims or printed leggings and a scarf to keep her warm. Basic, isn't it?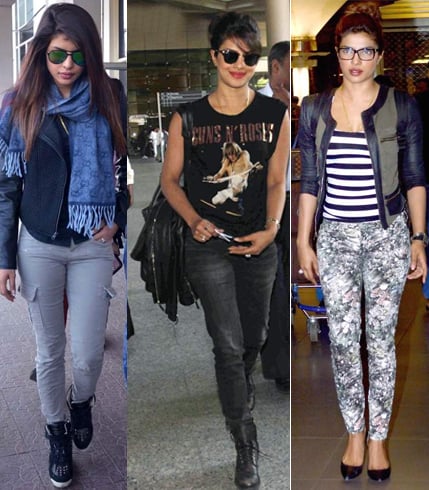 Images Source: pinterest.com