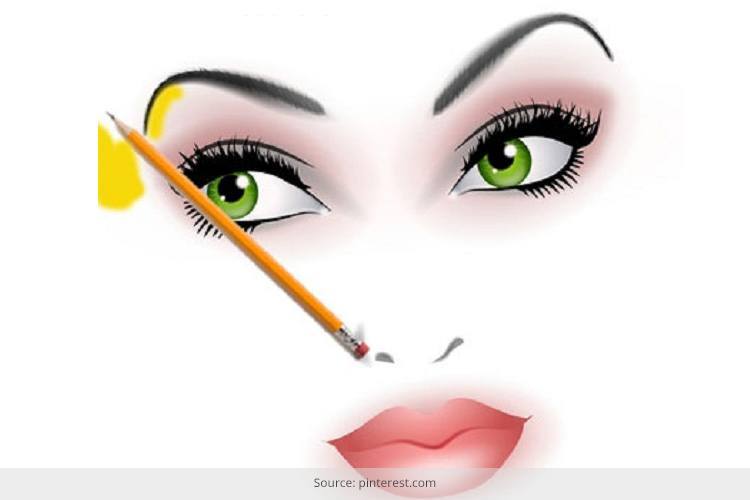 When it comes to make-up, eyes and their surrounding areas are the foremost things to be considered. A face isn't finished until the eyes and the brows are done. Just care pampering your brows before stepping out, you won't need regular touch-up for your face.
The first and the foremost thing is to get the right shape for your face. These days, you can easily various eyebrow kits such as the Revlon Eyebrow Kit which helps you easily obtain your desired brow shape. The Revlon Brow Specialist Kit will cost you  Rs. 1395.
Follow our tutorial to master the art of getting iconic eyebrows.
Tip: The key to getting the correct brow arch is to use the features of your face as a guide.
Step 1
Create a straight line from your nostril to the inner edge of the eye by using a brush or brow pencil. By doing this, you'll determine the corner-most point of the brow.
Step 2
Now keep one of the brush near your nostril as shown in the image and create a mark at the outer edge of the eye which will be your end point.
Step 3
Now same way measure the distance from the nose to the pupil. This will locate the high point of your arch.  Repeat the same with the other eye. Now you've all your major points defined on your brows.
[sc:mediad]
Step 4
Now from the brow kit, choose a stencil which best fits your natural shape. Place the stencil in such a way that the line at the top of the marking should be parallel to the ground. Now apply brow wax inside the stencil to enable easy sticking on the brow.
Step 5
Now use brow powder or pencil to fill in the space in the stencil placed over your brow. Start with short strokes to get natural hair-like look.
Step 6
Now remove the stencil and finish off the entire brow freehand. Clean up the edges and adjust both the edges to ensure your brow looks symmetrical.
From the above image you can now compare the one with make-up and the other ungroomed look.
Voila!! Iconic eyebrows every time!