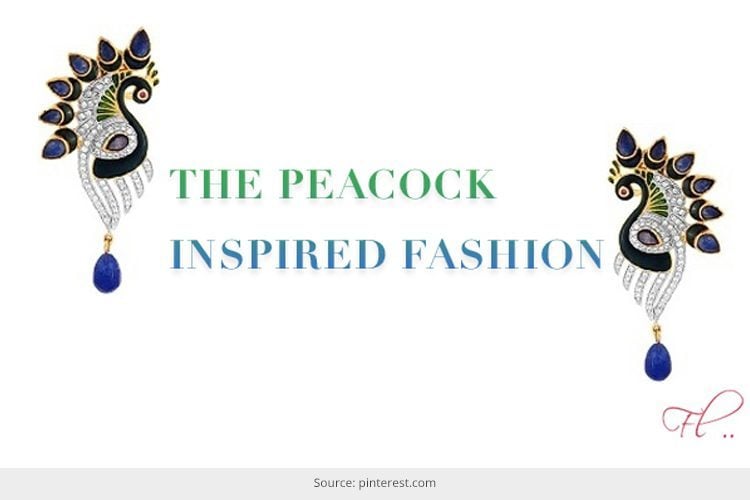 Peacock, our exotically embellished National Bird has spruced up its way from timberlands and esplanades to the most aesthetic elements of the world of fashion domain. The peacock inspired fashion is quite a rage these days, witnessed on sarees, fabrics, jewelries, hair accessories and many more that you might not have thought for.
The last time I had closely encountered a peacock was one of my childhood summers in Odisha, when my allure as a kid for these beautiful birds preening in our backyard, was crassly cut down by the terrible fuss they were making. Even though these birds have terrible voice, they are blessed with the nature's most vibrant beauty.
Fashion designers have always huge been highly inspired by their beauty and have never hesitated to steal their patterns to create their own line of refurbished designs seen on fabrics, dresses, sarees, earrings and neck-pieces.
More recently, it was Alexander McQueen's dress which was designed in 2008, which took my breath away. The dress showcased two regal peacocks which were sprucing up from the off-shoulder bodice covering the entire length of a 50s-inspired full skirt,a adorned in a gush of black feathers unlike blue, turquoise, and green, which are commonplace.
The zenith of the black appliqué lace work encounters delightfully with the ornamental patters. This gown last worn by Sarah Jessica Parker and now it hangs on the body of a mannequin at a London-based museum.
You would be surprised to know that the peacock motif had already become an integral part of fashion designers even before the term 'fashion designer' was coined. Native to India, this particular motif dates back to Mohenjodaro era. Crafted in shawls way back in Indian history, it finally danced its way from South India to north to Kashmir in an array of avatars.
The motif crafted on Banarasi brocade are extremely beautiful and graceful, intimidating and humble as well when they are displayed on a cotton patka sash in Jaipur during 18th century.
I particularly love how the element of the peacock fashion seeps effortlessly into the character of its fabric; being regal on silk and graceful on cotton on the other hand.
The phrase, 'proud as a peacock' rings true because of the above stated reasons.
Even though this motif is commonly found everywhere from block printed kurtas in Rajasthan to Paithani sarees in Maharashtra, there was a time when such motifs were purely reserved for the royals.  The peacock  designs were seen in Mughal's turban embellishments and gorgeous earrings, which boasted their pride and luxury.
This design was everywhere from elegantly-jewel-encrusted miniature paintings to the famously coveted Peacock Throne.
[sc:mediad]
Apart from Indian form, another ancient form of peacock fashion is seen on vintage Japanese silk kimonos. On the kimono, the peacock is quite composed and sharply exquisite, with rich hues coming alive on silk.
In 1903, Lady Curzon Durbar had worn the Peacock Dress at court, designed by The House of Worth. This peacock designed dress has a long lavish story. It was stitched on gold cloth and embroidered with peacock feathers encrusted with an emerald on each eye.
The dress was so attractive that the entire court was left dumbstruck as she passed by. Like other dresses I lust for, this one is also the one, which is now preserved in a museum.
In those days, lavishly crafted hair accessories with real peacock feathers were used to embellish short attractive bobs. The vintage reproductions of such motifs are back once again and with the recent release of The Great Gatsby, the Art Nouveau style is eyed upon by the fashionista worldwide.
Be it a creation of Alexander McQueen or shoes by Christain Louboutin, the motif has just transformed from being more than a decorative piece to a cultural element.  Louboutin's Bollywood-style suede pumps are an ode to everything street kitsch to Bollywood fashion. Even Oscar de la Renta also uses these designs to beautify his creations.
I am still waiting for the day when India's oldest fashion form exports a new lease of peacock-inspired life in contemporary trends.
Hope you enjoyed the post!