An Indian festival is virtually incomplete without celebrations. And one of the most novel ways to ring in a festive look at home, office and other interaction spaces is by drawing rangoli patterns. Do you know how to make a rangoli? A bit of creativity and practice is all that's required to learn how to make rangoli designs. So let's start acquainting ourselves with rangoli now before the festival lands up at our door.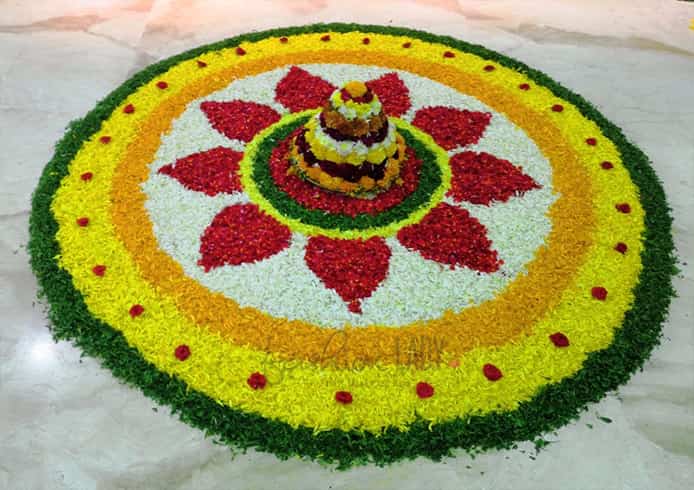 Background Of Rangoli:
For information and curiosity lovers, rangoli is also known as Kolam or Muggu in the southern part of India. It is a folk-art form which shows celebration of colors. And the diversity, complexity and uniqueness is no less.
How to make rangoli gathers momentum during Diwali and Onam festivals when boring floors are decorated with colourful patterns in the courtyard or in/near the living rooms. The materials used for Rangoli-making are not one but many. Colorful flower petals, colored sand, rice, and flour are used to dress up the floors with festive spirit.
Does the rangoli art have any cultural connection? Yes, apart from depicting the culture, tradition and folklore, rangoli-making is believed to bring in good luck.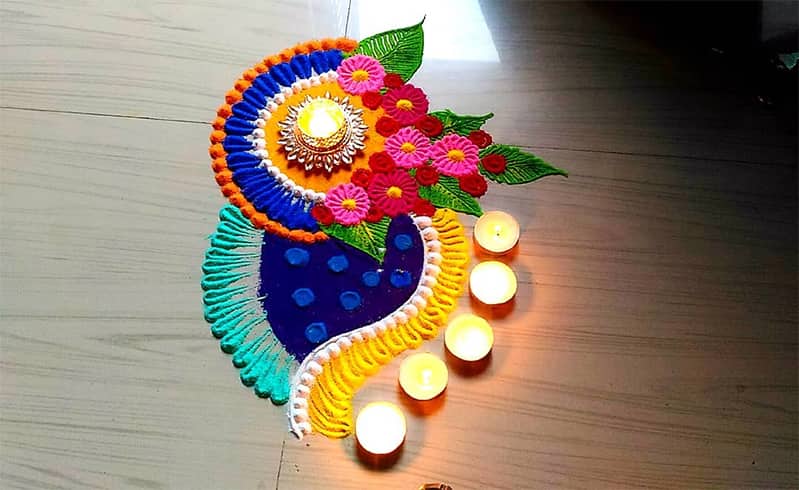 Variety Speaks In Rangoli:
There are different types of rangoli – from simple looking geometric designs to religious deity patterns to abstract art.
The flower rangoli and petal shapes add a welcoming touch to a rangoli-pattern. What about the color? Usually white is used in rangoli, but it is also dyed in different colors to make it look multi-colored. The base material is kept dry, even wet rice flour is used to which colors are further added through colored sand and colored flowers to give rangoli a 'colorscope' effect.
Is there any change in rangoli designs of north and south India? Yes. The rangoli of Northern India stands out for the 'square' grid rangoli, whereas the rangoli of south India has a 'hexagonal' grid pattern.
Readymade rangoli stencils are widely used these days to make rangoli designs. Of course, rangoli can also be made in freehand pattern.
How many of us know that rangoli is also made on walls? This happens in Rajasthan where the art is called 'Mandana'.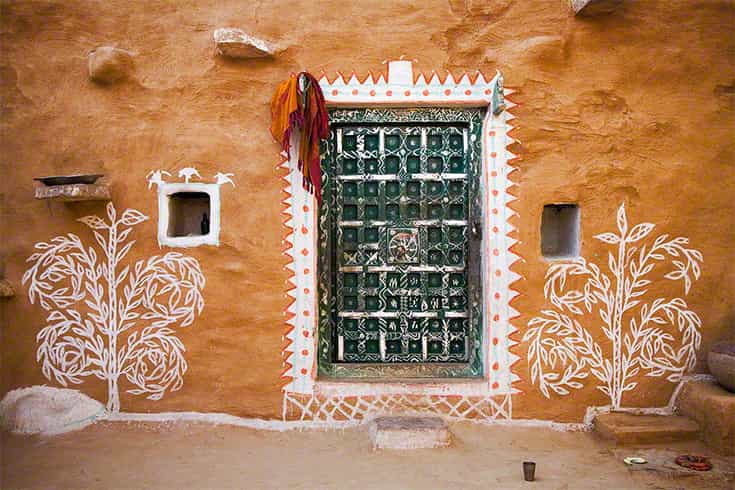 The Making Of Rangoli Designs:
Now that you are kicked with the concept of rangoli, let us find out How to Make easy rangoli. You will love the DIY technique. Try it out!
1. Doing Rangoli For Diwali:
Now this is simple rangoli designs which is easy to make. With the diyas around the floral pattern, the festival of Diwali will surely be lovely and memorable.
Steps Involved:
Take a big plate, preferably gold-plated.
Start making a floral pattern on the plate by putting red-colored sand on it in the middle in the form of a circle.
Now make the border/outline of five leaves using green sand. Each leaf should touch the red sand circle.
Fill the inside of each leaf with yellow sand in a complete fashion. Make sure that each leaf is touching the red middle part.
Noticed how this adds up to the glowing effect of diyas on the plate.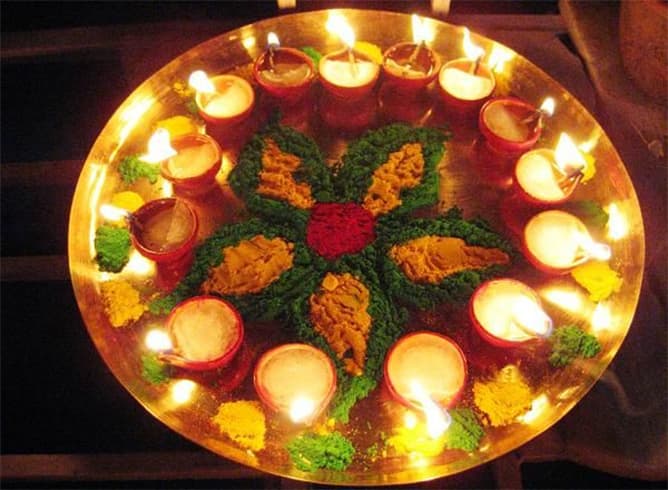 2. Diwali Rangoli In Geometrical Shapes:
This design shows different types of rangoli. Four colors are used – dark blue, paisley blue, magenta and white.
Steps Involved:
The essence of this rangoli design is drawing of three geometrical shapes.
Start by drawing a horizontal line on the floor and then make a half circle on it with white outlined dots.
A diya stand with its three flames done in white should be made to jutt out of the half circle.
Now make a triangle border around the half circle and the diya flames and fill it with dark blue color. You now get two shades of blue – dark blue and paisley blue.
Then make a circle which should rest on the tip of the triangle with the inside of it filled in magenta.
Make a white loop-like pattern around the circle with pointing ends.
The last geometrical pattern is a paisley-like motif which should evolve from the circle.
As for the final touches, use white dust in different patterns to give boundary effect to the triangle, circle and paisley.
This rangoli pattern is intricate, yet beautiful and attention-seeking.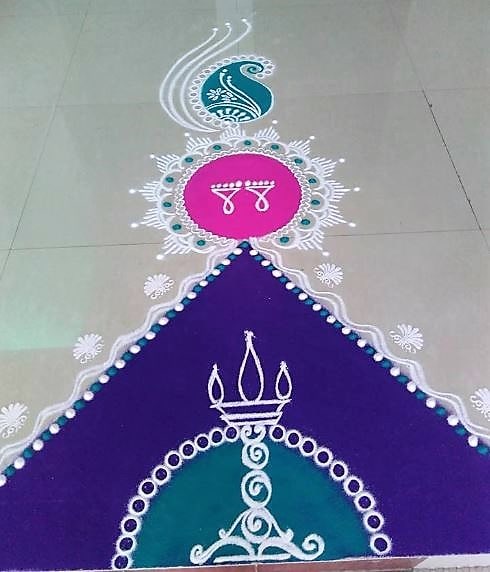 3. Innovative Diya Rangoli:
This New rangoli designs brings you rangoli in colourful glitter. The pattern, as you can see, looks like a diya. Let's see how this innovation can be made.
Steps Involved:
Create a master outline of a diya – starting from the body to the flame.
Now fill in the colors – yellow, orange, dark blue, magenta, green in a stepwise fashion. And how?
First make the outline of dark blue caving in to the inside of the diya.
Then create a magenta space in the blue.
Fill in the dark blue and magenta space slots with the respective colors.
It is time to do green. Start sprinkling the green powder along the dark blue border line.
Now leave an empty space and start making the boundary of the diya with magenta.
Saw the blank space with edgy points making an outline? It adds such a wonderful twist to the diya pattern.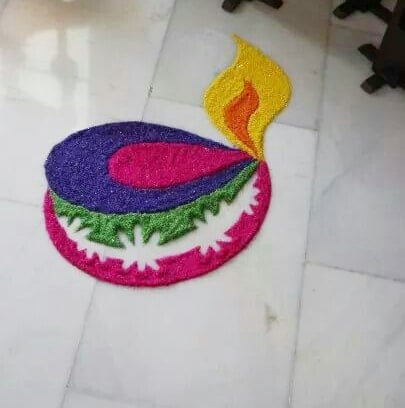 4. Rangoli With Diyas And Flowers:
The most wonderful thing about Deepavali is the use of diyas and lights (going eco-friendly is a better option and safe). However, rangoli can take the festive spirit one step ahead when made using flowers and diyas. Here's how to go about making flower rangoli design:
Steps Involved:
Arrange for marigold flowers and diyas.
Make a huge circle first. And then a circle within a circle using stencils.
Within the inside circle, create booti-like patterns. Also make an interconnecting line between the bootis.
Put marigold flowers right in the center of the design.
Now make similar bootis outside of the innermost circle.
Fill in the colors – red, pink, yellow, blue, orange, green.
Don't forget to put small diyas at the tip of the big-sized motifs.
When you do the color fill, you will realise your skill and talent in make rangoli designs.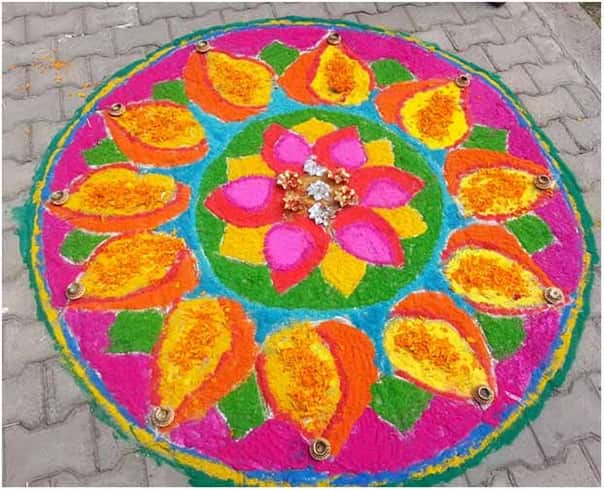 5. Abstract Floral Rangoli:
Never knew make rangoli designs can be so classic, traditional and timeless. This design is all about making circles by using red, yellow, blue and indigo colors with a touch of red flowers and green leaves.
Steps Involved:
Make three boundaries in the form of a circle.
Fill in the outer boundary with two shades of blue (dark and light).
Then make twisted V pattern in such a way that it fills the outer line of the circle.
Now make a yellow border line and start filling the space with red color in an intricate way, twisting and turning the red so that you can see white relief in the pattern.
As you reach the center of the circle, put flowers and leaves in the center of the rangoli design and there you are with a truly breath-taking design.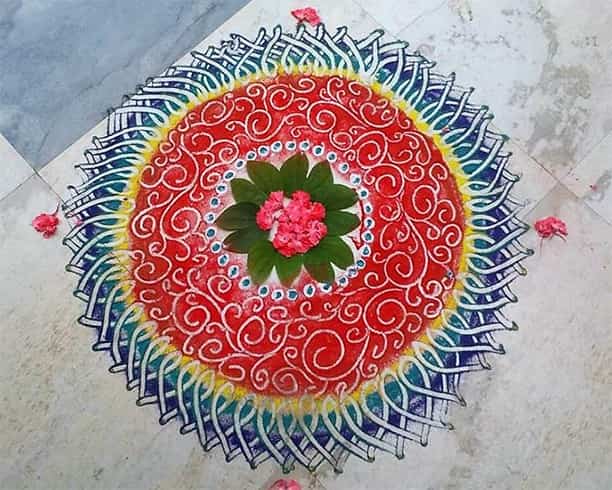 6. Paan-shaped Rangoli Design With Ganpati:
Invoking Lord Ganesha can be done any time of the year. And, if it is done on a festival such as Diwali and Ganesha Chaturthi, then more welcome it is. When you are thinking how to make easy rangoli, making Ganesha rangoli design suits the occasion well.
Steps Involved:
Make a paan-shaped border pattern.
Now make an outline of Ganpati Bappa inside the border.
Start coloring Ganesha's body, ears and trunk with colours as shown.
For finishing touches, put rose petals and diyas in the rangoli design.
This gets you a rangoli pattern perfect for beginners and Ganesha lovers.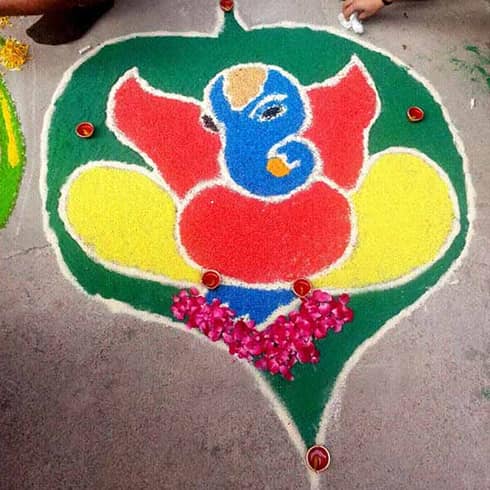 And you thought this was the end of How to make rangoli. Nah! Apart from Diwali-based rangoli patterns, the designs can be made in various themes such as leaf-shaped, funny rangoli with emojis, peacock-shaped rangoli, a rangoli with some message, geometric flowers, religious motifs, fish and stars. The options are far too many and beyond your imagination.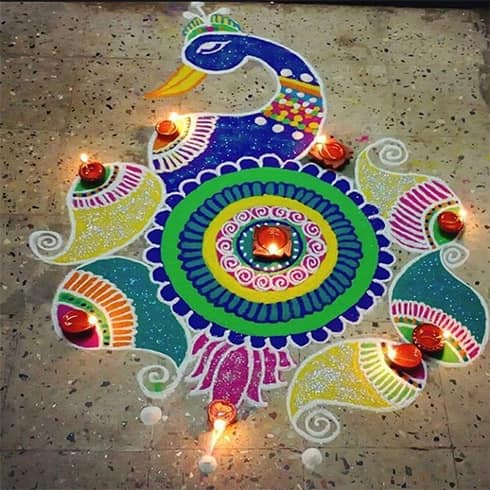 So lovely ladies and teenagers out there who are reading this post, what's your take on how to make rangoli designs? Hope you have got good reference points to try out rangoli this festive season. Do write in your comments and tell us which is your favorite rangoli design or theme that you will like to try out.