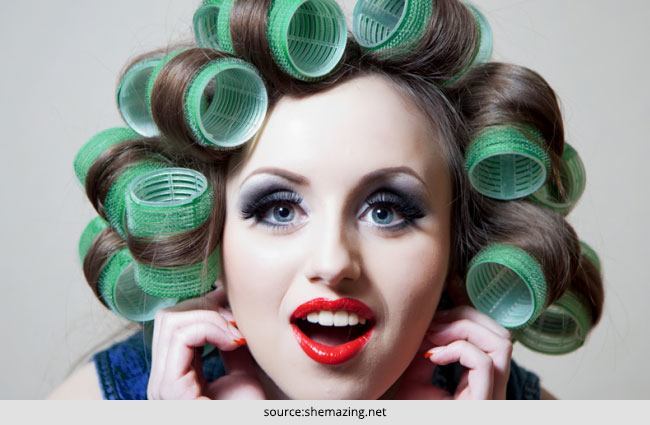 Big curls have been trending hugely, especially after celebrities have been spotted at the Oscars and other Red Carpet events with sweeping locks. And, it's a style that is neither going to fade away nor too hard to achieve. If you too are interested in using this hair rollers but wondering how to use hair rollers, then you are at the right place.
Do have a read to understand the basic techniques involved with hair curling rollers!
Hair rollers are among the many ways to create curly hair. When Johnny Lavoy, a L'Oréal Paris Consulting Hair Expert was asked which one was better – hair roller or iron, he had chosen rollers. According to him, rollers can give long lasting curls with more volume, compared to the straightening rod. Above all, they do not damage hair.
[Also Read: How To Treat Curly Hair]
Even if this hair styling tool seems easy to use, there are a few tricks involved in curling hair with rollers. If you're naive of using curling iron then rollers can be your best bait. But you'll have to adopt a few tricks to master this unconventional way of getting curls.
Today, various types of rollers are available in different sizes and designs, mostly seen in plastic material. Here are a few tips to consider on how to use hair rollers. Continue reading!
Shoulder-length hair – You should have shoulder-length hair to use rollers. While the length of your hair depends on the size of your rollers, shoulder-length hair is required to obtain medium-sized curls.
Rollers with large diameters – If you're interested in getting large curls then pick rollers with large diameters, as they will help you get the beach waves.
Rollers of different sizes – Pick the size of the rollers as per your preference and determining the length of your hair. Go for smaller size to get tight curls or bigger ones to obtain sweeping waves.
Prep your hair – Before you start using the rollers, you will have to prep your hair by washing and then conditioning your hair. Apply an anti-frizz serum followed by a volumizing light-weight mousse. Don't go for hair gels as they can make your curls crunchy.
et your hair dry completely before using rollers.
[sc:mediad]
Undone look – If you want to flaunt an undone look then take some hair wax in your hands and apply it across your hair gently and then use the hair rollers.
Bouncy curls – For bouncy curls, after removing rollers turn your head upside down and run your fingers through your hair.
For natural smooth hair you should go for Velcro rollers, as they are less likely to get tangled in your hair. Here are some tips on how to prevent tangled hair.
For thick hair – If you have dense hair then first divide your hair into several smaller sections to get even curls.
How to Use Hair Rollers
Firstly prep your hair with wash followed by a volumizing mousse and towel dry
Now divide your hair into small sections and roll up a section of hair from the crown area and working your way from top of your head to the bottom, until your cover all the hair, till the nape of your neck
You may either roll up the entire length or leave some length from the roots so as to get curls at the ends only
Follow the same step for the rest of the sections by rolling up all strands of hair
For best results, use rollers of different sizes
After the rolling is done, use a blow dryer and warm up the rolled up sections. This way your curls will set perfectly
Allow your curls to cool down and remove the rollers
Now turn your head upside down and run your fingers across your hair to get bouncy curls. Voila! You're done with your curls. Curling hair with rollers is as simple as that!
I hope this elaborate post with step by step tutorial on how to use hair rollers gives you some inspiration in getting your desired curls.