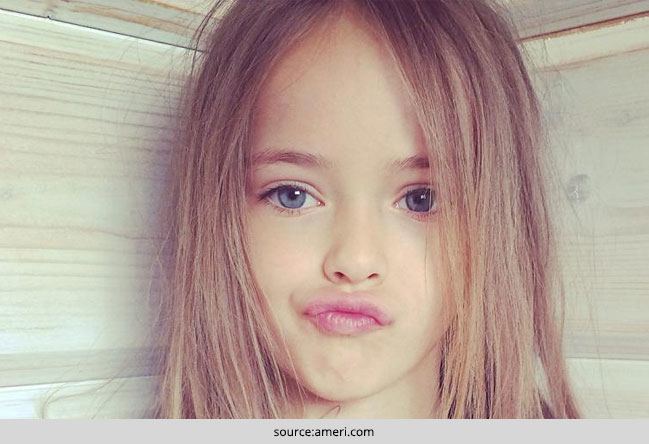 I am in a real dilemma whether I should promote this story or not, but I couldn't help when I came across this news of a 9-year old Russian model Kristina Pimenova, who has been dubbed as the world's most beautiful girl.
Recently, I had shared a post on how parents in Venezuela are forcing their small girls and teens to undergo beauty treatments and are give rigorous training to qualify for the Miss Venezuela contest. Here is another shocking story of how a 9-year Russian girl's photo shoots went viral online, soon after her mother shared them across social media channels including Instagram and Facebook.
The blue-eyed girl has become an overnight sensation with more than 315,000 Instagram followers and 2,120,000 Facebook likes.
Kristina was born in Moscow in the year 2005. She was exposed to the modeling world at the tender age of 3 years, is definitely one of the youngest supermodels. And soon she signed contracts with Benetton, Armani, Fendi, Dolce and Gabbana and Roberto Cavalli for their children lines. Pimenova got the job for which millions of women would kill to have. And if that wasn't enough, the blue-eyed mademoiselle became the cover girl of Vogue Bambini.
[Read more: Highest Paid Models in The World Who Walked Their Way to Fame]
Well, it's not new that children have worked as models before. Even our Hollywood actresses including Leighton Meester, Cara Delevingne, Mila Kunis and Angelina Jolie were child models, but Kristina's photo shoots have become confounded, thereby raising a serious concern worldwide.
Kristina's father is a former international football player, Rusian Pimenov who had played for Russia in the 2002 World Cup. Pimenova's mother Glikeriya Shirokova, who is also a model, has been highly criticized lately and has come under fire following recent media attention. Reason being, some of her daughter's pictures which she has shared on her Instagram profile has been considered to be provocative and disconcerting.
[sc:mediad]
Some of Kristina's pics in flimsy shorts and hot pants, exposing her long legs, triggered a storm of criticism on Instagram and Twitter, especially when her pictures received comments such as 'sexy legs' and 'babe'.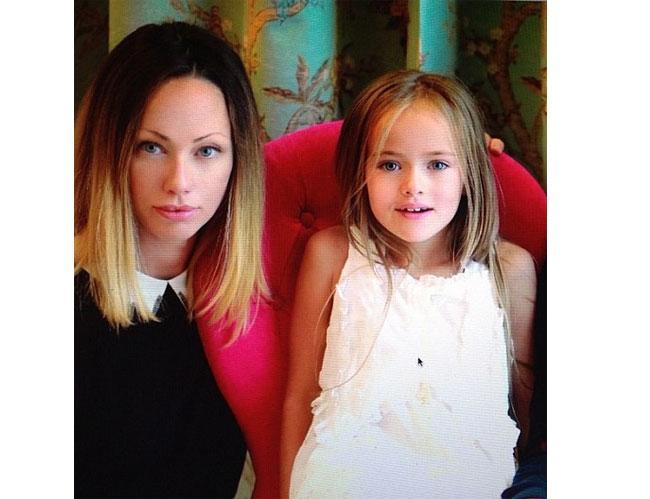 One of the readers, Pierre had also commented, "She's a pretty kid but the photos creep me out. This is not what a child's life should look like. She's 6 years old for goodness sake".
Reacting to such comments, Kristina's mother Glikeriya told MailOnline,
"You must think like a pedophile in order to see something sexual in these pictures, so it is time for you to see a doctor."
Glikeriya, who manages her daughter's social media accounts said that people who pass lewd comments that her daughter's pictures being sexual, are sick and should consult a doctor.
However, the young model who is dubbed as the most beautiful girl in the world, has also garnered some cute compliments from media and public admirers who have referred her as 'angel face' and 'stunning azure blue eyes'.
To summarize, such modeling photo shoots of young girls garner both positive as well negative reactions and the budding model's career is already rife with controversies. Kristina who started her modeling career right at the age of 3 is now 9 years old and already signed contracts with world's top most fashion brands.
That's a sheer achievement indeed, but one question today Fashionlady would surely like to raise, "Is it ethically correct to snatch away the innocence of a 3-year old toddler so as to produce a Cara Delevingne?"
Share your thoughts in the comments below.