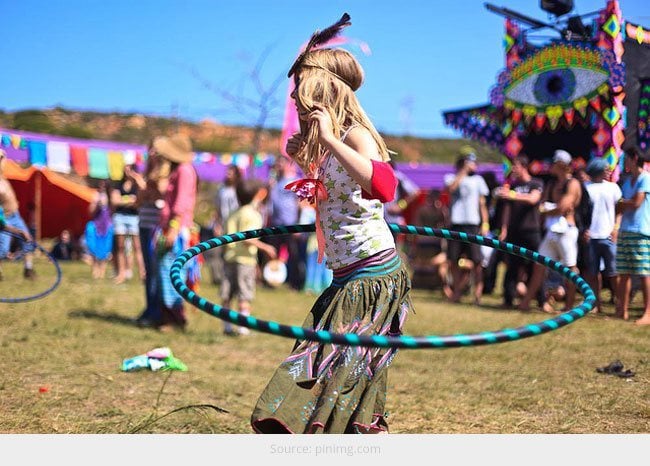 With Sonakshi Sinha instagramming it, Kelly Osbourne using it, Beyonce flaunting it, Grace Jones rocking in it, everyone is raving about hula-hooping! Displaying their skills like a pro, there is nothing denying that hula-hooping is an ideal way to look good and feel fabulous. A fitness-friendly fun activity for modern mums, teachers, yogis, fashionistas and students to get fit, spinning in the goodness of hula-hoop guarantees heath, happiness and hotness. Today, let us learn about the tips and tricks of hooping and let us have you hooping like a professional!
Size and Weight of The Hula Hoop Matters
If you are complete novice and are totally new to the game of hooping, then we suggest, start by buying a pretty big and heavy hoop. A 160 psi – 42" hoop is an ideally considered fitness weight for a hoop for beginners. To identify which hoop is best suited for you, start by measuring the area from your belly button to your floor, it is exactly what the size of your hoops should be. Having a heavier hoop will ensure that you won't get frustrated practicing the hoops. Soon in a month or so, you would need a lighter and smaller hoop. But hey, the size of the hoops is all for building your muscle memory while hooping. If you want to go for a heavy, smaller one or PR, Polypro, HDPE tubing, it is totally fine.
Where Do I Find My First Hoop?
You can purchase your first hoop through many sources as there are many awesome hoopers making and selling some beautiful hoops. You could perhaps buy one from your nearest sports store or may be get one online easily. Available in myriad option of colours, styles and patterns, buy your first pair of hula hoops in 42 inches size, and may be as you gradually learn and become a professional at digging hooping, you could perhaps go for different sizes, weights and tubing.
A Few Practical Tips for Hula-Hoop Beginners
1. Always turn your body in the direction where your hoop is turning
Never stand still when practicing hula-hoops. Always try and move into the direction where the hoop goes in a pivoting or dancing manner. If you spin your hoop in the left direction, then move on your left hand side and if the hoop goes in the right direction, then go on the right hand side.
[sc:mediad]
2. Go ahead get naked!
No just don't go fully naked, but the more skin your have showing, the more room for the hoop to find friction. When the hoop runs against the skin it gets a better grip, hence go ahead and show that beautiful skin, you lovelies!
3. First, practice as much as you can without your hoops
This is an amazing way to brush up on your dancing tricks. After performing a mini session of dancing without your hoops, the flow of your body would become more flexible.
4. Experiment as much as you can!
Use your imagination and hoop around in different sizes and weights, and adopt tricks, all by unleashing your imagination. There is no fixed rule here!
Get twirling your waist, limb or neck and remember, it might take months of practice – juts have fun with your hula hoop and you never know you might ace the art of hula-hooping soon enough!